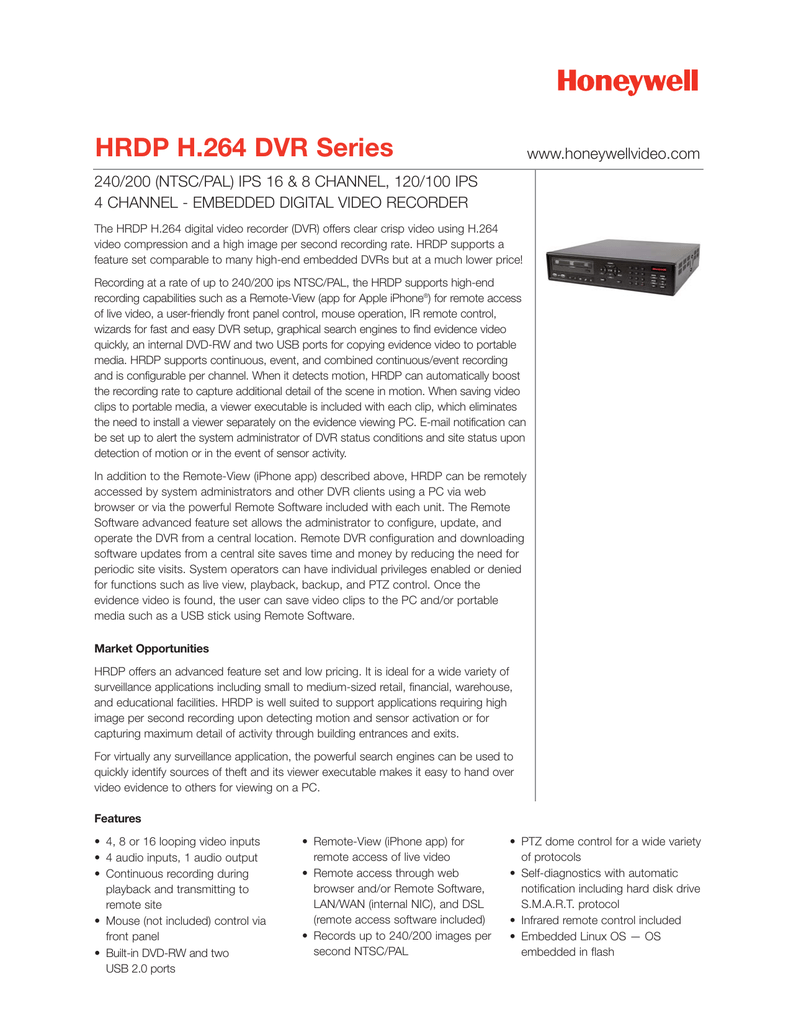 HRDP H.264 DVR Series
www.honeywellvideo.com
240/200 (NTSC/PAL) IPS 16 & 8 CHANNEL, 120/100 IPS
4 CHANNEL - EMBEDDED DIGITAL VIDEO RECORDER
The HRDP H.264 digital video recorder (DVR) offers clear crisp video using H.264
video compression and a high image per second recording rate. HRDP supports a
feature set comparable to many high-end embedded DVRs but at a much lower price!
Recording at a rate of up to 240/200 ips NTSC/PAL, the HRDP supports high-end
recording capabilities such as a Remote-View (app for Apple iPhone®) for remote access
of live video, a user-friendly front panel control, mouse operation, IR remote control,
wizards for fast and easy DVR setup, graphical search engines to find evidence video
quickly, an internal DVD-RW and two USB ports for copying evidence video to portable
media. HRDP supports continuous, event, and combined continuous/event recording
and is configurable per channel. When it detects motion, HRDP can automatically boost
the recording rate to capture additional detail of the scene in motion. When saving video
clips to portable media, a viewer executable is included with each clip, which eliminates
the need to install a viewer separately on the evidence viewing PC. E-mail notification can
be set up to alert the system administrator of DVR status conditions and site status upon
detection of motion or in the event of sensor activity.
In addition to the Remote-View (iPhone app) described above, HRDP can be remotely
accessed by system administrators and other DVR clients using a PC via web
browser or via the powerful Remote Software included with each unit. The Remote
Software advanced feature set allows the administrator to configure, update, and
operate the DVR from a central location. Remote DVR configuration and downloading
software updates from a central site saves time and money by reducing the need for
periodic site visits. System operators can have individual privileges enabled or denied
for functions such as live view, playback, backup, and PTZ control. Once the
evidence video is found, the user can save video clips to the PC and/or portable
media such as a USB stick using Remote Software.
Market Opportunities
HRDP offers an advanced feature set and low pricing. It is ideal for a wide variety of
surveillance applications including small to medium-sized retail, financial, warehouse,
and educational facilities. HRDP is well suited to support applications requiring high
image per second recording upon detecting motion and sensor activation or for
capturing maximum detail of activity through building entrances and exits.
For virtually any surveillance application, the powerful search engines can be used to
quickly identify sources of theft and its viewer executable makes it easy to hand over
video evidence to others for viewing on a PC.
Features
• 4, 8 or 16 looping video inputs
• 4 audio inputs, 1 audio output
• Continuous recording during
playback and transmitting to
remote site
• Mouse (not included) control via
front panel
• Built-in DVD-RW and two
USB 2.0 ports
• Remote-View (iPhone app) for
remote access of live video
• Remote access through web
browser and/or Remote Software,
LAN/WAN (internal NIC), and DSL
(remote access software included)
• Records up to 240/200 images per
second NTSC/PAL
• PTZ dome control for a wide variety
of protocols
• Self-diagnostics with automatic
notification including hard disk drive
S.M.A.R.T. protocol
• Infrared remote control included
• Embedded Linux OS — OS
embedded in flash
HRDP H.264 DVR Series
www.honeywellvideo.com
SPECIFICATIONS
Remote Access
Sessions maximum per
HRDP recorder
Connections
4 simultaneous connections
Administration, configuration,
1 session
live view, search
Users viewing live video and
2 sessions
retrieving video
Video Input
4, 8, or 16 (Looping), BNC 1 Vp-p @ 75 Ohms,
Auto Terminating
Video Output
MAIN-OUT (BNC & VGA) and SPOT-OUT (BNC)
Audio Input/
Output
4 CH RCA Audio in / 1 CH RCA Audio out
Sensor Inputs
4, 8, or 16 sensor inputs (NO/NC selectable)
General Purpose
Above with PTZ control
1 at time controlling PTZ
Remote Software
Compatibility
Microsoft Windows XP, Vista,
Windows 7; See HRDP User
Guide for additional detail.
Control Outputs
4 Control/Relay Outputs
Serial Ports
1 - RS232, 2 - USB (2.0), 1 - RS485
Supported Apple® Models:
• Apple iPhone 3G, 3GS, 4
• Apple iPod touch 3GS, 4
• Apple iPad 1
Internal Storage
SATA HDD
Remote-View
(iPhone app)
Networking
10/100 NIC Onboard (TCP/IP, DHCP, DDNS)
Electrical
Recorder Unit
Input Voltage
12 VDC, 5 A
Video Standard
NTSC or PAL (Auto Detect)
Power
Consumption
60 W
Video Display Format
480 ips (NTSC)
400 ips (PAL)
Mechanical
Color Control
Brightness, contrast and color
Dimensions
(W x H x D)
15.75" x 3.5" x 15.75"
(400 mm x 88 mm x 400 mm)
Weight
Unit: 16 lbs (7.2kg)
Shipping: 24 lbs (10.9 kg)
Construction
Housing: Steel chassis
Finish: Black matte paint
Recording and Transmission
H.264
Compression Algorithm
Record Mode
(FIFO) Continuous buffer
Recording Capacity
Hard drive capacities up to 4 TB,
see ordering section for details
Recording Rate (Global)
Up to 240/200 ips (NTSC/PAL)
Video Resolution Settings
CIF: 352 x 240 (NTSC) or
352 x 288 (PAL)
2CIF: 702 x 240 (NTSC) or
704 x 288 (PAL)
4CIF: 704 x 480 (NTSC) or
704 x 576 (PAL)
Environmental
Temperature
Operating: 0°C to 40°C (32°F to 104°F)
Storage: 0°C to 40°C (32°F to 104°F)
Relative Humidity 0% - 90%, non-condensing
Regulatory
Safety
IEC 60950-1:2005 2 Edition
Video Motion Detection
Configurable zone detection
area and sensitivity
Emissions
EN55022:2006 (Class B)
FCC Part 15:2009, Subpart B, Class B
Event Recording and
Reporting
Input via – alarm input contacts,
and motion. Reporting via alarm
output contacts, e-mail notification
Immunity
EN50130-4:1995/A1:1998/A2:2003
Removable Media
Built-in DVD-RW option
and two USB ports
Still Image
JPEG file format using RAS
Front Panel Control
Intuitive operation supports
IR remote control
NTP Client
Synchronize timing to
NTP servers
DHCP Enabled
DHCP or manual IP entry
Port number Setup
Individual entries for remote
port and web port
PTZ Protocols Support
Support for up to 60 PTZ
protocols
Language Support
English, French, German, Dutch,
Spanish, Portuguese, Italian
Apple, iPhone, iPod and iPad are trademarks of Apple Inc.
HRDP H.264 DVR Series
SYSTEM DRAWING
www.honeywellvideo.com
HRDP H.264 DVR Series
www.honeywellvideo.com
ACCESSORIES, DIMENSIONS, ORDERING
Recommended Accessories
Recommended Accessories, Cont.
HRDP DVR
Cameras*
HRDPRC
Spare IR remote control
HB73
IR Bullet, super high resolution True Day/Night
HRDPRMKT
Spare 19-inch rack mount kit
HD73
Mini-dome, super high resolution day/night
HD3CHS
Mini-dome, super high resolution day/night
vandal resistant
ACUIX™
High-performance PTZ camera
Monitors*
HMLCD17L
17" L-Series Color LCD Monitor (VGA)
Surge Protection
HCSP1
Camera surge protector
HDSP1
PTZ dome surge protector
3.5"
(88 mm)
* See Honeywell's full line of monitors and cameras at
www.honeywellvideo.com
15.75"
(400 mm)
15.75"
(400 mm)
Side View
Front View
Ordering
HRDP16 D
1T0
X
Signal Format
X
PAL
NTSC
Storage
4T0 = 4 TB Fixed HDD**
2T0 = 2 TB*
1T0 = 1 TB
50 = 500 GB
DVD-RW D = Internal DVD-RW
Model
HRDP16 16 channel DVR
HRDP8 8 channel DVR
HRDP4 4 channel DVR
* Only available with 8 & 16 channel
** Only available with 16 channel
Automation and Control Solutions
Honeywell Systems
2700 Blankenbaker Pkwy, Suite 150
Louisville, KY 40299
1.800.323.4576
www.honeywell.com
L/HRDPH264D/D
February 2011
© 2011 Honeywell International Inc.