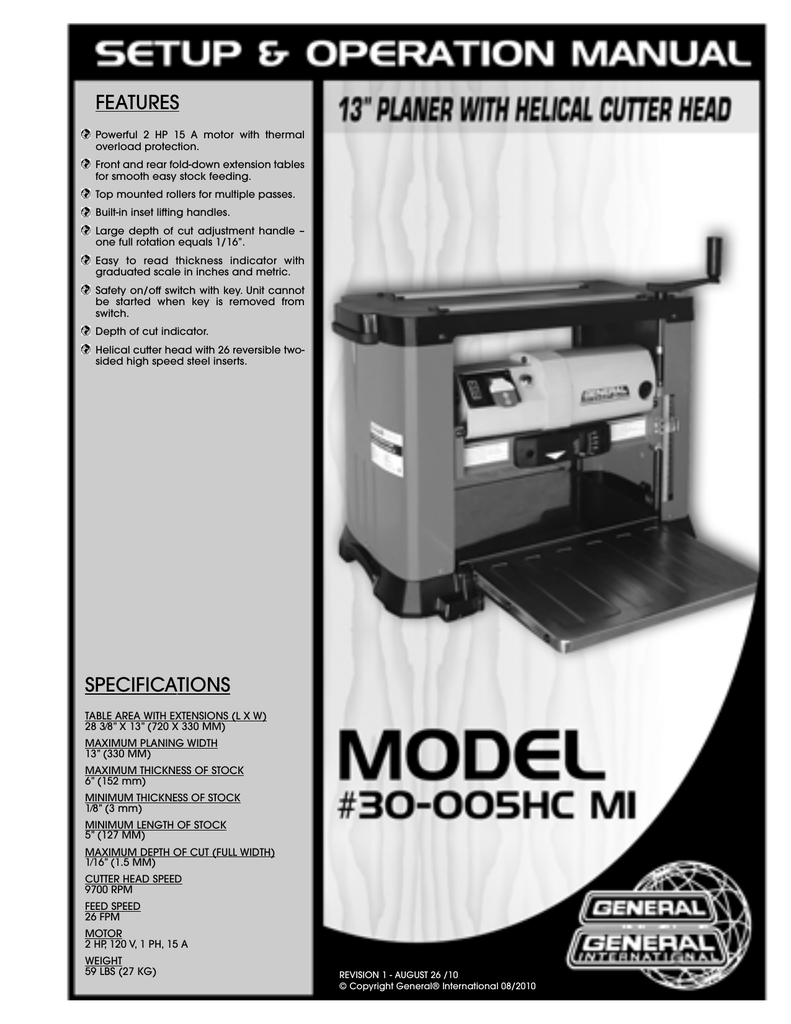 FEATURES
Powerful 2 HP 15 A motor with thermal
overload protection.
Front and rear fold-down extension tables
for smooth easy stock feeding.
Top mounted rollers for multiple passes.
Built-in inset lifting handles.
Large depth of cut adjustment handle –
one full rotation equals 1/16".
Easy to read thickness indicator with
graduated scale in inches and metric.
Safety on/off switch with key. Unit cannot
be started when key is removed from
switch.
Depth of cut indicator.
Helical cutter head with 26 reversible twosided high speed steel inserts.
SPECIFICATIONS
TABLE AREA WITH EXTENSIONS (L X W)
28 3⁄8" X 13" (720 X 330 MM)
MAXIMUM PLANING WIDTH
13" (330 MM)
MAXIMUM THICKNESS OF STOCK
6" (152 mm)
MINIMUM THICKNESS OF STOCK
1⁄8" (3 mm)
MINIMUM LENGTH OF STOCK
5" (127 MM)
MAXIMUM DEPTH OF CUT (FULL WIDTH)
1⁄16" (1.5 MM)
CUTTER HEAD SPEED
9700 RPM
FEED SPEED
26 FPM
MOTOR
2 HP, 120 V, 1 PH, 15 A
WEIGHT
59 LBS (27 KG)
REVISION 1 - AUGUST 26 /10
© Copyright General® International 08/2010
GENERAL® INTERNATIONAL
8360 Champ-d'Eau, Montreal (Quebec) Canada H1P 1Y3
Telephone (514) 326-1161 • Fax (514) 326-5555 • www.general.ca
THANK YOU
for choosing this General® International model 30-005HC M1
13" Planer with Helical Cutter Head. This planer has been carefully tested and inspected before
shipment and if properly used and maintained, will provide you with years of reliable service.
For your safety, as well as to ensure optimum performance and trouble-free operation, and to
get the most from your investment, please take the time to read this manual before assembling, installing and operating the unit.
The manual's purpose is to familiarize you with the safe operation, basic function, and features
of this planer as well as the set-up, maintenance and identification of its parts and components. This manual is not intended as a substitute for formal woodworking instruction, nor to
offer the user instruction in the craft of woodworking. If you are not sure about the safety of
performing a certain operation or procedure, do not proceed until you can confirm, from
knowledgeable and qualified sources, that it is safe to do so.
Once you've read through these instructions, keep this manual handy for future reference.
Disclaimer: The information and specifications in this
manual pertain to the unit as it was supplied from the
factory at the time of printing. Because we are committed to making constant improvements, General®
International reserves the right to make changes to
components, parts or features of this unit as deemed
necessary, without prior notice and without obligation to
install any such changes on previously delivered units.
Reasonable care is taken at the factory to ensure that
the specifications and information in this manual corres-
ponds with that of the unit with which it was supplied.
However, special orders and "after factory" modifications may render some or all information in this manual
inapplicable to your machine. Further, as several generations of this model of planer and several versions of
this manual may be in circulation, if you own an earlier
or later version of this unit, this manual may not depict
your machine exactly. If you have any doubts or questions contact your retailer or our support line with the
model and serial number of your unit for clarification.
GENERAL® & GENERAL® INTERNATIONAL WARRANTY
All component parts of General®, General® International and Excalibur by General
International ® products are carefully inspected during all stages of production and each unit
is thoroughly inspected upon completion of assembly.
Limited Lifetime Warranty
Because of our commitment to quality and customer satisfaction, General® and General®
International agree to repair or replace any part or component which upon examination,
proves to be defective in either workmanship or material to the original purchaser for the life
of the tool. However, the Limited Lifetime Warranty does not cover any product used for professional or commercial production purposes nor for industrial or educational applications. Such
cases are covered by our Standard 2-year Limited Warranty only. The Limited Lifetime Warranty
is also subject to the "Conditions and Exceptions" as listed below.
Standard 2-Year Limited Warranty
All products not covered by our lifetime warranty including products used in commercial,
industrial and educational applications are warranted for a period of 2 years (24 months) from
the date of purchase. General® and General® International agree to repair or replace any
part or component which upon examination, proves to be defective in either workmanship or
material to the original purchaser during this 2-year warranty period, subject to the "conditions
and exceptions" as listed below.
To file a Claim
To file a claim under our Standard 2-year Limited Warranty or under our Limited Lifetime
Warranty, all defective parts, components or machinery must be returned freight or postage
prepaid to General® International, or to a nearby distributor, repair center or other location
designated by General® International. For further details call our service department at 1-888949-1161 or your local distributor for assistance when filing your claim.
Along with the return of the product being claimed for warranty, a copy of the original proof
of purchase and a "letter of claim" must be included (a warranty claim form can also be used
and can be obtained, upon request, from General® International or an authorized distributor)
clearly stating the model and serial number of the unit (if applicable) and including an explanation of the complaint or presumed defect in material or workmanship.
CONDITIONS AND EXCEPTIONS:
This coverage is extended to the original purchaser only. Prior warranty registration is not
required but documented proof of purchase i.e. a copy of original sales invoice or receipt
showing the date and location of the purchase as well as the purchase price paid, must be
provided at the time of claim.
Warranty does not include failures, breakage or defects deemed after inspection by General®
or General® International to have been directly or indirectly caused by or resulting from;
improper use, or lack of or improper maintenance, misuse or abuse, negligence, accidents,
damage in handling or transport, or normal wear and tear of any generally considered consumable parts or components.
Repairs made without the written consent of General® Internationallwill void all warranty.
TABLE OF CONTENTS
Rules for safe operation . . . . . . . . . . . . . . . . . .5
Operating Instructions . . . . . . . . . . .12
Basic principles of planing . . . . . . . . . . . . . . . . . . . . . . . .12
Electrical requirements . . . . . . . . . . . . . . .6
Selecting boards suitable for planing . . . . . . . . . . . . . .12
Grounding instructions . . . . . . . . . . . . . . . . . . . . . . . . . . . .6
Rated limits of this planer . . . . . . . . . . . . . . . . . . . . . . . . .12
Circuit capacity . . . . . . . . . . . . . . . . . . . . . . . . . . . . . . . . . .6
Checklist before starting . . . . . . . . . . . . . . . . . . . . . . . . . .13
Extension cords . . . . . . . . . . . . . . . . . . . . . . . . . . . . . . . . . .6
Planing step-by-step . . . . . . . . . . . . . . . . . . . . . . . . . . . . .13
Identification of main parts and components .7
Maintenance & Adjustments . . . . . .15
Unpacking . . . . . . . . . . . . . . . . . . . . . . . . .8
Periodic maintenance . . . . . . . . . . . . . . . . . . . . . . . . . . .15
Inspecting/Replacing cutterhead knives . . . . . . . . . . .15
Replacing the v-belt . . . . . . . . . . . . . . . . . . . . . . . . . . . . .17
Assembly Instruction . . . . . . . . . . . . .9
Drive chain/gear lubrication . . . . . . . . . . . . . . . . . . . . . .17
Attach the depth of cut adjustment handle . . . . . . . . . .9
Attach the dust chute . . . . . . . . . . . . . . . . . . . . . . . . . . . . .9
Recommended optional accessories . . . . . .18
Parts list & diagrams . . . . . . . . . . . . . . . .19-23
Basic Adjustments and Controls . . .10
Connecting to a power source . . . . . . . . . . . . . . . . . . . .10
On/Off power switch . . . . . . . . . . . . . . . . . . . . . . . . . . . . .10
Surge protection/Circuit breaker . . . . . . . . . . . . . . . . . .10
Raising/Lowering the cutter head . . . . . . . . . . . . . . . . . .11
Pre-set tickness stop gauge . . . . . . . . . . . . . . . . . . . . . . .11
Depth of cut indicator . . . . . . . . . . . . . . . . . . . . . . . . . . . .11
RULES FOR SAFE OPERATION
To help ensure safe operation, please take a moment to learn the machine's applications and limitations, as well as potential hazards. General® International disclaims any real or implied warranty and holds itself harmless for any injury that
may result from improper use of its equipment.
1. Do not operate this planer when tired, distracted, or
under the effects of drugs, alcohol or any medication
that impairs reflexes or alertness.
13. Do not push or force stock into the cutter head. The
planer will perform better and safer when working at
the rate for which it was designed.
2. The working area should be well lit, clean and free of
debris.
14. Kickback is when the workpiece is ejected at high
speeds by the force of the cutter head. To minimize the
risk of injury from kickback, use proper feeding technique and stand to one side, out of the path of a potential kickback.
3. Keep children and visitors at a safe distance when the
planer is in operation; do not permit them to operate
the planer.
4. Childproof and tamper proof your shop and all machinery with locks, master electrical switches and
switch keys, to prevent unauthorized or unsupervised
use.
5. Stay alert! Give your work your undivided attention.
Even a momentary distraction can lead to serious
injury.
6. Fine particulate dust is a carcinogen that can be
hazardous to health. Work in a well-ventilated area
and whenever possible use a dust collector. Wear
face, eye, ear, respiratory and body protection
devices.
7. Do not wear loose clothing, gloves, bracelets, necklaces or other jewelry while the planer is in operation.
Wear protective hair covering to contain long hair
and wear non-slip footwear.
8. Be sure that adjusting wrenches, tools, drinks and
other clutter are removed from the machine and/or
the table surface before operating.
9. Keep hands well away from knives and all moving
parts. Use a push stick to feed stock, and a brush, not
hands, to clear away chips and dust.
10. Be sure that the knives are securely installed in the
cutter head.
11. Always use clean, properly sharpened knives. Dirty or
dull knives are unsafe and can lead to accidents.
12. Inspect stock and remove all foreign objects before
planing. Make sure that any stock you plane is clean
and free of any dirt, nails, staples, tiny rocks or any other
foreign objects that may damage the planer knives.
Only process natural solid wood boards. Never plane
MDF, particle board, plywood, laminates or other synthetic materials.
15. Select appropriate feed speed for the stock being
planed: high speed for softwood and slow for hardwoods.
16. Place stock firmly against the table and use suitable
in-feed and out-feed support if stock is too long.
17. Keep guards in place and in working order. If a guard
must be removed for maintenance or cleaning make
sure it is properly attached before using the machine
again.
18. Use of parts and accessories NOT recommended by
GENERAL®INTERNATIONAL may result in equipment
malfunction or risk of injury.
19. Never stand or lean on machinery. Serious injury could
result if the tool is tipped over or if the cutting tool is unintentionally contacted.
20. Always disconnect the tool from the power source
before servicing or changing accessories such as
knives, or before performing any maintenance or
cleaning, or if the machine will be left unattended.
21. Make sure that the switch is in the "OFF" position before
plugging in the power cord.
22. Make sure the tool is properly grounded. If equipped
with a 3-prong plug it should be used with a three-pole
receptacle. Never remove the third prong.
23. Do not use this planer for other than its intended use.
If used for other purposes, GENERAL® INTERNATIONAL
disclaims any real implied warranty and holds itself
harmless for any injury, which may result from that use.
5
ELECTRICAL REQUIREMENTS
BEFORE CONNECTING THE MACHINE TO THE POWER SOURCE, VERIFY THAT THE VOLTAGE OF YOUR POWER SUPPLY CORRESPONDS
WITH THE VOLTAGE SPECIFIED ON THE MOTOR I.D. NAMEPLATE. A POWER SOURCE WITH GREATER VOLTAGE THAN NEEDED CAN
RESULT IN SERIOUS INJURY TO THE USER AS WELL AS DAMAGE TO THE MACHINE. IF IN DOUBT, CONTACT A QUALIFIED ELECTRICIAN
BEFORE CONNECTING TO THE POWER SOURCE.
THIS TOOL IS FOR INDOOR USE ONLY. DO NOT EXPOSE TO RAIN OR USE IN WET OR DAMP LOCATIONS.
EXTENSION CORDS
If you find it necessary to use an extension cord with your
machine, use only 3-wire extension cords that have 3prong grounding plug and a matching 3-pole receptacle that accepts the tool's plug. Repair or replace a
damaged extension cord or plug immediately.
GROUNDING INSTRUCTIONS
In the event of an electrical malfunction or short circuit,
grounding reduces the risk of electric shock. The motor
of this machine is wired for 120V single phase operation
and is equipped with a 3-conductor cord and a 3prong grounding plug
to fit a grounded type receptacle . Do not remove the 3rd prong (grounding pin)
to make it fit into an old 2-hole wall socket or extension
cord. If an adaptor plug is used , it must be attached
to the metal screw of the receptacle.
Note: The use of an adaptor plug is illegal in some
areas. Check your local codes. If you have any doubts
or if the supplied plug does not correspond to your electrical outlet, consult a qualified eletrician before proceeding.
CIRCUIT CAPACITY
Make sure that the wires in your circuit are capable of
handling the amperage draw from your machine, as
well as any other machines that could be operating on
the same circuit. If you are unsure, consult a qualified
electrician. If the circuit breaker trips or the fuse blows
regularly, your machine may be operating on a circuit
that is close to its amperage draw capacity. However, if
an unusual amperage draw does not exist and a
power failure still occurs, contact a qualified technician
or our service department.
6
Make sure the cord rating is suitable for the amperage
listed on the motor I.D. plate. An undersized cord will
cause a drop in line voltage resulting in loss of power
and overheating. The accompanying chart shows the
correct size extension cord to be used based on cord
length and motor I.D. plate amp rating. If in doubt, use
the next heavier gauge. The smaller the number, the
heavier the gauge.
EXTENSION CORD LENGTH
AMPERES
(AMPS)
25 FEET
50 FEET
100 FEET
150 FEET
<5
18
16
16
14
6 TO 10
18
16
14
12
10 TO 12
16
16
14
14
12 TO 16
14
12
* NR
* NR
* NR = Not Recommended
13" PLANER WITH HELICAL CUTTER HEAD
30-005HC M1
IDENTIFICATION OF MAIN PARTS AND COMPONENTS
C
D
E
G
F
B
A
REAR VIEW
I
J
H
IN-FEED TABLE
DEPTH OF CUT INDICATOR
STOCK THICKNESS SCALE
OUT-FEED TABLE
HEIGHT ADJUSTMENT HANDLE
TOOL STORAGE
RETURN ROLLERS
DUST CHUTE
CIRCUIT BREAKER
ON/OFF SWITCH W/SAFETY KEY
7
UNPACKING
Carefully unpack and remove the planer and its components from the box and check for damaged or missing
items as per the list of contents below.
NOTE: Please report any damaged or missing items to
your General International distributor immediately.
LIST OF CONTENTS
ABCDEFGH-
A
B
QTY
PLANER...........................................................................1
ADJUSTMENT HANDLE ...................................................1
DUST CHUTE ...................................................................1
SAFETY KEY.....................................................................1
CAP SCREW ...................................................................1
BUTTON HEAD SCREW ...................................................4
T-HANDLE WRENCH .......................................................1
4 MM ALLEN KEY ...........................................................1
D
E
F
C
G
H
ASSEMBLY INSTRUCTIONS
For your convenience this planer is shipped from the factory partially assembled and requires only minimal assembly and set up before being put into service.
BEFORE STARTING THE INSTALLATION AND ASSEMBLY, MAKE SURE THAT THE POWER SWITCH IS IN THE "OFF" POSITION
AND THAT THE POWER CORD IS UNPLUGGED. DO NOT PLUG IN OR TURN ON THE PLANER UNTIL YOU HAVE COMPLETED THE INSTALLATION AND ASSEMBLY STEPS DESCRIBED IN THIS SECTION OF THE MANUAL.
The unit should be installed on a flat, level, sturdy and
stable surface, able to support the weight of the
machine and the workpiece with ease.
8
Never install or operate the planer over the edge of a
table, workbench or other mounting surface.
HEX HEAD BOLT (1)
FLAT WASHERS (2)
LOCK WASHER (1)
HEX NUT (1)
If a permanent shop placement or installation is practical, consider using the mounting holes and drilling
matching through holes in your workbench or mounting surface to bolt the planer in place (hardware not
included) on your workbench.
If you prefer an optional steel stand (item #30-006)
is available from your local General International
dealer.
ATTACH THE DEPTH OF CUT ADJUSTMENT HANDLE
ATTACH THE DUST CHUTE
Attach the adjustment handle on top of the machine
as shown, using the supplied allen key and cap screw.
Install the dust chute on the rear of the machine as
shown, using the 4 supplied button head screws.
BASIC ADJUSTMENTS AND CONTROLS
CONNECTING TO A POWER SOURCE
TO REDUCE THE RISK OF SHOCK OR FIRE DO NOT OPERATE THE UNIT WITH A DAMAGED POWER CORD OR PLUG.
REPLACE DAMAGED CORD OR PLUG IMMEDIATELY.
TO AVOID UNEXPECTED OR UNINTENTIONAL START-UP, MAKE SURE THAT THE POWER SWITCH IS IN THE OFF POSITION
BEFORE CONNECTING TO A POWER SOURCE.
C
SWITCH OFF
B
A
Once the assembly steps have been completed and the unit is safely secured or installed on a work surface such
as a bench, stand or worktable, uncoil the power cord. With the switch locked-out (i.e. without the supplied safety
key A installed, as shown in B, or in the off position C), plug the power cord into an appropriate outlet. Refer back
to the section entitled Electrical Requirements and make sure all requirements and grounding instructions are followed. When planing operations have been completed unplug the unit from the power source.
9
ON/OFF POWER SWITCH
B
C
D
A
POWER ON
POWER OFF
SAFETY KEY
(PREVENTS START-UP
WHEN REMOVED)
This planer is equipped with a rocker style ON/OFF switch located on the front left hand side of the cutter head. To
start the planer, insert the lock-out key as shown in A and pull up on the lower portion of the switch as shown, B. To
stop the planer, push down on the switch, C. To prevent unwanted or unauthorized start-up or usage, remove the
lock-out key D and store it in a safe place, out of the reach of children, whenever the planer is not in use.
TO PREVENT UNWANTED OR UNAUTHORIZED START-UP OR USAGE, REMOVE THE LOCK-OUT KEY AND STORE IT IN A SAFE
PLACE, OUT OF THE REACH OF CHILDREN, WHENEVER THE PLANER IS NOT IN USE.
SURGE PROTECTION/CIRCUIT BREAKER
The unit is equipped with a circuit breaker located to the
right of the power switch, A, to protect the motor from
power surges or spikes in line voltage. In the event of a
power surge, the circuit breaker will be automatically
tripped thereby cutting off the power to the motor.
SWITCH OFF
To reset the circuit breaker after it has been tripped; set
the power switch to the "off" position and depress the reset
button on the circuit breaker, then restart the machine.
A
TO AVOID UNEXPECTED OR UNINTENTIONAL START-UP BE CERTAIN THAT THE POWER SWITCH HAS BEEN SET TO THE OFF
POSITION BEFORE RE-SETTING THE CIRCUIT BREAKER.
RAISING / LOWERING THE CUTTER HEAD
To adjust the depth of cut, the cutterhead assembly can
be raised or lowered as needed by rotating the depth of
cut adjustment handle.
1x
= 1/16"
NOTE: Each full clockwise rotation of the handle will lower the
cutterhead by 1/16". Each full counterclockwise rotation will
raise the cutterhead by 1/16".
DOWN
UP
PRE-SET THICKNESS STOP GAUGE
B
The adjustable pre-set depth gauge located on the right
side of the planer, A, allows the user to select one of four
commonly used workpiece final thickness settings.
With the cutterhead set slightly above the height of the
workpiece press down and rotate the spring loaded
adjustment knob to select the desired final thickness setting from either 1/8", 1/4", 1/2" & 3/4". This will set the stop
pin to prevent the cutterhead from going any lower than
the selected thickness, B.
A
NOTE: Once you have planed the workpiece down to the selected thickness, do not attempt to lower the cutterhead further. Forcing the depth of cut handle when the cutterhead has bottomed out on the pre-set stop pin will damage the raising mechanism.
10
DEPTH OF CUT INDICATOR
The depth of cut indicator, A, will indicate how much
material the cutterhead is set to remove from the workpiece for a given pass.
A
The pointer will read zero until the workpiece engages the
front of the cutterhead. Place the workpiece under the
front of the cutterhead and turn the height adjustment
handle clockwise until the cutterhead makes contact
with the workpiece & until the depth of cut indicator
shows the reading that matches the desired cut.
Failure to follow these recommendations will lead to
premature blade wear and may cause premature
motor failure.
It is recommended that for both hard and soft wood:
For stock up to 6" in width, never remove more that 1/8"
per pass, A.
For stock of 6"-13" in width, never remove more than
1/16" per pass, B.
A
1/8"
or less
B
1/16"
or less
Removing less material per pass and taking multiple
passes is always preferred to more aggressive planing.
Advantages include longer blade life, better finish quality (resulting in less time sanding later) and less likelihood
of removing too much material causing the workpiece to be too thin for its intended use.
OPERATING INSTRUCTIONS
BASIC PRINCIPLES OF PLANING
This thickness planer is designed to remove material from
the top face of a board in order to bring the board (or a
series of boards) down to a specific desired thickness.
A
To obtain even, uniform thickness across the length of a
board, the stock being planed must have one face that
has already been machined perfectly flat (usually on a
jointer) and the stock should be fed with this flat face
against the table, A.
If it is not possible to machine one face perfectly flat before planing, take shallow passes all on the same face of
the board until this face has been machined level. Then the board should be flipped over and the leveled face
should be fed face down against the table to allow you to dimension the board to final thickness.
SELECTING BOARDS SUITABLE FOR PLANING
B
This planer is not intended (and should not be used) to
plane any material other than solid wood.
The workpiece should always be fed through the planer in
the general direction of the grain in the wood, B.
Before being fed through the planer all lumber should be
inspected for debris and foreign objects such as staples
or nails. Foreign objects stuck to, or embedded in your
workpiece can be ejected from the machine at high
speed and cause serious injury or damage cutter knives. Make sure to remove all such foreign objects from the
wood before running it through the planer.
Select lumber carefully and avoid workpieces with loose or protruding knots. Workpieces that are twisted, severely
deformed or warped should also be avoided. Warped, twisted, damaged or fragile stock runs an increased risk of
jamming in or damaging the machine or cutters. There is also a much greater risk of injury to the operator or
bystanders from kickback, where the workpiece is forcefully or violently ejected from the machine due to a jam,
whenever working with such damaged or warped wood.
11
RATED LIMITS OF THIS PLANER
THE MAXIMUM PLANING
WIDTH OF THIS UNIT IS 13".
THE MAXIMUM WORKPIECE
THICKNESS OF THIS UNIT IS 6"
THE MINIMUM THICKNESS TO WHICH A WORKPIECE
CAN BE SAFELY PLANED WITH THIS
UNIT IS 1/8" .
THE MINIMUM WORKPIECE LENGTH THAT CAN BE
SAFELY PLANED WITH THIS UNIT IS 5".
RESPECT THE RATED LIMITS OF THIS MACHINE IGNORING THESE LIMITS AND FEEDING NON COMPATIBLE STOCK INTO
THIS PLANER CAN LEAD TO SERIOUS INJURY TO THE USER OR SHOP BYSTANDERS, AND CAUSE DAMAGE TO THE WORKPIECE AND/OR THE MACHINE. IF THE STOCK YOU WISH TO PLANE DOES NOT MEET OR COMPLY WITH THE LIMITATIONS
LISTED ABOVE, FIND ANOTHER SAFER WAY TO PERFORM THE REQUIRED TASK.
CONNECTING TO A DUST COLLECTOR
A dust port A with a 4" opening is provided to accommodate connection to a dust collector (not included).
Be sure to use appropriate sized hose and fittings (not
included) and check that all connections are sealed
tightly to help minimize airborne dust.
If you do not already own a dust collection system
consider contacting your General® International distributor for information on our complete line of dust
collection systems and accessories or visit our Web Site
at www.general.ca
A
CHECKLIST BEFORE STARTING
VERIFY ALL CHECK POINTS BEFORE STARTING. FAILURE TO COMPLY CAN RESULT IN SERIOUS INJURIES.
• Make sure the board has been inspected and is suit-able for planing as explained in section "Selecting
boards suitable for planing".
• Make sure you and any assistants are wearing safe appropriate workshop attire. Roll up long sleeves, secure long hair and remove any jewelry: watches, rings, bracelets or anything that could become caught in the
moving parts, potentially causing serious injury.
• Make sure to have on safety glasses as well as hearing and respiratory protection at all times when using the
planer.
• To reduce the risk of damage to the planer or the workpiece, as well as a potential for personal injury, after initial set-up as well as before each use, make sure that everything is securely installed and that all fasteners
and moving parts on this machine are locked in placebefore starting the machine.
• If multiple boards are to be planed, collect all work-pieces together and set them nearby on a table or bench
within easy reach A. To limit the potential for injury in the event of a kickback, avoid having to step or reach in
front of the machine to pick up the next workpiece B.
A
AVOID HAVING TO STEP OR REACH IN
FRONT OF THE MACHINE.
B
12
PLANING STEP-BY-STEP
1. With the planer turned off, position the workpiece
on the infeed table with the flat face down and the
face to be planed facing up.
2. If a specific pre-set thickness is required, set the
depth stop to the desired final workpiece thickness.
A
B
3. Slide the workpiece up to the cutterhead and
using the depth of cut adjustment handle, raise or
lower the cutterhead as needed to obtain the
desired depth of cut.
4. Set the board aside, then insert the safety key in the
switch A and turn on the planer B.
5. Stand to one side of the machine and set the
board back on the infeed table with the face to be
planed facing up.
6. Align the board laterally so that it will be fed
through the planer in the general direction of the
grain, and allow the workpiece enough clearance
to feed properly without rubbing or catching on
either side of the machine.
TO LIMIT THE POTENTIAL FOR INJURY IN THE EVENT OF A
KICKBACK, AVOID STANDING DIRECTLY IN LINE WITH
THE FRONT OR BACK OF THE PLANER WHENEVER A
BOARD IS ENGAGED IN THE CUTTERHEAD.
7.
Slowly slide the workpiece forward until the infeed
roller "grips" the board.
8.
Release the board allowing the feed roller to
automatically feed the board through the planer.
13
9.
Step to the rear of the machine and recover the
planed board on the outfeed table once it has
cleared the outfeed roller and has stopped
advancing.
NEVER PUSH, PULL OR OTHERWISE TRY TO MOVE OR REPOSITION THE WORKPIECE ONCE IT IS IN THE CONTROL
OF THE AUTOMATIC FEED ROLLERS.
10. The return rollers on the top of the planer can be
used to pass the workpiece back to the front of
the machine for repeat passes.
11. Repeat these steps as needed for all boards that
need to be planed to the same thickness.
MAINTENANCE AND ADJUSTMENTS
PERIODIC MAINTENANCE
MAKE SURE THE PLANER HAS BEEN TURNED OFF AND UNPLUGGED FROM THE POWER SOURCE BEFORE PERFORMING
ANY MAINTENANCE OR ADJUSTMENT.
14
•
Inspect/test the ON/OFF switch before each use. Do not operate the planer with a damaged switch; replace a
damaged switch immediately.
•
Keep the machine as well as the in-feed out-feed tables clean and free of saw dust, woodchips, pitch or glue.
Vacuum or brush off any loose debris and wipe down the machine and the tables occasionally with a damp
rag.
•
An occasional light coating of paste wax can help protect the tables' surface and reduce workpiece friction.
Ask your local distributor for suggestions on aftermarket surface cleaners, protectant and dry lubricants based
on what is readily available in your area.
•
Avoid using silicon based products that may affect wood finishing products such as oil, solvent or water-based
stains, varnishes and lacquers.
•
Periodically inspect the power cord and plug for damage. To minimize the risk of electric shock or fire, never
operate the planer with a damaged power cord or plug. Replace a damaged power cord or plug at the first
visible signs of damage.
•
The motor and cutterhead bearings are sealed and permanently lubricated – no further lubrication is required.
•
The drive gears, chain and elevation screws should be cleaned of woodchips, dust, debris and old grease after
every 10-15 hours of use. After cleaning, re-apply a generous coating of any common automotive bearing
grease.
•
Regularly inspect planed workpieces for signs of knife damage or wear and replace damaged or worn knives
immediately.
INSPECTING/REPLACING CUTTERHEAD KNIVES
MAKE SURE THE PLANER HAS BEEN TURNED OFF AND UNPLUGGED FROM THE POWER SOURCE BEFORE PERFORMING
ANY MAINTENANCE.
A
B
There are 26 reversible two-sided high speed steel inserts (knives) A installed in the helical cutter head B at the factory. With usage and normal wear over time, it will eventually become necessary to reverse and/or replace the
inserts. To maintain even insert wear always reverse all 26 inserts each time knife replacement is required. If one of
the inserts has been nicked or damaged on one of it's edges, it can be simply reversed instead of replaced.
When needed, replacement inserts B can be ordered through your local General International distributor under
item #30-007.
Observing planed workpieces as they come out of the machine and looking for signs of knife damage or wear is
the best method to help you to determine when knives are due to be changed.
Signs to look for include:
A
B
EFFECT EXAGGERATED
FOR CLARITY
1. A raised ridgeline in the workpiece that runs a straight line from beginning to end of the board, A. This is generally an indication that one of the knives has been nicked or damaged by a foreign object such as a nail,
staple or other hard object hidden or embedded in the workpiece.
2. A slight washboard or chatter effect, B, which can be an indication of uneven knife wear causing one knife to
cut slightly deeper than the other.
3. Rough, irregular, torn or fuzzy grain on a freshly planed surface may be a sign of worn or dull blades
causing the wood to tear out. Sharp blades cut crisply and leave a relatively smooth finish.
Note: Fuzzy grain can also be a sign of high moisture content in the workpiece. If knives have recently been changed or if you suspect that moisture content and not dull knives is the cause, set the workpiece aside and test by
planing other boards with known or acceptable moisture content. If the planed results using a different workpiece
are smooth, then moisture content in your wood is the problem - no adjustments can be made to the machine for
this. Set the "wet" stock aside and simply work with drier wood.
15
A
1. Turn off and unplug the machine from the power
source.
2. Set the pre-set depth gauge to 3/4" so that the stop
pin prevents the cutter head from going any lower.
3. Using the supplied allen key, loosen and remove
the 4 button head screws A, and remove the dust
chute.
B
4. Using the supplied allen key, loosen and remove
the 2 button head screw B, then remove the chip
deflector.
5. Insert the supplied allen key into the hole on the
side of the planer as shown to keep the cutter head
from turning while changing knives.
NEVER RUN A FINGER OR OTHER BODY PART ALONG THE CUTTING EDGE OF THE KNIFE TO TEST FOR SHARPNESS OR TO
DETERMINE IF THE EDGE IS WORN OR HAS ALREADY BEEN USED. FAILURE TO HEED THIS WARNING CAN LEAD TO SERIOUS INJURY.
D
C
E
Important! To prevent knife height discrepencies, the
inserts and screws must be clean and free of debris.
6. Using the supplied t-handle wrench, loosen the
screws as shown, then remove the screws and
inserts.
7.
9.
Thoroughly clean the housing and cavity before
reversing/replacing an insert.
Thoroughly clean the inserts C and screws D using
a lacquer thinner and small brush then apply a
light coating of machine oil on the screws, taking
care to remove any excess.
Tip: When reversing the inserts in the cutter head, refer to the
etched mark E on the inserts to keep track of the rotations.
Place the insert in the housing so it sits flush
against the supporting edge F and firmly secure it
in place with a screw.
Note: To avoid stripped screws and cracked inserts, do not
overtighten the screws
Note: When tightening the screws, make sure the head of
the screw is aligned flush with the hole of the insert and
does not protrude.
10. Re-install the chip deflector.
11. Re-install the dust chute.
16
8.
F
REPLACING THE V-BELT
The cutter head is driven by a flat ribbed belt that is located on the right-hand side of the planer facing the infeed
side.
MAKE SURE THE PLANER HAS BEEN TURNED OFF AND UNPLUGGED FROM THE POWER SOURCE BEFORE PERFORMING
ANY MAINTENANCE.
1. Using a 4 mm Allen wrench, remove the 5 button
head cap screws holding the right hand side cover
on. Lift the cover upwards slightly while pulling the
bottom outwards until it is off of the machine.
2. Using a phillips screwdriver, remove the 2 phillips
head screws holding the belt guard in place.
3. Roll the belt off of the pulleys by spinning the larger pulley and pulling the belt off of the smaller pul
ley one rib at a time until it is free from the pulleys.
4. Install the replacement belt in the reverse order of
removal.
5. Re-install the belt guard.
6. Re-install the right hand side cover.
DRIVE CHAIN/GEAR LUBRICATION
H
Periodically the drive chain & gears G and elevation
screws H will need to be cleaned and greased to help
maintain smooth feeding and contribute to longer
machine life and trouble free operation.
H
To clean and grease the drive chain & gears and elevation screws:
1. Turn off and unplug the machine from the power
source.
G
2. Unfasten the 5 screws holding the frame cover in
place and remove frame cover.
3. Unfasten the 2 screws holding the drive chain/gear
cover in place and remove the drive chain/gear
cover, I.
I
4. Remove old grease and dust deposits by wiping with
a dry rag.
5. Apply generous dabs of any common automotive bearing grease to the gears & chain, G and four elevation
screws H.
6. Re-install the chain/gear cover and frame cover.
17
RECOMMENDED OPTIONAL ACCESSORIES
We offer a large variety of products for increased convenience, productivity, accuracy and safety when using
your planer. Here's a small sampling of optional accessories available from your local General International
dealer.
For more information about our products, please visit our website at www.general.ca
DUST COLLECTORS
We offer a wide selection
of top quality dust collectors to suit all your shop
needs. Dust collectors contribute to a cleaner more
healthful workshop environment.
ROLLER STANDS
#50-150, #50-170 &
#50-167S
We offer a selection
of roller stands for
added in-feed or outfeed support when
working with longer
stock.
18
HEAVY DUTY OPEN BASED
STEEL STAND
#30-006
Easy to assemble, wide
based stable design with
mounting slots for permanent planer installation.
Foot print measures 33"
(833) x 24 1/2". Floor to
top of stand height: 28"
(711mm).
ELECTRONIC EARMUFFS - #99-200
REPLACEMENT INSERTS #30-007
Highly efficient noise reduction to
help protect your hearing when
operating power tools.
Reversible two-sided high speed steel inserts
FRAME ASSEMBLY
1
2
12(2)
13(4)
8
8(15)
9
11
10(3)
15
16
17(4)
55(4)
34
14(2)
54
53
19
6 15
14
13
5
12
11
4 10
9
20
8
3
7
6
2 5
4
3
1
2
1
0
0
21
26
24
25
8
22
23
28(4)
29
30
31(4)
32(4)
27(3)
45
41
42(2)
43(2)
44(2)
17-1(4)
36(10)
37(4)
38(4)
39(4)
40(4)
33(4)
34(5)
35(4)
46(12)
47(4)
48(4)
49(4)
50(4)
51(2)
8
52
19
36(2)
72
69
84(2)
85(2)
86(3)
70
80(6)
81
82
83(2)
96
97(2)
68(26)
67(26)
95
DEPTH INDICTOR
121(4)
122(4)
123(4)
60(8)
66
0
58
59
60(11)
61
T E S ER
R
UC IC
57
Y
BL
127(2)
56
177(4)
176
175
179
178
181
180
182
164
163(2)
162
166
M
SE
AS
161
159
160
158
165
R
TO
O
M
156
155
154
15
62(2)
63
64(2)
65
157(4)
153
152
151
ERB -T I
KA
RE
75(2)
76
77
78(8)
62
79
100
GEAR BOX
120
125
0 T SSER
73
80(4)
74
112(2)
113(4)
114(3)
115(2)
116
117
118(2)
119
115
113
114
167
168(2)
169
163
174(2)
173(2)
172(2)
183
99
98
126
171
170(2)
20
P
MAIN ASSEMBLY
PARTS LIST
30-005HC M1
PART N0.
1
2
8
9
10
11
12
13
14
15
16
17
17-1
19
20
21
22
23
24
25
26
27
28
29
30
31
32
33
34
35
36
37
38
39
40
41
42
43
44
45
46
47
48
49
50
51
52
53
54
55
56
57
58
59
60
REF. N0.
30005-01
30005-02
30005-08
30005-09
30005-10
30005-11
30005-12
30005-13
30005-14
30005-15
30005-16
30005-17
30005-17-1
30005-19
30005-20
30005-21
30005-22
30005-23
30005-24
30005-25
30005-26
30005-27
30005-28
30005-29
30005-30
30005-31
30005-32
30005-33
30005-34
30005-35
30005-36
30005-37
30005-38
30005-39
30005-40
30005-41
30005-42
30005-43
30005-44
30005-45
30005-46
30005-47
30005-48
30005-49
30005-50
30005-51
30005-52
30005-53
30005-54
30005-55
30005-56
30005-57
30005-58
30005-59
30005-60
DESCRIPTION
HANDLE ASSEMBLY
CAP SCREW
BUTTON HEAD SCREW
TOP COVER
SHAFT BUSHING
UPPER BEARING SEAT
RETURN ROLLER
ROLLER SEAT
LIFTING HANDLE
SPACER
SET SCREW
UPPER ELEVATION NUT
FLANGE NUT
SIDE PANEL (RIGHT)
THICKNESS SCALE
HEIGHT ADJUSTMENT LEAD SCREW
CAP SCREW
PRE-SET STOP DIAL
STEEL BALL
SPRING
MAIN TABLE
LEAD SCREW
PHILLIPS HEAD SCREW
RIGHT GUIDE PLATE
BASE
HEX. HEAD BOLT
HEX. NUT
FLAT WASHER
SPINDLE BEARING
BEARING SEAT
BUTTON HEAD SCREW
FLAT WASHER
SPINDLE SPROCKET
FLAT WASHER
CAP SCREW
LEFT GUIDE PLATE
IDLE WHEEL
ECCENTRIC BUSHING
CAP SCREW
SIDE PANEL - LEFT
PHILLIPS HEAD SCREW
TABLE SUPPORT BRACKET
LOCK WASHER
TABLE BUSHING
PHILLIPS HEAD SCREW
TABLE EXTENSION
ELEVATION CHAIN
HEX HEAD BOLT
HEX NUT
FLAT WASHER
BELT GUARD
BELT
L.H. HEX NUT
CUTTER HEAD DRIVE PULLEY
BUTTON HEAD SCREW
SPECIFICATION
M5xP0.8x20L
M6xP1.0x8L
M5xP0.8x5L
M6xP1.0
M6xP1.0
Ø10
Ø7.62xØ15.75x0.7t
M4xP0.7x10L
M6xP1.0x20L
M6xP1.0
Ø12.2xØ25.8x2t
6000ZZ
M5xP0.8x12L
Ø10.3xØ18x1t
Ø4.2xØ15x2t
M4xP0.7x12L
M5xP0.8x25L
M4xP0.7x6L
TP305
M6xP1.0x16L
#410, 100
M8xP1.25x45L
M8xP1.25
140 J6
M16xP2.0L.H.
M5xP0.8x12L
QTY
1
1
15
1
3
1
2
4
2
1
1
4
4
1
1
1
1
1
1
1
1
3
4
1
1
4
4
4
5
4
10
4
4
4
4
1
2
2
2
1
12
4
4
4
4
2
1
1
1
4
1
1
1
1
11
21
PARTS LIST
30-005HC M1
PART N0.REF. N0. DESCRIPTION
61
62
63
64
65
66
67
68
69
70
72
73
74
75
76
77
78
79
80
81
82
83
84
85
86
95
96
97
98
99
100
112
113
114
115
116
117
118
119
120
121
122
123
125
127
150
151
152
153
154
155
156
157
158
159
160
22
30005-61
30005-62
30005-63
30005-64
30005-65
30005-66
30005-67
30005-68
30005-69
30005-70
30005-72
30005-73
30005-74
30005-75
30005-76
30005-77
30005-78
30005-79
30005-80
30005-81
30005-82
30005-83
30005-84
30005-85
30005-86
30005-95
30005-96
30005-97
30005-98
30005-99
30005-100
30005-112
30005-113
30005-114
30005-115
30005-116
30005-117
30005-118
30005-119
30005-120
30005-121
30005-122
30005-123
30005-125
30005-127
30005-150
30005-151
30005-152
30005-153
30005-154
30005-155
30005-156
30005-157
30005-158
30005-159
30005-160
SPECIFICATION
QTY
CUTTER HEAD BEARING SEAT
CUTTER HEAD BEARING
6203ZZ
BEARING RETAINER
PHILLIPS HEAD SCREW
M3xP0.5X8L
KEY
5x5x12mm
HELICAL CUTTER HEAD
CUTTER HEAD INSERTS (see #30-007 - set of 10 inserts)
14x14x2mmt
TORX SCREW (see #30-008)
M5xP0.8
TORX WRENCH
ALLEN WRENCH
4x120mmL
CHIP BREAKER
POWER CORD CLAMP
GCL 5/16 S
DUST CHUTE
BUTTON HEAD SCREW
M6xP1.0x10L
CHIP DEFLECTOR
UPPER FRAME
SET SCREW
M5xP0.8x6L
CUTTER HEAD PINION
BUTTON HEAD SCREW
M6xP1.0x12L
MOTOR MOUNTING PLATE
POINTER
PHILLIPS HEAD SCREW
M3xP0.5x16L
PHILLIPS HEAD SCREW
M5xP0.8x8L
EXT TOOTH WASHER
Ø5
PHILLIPS HEAD SCREW
M4xP0.7x12L
DEPTH OF CUT INDICATOR
MOTOR PIVOT ROD
BUTTON HEAD SCREW
M5xP0.8x16L
FLAT WASHER
Ø8.4xØ18x2t
BUTTON HEAD SCREW
M8xP1.25x20L
GEAR BOX ASSY
CAP SCREW
M5xP0.8x35L
SPROCKET
8T
CIRCLIP
STW15
GEARBOX DRIVE CHAIN
#410, 27
SPONGE
GEARBOX GUARD
CAP SCREW
M5xP0.8x40L
SPROCKET SPACER
OUTFEED ROLLER
SPRING
BEARING BLOCK
BEARING BLOCK RETAINER
INFEED ROLLER
PHILLIPS HEAD SCREW W/WASHER
M4xP0.7x8L
MOTOR ASSY
STRAIN RELIEF BUSHING
HALO(6P3-4)
PHILLIPS HEAD SCREW
M5xP0.8x40L
FAN HOUSING
SPONGE GASKET
WARNING LABEL (UL)
PHILLIPS HEAD SCREW
M5xP0.8x50L
PHILLIPS HEAD SCREW
M4.8xP1.2x16L
PHILLIPS HEAD SCREW
M5xP0.8x8L
SPROCKET WASHER
M5
GROUND WIRE
300mm +/- 3mm±
1
2
1
2
1
1
26
26
1
1
1
1
1
2
1
1
8
1
6
1
1
2
2
2
3
1
1
2
1
1
1
2
4
3
2
1
1
2
1
1
4
4
4
1
2
1
1
1
1
1
1
1
4
1
1
1
PARTS LIST
30-005HC M1
PART N0.
161
162
163
164
165
166
167
168
169
170
171
172
173
174
175
176
177
178
179
180
181
182
183
REF. N0.
30005-161
30005-162
30005-163
30005-164
30005-165
30005-166
30005-167
30005-168
30005-169
30005-170
30005-171
30005-172
30005-173
30005-174
30005-175
30005-176
30005-177
30005-178
30005-179
30005-180
30005-181
30005-182
30005-183
DESCRIPTION
MOTOR FAN COVER
WAVE WASHER
BEARING
ARMATURE
SLEEVE
POWER CORD CLAMP
STATOR
PHILLIPS HEAD SCREW
MOTOR HOUSING
SET SCREW
RETENTION RING
BRUSH HOLDER
MOTOR BRUSH
BRUSH CAP
INSULATOR
SWITCH COVER
PHILLIPS HEAD SCREW
SWITCH
SWITCH KEY
CIRCUIT BREAKER CONNECTING WIRE
NAME PLATE
CIRCUIT BREAKER RESET
POWER CORD (UL/CSA)
SPECIFICATION
6201 LLB
GCL5/16S
120V/60Hz
M4.8x75L
M5xP0.8x8mmL
RTW32
TP305
TP305
3/16"x3/8"L
HT-18 ¨ı
20A,A-0701
14AWG,120V,2.4mL
QTY
1
1
2
1
1
1
1
2
1
2
1
2
2
2
1
1
4
1
1
1
1
1
1
NOTES
23
MODEL 30-005HC M1
8360 Champ-d'Eau, Montreal (Quebec) Canada H1P 1Y3
Fax: (514) 326-5565 -
Tel.: (514) 326-1161
Fax: (514) 326-5555 -
Parts & Service /
Order Desk
orderdesk@general.ca
www.general.ca
IMPORTANT
When ordering replacement parts, always give the model number, serial number of the machine and
part number. Also a brief description of each item and quantity desired.