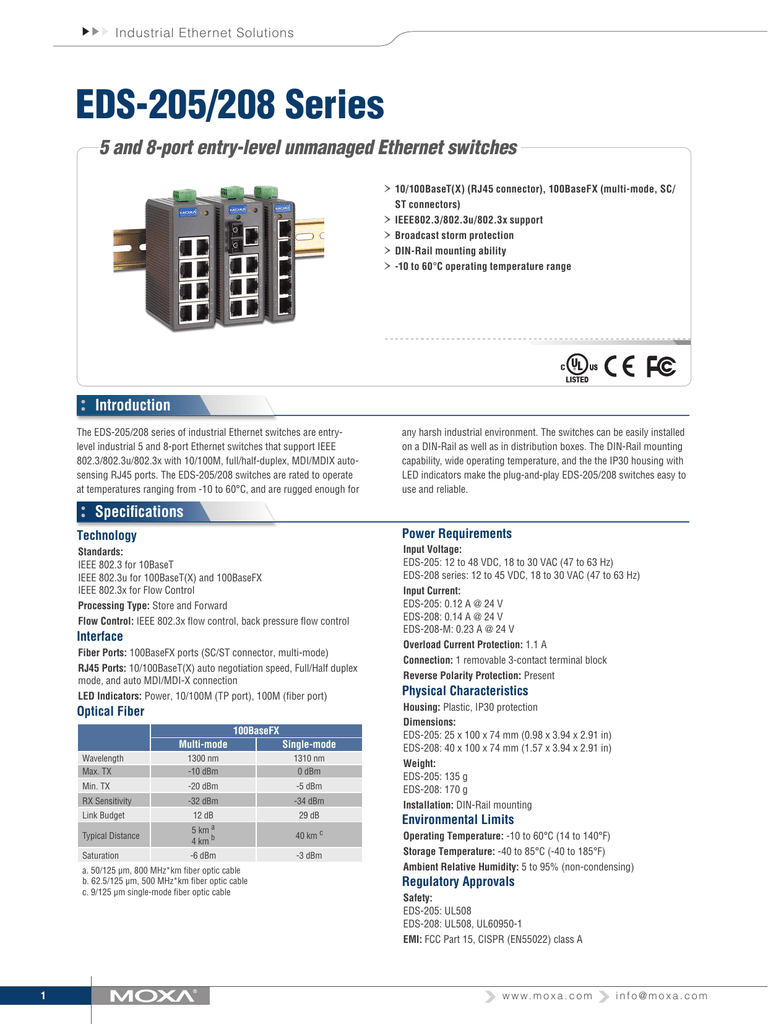 Industrial Ethernet Solutions
EDS-205/208 Series
5 and 8-port entry-level unmanaged Ethernet switches
››10/100BaseT(X) (RJ45 connector), 100BaseFX (multi-mode, SC/
ST connectors)
››IEEE802.3/802.3u/802.3x support
››Broadcast storm protection
››DIN-Rail mounting ability
››-10 to 60°C operating temperature range
Introduction
The EDS-205/208 series of industrial Ethernet switches are entrylevel industrial 5 and 8-port Ethernet switches that support IEEE
802.3/802.3u/802.3x with 10/100M, full/half-duplex, MDI/MDIX autosensing RJ45 ports. The EDS-205/208 switches are rated to operate
at temperatures ranging from -10 to 60°C, and are rugged enough for
any harsh industrial environment. The switches can be easily installed
on a DIN-Rail as well as in distribution boxes. The DIN-Rail mounting
capability, wide operating temperature, and the the IP30 housing with
LED indicators make the plug-and-play EDS-205/208 switches easy to
use and reliable.
Specifications
Technology
Power Requirements
Standards:
IEEE 802.3 for 10BaseT
IEEE 802.3u for 100BaseT(X) and 100BaseFX
IEEE 802.3x for Flow Control
Processing Type: Store and Forward
Flow Control: IEEE 802.3x flow control, back pressure flow control
Input Voltage:
EDS-205: 12 to 48 VDC, 18 to 30 VAC (47 to 63 Hz)
EDS-208 series: 12 to 45 VDC, 18 to 30 VAC (47 to 63 Hz)
Input Current:
EDS-205: 0.12 A @ 24 V
EDS-208: 0.14 A @ 24 V
EDS-208-M: 0.23 A @ 24 V
Overload Current Protection: 1.1 A
Connection: 1 removable 3-contact terminal block
Reverse Polarity Protection: Present
Interface
Fiber Ports: 100BaseFX ports (SC/ST connector, multi-mode)
RJ45 Ports: 10/100BaseT(X) auto negotiation speed, Full/Half duplex
mode, and auto MDI/MDI-X connection
LED Indicators: Power, 10/100M (TP port), 100M (fiber port)
Optical Fiber
100BaseFX
Multi-mode
Single-mode
Wavelength
Max. TX
1300 nm
-10 dBm
1310 nm
0 dBm
Min. TX
-20 dBm
-5 dBm
RX Sensitivity
-32 dBm
-34 dBm
Link Budget
12 dB
29 dB
Typical Distance
5 km a
4 km b
40 km c
Saturation
-6 dBm
-3 dBm
a. 50/125 μm, 800 MHz*km fiber optic cable
b. 62.5/125 μm, 500 MHz*km fiber optic cable
c. 9/125 μm single-mode fiber optic cable
1
Physical Characteristics
Housing: Plastic, IP30 protection
Dimensions:
EDS-205: 25 x 100 x 74 mm (0.98 x 3.94 x 2.91 in)
EDS-208: 40 x 100 x 74 mm (1.57 x 3.94 x 2.91 in)
Weight:
EDS-205: 135 g
EDS-208: 170 g
Installation: DIN-Rail mounting
Environmental Limits
Operating Temperature: -10 to 60°C (14 to 140°F)
Storage Temperature: -40 to 85°C (-40 to 185°F)
Ambient Relative Humidity: 5 to 95% (non-condensing)
Regulatory Approvals
Safety:
EDS-205: UL508
EDS-208: UL508, UL60950-1
EMI: FCC Part 15, CISPR (EN55022) class A
w w w. m o x a . c o m
info@moxa.com
Industrial Ethernet Solutions
MTBF (meantime between failures)
EMS:
EN61000-4-2 (ESD), level 2
EN61000-4-3 (RS), level 3
EN61000-4-4 (EFT), level 3
EN61000-4-5 (Surge), level 3
EN61000-4-6 (CS), EDS-205: level 3; EDS-208: level 2
EN61000-4-8
EN61000-4-11
Shock: IEC 60068-2-27
Freefall: IEC 60068-2-32
Vibration: IEC 60068-2-6
Time:
EDS-205: 323,000 hrs
EDS-208: 368,000 hrs
Database:
EDS-205: Telcordia (Bellcore), GB
EDS-208: MIL-HDBK-217F, GB 25°C
Warranty
Warranty Period: 5 years
Details: See www.moxa.com/warranty
Note: Please check Moxa's website for the most up-to-date certification status.
Dimensions (unit = mm)
Side View
Front View
Rear View
Top & Bottom Views
Ordering Information
Available Models
Standard Temperature
(-10 to 60°C)
Port Interface
100BaseFX
10/100BaseT(X)
Multi-mode,
SC Connector
Multi-mode,
ST Connector
Housing
Material
Power Range
12 to 48 VDC
EDS-205
5
---
---
Plastic
EDS-208
8
---
---
Plastic
12 to 45 VDC
EDS-208-M-SC
7
1
---
Plastic
12 to 45 VDC
EDS-208-M-ST
7
---
1
Plastic
12 to 45 VDC
Optional Accessories (can be purchased separately)
DR-4524/75-24/120-24: 45/75/120 W DIN-Rail 24 VDC power supplies
RK-4U: 4U-high 19" rack mounting kit
2
© Moxa Inc. All Rights Reserved. Updated Jun. 17, 2009. Specifications subject to change without notice. Please visit our website for the most up-to-date product information.

* Your assessment is very important for improving the work of artificial intelligence, which forms the content of this project