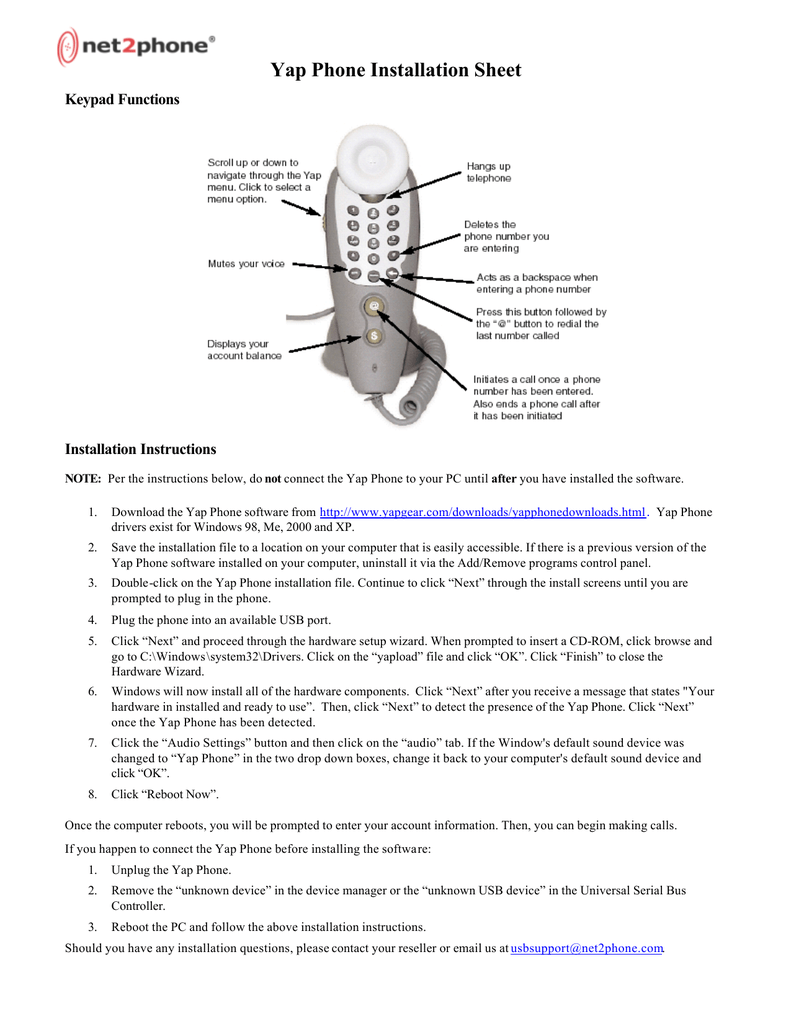 Yap Phone Installation Sheet
Keypad Functions
Installation Instructions
NOTE: Per the instructions below, do not connect the Yap Phone to your PC until after you have installed the software.
1.
Download the Yap Phone software from http://www.yapgear.com/downloads/yapphonedownloads.html. Yap Phone
drivers exist for Windows 98, Me, 2000 and XP.
2.
Save the installation file to a location on your computer that is easily accessible. If there is a previous version of the
Yap Phone software installed on your computer, uninstall it via the Add/Remove programs control panel.
3.
Double-click on the Yap Phone installation file. Continue to click "Next" through the install screens until you are
prompted to plug in the phone.
4.
Plug the phone into an available USB port.
5.
Click "Next" and proceed through the hardware setup wizard. When prompted to insert a CD-ROM, click browse and
go to C:\Windows\system32\Drivers. Click on the "yapload" file and click "OK". Click "Finish" to close the
Hardware Wizard.
6.
Windows will now install all of the hardware components. Click "Next" after you receive a message that states "Your
hardware in installed and ready to use". Then, click "Next" to detect the presence of the Yap Phone. Click "Next"
once the Yap Phone has been detected.
7.
Click the "Audio Settings" button and then click on the "audio" tab. If the Window's default sound device was
changed to "Yap Phone" in the two drop down boxes, change it back to your computer's default sound device and
click "OK".
8.
Click "Reboot Now".
Once the computer reboots, you will be prompted to enter your account information. Then, you can begin making calls.
If you happen to connect the Yap Phone before installing the software:
1.
Unplug the Yap Phone.
2.
Remove the "unknown device" in the device manager or the "unknown USB device" in the Universal Serial Bus
Controller.
3.
Reboot the PC and follow the above installation instructions.
Should you have any installation questions, please contact your reseller or email us at usbsupport@net2phone.com.

* Your assessment is very important for improving the work of artificial intelligence, which forms the content of this project