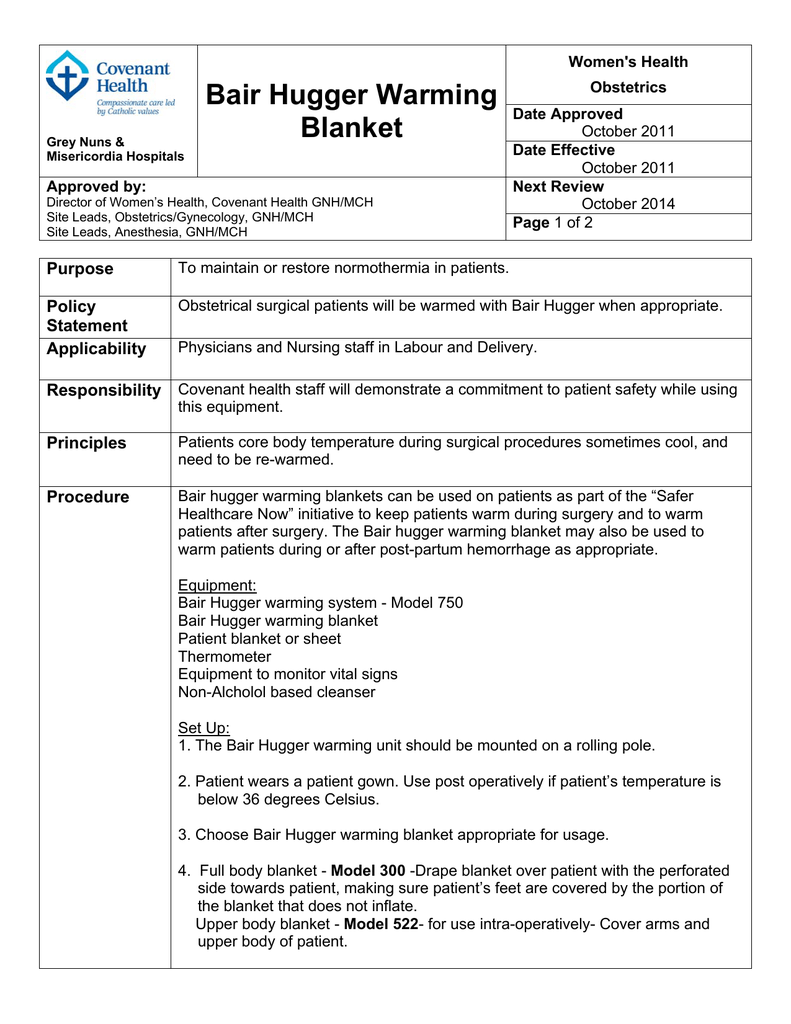 Women's Health
Grey Nuns &
Misericordia Hospitals
Bair Hugger Warming
Blanket
Approved by:
Director of Women's Health, Covenant Health GNH/MCH
Site Leads, Obstetrics/Gynecology, GNH/MCH
Site Leads, Anesthesia, GNH/MCH
Obstetrics
Date Approved
October 2011
Date Effective
October 2011
Next Review
October 2014
Page 1 of 2
Purpose
To maintain or restore normothermia in patients.
Policy
Statement
Applicability
Obstetrical surgical patients will be warmed with Bair Hugger when appropriate.
Physicians and Nursing staff in Labour and Delivery.
Responsibility Covenant health staff will demonstrate a commitment to patient safety while using
this equipment.
Principles
Patients core body temperature during surgical procedures sometimes cool, and
need to be re-warmed.
Procedure
Bair hugger warming blankets can be used on patients as part of the "Safer
Healthcare Now" initiative to keep patients warm during surgery and to warm
patients after surgery. The Bair hugger warming blanket may also be used to
warm patients during or after post-partum hemorrhage as appropriate.
Equipment:
Bair Hugger warming system - Model 750
Bair Hugger warming blanket
Patient blanket or sheet
Thermometer
Equipment to monitor vital signs
Non-Alcholol based cleanser
Set Up:
1. The Bair Hugger warming unit should be mounted on a rolling pole.
2. Patient wears a patient gown. Use post operatively if patient's temperature is
below 36 degrees Celsius.
3. Choose Bair Hugger warming blanket appropriate for usage.
4. Full body blanket - Model 300 -Drape blanket over patient with the perforated
side towards patient, making sure patient's feet are covered by the portion of
the blanket that does not inflate.
Upper body blanket - Model 522- for use intra-operatively- Cover arms and
upper body of patient.
Bair Hugger Warming Blanket
Date Approved
October 2011
Policy No.
NA
Page 2 of 2
5. Cover Bair Hugger blanket with regular sheet or blanket.
6. Insert the end of the unit hose into the hose port of a Bair Hugger blanket.
7. Connect the unit to power. The unit will be on "Standby" and the "Standby" light
will be illuminated.
8. Press the button across from the selected temperature. The temp in range light
will illuminate.
9. Monitor the patient's skin temperature by touch every 10 minutes. Monitor
patient's vital signs including temperature regularly. Have Patient tell you if
they are feeling too warm. Remove blanket if Patient starts to sweat.
10. Adjust air temperature or discontinue therapy when the therapeutic goal is
reached or if vital sign instability occurs. Notify attending physician of vital sign
instability.
11. Press the "Standby" button when temperature management is therapy is
complete.
12. Discard disposable components.
13. Clean Bair Hugger Unit with non-alcohol based cleaner. Do not submerge
unit.
Documentation:
1. Time Bair Hugger is applied.
2. Vital signs.
3. Any concerns during or after warming therapy and notification of physician if
required.
4. Time Bair Hugger is discontinued.
References
Arizant Healthcare Inc. Bair Hugger model 750 temperature Management Unit operator's
Manual. (2005). USA. Eden Prairie. Retrieved October 11, 2011.from
http://www.arizant.com/arizant/manuals-faw.shtml.
Potter, P.A.., Perry, A.G., Clinical Nursing Skills and Techniques. 8th Edition. Mosby,
Elsevier. 2014. pg 881.
Safer Healthcare Now Getting Started Kit: Prevent Surgical Site Infections (May 2011)
Retrieved March 25, 2014 from
http://www.saferhealthcarenow.ca/EN/Interventions/SSI/Pages/default.aspx.

* Your assessment is very important for improving the work of artificial intelligence, which forms the content of this project