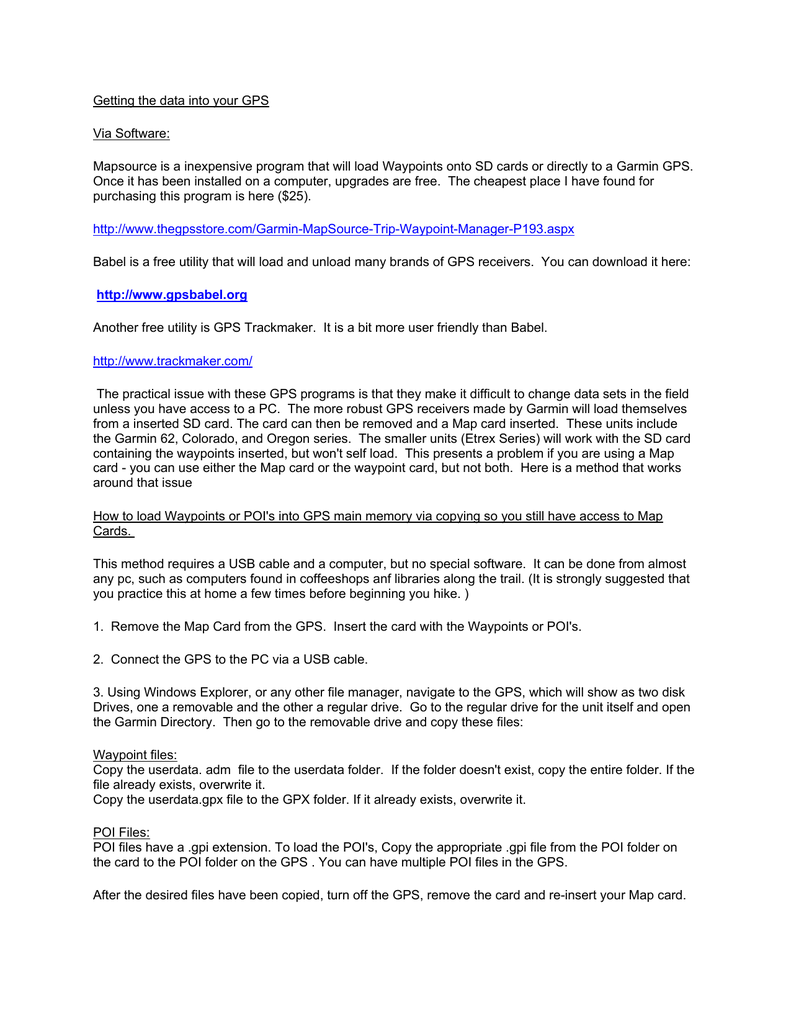 Getting the data into your GPS
Via Software:
Mapsource is a inexpensive program that will load Waypoints onto SD cards or directly to a Garmin GPS.
Once it has been installed on a computer, upgrades are free. The cheapest place I have found for
purchasing this program is here ($25).
http://www.thegpsstore.com/Garmin-MapSource-Trip-Waypoint-Manager-P193.aspx
Babel is a free utility that will load and unload many brands of GPS receivers. You can download it here:
http://www.gpsbabel.org
Another free utility is GPS Trackmaker. It is a bit more user friendly than Babel.
http://www.trackmaker.com/
The practical issue with these GPS programs is that they make it difficult to change data sets in the field
unless you have access to a PC. The more robust GPS receivers made by Garmin will load themselves
from a inserted SD card. The card can then be removed and a Map card inserted. These units include
the Garmin 62, Colorado, and Oregon series. The smaller units (Etrex Series) will work with the SD card
containing the waypoints inserted, but won't self load. This presents a problem if you are using a Map
card - you can use either the Map card or the waypoint card, but not both. Here is a method that works
around that issue
How to load Waypoints or POI's into GPS main memory via copying so you still have access to Map
Cards.
This method requires a USB cable and a computer, but no special software. It can be done from almost
any pc, such as computers found in coffeeshops anf libraries along the trail. (It is strongly suggested that
you practice this at home a few times before beginning you hike. )
1. Remove the Map Card from the GPS. Insert the card with the Waypoints or POI's.
2. Connect the GPS to the PC via a USB cable.
3. Using Windows Explorer, or any other file manager, navigate to the GPS, which will show as two disk
Drives, one a removable and the other a regular drive. Go to the regular drive for the unit itself and open
the Garmin Directory. Then go to the removable drive and copy these files:
Waypoint files:
Copy the userdata. adm file to the userdata folder. If the folder doesn't exist, copy the entire folder. If the
file already exists, overwrite it.
Copy the userdata.gpx file to the GPX folder. If it already exists, overwrite it.
POI Files:
POI files have a .gpi extension. To load the POI's, Copy the appropriate .gpi file from the POI folder on
the card to the POI folder on the GPS . You can have multiple POI files in the GPS.
After the desired files have been copied, turn off the GPS, remove the card and re-insert your Map card.

* Your assessment is very important for improving the work of artificial intelligence, which forms the content of this project