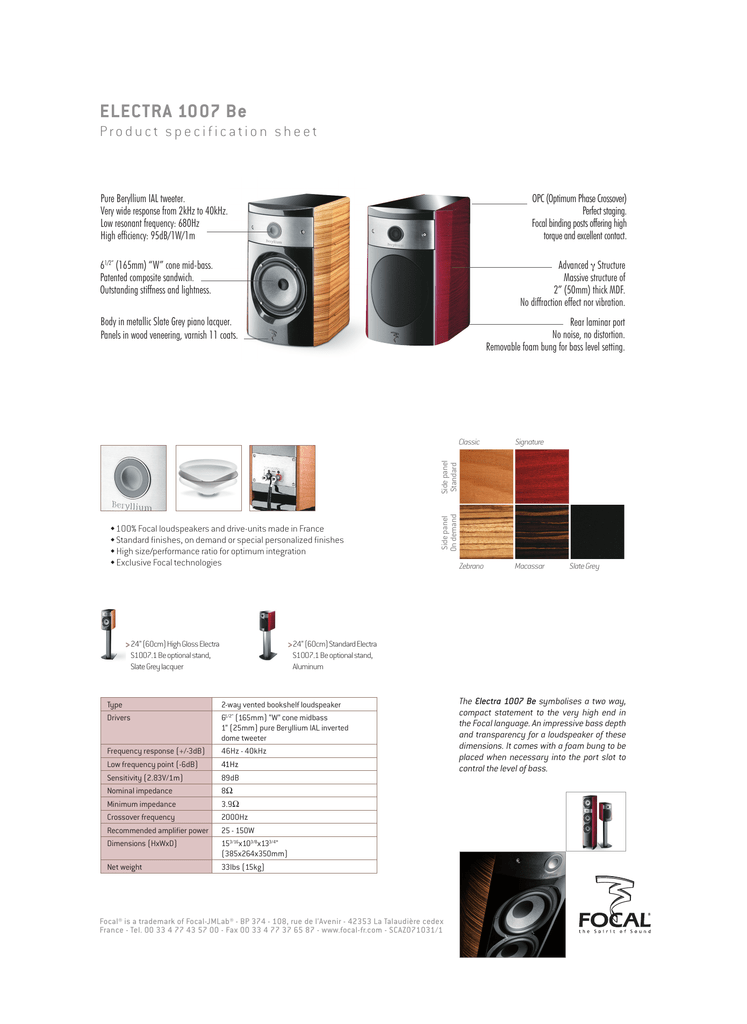 ELECTRA 1007 Be
Product specification sheet
Pure Beryllium IAL tweeter.
Very wide response from 2kHz to 40kHz.
Low resonant frequency: 680Hz
High efficiency: 95dB/1W/1m
OPC (Optimum Phase Crossover)
Perfect staging.
Focal binding posts offering high
torque and excellent contact.
61/2" (165mm) "W" cone mid-bass.
Patented composite sandwich.
Outstanding stiffness and lightness.
Advanced γ Structure
Massive structure of
2" (50mm) thick MDF.
No diffraction effect nor vibration.
Body in metallic Slate Grey piano lacquer.
Panels in wood veneering, varnish 11 coats.
Rear laminar port
No noise, no distortion.
Removable foam bung for bass level setting.
Signature
Zebrano
Macassar
w 100% Focal loudspeakers and drive-units made in France
w Standard finishes, on demand or special personalized finishes
w High size/performance ratio for optimum integration
w Exclusive Focal technologies
> 24" (60cm) High Gloss Electra
S1007.1 Be optional stand,
Slate Grey lacquer
Type
Drivers
Frequency response (+/-3dB)
Low frequency point (-6dB)
Sensitivity (2.83V/1m)
Nominal impedance
Minimum impedance
Crossover frequency
Recommended amplifier power
Dimensions (HxWxD)
Net weight
Side panel
On demand
Side panel
Standard
Classic
Slate Grey
> 24" (60cm) Standard Electra
S1007.1 Be optional stand,
Aluminum
2-way vented bookshelf loudspeaker
61/2" (165mm) "W" cone midbass
1" (25mm) pure Beryllium IAL inverted
dome tweeter
46Hz - 40kHz
41Hz
89dB
8Ω
3.9Ω
2000Hz
25 - 150W
153/16x103/8x133/4"
(385x264x350mm)
33lbs (15kg)
Focal® is a trademark of Focal-JMLab® - BP 374 - 108, rue de l'Avenir - 42353 La Talaudière cedex
France - Tel. 00 33 4 77 43 57 00 - Fax 00 33 4 77 37 65 87 - www.focal-fr.com - SCAZ071031/1
The Electra 1007 Be symbolises a two way,
compact statement to the very high end in
the Focal language. An impressive bass depth
and transparency for a loudspeaker of these
dimensions. It comes with a foam bung to be
placed when necessary into the port slot to
control the level of bass.

* Your assessment is very important for improving the work of artificial intelligence, which forms the content of this project