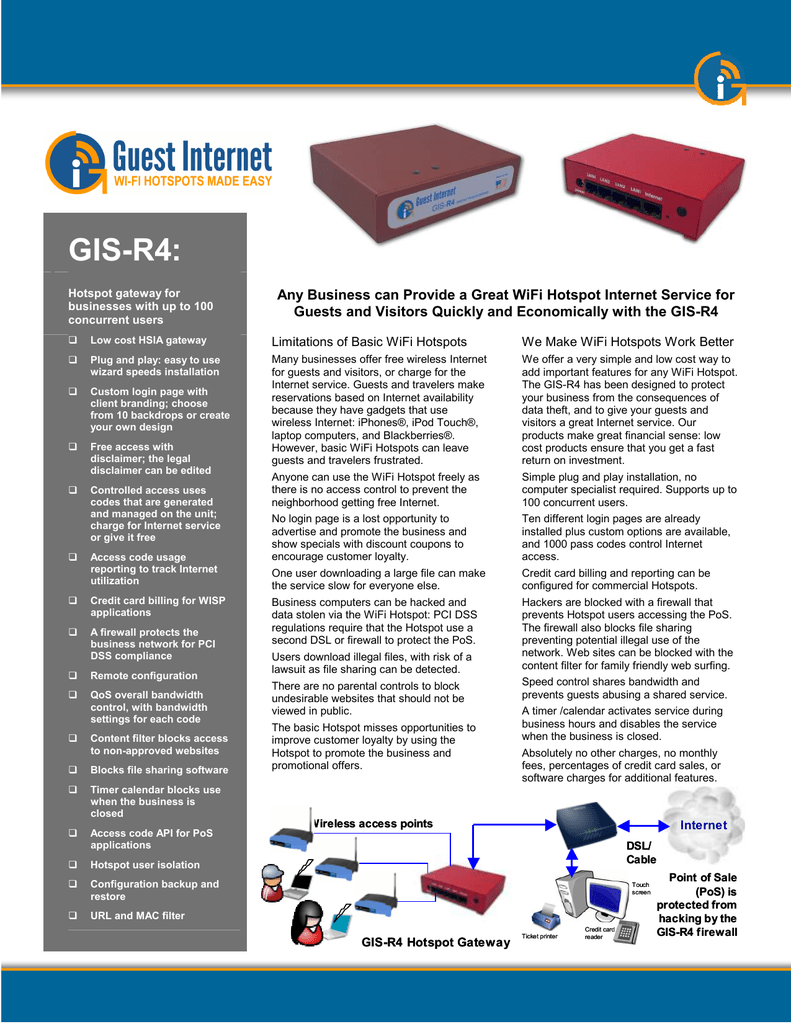 GIS-R4:
Hotspot gateway for
businesses with up to 100
concurrent users
Any Business can Provide a Great WiFi Hotspot Internet Service for
Guests and Visitors Quickly and Economically with the GIS-R4
Low cost HSIA gateway
Limitations of Basic WiFi Hotspots
We Make WiFi Hotspots Work Better
Plug and play: easy to use
wizard speeds installation
Custom login page with
client branding; choose
from 10 backdrops or create
your own design
Free access with
disclaimer; the legal
disclaimer can be edited
Many businesses offer free wireless Internet
for guests and visitors, or charge for the
Internet service. Guests and travelers make
reservations based on Internet availability
because they have gadgets that use
wireless Internet: iPhones®, iPod Touch®,
laptop computers, and Blackberries®.
However, basic WiFi Hotspots can leave
guests and travelers frustrated.
We offer a very simple and low cost way to
add important features for any WiFi Hotspot.
The GIS-R4 has been designed to protect
your business from the consequences of
data theft, and to give your guests and
visitors a great Internet service. Our
products make great financial sense: low
cost products ensure that you get a fast
return on investment.
Controlled access uses
codes that are generated
and managed on the unit;
charge for Internet service
or give it free
Anyone can use the WiFi Hotspot freely as
there is no access control to prevent the
neighborhood getting free Internet.
Simple plug and play installation, no
computer specialist required. Supports up to
100 concurrent users.
No login page is a lost opportunity to
advertise and promote the business and
show specials with discount coupons to
encourage customer loyalty.
Ten different login pages are already
installed plus custom options are available,
and 1000 pass codes control Internet
access.
One user downloading a large file can make
the service slow for everyone else.
Credit card billing and reporting can be
configured for commercial Hotspots.
Business computers can be hacked and
data stolen via the WiFi Hotspot: PCI DSS
regulations require that the Hotspot use a
second DSL or firewall to protect the PoS.
Users download illegal files, with risk of a
lawsuit as file sharing can be detected.
There are no parental controls to block
undesirable websites that should not be
viewed in public.
Hackers are blocked with a firewall that
prevents Hotspot users accessing the PoS.
The firewall also blocks file sharing
preventing potential illegal use of the
network. Web sites can be blocked with the
content filter for family friendly web surfing.
Speed control shares bandwidth and
prevents guests abusing a shared service.
A timer /calendar activates service during
business hours and disables the service
when the business is closed.
Access code usage
reporting to track Internet
utilization
Credit card billing for WISP
applications
A firewall protects the
business network for PCI
DSS compliance
Remote configuration
QoS overall bandwidth
control, with bandwidth
settings for each code
Content filter blocks access
to non-approved websites
Blocks file sharing software
Timer calendar blocks use
when the business is
closed
Access code API for PoS
applications
Hotspot user isolation
Configuration backup and
restore
URL and MAC filter
The basic Hotspot misses opportunities to
improve customer loyalty by using the
Hotspot to promote the business and
promotional offers.
Absolutely no other charges, no monthly
fees, percentages of credit card sales, or
software charges for additional features.
Wireless access points
Internet
DSL/
Cable
Touch
screen
GIS-R4 Hotspot Gateway
Ticket printer
Credit card
reader
Point of Sale
(PoS) is
protected from
hacking by the
GIS-R4 firewall
Users View
Custom Login Pages
PoS / PMS Integration
Login page options
Internet
DSL/
Cable
Touch
screen
Ticket printer
Select from menu or customize
Create a walled garden
Credit card
reader
Point of Sale
(PoS) code
generation
Generate access codes via PoS/PMS
Configuration
Setup wizard
Access code generation
Advanced Features
The setup wizard is a six-step
process completed after installation
Access codes are generated and
managed using a simple display
Exclusive features that make GIS
gatways very powerful tools
LOGIN PAGE
Branding via the login page generator
Ten login pages are preinstalled
Upload your own background graphic
Create a custom HTML login page design
Add custom login page banner advertising
Disclaimer agreement with built in editor
Link to business web site home page
Login page access code generator
Login code usage reporting
Create a 'walled garden' using URL bypass
Library of login page designs available
Login page simulator on our website
Optional billing page for CC processing
Customer data collection application
Login page backup/restore
API FOR PoS INTERFACE
PoS integration to sell access codes
Code fetch/ manage via HTTP
GIS-R4 Technical specifications:
GATEWAY FEATURES
Plug and play with the setup wizard
Firewall blocks access from LAN to WAN
Firewall block file sharing software
Local and remote configuration
Content filter using OpenDNS
Download/upload speed control
Allowed IP and MAC addresses
Free and controlled Internet access
Credit card billing and usage reporting
Timer/calendar to set availability
AUTHENTICATION
Concurrent clients: 100
Access code database: 1000
Applications forthe GIS-R4
–
Restaurant
–
Coffee bar
–
Public library
–
Truck stop
–
Motel
–
RV park
–
Visitor center
–
Public park
ETHERNET
WAN (Internet) RJ-45 10/100
LAN1-LAN4 (network) RJ-45 10/100
OPERATION
Commercial grade equipment suitable
for installation in any non-industrial
environment
DIMENSIONS AND POWER
Enclosure: W 5" x D 4" x H 1.3"
12volt 110v/220v supply, 25W
WARRANTY: 3 years
–
–
–
–
–
–
–
–
Marina
Bus station
Train station
Music concert
Theater
Golf club
Sports club
Gymnasium
–
–
–
–
–
–
–
–
Bookstore
Hospital
Airport
Shopping mall
Hotel
Resort
Internet kiosk
Trade show
–
–
–
–
–
–
–
–
Student dorms
Church
Contractors office
Municipal office
Flea market
Event reception
Multi-tenant condo
University
Call 1-800-213-0106 for further information, or see our web site: www.guest-internet.com
Guest Internet Solutions, Unit C-12, 6073 NW 167 St., Miami, FL 33015, USA. Part of the Fire4 Systems Group
The maximum number of concurrent users for the GIS-R4 is specified with a backhaul circuit of 40Mb/sec and with users sending/receiving emails and viewing web sites. The maximum value
will be reduced when the Internet backhaul is slower then the recommended speed, and when the user traffic includes download/upload of large files.
Guest Internet Solutions is a business unit (DBA) of Fire4 Systems Inc., a Florida Corporation. Copyright © Fire4 Systems Inc., 2011. All rights reserved. Fire4, Avansu, WISPzone, Guest Internet, Hospitality Internet and the
respective logos are registered marks of Fire4 Systems Inc. All other registered marks, trademarks, service marks and logos are the property of their respective holders. Information here is subject to change without notice.

* Your assessment is very important for improving the work of artificial intelligence, which forms the content of this project