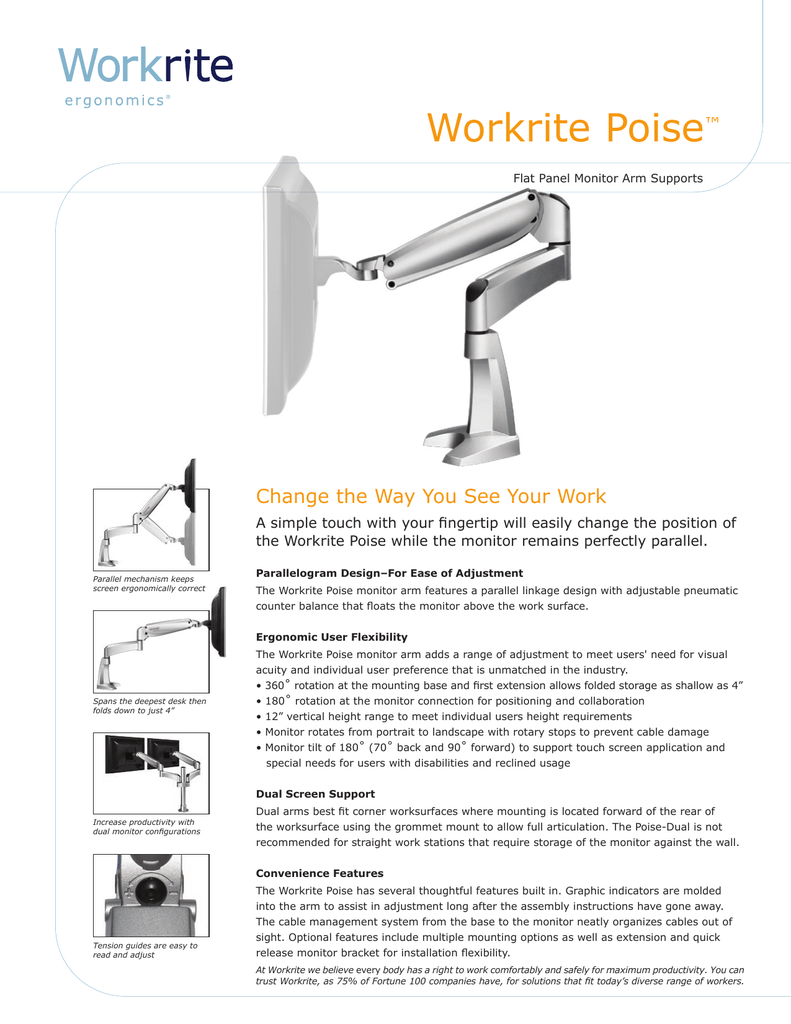 Workrite Poise
™
Flat Panel Monitor Arm Supports
Change the Way You See Your Work
A simple touch with your fingertip will easily change the position of
the Workrite Poise while the monitor remains perfectly parallel.
Parallel mechanism keeps
screen ergonomically correct
Parallelogram Design–For Ease of Adjustment
The Workrite Poise monitor arm features a parallel linkage design with adjustable pneumatic
counter balance that floats the monitor above the work surface.
Ergonomic User Flexibility
Spans the deepest desk then
folds down to just 4"
The Workrite Poise monitor arm adds a range of adjustment to meet users' need for visual
acuity and individual user preference that is unmatched in the industry.
• 360˚ rotation at the mounting base and first extension allows folded storage as shallow as 4"
• 180˚ rotation at the monitor connection for positioning and collaboration
• 12" vertical height range to meet individual users height requirements
• Monitor rotates from portrait to landscape with rotary stops to prevent cable damage
• Monitor tilt of 180˚ (70˚ back and 90˚ forward) to support touch screen application and
special needs for users with disabilities and reclined usage
Dual Screen Support
Increase productivity with
dual monitor configurations
Dual arms best fit corner worksurfaces where mounting is located forward of the rear of
the worksurface using the grommet mount to allow full articulation. The Poise-Dual is not
recommended for straight work stations that require storage of the monitor against the wall.
Convenience Features
Tension guides are easy to
read and adjust
The Workrite Poise has several thoughtful features built in. Graphic indicators are molded
into the arm to assist in adjustment long after the assembly instructions have gone away.
The cable management system from the base to the monitor neatly organizes cables out of
sight. Optional features include multiple mounting options as well as extension and quick
release monitor bracket for installation flexibility.
At Workrite we believe every body has a right to work comfortably and safely for maximum productivity. You can
trust Workrite, as 75% of Fortune 100 companies have, for solutions that fit today's diverse range of workers.
Workrite Poise
Flat Panel Monitor Arm Supports
When adjustability, durability and visual comfort are key
With a 360° rotation, monitor can be changed quickly from landscape to portrait orientation. Workrite Poise will
support monitor arms from seven to 22 lbs., including most common monitors from 17" to 24".
Specifications
Poise
Poise–Extended
Poise–Dual
Reach
23¼"
30¼"
23¼" (two arms)
Tilt Range
160° tilt range (+70º/- 90°)
160° tilt range (+70º/- 90°)
160° tilt range (+70º/- 90°)
Height Range
12"
12"
12" + 7" on pole
Pivot at Base/Extension/Monitor
360°/360°/180°
360°/360°/180°
360°/360°/180°
Stored Depth
4"
4"
4"
75mm / 100mm VESA Mount
X
X
X
Accessories
Quick Release Adaptor,
Extension Arm
Quick Release Adaptor
Quick Release Adaptor
Poise
Mounting
Color
C-Clamp,
Grommet mount (shown)
silver
PA1000-S
-
12
graphite
PA1000-B
-
12
silver
PA1000-WM-S
-
11
graphite
PA1000-WM-B
-
11
Wall mount & other tool
bar & panel systems †
Model #
Type*
Weight
† NOTE: Must order panel system mount separately, see Pricing & Specification Guide
silver
PA1000-SW-S
graphite
Sierra Tool bar
& Privacy Panel
silver
graphite
C-Clamp,
Grommet mount
Slatwall bracket mount
Poise–Extended
-
11
PA1000-SW-B
-
11
PA1000-ST-S
-
11
PA1000-ST-B
-
11
silver
PA1500-DB-S
-
13
graphite
PA1500-DB-B
-
13
silver
PA2000-C-S
-
18
graphite
PA2000-C-B
-
18
silver
PA2000-G-S
-
17
graphite
PA2000-G-B
-
17
Poise–Dual
C-Clamp mount
Grommet mount
* NOTE: Specify Type - 1 for monitors weighing 7 lbs. to 15 lbs.
- 2 for monitors weighing 10 lbs. to 22 lbs.
Monitor Tilt
and Rotation
Horizontal and Vertical Reach
Poise–Dual
180° rotation
23¼"
12"
360°
Top view
360°
6¾"
(+
9[hjde$IM#9E9#&&'+)&
200°+*
180°
17½"
17"
160° tilt
23¼"
17"
16"
180°
(+70°/-90˚)
Side view
8"
180°
360°
Grommet mount
installation
(* pivot rotates 360°,
typical range 200°)
Desk mounted against wall
14¾"

* Your assessment is very important for improving the work of artificial intelligence, which forms the content of this project