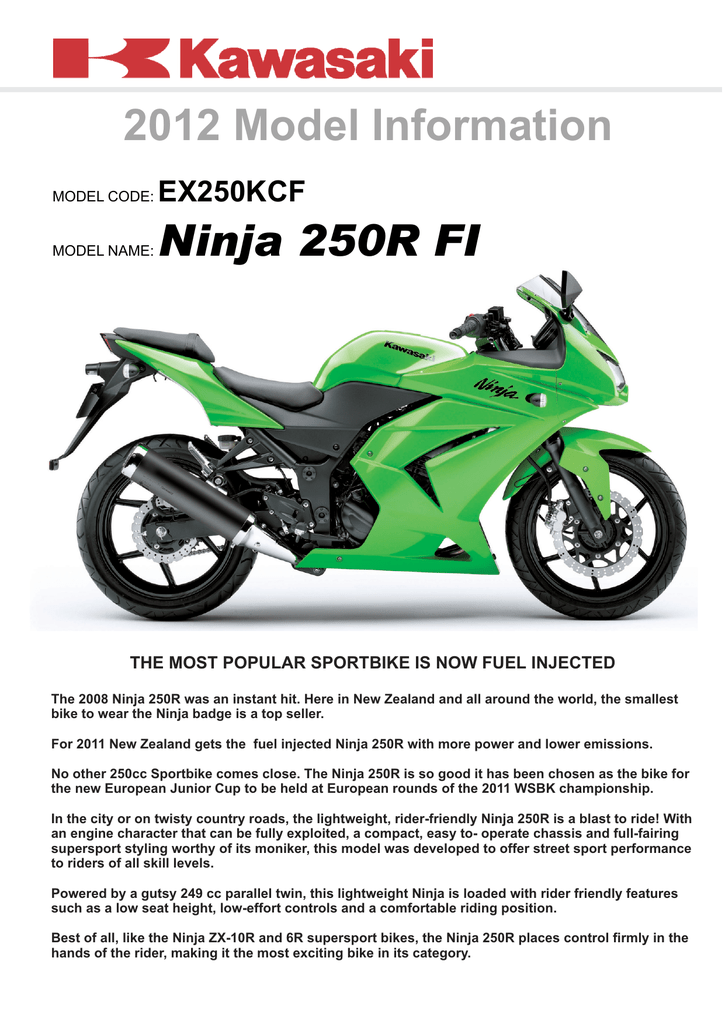 2012 Model Information
MODEL CODE:
EX250KCF
MODEL NAME:
Ninja 250R FI
THE MOST POPULAR SPORTBIKE IS NOW FUEL INJECTED
The 2008 Ninja 250R was an instant hit. Here in New Zealand and all around the world, the smallest
bike to wear the Ninja badge is a top seller.
For 2011 New Zealand gets the fuel injected Ninja 250R with more power and lower emissions.
No other 250cc Sportbike comes close. The Ninja 250R is so good it has been chosen as the bike for
the new European Junior Cup to be held at European rounds of the 2011 WSBK championship.
In the city or on twisty country roads, the lightweight, rider-friendly Ninja 250R is a blast to ride! With
an engine character that can be fully exploited, a compact, easy to- operate chassis and full-fairing
supersport styling worthy of its moniker, this model was developed to offer street sport performance
to riders of all skill levels.
Powered by a gutsy 249 cc parallel twin, this lightweight Ninja is loaded with rider friendly features
such as a low seat height, low-effort controls and a comfortable riding position.
Best of all, like the Ninja ZX-10R and 6R supersport bikes, the Ninja 250R places control firmly in the
hands of the rider, making it the most exciting bike in its category.
ENGINE
249 cc, 2-Cylinder, DOHC Engine
Designed for rider-friendly response, the Ninja 250R's engine was tuned to deliver smooth, step-free power.
Riders who use the full range of the engine will be pleasantly surprised by the ample high-rpm performance.
To enable riders to enjoy this model for a number of years, many of the engine features contribute to
durability and reliability.
Fuel Injection / Dual Throttles
HFine-atomising (8-hole) injectors with a droplet size of 60 micron contribute to mid and high rpm
throttle response.
HLike the Ninja ZX-6R, the Ninja 250R features dual throttle valves for responsive power across
the rev range, smooth, linear throttle response and good fuel consumption. Throttle body size
is 28 mm.
HIgnition system based on that of the ER-6n/Ninja 650R offers high durability and reliability. Plug mounted
coils deliver a hot spark while saving space.
.
Cylinder Head
HIntake and exhaust ports are tuned to deliver good off-idle response and smooth power.
HDirect valve actuation ensures reliable high-rpm operability.
HValves with thin heads and stems reduce reciprocating weight.
HCombustion chamber design optimises the squish area, maximising combustion efficiency and thereby
reducing emissions.
Transmission / Clutch
HInvolute splines on the transmission shaft reduce friction and backlash between gears and ensure smooth
shifting under power.
HSpring type clutch damper contributes to a smooth clutch feel, reducing jerkiness at very low speeds and
minimizing driveline shock when rolling on and off the throttle.
Cooling
HThe latest generation Denso radiator offers superior cooling performance while reducing size and weight.
HA noise reducing ring fan is operated by a quiet running print motor that also saves space.
HFins on the lower side of the crankcase further aid engine cooling.
Mechanical Noise Reduction
HCam chain tensioner like that used on our KX450F motocrosser features an automatic adjuster with
threads and springs. The system automatically eliminates mechanical noise caused by a loose cam chain,
reducing power-robbing friction loss.
HThe air cleaner features a complex construction with reinforcing ribs that help eliminate reverberation, for
reduced intake noise.
Exhaust System
HThe 2-into-1 exhaust system contributes to low- and mid-range torque
and helps achieve the Ninja 250R's smooth, step-free power curve.
HSlightly upswept silencer underwent extensive testing to determine
chamber division ratios and connecting pipe length and diameter. The result
is reduced noise with minimum power loss.
HDual catalysers, one in the collector pipe, one in the silencer, ensure strict
emissions are met. Locating the first catalyser as close to the exhaust ports
as possible maximises its efficiency. Using two catalysers enables power
loss to be minimised. Fuel injected models use honeycomb catalysers.
RIDER FRIENDLY CHASSIS
Sturdy frame and swingarm provide a strong, rigid base for the Ninja 250R. Front and rear suspension with
firm settings and 17" wheels complete a smooth, rider-friendly package that offers confidence-inspiring
stability at both high and low speeds.
Frame / Swingarm
HDiamond style frame is high tensile steel giving high strength and durability.
HStrong swingarm bracket design contributes to the frame's rigidity and helps achieve an ideal chassis
stiffness balance.
HThe swingarm has a rectangular 60mm x 30mm cross section adding further to rigidity.
Suspension
H37mm telescopic front fork contributes to the Ninja 250R's smooth, stable handling. Firm settings keep
pitching motion to a minimum.
HUni-Trak rear suspension provides great road holding ability and bump absorption.
HThe rear shock absorber features 5-way adjustable pre-load, enabling the ride height to be maintained
whether riding solo or with a passenger.
Wheels / Tyres
HThe Ninja 250R features 17" wheels like the ZX-10R and ZX-6R.
Wide rims support low profile tyres.
The sport type low profile tyres contribute to easy neutral handling
at lower speeds.
Brakes
HPetal disc brakes just like our Ninja supersport models offer
excellent heat dissipation and contribute to the race bike looks.
HThe large 290mm diameter front disc is braked by a dual piston
balanced action caliper offering excellent braking performance and
natural, direct feeling at the lever.
HThe 220m rear disc is braked by a dual piston caliper.
Ergonomics
HWith its slightly forward slanting seat and wide, raised handlebars, the Ninja 250R offers a natural riding
position.
STYLING
Supersport Styling
HThe Ninja 250R features striking full fairing bodywork that has superb fit and finish. The bodywork design
gives the 250R the appearance of a larger capacity machine.
HThe front cowling and windscreen offers good rider protection from the wind.
HAggressive dual lamp headlight design contributes to
the sharp Ninja styling.
HClear lens turn signals contribute to the Ninja styling.
HA slim tail cowling and separate seats enhance the
supersport look.
HAn optional single seat cover can replace the pillion
seat for a race bike image.
Instrumentation
HAttractive instrument panel features an easy to read
large face analogue speedometer. Other
instrumentation includes an analogue tachometer,
odometer, trip meter and warning lamps.
OTHER FEATURES
Engine
HThe air cleaner element can be accessed from the
side making replacement easy.
Note: NZ model has white faced meters
Chassis
HTwo helmet holders are conveniently located under the rear seat.
HThe under seat storage area can hold a U-Lock or similar device.
HTwo bungee hooks under the tail section make securing items to the rear seat easy.
Lime Green
SPECIFICATIONS
EX250KCF
ENGINE
Type
Displacement
Bore and Stroke
Compression ratio
Valve system
Fuel system
Ignition
Starting
Lubrication
Liquid-cooled, 4-stroke parallel twin
249 cc
62 x 41.2 mm
11.6:1
DOHC, 8-valves
Fuel injection: ø28 mm x 2 (Keihin), dual throttle valves
Digital
Electric
Forced lubrication, wet sump
DRIVETRAIN
Transmission
Clutch
Final drive
6-speed, return
Wet multi-disc, manual
Sealed chain
FRAME
Type
Wheel travel:
Caster (rake)
Trail
Diamond, high tensile steel tube
120 mm
130 mm
110/70 x 17
130/70 x 17
27°
85 mm
SUSPENSION
Front: Type
Rear: Type
37 mm telescopic fork
Uni-Trak, single gas charged shock
BRAKES
Front: Type
Caliper
Rear: Type
Caliper
Single 290 mm petal disc
Dual-piston
Single 220 mm petal disc
Dual-piston
DIMENSIONS
Overall length
Overall width
Overall height
Wheelbase
Seat height
Dry weight
Fuel capacity
2,080 mm
710 mm
1,115 mm
1,400 mm
780 mm
152 kg
17.5 litres
PERFORMANCE
Maximum power
Maximum torque
24 kW (33 PS / 11,000 rpm
22 N-m / 8,200 rpm
Tyre:
front
rear
front
rear
The specifications mentioned here apply to and have been achieved by production models under standard operating conditions.
We intend only to give a fair description of the vehicle and its performance capabilities but these specifications may not apply to every machine
supplied for sale. Kawasaki Heavy Industries, Ltd. reserves the right to alter specifications without prior notice.
Equipment illustrated, colours and specifications may vary to meet individual markets.