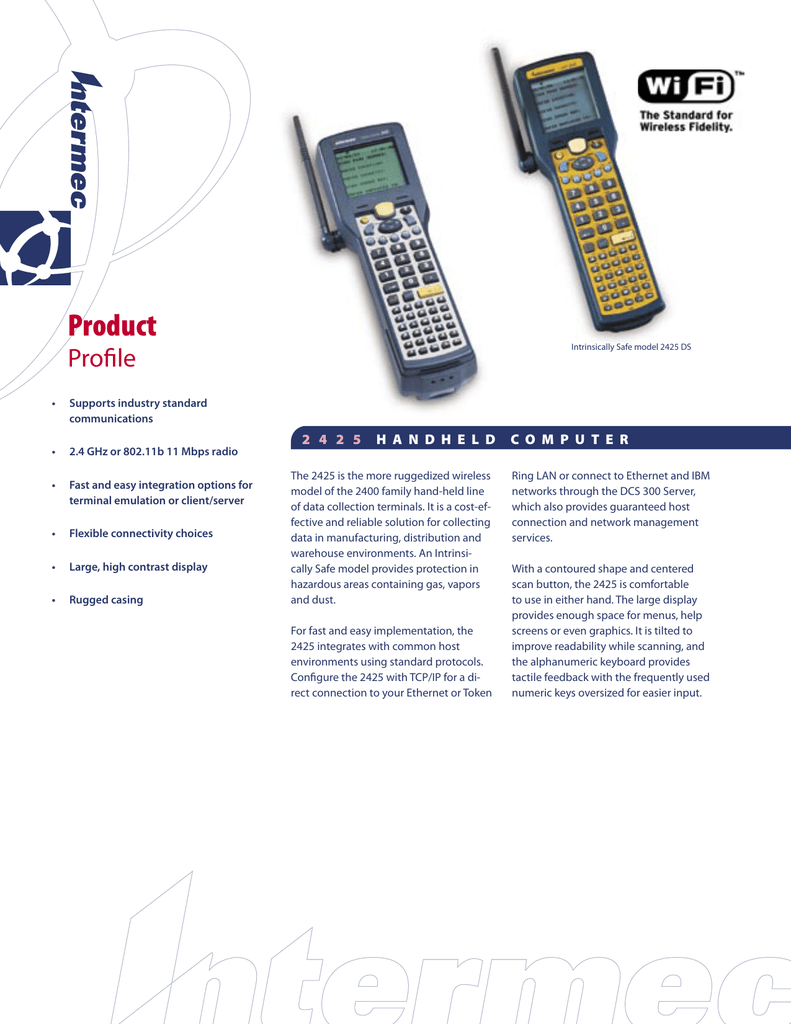 Product
Intrinsically Safe model 2425 DS
Profile
•
Supports industry standard
communications
•
2.4 GHz or 802.11b 11 Mbps radio
•
Fast and easy integration options for
terminal emulation or client/server
•
Flexible connectivity choices
•
Large, high contrast display
•
Rugged casing
2 4 2 5
H A N D H E L D
The 2425 is the more ruggedized wireless
model of the 2400 family hand-held line
of data collection terminals. It is a cost-effective and reliable solution for collecting
data in manufacturing, distribution and
warehouse environments. An Intrinsically Safe model provides protection in
hazardous areas containing gas, vapors
and dust.
For fast and easy implementation, the
2425 integrates with common host
environments using standard protocols.
Configure the 2425 with TCP/IP for a direct connection to your Ethernet or Token
C O M P U T E R
Ring LAN or connect to Ethernet and IBM
networks through the DCS 300 Server,
which also provides guaranteed host
connection and network management
services.
With a contoured shape and centered
scan button, the 2425 is comfortable
to use in either hand. The large display
provides enough space for menus, help
screens or even graphics. It is tilted to
improve readability while scanning, and
the alphanumeric keyboard provides
tactile feedback with the frequently used
numeric keys oversized for easier input.
2 4 2 5
H A N D H E L D
Physical Characteristics
Connectivity
Length: 26.9 cm (10.6")
Height: 7.1 cm (2.8") at scanner, 5.7 cm (2.3")
at grip
Width: 8.2 cm (3.2") at scanner, 6.4 cm (2.5")
at grip
Weight: 766 g (27 oz.) including battery
•
•
•
Environment
Operating: -20° to 50°C (-4° to 122°F)
Storage: -20° to 60°C (-4° to 140°F)
Humidity: Non-condensing (0 to 95% RH)
Shock and Vibration Protection:
Warranted for 5-foot drop to concrete
Meets MIL-STD 28800E
Bar Code Symbologies
C O M P U T E R
Depth of Field*–Standard Range
(670nm)
5 mil
10 mil
20 mil
30 mil
40 mil
55 mil
55 mil retroreflective
100 mil retroreflective
•
CGA compatible backlit LCD
displaying 16 lines of 20 characters
per line (160 x 128 dot matrix) plus
graphic status icons
Keyboard
•
Elastomeric 56-key with full
alphanumeric set, function keys and
oversized numeric
• Options for U.S., Multilingual
European, IBM 5250, IBM 3270 and
VT/ANSI layouts
Software
Programmable: Microsoft® C/C++, EzBuilder
Terminal Emulation: IBM 3270 and
5250 SNA and TELNET; ANSI/VT 100, 220, 320
TELNET; Screen mapping
Web-based: dcBrowser™ for HTML applications
North America
Corporate Headquarters
6001 36th Avenue West
Everett, Washington 98203
tel: 425.348.2600
fax: 425.355.9551
Systems & Solutions
550 2nd Street S.E.
Cedar Rapids, Iowa 52401
tel: 319.369.3100
fax: 319.369.3453
Media Supplies
9290 Le Saint Drive
Fairfield, Ohio 45014
tel: 513.874.5882
fax: 513.874.8487
Canada
7065 Tranmere Drive
Mississauga, Ontario
L5S 1M2 Canada
tel: 905.673.9333
fax: 905.673.3974
9.4-15.7cm
7.4-35.3cm
10.2-63.5cm
10.2-86.4cm
12.7-99cm
19.1-126cm
105-151cm
113-227cm
Accessories
Handstrap, holster, belt clip, pistol grip
handle, vehicle mount holder, battery charger,
battery pack, serial adapter and communications dock, User manuals, Programmer's
Software Kit (PSK)
3.7-6.2"
2.9-13.9"
4-25"
4-34"
5-39"
7.5-49"
41-59"
44-89"
Regulatory Approvals
UL Listed, UL 1950 and C22.2 No. 950, TÜV GS
Licensed, EN 60950 and EN 60825-1, FCC Part
15, Canada, RSS210 and ICES-003 Class B, EN
55022 / CISPR 22, Class B, ETS 300 328, ETS 300
826, Compliant with all European directives, CE
marked
Depth of Field*–Long Range (650nm)
5 mil
10 mil
20 mil
30 mil
40 mil
70 mil retroreflective
100 mil retroreflective
Interfaces
Display
Host Environment: IBM AS 400, S/390, Digital,
HP, UNIX, Windows NT
Connectivity: Ethernet, Token Ring, 100BASET,
Twinax, Coax, SDLC
Communications: TCP/IP, SNA
Integrated visible laser diode scanner
USA/Canada Class II, International Class 2
Memory
Optical Serial Interface
RS232-C up to 38.4 baud
XMODEM, YMODEM for data transfer
Host Support via DCS 300 Server
Bar Code Scanning Options
Operating: Lithium Ion battery pack
Memory Backup: Rechargeable NiCad
•
•
•
*Unlimited range with roaming
Code 39, 2 of 5, Interleaved 2 of 5, Codabar,
UPC/EAN Code 128, Code 11, Code 93, Plessey,
MSI, Code, PDF-417
Power
RAM Memory: 1MB
Non-volatile Flash Memory: 2MB
Option for 2MB additional, 4 MB total
Range* at 11 Mbps: From 525 ft (160 m) to 80
ft (24 m) depending on
environment
Security: Wired Equivalent Privacy (WEP) - 64
or 128 bit encryption
Direct TCP/IP Support
DHCP Client
Sockets interface or terminal emulation
29.5-49.8cm
21.8-85.3cm
21.8-98cm
24.4-192cm
24.4-204.7cm
192-410.5cm
212.3-532.4cm
11.6-19.6"
8.6-33.6"
8.6-38.6"
9.6-75.6"
9.6-80.6"
76.6-161.6"
83.6-209.6"
*Measured for Code 39
Intrinsically Safe Model 2425 DS
•
Please contact your Intermec representative for
configurations available
•
High Density, High Performance and
PDF 417 options available
Optional adapter module for use with
cabled scanners and wands
Regulatory Approvals
UL Listed, UL 913 and C22.2 No. 157 Division 1:
Class I - Groups C & D
UL Listed UL 1604 & C22.2 #213 Division 2,
Class I Groups A, B, C & D
UL Listed UL 1604 only Division 2, Class II
Groups F & G
SIRA Certified to CENELEC EN 50020 and
ATEX Directive. Rated EEx ia 11b T4
Integrated RF Module
Frequency: 2.4 GHz frequency band, actual
frequencies in use vary by country
WLI Forum OpenAir
Type: Frequency Hopping Spread
Spectrum
Data Rate: 1.6 Mbps, .8 Mbps fallback
Range*: From 1500+ ft (450+ m) to 500 ft (150
m) depending on environment
IEEE 802.11b Wi-Fi Certified
Type: Direct Sequence Spread Spectrum
Data Rate: 11/5.5/2/1 Mbps with Auto
fallback for increased range
Range* at 1 Mbps: From 1750 ft (533 m) to 165
ft (50 m) depending on environment
Europe/
Middle East & Africa
Headquarters
Sovereign House
Vastern Road
Reading RG1 8BT
United Kingdom
tel: 44.118.987.9400
fax: 44.118.987.9401
Asia
Asia Regional Office
26-16 International Plaza
10 Anson Road
Singapore 079903
tel: 65.6324.8391
fax: 65.6324.8393
Intermec International Inc
14 Floor, IBM-Pacific Century Place
2A Workers Stadium
Chaoyang District, Beijing 100027
P.R. China
Tel: +86 (010).6539 1012
Fax: +86 (010).6539 1025
Intermec reserves the right to make changes without
notice to any products herein for any reason at any
time, including but not limited to improving the
reliability, form, fit, function or design. Please contact
Intermec for current price list and availability.
Australia
Level 7, 200 Pacific Highway
Crows Nest, NSW 2065
Australia
tel: 61.2.9492.4400
fax: 61.2.9954.6300
Worldwide
Fax Document
Retrieval Service
800.755.5505
(North America Only)
tel: 650.556.8447
South America & Mexico
Intermec South America Ltda.
Rua Arandu 1544-15 andar
Edificio Itavera
Brooklin Novo 04562-031
Sao Paulo, SP
Brazil
tel: 55.11.5501.2070
Internet
www.intermec.com
Intermec Technologies de Mexico
Av Tamaulipas #141, Primer Piso
Col. Hipodromo Condesa
Mexico, DF, 06140 Mexico
tel: 525.55.211.1919
fax: 525.55.211.8121
Sales
800.347.2636
(toll free in N.A.)
tel: 425.348.2726
Service and Support
800.755.5505
(toll free in N.A.)
tel: 425.356.1799
Copyright © 2004 Intermec
Technologies Corporation. All rights
reserved. Intermec is a registered
trademark of Intermec Technologies
Corporation. All other trademarks
are the property of their respective
owners. Printed in the U.S.A.
608456-01E 03/04
In a continuing effort to improve our
products, Intermec Technologies
Corporation reserves the right to
change specifications and features
without prior notice.