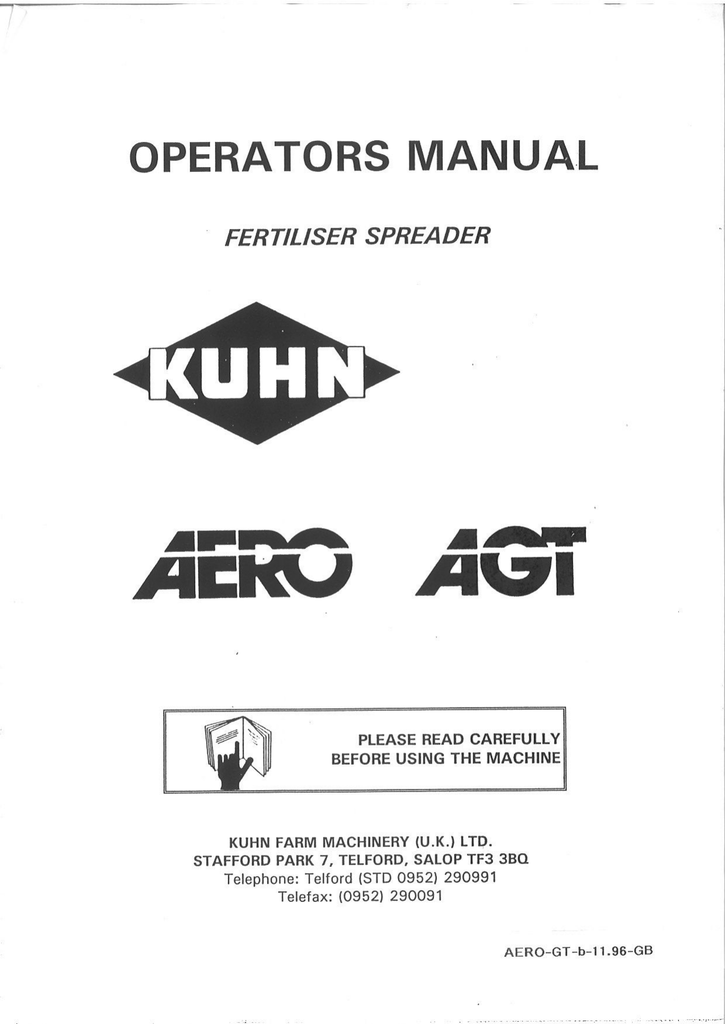 OPERATORS MANUAL
FERTILISER SPREADER
PLEASE READ CAREFULLY
BEFORE USING THE MACHINE
KUHN FARM MACHINERY (U.K.) LTD.
STAFFORD PARK 7, TELFORD, SALOP TF3 3BQ
Telephone: Telford (STD 0952) 290991
Telefax: (0952) 290091
AERO-GT-b-11.96-GB
Dear customer!
We are confident that your Kuhn fertiliser spreader, with its many outstanding
features, will justify the trust which, by your purchase you have shown in the ma-
chine. We have made every effort to provide you with a high performance, reliable,
precision machine.
It is very important that you read and thoroughly understand these instructions
taking careful note of the safety information BEFORE operating the machine. This
manual provides a comprehensive guide to the machine controls and all the informa-
tion necessary for the efficient and safe operation, maintenance and care of your
machine.
PLEASE NOTE: Any damage resulting from operator errors and/or misuse is exclu-
ded from our guarantee,
TYPE: MACHINE No.:
We recommend that you make a note of the machine type and serial number of your
fertiliser spreader in the space above. You will find both numbers on the type
plate fixed to the frame of the machine.
Always quote this information when ordering spare parts, optional equipment and
accessories or making any claims under warranty.
TECHNICAL IMPROVEMENTS
We are committed to a policy of constant improvement of all KUHN products, We
therefore reserve the right to carry out, without prior notice, any improvements or
changes which we feel will benefit our products without any obligation, on our
part, to carry out such improvements or changes to machines which have already
been sold.
If you have any questions about these, or any of our products, please do not he-
sitate to contact us.
With kind regards
KUHN
Farm Machinery (U.K.) Limited
NOTE: MACHINE DELIVERY
Please check your machine thoroughly for any transport damage or missing parts.
Claims can only be accepted if we are notified at the time of delivery. Please ask
the haulier to acknowledge any transport damage. In case of doubt contact your
dealer or the factory direct.
ATTENTION!!!
When this symbol appears in the manual, it means that the safety of the
operator, assistants, bystanders, or the normal operation of the machine
could be in danger. It is essential that you strictly observe all safety in-
structions. It is vitally important that you make sure that all users have
the opportunity to read and thoroughly understand these instructions.
ACCIDENT PREVENTION AND SAFETY ISSUES
Most accidents connected with these machines happen because someone ignores the
most elementary safety rules during operation, maintenance or transport operations.
It is vital that every person who comes into contact with this machine - be it the
purchaser himself, a member of his family, an employee or bystander - must
strictly obey the following main safety rules. Other safety instructions are to be
found on the decals which are placed on various prominent parts of the machine.
Only persons who are completely familiar with the machine and who have been in-
structed in the dangers associated with it should be allowed to maintain or repair
the machine.
Ls Please observe the safety notes contained in these operating instructions
and all current statutory safety and accident prevention regulations!
Zi Warning and instruction decals provide essential information concerning
safe operation - observe them for your own safety!
3. Please check all nuts, bolt and other fixings, load-bearing ropes, load-bea-
ring connectors and all locking devices for tightness.
4. Before using the machine, operators must familiarise themselves with all
parts of the equipment and the function of all controls and adjustments.
Finding out during operation may be too late!
2; Before using the spreader for the first time check that the trac-
tor/spreader combination is roadworthy and in a safe operating condition.
6. Before filling the spreader with fertiliser, switch off tractor engine and
remove key.
Ts Before adjusting, lubricating, cleaning or carrying out any other work on
the machine, switch off the PTO drive, switch off hydraulic system, switch
off the tractor engine and remove the key. Wait until all moving parts have
come to a complete stop.
8. Keep hands feet and clothing well away from moving parts. Do not put your
hands inside the hopper. It contains a rotating auger! Do not wear loose
clothing!
А
Do not put your hands inside the fertiliser hopper. It contains a rotating auger!
9.
10.
11.
12.
15;
14.
15,
16.
17.
18.
19;
20.
Keep the hopper free of any foreign matter.
Before starting and operating the machine, ensure that no person is pre-
sent in the danger area around the fertiliser spreader. Make sure you have
a good view all round! (Watch out for children!)
Only start the fertiliser spreader when all safety devices and guards have
been properly fitted (filling screens, metering chamber covers, PTO guards
etc..).
ATTENTION !!
FERTILISER IS THROWN FROM THE OUTLETS AT HIGH SPEED ,
AND CAN BE DANGEROUS 7
""
MAKE SURE THAT ALL PERSONS LEAVE THE SPREADING ZONE 27%
BEFORE STARTING THE SPREADER. —
Never leave the fertiliser spreader running unattended.
It is illegal to carry passengers when transporting or using the fertiliser
spreader.
When checking, adjusting or repairing the machine, always ensure that the
spreader cannot be started up by mistake.
Before taking the fertiliser spreader onto public roads, ensure that the
spreader conforms to Road Traffic regulations (check with the authorities
what protective equipment, lights and warning signs are required).
Do not exceed 25 km/hr (17 mph)
Powered external components (e.g. hydraulic rams) can cause serious cru-
shing and cutting injuries
Never allow anyone to enter the space between tractor and spreader with-
out first making sure that the tractor is prevented from moving - by
means of parking-brake and/or wheel-chocks!
Make sure that the weight of the spreader does not make the tractor
unstable. In many cases it will be necessary to add suitable weights to the
front of the tractor so that tractor/spreader stability, steering and braking
is not affected by the weight of the fully laden spreader. Make sure that
the tractor maximum axle weights and gross weight are not exceeded.
The maximum payload of the AGT fertiliser spreader is 1800kg.
We recommend that you arrange for your dealer to check the condition of
your spreader at the end of every season. He will pay special attention to
all fixing components, load bearing ropes, hydraulic equipment, metering
mechanism, manifolds and deflecting plates.
da o ¿e Md <P a ms misses
ZU
22x
23.
24.
25.
26.
27.
20:
29.
30.
31.
32.
33.
34.
In the event of a mechanical, hydraulic or electrical breakdown during ope-
ration, switch off the spreader immediately. Stop tractor engine and remove
the key before checking and repairing damage.
Repair all defects on the PTO shaft or its guards prior to using the fertili-
ser spreader.
The spreader should only be set down onto its parking stand when the
hopper is empty. (Check that spreader is stable and will not move when
unhitched.)
Never use spreader without the hopper grids fitted. Before removing
grids:
- switeh off hydraulic system!
- switch off PTO!
- switch off tractor engine!
- remove key!
Before transporting the spreader make sure that the boom sections have
been mechanically locked in the transport position.
We recommend that ear defenders are worn when operating a tractor with-
out an enclosed cab, or with cab windows open. The noise level from the
spreader fan is 95 to 96db(A) during spreading.
Before operating hydraulic boom section controls and hydraulic level com-
pensator make sure that there are no bystanders within range!
Never remove fertiliser deposits from the hopper by hand. Always use sui-
table tools and make sure that PTO shaft and hydraulic equipment are
switehed off. Push the fertiliser residues towards the metering shafts.
Watch out for traffic and bystanders when manoeuvering with booms e-
xtended!
Inappropriate selection and use of fertilisers can lead to serious injury and
damage to humans, animals, plant-life and the environment. Therefore select
the correct type of fertiliser for your task. Treat all fertiliser with care
and carefully observe manufacturer's instructions.
Always select an appropriate tractor speed for the terrain concerned. When
travelling across hills and valleys and across sloping ground, avoid sudden
turns. When manoeuvering tight turns, switch off tractor differential lock.
Never change gear or drive in neutral when going downhill.
Be careful, when using single-axle trailed machines, of possible instability
due to shifting or offset loads. Be particularly careful when unhitching the
implement and whilst it is disconnected from the tractor. Provide adequate
supports.
The height of the drawbar should be adjusted by a qualified service cen-
tre.
The AERO AGT must only be used with tractors which are designed to ac-
commodate the drawbar load of this trailed implement on a hitch arrange-
ment which will not make the tractor unstable.
- 6 -
IMPORTANT POINTS TO CHECK ON THE HYDRAULIC SYSTEM
The hydraulic system operates at high pressures.
When connecting the hoses to the tractor hydraulic system, make sure that
the hydraulic pressure, in both the tractor and spreader circuits, has been
relieved.
Make sure that hydraulic connectors for the various functions are marked
on both male and female fittings in such a way that incorrect connection is
impossible! Wrong connection may lead to the opposite function to that in-
tended.
When searching for hydraulic leaks use suitable protection (safety goggles,
gloves, etc.), because pressurised hydraulic fluid can penetrate skin and
cause serious injury. In the event, get medical help immediately as there is
a serious risk of infection!
Before working on any hydraulic equipment, lower all raised components,
relieve the system pressure and switch off the engine. Remove key!
Prior to making any hydraulic connections, carefully clean all connectors.
When unhitching the spreader, place connectors in the holders provided.
Check all hydraulic hoses regularly; At least twice per year examine the
surface of all hoses for mechanical defects, (eg. cuts and abrasions, crus-
hed sections, kinks, tears, leaks). Replace all damaged lines immediately.
Undamaged hoses should not be used longer than five years. Replacement
hoses must comply with manufacturer's specifications.
PROPER USE
AERO AGT pneumatic fertiliser spreaders are designed to spread dry prilled or
granular fertiliser, seeds and similar material.
Any other use is inappropriate. Any defects arising therefrom will invalidate the
manufacturers guarantee; any risk associated therewith is borne entirely by the
user.
"Proper use" also entails full compliance with all operating, maintenance and repair
instructions issued by the manufacturer.
Your pneumatic AERO AGT fertiliser spreader should only be used, maintained and
repaired by persons who are familiar with the machine and who have received in-
structions with regard to potential dangers.
All current, appropriate, accident prevention requirements, and all other generally
recognised safety, technological, work-related and road traffic legislation must be
observed.
Any guarantee claims against the manufacture, for damage resulting from unauthor-
ised alterations to the machine will be ruled invalid.
WARNING AND INFORMATION DECALS ON THE AERO AGT FERTILISER SPREADER
Decals on the machine are designed and positioned to increase the safety of
all persons working with the machine.
Please instruct anyone who works with the machine to obey all the warning
and instruction information on these decals.
Replacement decals are available through your dealer. Damaged or missing
decals should be replaced in their original location immediately.
All warning decals must be kept clean and readable at all times.
Bild 1
Bild 2
Bild 3
Bild 4
RAUCH
ow
Lendease himertabr! GmbH
D-7471 Sinchales
a. 0
Baujahe
|
©
N
f
Le
@)
A ==
Bedierungssnieitung und Sicherheits
= Л
Ти +0 +В + 1
Verwenden Sie zum Nachfüllen bitte |
nur nachfolgend aufgeführte ATF Daxron il - Produlde
Plagse usa for refiling only hereunder
mentioned ATF Dexron il - products;
Pour le remplissage n'employez que
les produits ATF Dexron NH ci-dessous énumérés:
Wintershall ATF Dexron
Mobil ATF 220 - Shell ATF Dexron ll
BP Autran DX Il | |
Vorsicht!
Aufenthalt
im Schwenkbereich j
verboten. ÿ
6) A ACHTUNG! /\
[Nes E am
Voir lee aT МОЙ
sos mó
-POSITION DER HYDRAULIKSCHLAUCHE
®,
|
Р
Rücklauf
FR
©
1. MACHINE SPECIFICATION
1.1 TECHNICAL DATA
AERO AGT 2918 2920 2921 2924
Working width m 18 20 21 24
Transport width m 2,95
Overall width m 7,0
Overall height m 3,4
Filling height m 2,
Application rate max. 250 ha urea up to 8 km/h
Capacity Itrs. 2900
Kerbside weight kg 3300 3400 3400 3450
Payload kg 3700 3600 3600 3550
Permissible total weight kg 7000
Track width m 1800, on request 2000
Drawbar load 1515
Tyres/pressure 12,4 - 46 - 3,5 bar
Heigtht adjustment 905 - 1385
Drawbar mm
Height adjustment 550 - 780
Hitch linkage mm
Torque settings:
Wheel nuts Nm max. 350
Add-on console Nm max. 600
Tow bar Nm max. 600
Part width control all 3m | all 3,33 m| all3,5m | all4m
Braking system
Dual circuit pneumatic brakes
- 11] -
1.2 TAKING DELIVERY OF YOUR SPREADER
When taking delivery of your spreader check that the consignment is complete. The
following are part of a standard machine:
Operator's manual AERO AGT
Operator's manual Quantron 4-6
Spare parts list AERO AGT
PTO Drive shaft (incl. operator's manual for drive shaft)
Metering-chamber cover
Quantron 4-6 Electronic Control console with installation kit
Hopper grids
SE a al al
Please also check all optional equipment ordered.
Check that manifolds and outlet deflectors are complete and tightly fa-
stened.
Please check your machine thoroughly for any transport damage or missing parts.
Claims can only be accepted if we are notified at the time of delivery. Please ask
the haulier to acknowledge any transport damage. In case of doubt, contact your
dealer or the factory direct.
1.3 NOTES ON SPREADING SPECIAL FERTILISERS
This precision spreader is particularly suited to the precise application of highly
concentrated nitrogen fertilisers at low to medium rates. High application rates, as
used when spreading straights, Lime, P-K fertilisers etc., will inevitably increase
wear and tear on the machine.
Quicklime
During spreading and cleaning out, do not allow the quicklime to come into
| contact with water, since the resulting high temperatures could melt the
MN plastic in the feed rollers.
Kieserite + Potash
The very rough and hard surface of Kieserite fertiliser causes high wear
on injectors, plastic pipes and manifold.
- 13 =
2. COMMISSIONING
2.1 HITCHING AND UNHITCHING
CAUTION! Hitching-up and unhitching trailed machines to a tractor can be danger-
ous. Only hitch fertiliser spreader onto the proper coupling point. Observe permis-
sible total weight. When reversing towards the implement prior to hitching up, keep
bystanders away from the area between tractor and fertiliser spreader.
Prevent your spreader moving unintentionally by engaging the parking brakes or
chocking the wheels.
Do not use tractor independent brakes during transport operations.
The AERO AGT connects to the tractor hitch. The height of the drawbar must be
set by a competent service centre to ensure that the fertiliser spreader is as level
as possible,
After the spreader has been coupled up initially, connect the brake line and the
lighting system, then disengage the parking brake on the spreader.
The following equipment is required on the tractor to provide the hydraulic drive
for the metering mechanism:
1 double acting valve and delo a i
1 free reservoir return line. Е ar.
A (5) …
Fig. 5:
1 Pressure line P
2 Return line R
3 Free-flow tank return line FR
4 Filter - supply line
5 Filter - control line
6 Parking brake crank-handle
7 Supply line coupling (red)
8 Control line coupling (yellow)
9 Servo control
Before taking the implement into traffic place both support stands in their trans-
port position.
Unhitch in reverse order.
- 14 -
2.2 FITTING THE PTO SHAFT
Only use PTO shafts approved by the manufacturer.
The AERO AGT is equipped with a wide angle PTO shaft. This shaft is designed for
specific loads and implements. It must not be replaced with any other type.
When first attaching the spreader to the tractor, the length of the shaft must be
matched to your tractor. If the shaft is too long, the tractor PTO drive and the
spreader will be damaged when the spreader is used.
Seek to provide maximum overlap on the shaft halves . When at working length
the PTO shaft should only extend by half the slide overlap when shaft is fully
compressed. -
1, To adjust, move tractor/spreader so
that shaft is in its shortest working
position, hold shaft sections next to
each other and mark (see Fig. 1).
2. If necessary, shorten inner and outer
shafts by the same amount on both
halves. (Fig. 3).
3. Shorten inner and outer guard by the ` u
same length (Fig. 2) 1
4. Chamfer edges and carefully remove all A \
burs and swarf (Fig. 4). | \ Мусе
2 Du
5, Grease inside of outer shaft (Fig. 5). 2h. =
6. Fit PTO Shaft and connect securing
chains on the free end (Fig. 6). Make
sure the shaft is free to move! Do not
use securing chain to support PTO
shaft!
Fu No other alterations of PTO shaft or
drive guard are allowed.
8. The shaft guards must always be pro-
perly fitted to the shaft, and the
tractor PTO guards must be fitted and
in perfect condition!
9. Pay special attention to the overlap of
the PTO shaft sections when in trans-
port and working positions!
10. Before fitting/removing the drive shaft,
always switch off the tractor PTO,
switch off the tractor engine and re-
move the key!
- 15 -
— da! "added ай
11.
12.
13.
14.
15.
16.
Lie
18:
19,
Always fit the shaft the correct way round! The end of the PTO shaft mar-
ked with the tractor symbol fits onto the tractor.
To prevent the PTO guard from turning, connect up the safety chains!
Before switching on the PTO drive, make sure that the correct tractor PTO
speed is selected to match the implement.
Before switching on the PTO drive, make sure that all bystanders are stan-
ding clear!
Never turn on the PTO without the tractor engine running!
Before starting the PTO make sure no-one is close to the rotating compo-
A À
Prior to cleaning, lubricating, adjusting any PTO driven implement or the
PTO shaft, always switeh off PTO drive, switch off engine and remove key!
When decoupling the drive-shaft from the tractor PTO, place in the holder
provided!
After detaching the drive-shaft, make sure you refit the cover on the
tractor PTO shaft
ENGAGE PTO DRIVE AT LOW TRACTOR ENGINE SPEED ONLY!
- 16 -
2.3 HYDRAULIC FAN DRIVE
The fan is powered by its own hydraulic system. This system consists of a three-
stage pump, hydraulic motors, reservoir with filter unit and oil cooler.
The pump gearbox is designed for 1000 rpm PTO speed. If the tractor is fitted with
the 1 3/8" dia, 6 spline PTO only , then a suitable converter ede be fitted pur
the PTO installation. p =} я
The fan drive components become hot
during work - danger of injury!
The pump gearbox is despatched with 0.41 of
SAE 140 gear oil.
Check the oil level in the gearbox daily.
The level is correct if the oil reaches the lower
edge of the filler hole.
Initially change the gearbox oil after the first
25 hours and then every 100 hours but at
least once per year.
Fig. 6:
1 Breather valve
2 Filler plug
3 Control screw
4 Drain plug
The hydraulic system is filled with
Wintershall ATF Dextron - approx. 701
The following types of oil are also suitable:
Mobil ATF 220 Castrol TQF Veedol ATF F
Shell ATF Dexron II BP Autron G Fina Purifimatic 33 G
BP Autran DX II Texamatic 9330 Ford ATF (M2C33 F/G)
Aral ATF 22 Mobil ATF 210 Valvomatic ATF Type FA
Castrol TQ Dexron II Shell Donax TF Total ATE 33
Esso ATF Dexron Esso Glide
Total Dexron Aral Getriebeol ATF 33
Never mix these oils with existing oil, ie. only carry out complete oil changes.
- 17 -
Check the reservoir oil level daily.
The oil level is satisfactory as long as it
reaches to approx. 1 cm below the black
marker (1).
Change the hydraulic oil initially after 25
hours then every 200 hours but at least
once per year.
Fig. 7:
1 maximum oil level
The hydraulic oil filter is located in the cap
of the oil reservoir.
This filter is equipped with an indicator
which displays the level of oil contamination.
The oil must be changed when the indicator
stays in the red after the hydraulic oil has
reached its operating temperature.
Check the contamination level daily.
Change the filter element initially after the
first 25 hours then every 100 hours but at
least once per year. To do this remove the
filter element from the filter cap.
Only engage PTO shaft at low engine
speeds.
The fan should be warmed up for a
few minutes at low PTO speed,
particularly during cold weather
conditions.
Fig. 8:
1 Contamination indicator
2 Filter cap and filler pipe
3 Thermal switch for cooling fan
4 Breather valve
2.4 HYDRAULIC DRIVE TO METERING MECHANISM AND BOOM CONTROL
The boom control and fertiliser metering
functions are controlled by an electro-
hydraulic valve manifold.
In the event of electrical breakdown the sy-
stem can be controlled manually as long as
hydraulic power remains on.
Fig. 9:
1 Boom section function
2 Level compensation
3 Lift mast function
4 Metering mechanism function
NOTES FOR TRACTORS WITH AXIAL PISTON PUMPS
(eg. John-Deere, Case, Ford)
Due to the design of their hydraulic systems the oil flow rate on these
tractors must be controlled on the pressure side to 35 l. On tractors
without a flow rate control facility, a separate control valve must be ob-
TE à tained as an add-on part from the tractor manufacturer's service
Л department.
Please contact your tractor dealer.
Route the free return line back to the reservoir.
The minimum oil flow/pressure requirement in order to obtain maximum applica-
tion rates on the spreader is 35 l/min and 150 bar pressure.
During boom folding operations and spreading operations, lock the valve
in the "ON" position.
Important: Never combine the Free Return line (FR) and Return line (R).
This may affect the control function of the valve manifold.
- 19 -
2.5 LIGHTING SYSTEM
AERO AGT is equipped with a front and rear
lighting system.
The rear lights are adjustable for width on
their RHS mountings.
When travelling on public roads the
rear lights must be adjusted to
their extreme outward positions.
During spreading, move the light
units inwards to prevent damage to
fertiliser hoses.
Fig. 10:
1 Locking pin
2.6 BRAKING SYSTEM
Check brake function before every journey!
The braking system should be serviced regularly by a competent
workshop.
Adjustments and repairs on the braking system must only be carried out
by a competent workshop or a recognised brake service centre!
AERO AGTs are equipped with a dual circuit air braking system and a manually
operated parking brake.
Do not attempt to move the spreader until the air gauge in the driver's cab
reads 5.0 bar
Before coupling up the AERO AGT clean all couplers to prevent ingress of dirt.
After coupling up check for leaks by trying the tractor brakes.
Drain air receiver daily.
The air receiver must be fixed"
securely in its straps and show no
sign of damage. The type plate must
not be rusted to the container or be
loose or missing. Replace when
necessary.
Fig. 11:
1 Drain valve
— Ио" ЧЕН
Regularly remove the filter element from the
line filter (every 25 hours) and clean in
cleaning solvent. Dry with pressurised air
and replace.
Fig. 12:
1 Locking slide
2 Filter element
2.7 QUANTRON - AND CONTROL PANEL
The fertiliser metering and boom-folding
functions are electro-hydraulically con-
trolled. À special operator's manual is provi-
ded with the QUANTRON 4-6 control unit.
Fig. 13:
1 Main switch for control panel
2 Spreading ON/OFF
3 Temperature gauge (normal tem-
perature: 60° - 70°C)
Level compensation
Lift mast control
Boom section folding control
Circuit Fuse 25 A
Où CB
The speed sensor is mounted on the left-
hand brake drum. The clearance between
sensor and perforated disc must be 3-5mm.
Check this clearance by slowly turning the
wheel one full revolution.
Fig. 14
1
65,
NN NAGT |
(6 OOO
=
J" je
000000
N и
The feed roller speed sensor is fitted below
the hopper.
The clearance between sensor and gauge
wheel must be 0.6mm.
Fig. 15
2.8 CALIBRATION
The calibration is performed on the left-hand and right-hand side of the central
metering mechanism. Carry out the calibration according to instructions in the
QUANTRON 4-6 operator's manual.
Do not alter the selected part-width control during calibr
LT
-
ation.
+ AA
Fig. 16:
1 Locking mechanism
2 Injector support |
3 Metering pan
ВЕ
Release and remove injector support. Slide metering chamber under metering
apertures and briefly switch on feed rollers so that pan completely fills with
fertiliser, then remove and empty metering chamber. Slide metering chamber un-
der opening again and carry out calibration.
A
wr
nr Les
3. PRACTICAL USE
3.1 HYDRAULIC BOOM FOLDING
The following boom section functions are controlled by the control panel
- Fold/extend boom sections
- Boom height adjustment
- Manual level compensation
When extending or folding boom sections ensure that there are no bystanders in
the operating area.
Make sure spreader is on level ground whilst extending or folding boom secti-
ons.
To extend the boom sections first "raise lift mast" which will release the boom
locking mechanism.
Then "extend boom sections" until the springs on the reversing levers are fully
stretched. Internal control valves inside the rams ensure that the boom sections
extend slowly and smoothly.
With "lift mast lowered" set the boom to the required working height.
The working height (even for late top-dressing) is approx. 1m above crop height
measured at the deflector plate on the innermost manifold.
Before commencing spreading on very uneven terrain, it is advisable to set the
working width to prevent the boom sections touching the ground.
Prior to folding, use the manual compensation control to set boom sections par-
allel to the spreader.
Raise booms by raising the lift mast until it
reaches the tilt-lock end-stop. rn
afr
Carefully move boom sections into tilt-lock AS AM
en i . A SELL TT E
position! Incorrect operation (folding when
booms are not parallel) can lead to damage. К
Ensure that the booms are located properly
into the tilt-lock. В —
——
Fig. 17:
1 Tilt lock
2 Locking bolt
- 23 =
pe 11111 1418
ei
- ча LT
a я!
4 pe
"e E
"Fold boom sections" until the inner booms are close to the hopper and the ou-
ter sections are secured by the safety hook. Finally activate the mechanical
boom lock by lowering the lift mast.
Ensure that the booms are secured properly.
3.2 SPREADING
Carry out calibration of QUANTRON 4-6 in the yard.
Before commencing spreading:
Switch on main switch on control panel
Switch on QUANTRON 4-6
Switch on fan drive via PTO shaft
Ensure that the switch on the control panel is set to "spreading off".
Turn on and lock hydraulic valve.
BONE
During spreading check the control functions of QUANTRON 4-6 (LED display in
+/-keys.)
At the end of the bout switch off spreader using QUANTRON 4-6 section feed
switches or by switching the control panel master switch to "spreading off".
The life expectancy of the boom sections depends to a great extent on
the way you drive your machine. On rough terrain reduce forward
speed, drive slowly when in turning areas and avoid the booms touching
the ground.
During gear changes do not allow the PTO speed to drop from 1000 rpm
for more than a short time. Too low a PTO speed causes the air stream
to lose its power - Risk of blockages-
- 24 -
3.3 EMPTYING AND CLEANING
The spreader should be cleaned daily.
Unlock and remove injector support.
Slide metering chamber under openings.
With QUANTRON 4-6 set to MAN-mode, set
central feed roller speed and empty all rol-
ler groups one after the other using the
boom section feed controls.
When the hopper is empty, unlock and re-
lease the metering unit.
Fig. 20:
1 Metering units lock
2 Chain tensioner
3 Chain guard fixing
Remove all deposits from the metering pan.
Also remove metering pan cover and clean à a GY
PVC separators. | een on
Ri (au CU
Fig. 21:
1 Metering pan cover
2 Nylon brushes
3 Set screws
Clean with a water hose using moderate pressure, paving particular attention to
injectors and manifold.
Do not use a high pressure washer when cleaning electronic or hydraulic compo-
nents.
Always Keep manifold and deflectors clean. Dirty deflectors can lead to inaccu-
rate spreading.
When cleaning the spreader after spreading quick-lime, deposits must
not come into contact with water since the resulting very high tempera-
tures which will melt the plastic feed rollers.
For drying, place metering units into the hopper.
When refitting these units make sure they are replaced in their correct position
(left-hand and right-hand sides). Lock injector supports after cleaning and
briefly switch on PTO. The fan will remove water from injector hoses and pipes.
After cleaning, treat the spreader with biodegradable corrosion protection.
Lubricated machines must only be washed at locations equipped with oil separ-
ators.
= 29° =
3.4 MICROGRANULATES, FINE SEEDS AND REDUCED WORKING WIDTHS
When spreading grass seed, slug pellets, microgranulates and similar material,
which require an application rate of less than 30kg/ha, the special feed rollers
must be used.
The working width can be reduced by special feed rollers.
Please enquire with the factory whether the reduction you require is possible.
3.5 CHANGING THE FEED ROLLERS
Unlock and remove injector support.
Unlock and unhook metering unit.
Loosen chain tensioner, remove chain guard and drive chain.
Loosen the U-section securing the feed rollers and remove feed rollers.
Insert the special feed rollers and make sure that for all 6 support bearings
(V2A) the welded U-sections are pointing upwards. The scraper sections must be
located on the outside of the feed rollers.
Secure holding sections and ensure free movement of bearings. Do not overtigh-
ten.
Refit drive chains and install chain cover and chain tensioner.
Adjust chain tension (approx. 1 cm deflection).
Remove metering pan cover and insert special cleaning brushes which are
supplied with the rollers. Hook and lock metering unit in place.
Lock injector supports.
aT ia
E
¿l
|
|
Fig. 22:
1 Fixing bracket
2 V2A - bearings
3 Scraper sections
Fig. 20:
1 Metering units lock
2 Chain tensioner
3 Chain guard fixings
Symbol key
o = change / x = check / # = check and clean /
+ = lubricate, grease, oil / XI = check and tighten
daily
after the
first
25 hours
every
25 hours
every
100 hours
or
once per year
PTO-shaft guard
x Ф
Gearbox (shafts) - oil level
o*
Hydraulic oil filter
o
Hydraulic oil
Hydraulic hoses - damage
Hydraulic rams - leaks
Xx IX |X |XX
Feed roller drive: chain
chain tension
gauge wheel shaft
Transfer chain to boom sections
Boom sections - 4 grease nipples
Swivel frame - 9 grease nipples
Lift mast - 2 grease nipples
Lift mast sliding rail
Pivots and slide faces
+ + + + 4 + + x +
+ + 4 4 6 0 + < +
Tyres damage
pressure
Brake system drain
function
line filter
brake shafts
brake linings
Xx XxX Xx IX X
#
x Ф
Й
X
х Ф
Hubs bearing play/surfaces
wheel nuts 350 Nm
[x] after the first loading travel
E] after the first loading travel
e =>
Lights - function
X
Nut/bolt fixing
Nut/bolt fixings of drawbar 600 Nm
and subframe 600 Nm
[x]
[x]
Manifolds/deflectors
Sealing funnels on boom sections
Injector gaskets on swivel frame
Fertiliser hoses - wear and tear
Feed rollers
XX |X |X
Injectors
Gasket seals - pressure chambers
X
Rubber stop - central fan
X
Suction flange - fan
1
* every 200 hours or once per year - ** every 1000 hours
MAINTENANCE SCHEDULE
Symbol key
o = change / x = check / #= check and clean /
¢ = lubricate, grease, oil / Ed = check and tighten
PTO-shaft guard
Gearbox (shafts) - oil level
Hydraulic oil filter
Hydraulic oil
Hydraulic hoses - damage
Hydraulic rams - leaks
Feed roller drive: chain
chain tension
gauge wheel
shaft
Transfer chain to boom sections
Boom sections - 4 grease nipples
Swivel frame - 9 grease nipples
Lift mast - 2 grease nipples
Lift mast sliding rail
Pivots and slide faces
Tyres damage
pressure
Brake system drain
function
line filter
brake shafts
brake linings
Hubs bearing play/surfaces
wheel nuts 350 Nm
Lights - function
Nut/bolt fixing
Nut/bolt fixings of drawbar 600 Nm
and subframe 600 Nm
Manifolds/deflectors
Sealing funnels on boom sections
Injector gaskets on swivel frame
Fertiliser hoses - wear and tear
Feed rollers
Injectors
Gasket seals - pressure chambers
Rubber stop - central fan
Suction flange - fan
daily after the
first
25 hours
Xx e
X 0
X
X
X
X
&
X
+
©
$
+
+
>
>
X
X
X
X
X #
x +
Dd after the first loading travel
after the first loading travel
X
x]
if
* every 200 hours or once per year - ** every 1000 hours
27 -
every
25 hours
0006006 >=
it
X
> Xx xX OX
x x
every
100 hours
or
once per year
о"
о*
x +
x] + **
[x
Lx]
Ed
Fig. 23:
Fig. 24:
1 One solenoid
2 Spring clutch
5. GENERAL HINTS
5.1 FAULTS AND POSSIBLE CAUSES
Es Injectors overflow/pipes blocked
- Check for foreign matter in injectors or pipe
— Reduce application rate by reducing tractor speed
- Ensure PTO speed is 1000 rpm
= Feed rollers are not reaching maximum speed (70 rpm)
— Ensure oil flow rate of tractor is higher than 35 l/min
- In cold weather let feed roller drive run for a few minutes with boom sec-
tion feed controls switched off.
я Uneven fertiliser distribution
- Check for blocked deflectors, manifold, pipes, hoses and injectors or
build-up of fertiliser deposits
= Check for damaged deflectors, manifolds and holders
- Ensure clearance between metering chamber and feed roller is precisely
2mm at all points
— Check for correct adjustment of PVC separators in the metering chamber.
= Fan does not reach maximum speed or speed fluctuates
= Check that injectors support is locked properly on both sides
= Ensure PTO speed 1s 1000 rpm
= In cold weather let fan run for a few minutes at low PTO speed
- Check oil level and oil filter
= Check for oil leaks from connectors, pumps or motors
= Check whether oil shows signs of foaming through air intake in the suc-
tion area.
- 28 -
Quantron 4-6 works irregularly due to feed roller speed fluctuation
Ensure gauge wheel and sensor is in perfect condition and fitted cor-
rectly.
Ensure sensor supplies impulses
Check sensor to gauge wheel clearance is 0.9mm
Feed rollers cannot be switched off with electric boom section feed con-
trols
Check that 12V is available on the corresponding voltage input in the di-
stributor box when boom section feed control is set to off - check cable
and fixing
Check voltage output in the distributor box is 12V when the boom section
control is switched off - change fuse
Check proper function of solenoid on spring clutch
Check proper action of toggle switch and leverage
Check proper function of spring clutch - outer ring is easily rotated.
Spray light oil between external ring and shaft.
Metering shafts do not rotate after renewed start
Check whether toggle switch and linkage move easily and are located pro-
perly. Check spring clutch for proper function - outer ring should rotate
easily. Spray light oil between outer ring and shaft.
Boom sections cannot be extended/folded
Check whether boom section is fully UP
Check whether safety mechanism is completely unlocked
Check control valves on rams for dirt deposits
Lift mast will not move
Check voltage on control terminals
Check valve for switch function
5.2 BOOM SETTING
Adjust setting if boom sections do not sit
properly on the brackets when folded. |
Raise boom sections completely using the lift
Slowly fold booms and check whether the in-
side boom sections meet the brackets too
high or too low. Adjust swivel bearing on
moving frame accordingly.
During folding, the boom sections must fold
close to the hopper. Adjust by turning the
head on the hydraulic ram.
For horizontal adjustment of the boom sec-
tions, use the angle rail on the outer
knuckle.
Fig. 25
- 29 -
If the boom sections do not form a straight line, adjust the end stops on the
outer knuckle.
Fig. 26:
1 Adjusting bolt
2 Screws on angle rail
5.3 ADJUSTMENT OF METERING MECHANISM
In order to check or correct the setting of
the metering mechanism, remove pan cover
and cleaning brushes. y :
"15a 5 nabs sal |
-
Check the clearance using a feeler gauge.
The clearance between metering chamber and
feed rollers must be 2mm. The necessary
adjustments are made using the adjusting
screws. Prior to adjustment, remove the me-
tering chamber. Check that the clearance is
the same on both sides of the roller shafts.
Do not screw the set screws too tight on the
support rail to ensure that the stone pro-
tector remains effective; after adjustment
lock the setting with the lock nuts.
To protect the feed rollers, the metering
chamber must be able to deflect in case fo-
reign matter gets in.
To check, push metering pan downwards
with both hands. The internal springs must
return the pan to its initial position.
Fig. 21:
1 Metering chamber cover
2 Nylon brushes
3 Set screws
5.4 FUSES ON THE AERO AGT
Fuse in the power supply cable between battery and socket.
Location: Near the positive battery terminal.
Rating: 25 A
Type: Bakelite fuse inserts or automotive fuses
Number: 1 off
Fuse in the control panelabove Quantron '
control |
Location: On the left hand side inside the ee mT — -
auxiliary panel
Rating: 25 A
Type: Automotive fuse
Number: 1 off
®
my
Rating: 4 A slow
Type: Glass 5mm dia. x 20mm long
Number: 8 off
| Te
Fuses in Quantron distribution panel | ans
Location: On l.h. side of machine under oil a
cooler Ч o
1
Fi ll ow oS ib = =
M eccco o.
Fig. 29:
1 Fuse
Fuse in hydraulic valve manifold distribution panel
Location: On r.h. side behind hopper near the hydraulic valve block
Rating: 16 A slow
Type: Glass 5mm diam. x 20mm long
Number: 1 off
( =
> <
Mach.- Wire- Distribution- Wire- Function
plug colour box colour
la of— white À À 4 —A 8 —6 brown + 12 V Part width 1 left outside
2a of. brown — 2 AA == brown + 12 V Part width 2 left middle
3a ol - green == 3 q Á sT 5% brown + 12 V Part width 3 left center
4a ol. yellow I Boss le ST sn brown + 12 V Part width 4 right center
ba ob grey 1 5 9— 4A-T—o brown + 12 V Part width 5 right middle
Ga o}— pink = бо LAT а brown + 12 V Part width 6 right outside
1b of. grey/pink ЙО СВ ден ЙА СЗТ = brown Proportional valve
2b ol red/blue 1 Er AA gy blue Proportional valve
4b ol. brown/green —| 9 0— WDU —o brown + 12 V Sensor feedroller
5b o}— white/yellow —} 10 ,— WDU — о black Impuls Sensor feedroller
3b o}— white/green —} 11 ,— WPE —o blue Mass Sensor feedroller
7a ol blue À 12:0 — WPE —0 blue Mass Part width 1 left outside
Ba oj— red — 13 o— WPE —o blue Mass Part width 1 left middle
& blue Mass Part width 1 left center
9a of}— black = eg WPE == blue Mass Part width 1 right center
0a ol- violett = TB es WIPE ove blue Mass Part width 1 right middle
Gb ol- brown/yell. — & blue Mass Part width 1 right outside
4 A -T = Fuse 4 Ampere inert
WPE = yellow/green Mass clamp WDU = Bridge clamp
Pin 15/30 brown & yellow/green + 12 Volt Cobo plug with 3-pin
Pin 31 Mass (DIN 9680)
Pin 82 not connected
Pin 2 black Impuls Amphenol plug with 7-pin ISO 11786
Pin 6 brown + 12 Volt Cable with yellow mark (ring)
Pin 7 Mass -660.2306.995-
Pin 1 Impuls Radar Amphenol plug with 7-pin
Pin 2 Impuls Gear
Pin 7 Mass 8 1089
\_ QLPGTEN.DOC FE
xx NDIQ ND]G - assDW
*% UMDJO
| oS G E 28
‹ | 7 7
| — 78 Of UNDIO AZ +
1 E Vv GZ
= Z t 1 1 ! x ZJDMU)S
L L \ \
№ 2 : & 34
a * ZJDMUDS
Uanais a[pl® Jabajsny |)
Buby
© «© ©@ © ©
BUNPUIQJ3AMISIS 0 0
sapula / ЕЁ) v4 )
==
==
=
<=
En
AGT - Schaltkasten - Quantron L - Hydraulikblock
Y
Mach.- Wire- Distribution- Wire
plug colour box colour
SB 18 ol blue
ТУ ой
10A 16 o}— brown
Feb ol green/yell. _Jo 12 15 of— 2 x blue
bb ol 11 — Ло 11 14 o}— brown
4b of— 10 — До 10 13 o}— brown
3b ot— 9 —109 12 o}— 2 x blue
2b o}— 8 — 108 110 brown
la o}— 1 —fo 1 10 o}— brown
2a of— 2 10: 9 ol— 2 x blue
3a ol— 3 —lo 3 8 ol— brown
Аа of 4 — То 4 7 ol— brown
ba of— 5 a 6 o}— 2 x blue
ба of— 6 — Ло 6 бо brown
1b o}— 7 — То 7 4 о|-- brown
er al.
2 o}— brown
1 0}— blue
SB 10 A = Fuse 10 Ampere Relay Hydraulic block
SK 10 A = Fuse 10 Ampere Relay Oil cooler
Function
Mass ,SPREADING"
+ 12 V ,SPREADING"
Mass Hillside correction
+ 12 V Hillside correction
+ 12 V Hillside correction
Mass Lift mast
+ 12 V Lift mast
+ 12 V Lift mast
Mass Main valve
+ 12 V Main valve
+ 12 V Main valve
Mass Boom folding
+ 12 V Boom folding
+ 12 V Boom folding
+ 12 V Oil cooler
Mass Oil cooler
Oktober 96
PLGTHYEN.DOC
A
Y
RAUCH <>
AERO AGT
Hydraulischer Steuerblock Hydraulic block
ab Masch.-Nr. 1067 from machine-no. 1067 on
| Ak
= ве
e f= (6)
|| SA (7)
Alls 7 O
+
Ц
1
©
+
mu
0) |0.
ae
A
La
RAUCH
A
AERO AGT
Hydraulischer Steuerblock
ab Masch.-Nr. 1067
1. Proportional-Ventil
2. Olmotor
3. Ventil "Streuen™
4. Hauptüberdruckventil
5. LS-Meldeleitung
6. Stellschraube
- bei John-Deere oder Traktoren mit
LS-System --> Schraube bis
Anschlag eingedreht
- bei Traktoren Konstantstrom-
System --> Schraube bis zum
Anschlag herausgedreht
7. Hauptventil far Zylinder ein- oder
ausfahren
8. Hangausgleich
9. Ausleger
10.Hubmast
Hydraulic block
from machine-no. 1067 on
8.
O:
Proportional valve
Oil motor
Valve "Spreading"
Main pressure relife valve
Load-sensing messenger line
Adjusting screw
- for John-Deere or tractors with
LS-system --> tight up to block
- for tractors with constant flow
system --> untight
Main valve for hydraulic cylindre on
entry or exit
Hillside correction
'Boom
10. Lifting bar
HYDRAULIC FAN DRIVE
Jeq = d :9ALeA UNIDA UON
$431 021 ("wou) wo; :u37/ 13 UUNIay
(75431 LE) wd [| (91
("5421 LE) wd IL (gl
(°5431 Gb) wo 9] (ej dund
- 9
- G E
| 0Z "xoudde u100435ay - y с
491002 |10 - €
MD [| :4030Ш - 2 т 7
704 ET
= | , ee.
L
EN
ZA
A
+ 3
pi г т = ; — =: —= = —} —
ss. a
UN
=
DUAL CIRCUIT BRAKING SYSTEM
AOpuL|AI u02SLd
SARA uled4(
ADALIIDA Аду
OAJOS
JALEA IPA J3| Led]
499113 SUL
реэчЧ yoin[g
Lt 1 1 1 1 11
A) E LO LS Aa
ee A te tt ee tea Tee ee ii rm
AE EE SA ete entre
nT a!
ote eee
Mina ar ir ie ia mese Tiroteo oe retar ete norris anses rote peste tte e re Нананя
eones nd
eee iia rara era ero eater etarra rare aretes aereos ore ese ore ee Erg nneTegaErnngE
osorno otero eee ear e TC TOTES TTD TT
Moreno e NO CCC pi rnin
KUHN warrants in accordance with the provisions below, to each original retail purchaser
of KUHN new equipment of its own manufacture, from an authorised KUHN dealer, that
such manship and that such equipment will be warranted for a period of one year from
the date of delivery to the end user, providing the machine is used and serviced in accor-
dance with the recommendations in the operators manual.
These conditions are subject to the following exceptions:
1. Parts manufactured from wood are not in any way covered by this limited warranty.
2. Parts of the machine which are not of KUHN manufacture (tires, belts, PTO shafts,
clutches etc.) are not covered by this limited warranty but are subject to the limited
warranty of the original manufacturer. Any claim falling into this category will be
taken up with the manufacturer concerned.
3. This limited warranty will be withdrawn if any equipment has been used for purposes
other than for which it was intended or if it has been misused, neglected or damaged
by accident or let out on hire. Nor can claims be accepted if parts other than those
manufactured by us have been incorporated in any of our equipment. Further, the
Company shall not be responsible for damage in transit or handling by any common
carrier and under no circumstances within or without the warranty period will the
Company be liable for damages for loss of use, or damages resulting from delay or
any consequential damage.
We cannot be held responsible for loss of earnings caused by a breakdown or for in-
juries either to the owner or to a third party, or can we be called upon to be respon-
sible for labour charges other than originally agreed, incurred in the removal or re-
placement of components.
The customer will be responsible for and bear the costs of:
1. Normal maintenance such as greasing, maintenance of oil levels, minor adjustments
etc.
2. Transportation of any kind of any KUHN product to and from the place the warranty
work is performed.
3. Dealer travel time to and from the machine or to deliver and return the machine from
the service workshop for repair.
4.Dealer travelling costs. Parts defined as normal wearing items are listed as follows and
are not in any way covered under this Limited Warranty.
"Y" belts, discs, knives, wear plates, stone guards, tires, slip clutches, pitman shafts,
swath sticks, blades, tines and tine holders.
KUHN limited warranty will not apply to any product which is altered or modified without
the expressed permission of the Company and/or repaired by anyone other than
Authorised Service Distributors or Authorised Service Dealers.
Limited warranty is dependent on the strict observance by the purchaser of the following
provisions: |
That all safety instructions in the Owners Manual shall be followed and all safety guards
regularly inspected and replaced where necessary.
No warranty is given on second-hand products and none is to implied. Persons dealing in
the Company's products are in no way legal agents of the company and have no right or
authority to assume any obligation on their behalf, express, implied or to bind them in any
way. KUHN S.A. reserves the right to incorporate any change in design in its products
without obligation and to make such changes on units previously manufactured.
Disclaimer of further Warranty. There are no warranties, expressed or implied, except as
set forth above. There is no warranty of merchantability. There are no warranties which
extend beyond the description of the product contained herein. In no event shall the
company be liable for indirect, special or consequential damages (such as loss of
anticipated profits) in connection with the retail purchaser's use of the product.