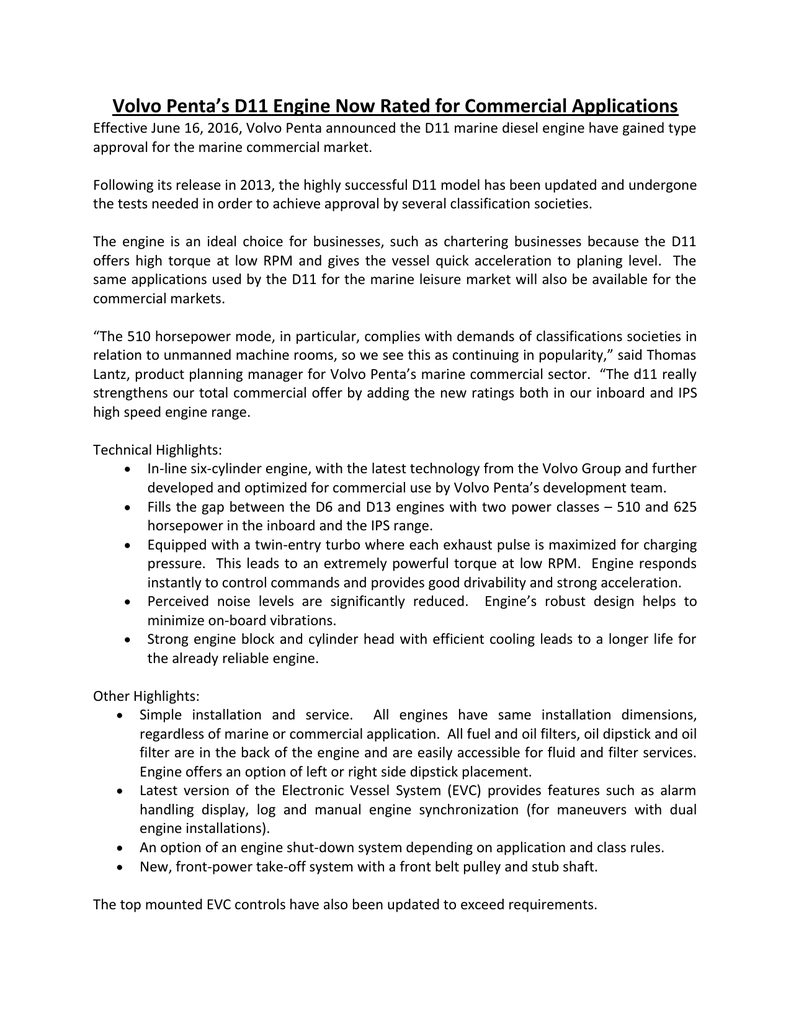 Volvo Penta's D11 Engine Now Rated for Commercial Applications
Effective June 16, 2016, Volvo Penta announced the D11 marine diesel engine have gained type
approval for the marine commercial market.
Following its release in 2013, the highly successful D11 model has been updated and undergone
the tests needed in order to achieve approval by several classification societies.
The engine is an ideal choice for businesses, such as chartering businesses because the D11
offers high torque at low RPM and gives the vessel quick acceleration to planing level. The
same applications used by the D11 for the marine leisure market will also be available for the
commercial markets.
"The 510 horsepower mode, in particular, complies with demands of classifications societies in
relation to unmanned machine rooms, so we see this as continuing in popularity," said Thomas
Lantz, product planning manager for Volvo Penta's marine commercial sector. "The d11 really
strengthens our total commercial offer by adding the new ratings both in our inboard and IPS
high speed engine range.
Technical Highlights:
 In-line six-cylinder engine, with the latest technology from the Volvo Group and further
developed and optimized for commercial use by Volvo Penta's development team.
 Fills the gap between the D6 and D13 engines with two power classes – 510 and 625
horsepower in the inboard and the IPS range.
 Equipped with a twin-entry turbo where each exhaust pulse is maximized for charging
pressure. This leads to an extremely powerful torque at low RPM. Engine responds
instantly to control commands and provides good drivability and strong acceleration.
 Perceived noise levels are significantly reduced. Engine's robust design helps to
minimize on-board vibrations.
 Strong engine block and cylinder head with efficient cooling leads to a longer life for
the already reliable engine.
Other Highlights:
 Simple installation and service. All engines have same installation dimensions,
regardless of marine or commercial application. All fuel and oil filters, oil dipstick and oil
filter are in the back of the engine and are easily accessible for fluid and filter services.
Engine offers an option of left or right side dipstick placement.
 Latest version of the Electronic Vessel System (EVC) provides features such as alarm
handling display, log and manual engine synchronization (for maneuvers with dual
engine installations).
 An option of an engine shut-down system depending on application and class rules.
 New, front-power take-off system with a front belt pulley and stub shaft.
The top mounted EVC controls have also been updated to exceed requirements.

* Your assessment is very important for improving the work of artificial intelligence, which forms the content of this project