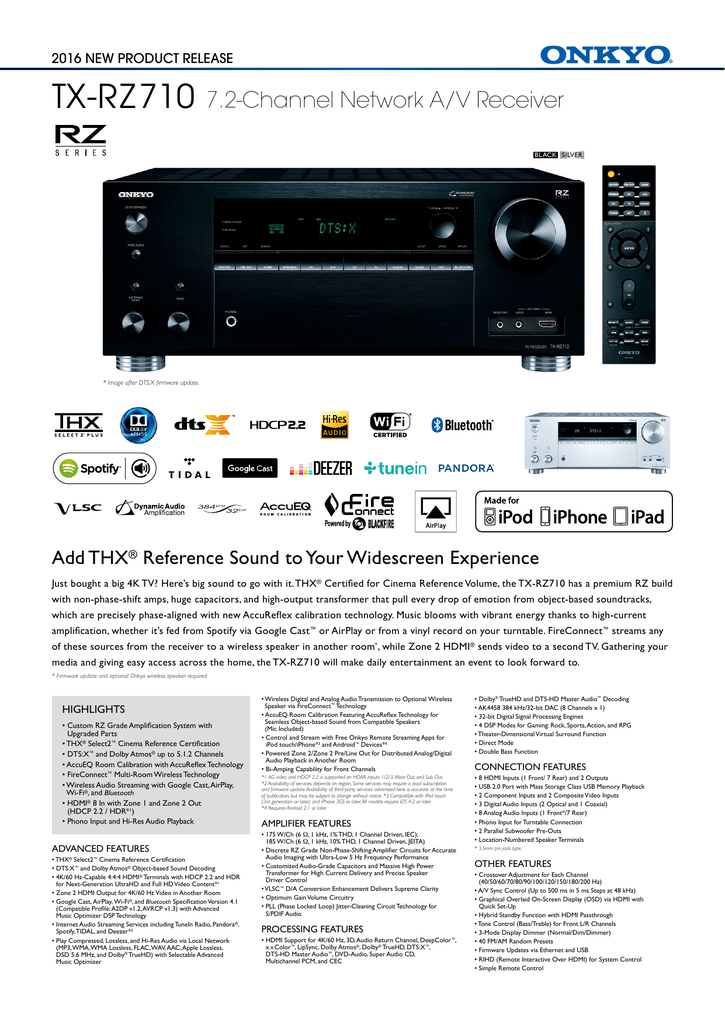 2016 NEW PRODUCT RELEASE
TX-RZ 710
7.2-Channel Network A/V Receiver
BLACK SILVER
* Image after DTS:X firmware update.
Add THX® Reference Sound to Your Widescreen Experience
Just bought a big 4K TV? Here's big sound to go with it. THX® Certified for Cinema Reference Volume, the TX-RZ710 has a premium RZ build
with non-phase-shift amps, huge capacitors, and high-output transformer that pull every drop of emotion from object-based soundtracks,
which are precisely phase-aligned with new AccuReflex calibration technology. Music blooms with vibrant energy thanks to high-current
amplification, whether it's fed from Spotify via Google Cast™ or AirPlay or from a vinyl record on your turntable. FireConnect™ streams any
of these sources from the receiver to a wireless speaker in another room*, while Zone 2 HDMI® sends video to a second TV. Gathering your
media and giving easy access across the home, the TX-RZ710 will make daily entertainment an event to look forward to.
* Firmware update and optional Onkyo wireless speaker required
HIGHLIGHTS
• Custom
RZ Grade Amplification System with
Upgraded Parts
®
• THX Select2™ Cinema Reference Certification
• DTS:X™ and Dolby Atmos® up to 5.1.2 Channels
• AccuEQ Room Calibration with AccuReflex Technology
• FireConnect™ Multi-Room Wireless Technology
• Wireless Audio Streaming with Google Cast, AirPlay,
Wi-Fi®, and Bluetooth
® 8 In with Zone 1 and Zone 2 Out
• HDMI
(HDCP 2.2 / HDR*1)
• Phono Input and Hi-Res Audio Playback
ADVANCED FEATURES
• THX® Select2™ Cinema Reference Certification
• DTS:X™ and Dolby Atmos® Object-based Sound Decoding
• 4K/60
Hz-Capable 4:4:4 HDMI® Terminals with HDCP 2.2 and HDR
for Next-Generation UltraHD and Full HD Video Content*1
• Zone 2 HDMI Output for 4K/60 Hz Video in Another Room
• Google
Cast, AirPlay, Wi-Fi®, and Bluetooth Specification Version 4.1
(Compatible Profile: A2DP v1.2, AVRCP v1.3) with Advanced
Music Optimizer DSP Technology
• Internet Audio Streaming Services including TuneIn Radio, Pandora®,
Spotify, TIDAL, and Deezer*2
• Play
Compressed, Lossless, and Hi-Res Audio via Local Network
(MP3, WMA, WMA Lossless, FLAC, WAV, AAC, Apple Lossless,
DSD 5.6 MHz, and Dolby® TrueHD) with Selectable Advanced
Music Optimizer
• Wireless Digital and Analog Audio Transmission to Optional Wireless
Speaker via FireConnect™ Technology
• AccuEQ Room Calibration Featuring AccuReflex Technology for
Seamless Object-based Sound from Compatible Speakers
(Mic Included)
• Control and Stream with Free Onkyo Remote Streaming Apps for
iPod touch/iPhone*3 and Android™ Devices*4
• Powered Zone 2/Zone 2 Pre/Line Out for Distributed Analog/Digital
Audio Playback in Another Room
• Bi-Amping Capability for Front Channels
*1 6G video and HDCP 2.2 is supported on HDMI inputs 1/2/3, Main Out, and Sub Out.
*2 Availability of services depends on region. Some services may require a paid subscription
and firmware update. Availability of third-party services advertised here is accurate at the time
of publication, but may be subject to change without notice. *3 Compatible with iPod touch
(3rd generation or later) and iPhone 3GS or later. All models require iOS 4.2 or later.
*4 Requires Android 2.1 or later.
AMPLIFIER FEATURES
• 175 W/Ch (6 Ω, 1 kHz, 1% THD, 1 Channel Driven, IEC);
185 W/Ch (6 Ω, 1 kHz, 10% THD, 1 Channel Driven, JEITA)
• Discrete RZ Grade Non-Phase-Shifting Amplifier Circuits for Accurate
Audio Imaging with Ultra-Low 5 Hz Frequency Performance
• Customized Audio-Grade Capacitors and Massive High Power
Transformer for High Current Delivery and Precise Speaker
Driver Control
• VLSC™ D/A Conversion Enhancement Delivers Supreme Clarity
• Optimum Gain Volume Circuitry
• PLL (Phase Locked Loop) Jitter-Cleaning Circuit Technology for
S/PDIF Audio
PROCESSING FEATURES
• HDMI Support for 4K/60 Hz, 3D, Audio Return Channel, DeepColor™,
x.v.Color™, LipSync, Dolby Atmos®, Dolby® TrueHD, DTS:X™,
DTS-HD Master Audio™, DVD-Audio, Super Audio CD,
Multichannel PCM, and CEC
• Dolby® TrueHD and DTS-HD Master Audio™ Decoding
• AK4458 384 kHz/32-bit DAC (8 Channels x 1)
• 32-bit Digital Signal Processing Engines
• 4 DSP Modes for Gaming: Rock, Sports, Action, and RPG
• Theater-Dimensional Virtual Surround Function
• Direct Mode
• Double Bass Function
CONNECTION FEATURES
• 8 HDMI Inputs (1 Front/ 7 Rear) and 2 Outputs
• USB 2.0 Port with Mass Storage Class USB Memory Playback
• 2 Component Inputs and 2 Composite Video Inputs
• 3 Digital Audio Inputs (2 Optical and 1 Coaxial)
• 8 Analog Audio Inputs (1 Front*/7 Rear)
• Phono Input for Turntable Connection
• 2 Parallel Subwoofer Pre-Outs
• Location-Numbered Speaker Terminals
* 3.5mm pin jack type.
OTHER FEATURES
• Crossover Adjustment for Each Channel
(40/50/60/70/80/90/100/120/150/180/200 Hz)
• A/V Sync Control (Up to 500 ms in 5 ms Steps at 48 kHz)
• Graphical Overlaid On-Screen Display (OSD) via HDMI with
Quick Set-Up
• Hybrid Standby Function with HDMI Passthrough
• Tone Control (Bass/Treble) for Front L/R Channels
• 3-Mode Display Dimmer (Normal/Dim/Dimmer)
• 40 FM/AM Random Presets
• Firmware Updates via Ethernet and USB
• RIHD (Remote Interactive Over HDMI) for System Control
• Simple Remote Control
TX-RZ710
7.2-Channel Network A/V Receiver
What is the RZ Series?
Our premium RZ Series audio-video receivers deliver a
significant boost to the dynamism, detail, and accuracy of
music and movie soundtracks for a listening experience that
packs stunning emotional impact. Upgraded components, such
as the massive transformer and custom capacitors, provide
high instantaneous current for lightning-fast
transient response and a frequency range
that extends down to 5 Hz. Discrete amp
circuits prevent phase shifting, clearly focusing
the audio image and cutting distortion even
at floor-shaking volumes. It's a serious build if
you're serious about sound.
Dynamic Audio Amplification for Thrilling Sound
Dynamic Audio Amplification lets music live and breathe
thanks to accurate, noise-free signal processing and hi-current
power that dynamically controls your speakers, producing rich
and authentic sound that fills you with emotion.
Go Wireless with Google Cast, AirPlay,
Wi-Fi®, and Bluetooth
SPECIFICATIONS
Google Cast and AirPlay free your music from your
smartphone. You can stream audio from compatible
applications to your home cinema, or stream virtually any
mobile or PC audio via Bluetooth technology. Available internet
radio and music subscription services include Pandora, Spotify,
and more.
Note: Support for some features including Google Cast, TIDAL and Deezer will
be enabled via future firmware update. Please consult the Onkyo website for
scheduling information as it becomes available. Google Cast not supported on
Chinese models.
Latest Spec HDMI® with Zone 2 Video
Select HDMI terminals support 4K/60 Hz video, HDCP 2.2
copy protection, and High Dynamic Range (HDR) for
next-generation UltraHD streaming and broadcasting.
A 6G- and HDCP 2.2/HDR-compatible Zone 2 HDMI
output allows you to enjoy AV sources connected to the
receiver in another room.
THX®-Certified for Cinema Reference Sound
THX® certification guarantees the same high volume and
low distortion levels you experience in a commercial cinema
in your listening room. THX® Select2™ Plus is recommended
for screen-to-seat viewing distances of 3 – 4 m. To achieve
THX® certification, amplifiers must undergo a barrage of the
industry's toughest independent bench testing to satisfy THX®
requirements.
Experience DTS:X™ and Dolby Atmos®
Make object-based Dolby Atmos® and DTS:X™ surroundsound reality in your living room. Sound flows naturally above
and around in three dimensions, with discrete effects—such
as birdcalls, rain, or the sound of a helicopter—originating
from overhead. In fact, every
element in an "objectbased" soundtrack is mixed
separately, so it's free to
travel from speaker to
speaker with lifelike realism.
FireConnect™ Multi-room Audio
A firmware update enables any audio source connected to the
receiver—from vinyl to streaming audio—to be sent wirelessly
via FireConnect™ to an optional speaker* placed anywhere in
your home. Stable, fast, and easy to control with a mobile, it's
the smart way to set audio free.
Powered Zone 2 for Audio in a Second Room
If you choose, Powered Zone 2 capability can bring audio to
speakers in a second room connected to the receiver. Now
with a dedicated Zone 2 DAC, you can share Digital Audio
input sources such as Spotify or Internet podcasts.
Amplifier Section
Power Output All Channels
175 W/Ch (6 Ω, 1 kHz, 1% THD,
1 Channel Driven, IEC)
185 W/Ch (6 Ω, 1 kHz, 10% THD,
1 Channel Driven, JEITA)
Dynamic Power
250 W (3 Ω, Front)
220 W (4 Ω, Front)
130 W (8 Ω, Front)
THD+N (Total Harmonic Distortion + Noise)
0.08% (20 Hz–20 kHz, Half Power)
Input Sensitivity and Impedance
200 mV/47 kΩ (Line)
3.5 mV/47 kΩ (Phono MM)
Rated RCA Output Level and Impedance
200 mV/2.3 kΩ (Zone Line Out)
1 V/470 Ω (Subwoofer Pre Out)
2.0 V/2.3 kΩ (Zone Pre Out)
Phono Overload
70 mV (MM, 1 kHz, 0.5%)
Frequency Response
5 Hz–100 kHz/+1 dB, -3 dB
(Direct/Pure Audio)
Tone Control
±10 dB, 90 Hz (Bass)
±10 dB, 7.5 kHz (Treble)
Signal-to-Noise Ratio
106 dB (Line, IHF-A)
80 dB (Phono)
Speaker Impedance
6 Ω–16 Ω
Video Section
Input Sensitivity/Output Level and Impedance Video
1.0 Vp–p/75 Ω (Component Y)
0.7 Vp–p/75 Ω (Component PB/CB, PR/CR)
1.0 Vp–p/75 Ω (Composite)
Component Video Frequency Response
+0 dB, -3 dB
Tuner Section
Tuning Frequency Range FM
AM
FM/AM Preset Memory 87.5 MHz–108 MHz
87.5 MHz–107.9 MHz (Taiwan Model)
522 kHz–1,611 kHz
530 kHz–1,710 kHz
530 kHz–1,611 kHz (Taiwan Model)
40 Stations
General
AccuEQ Calibration Featuring AccuReflex Technology
AccuEQ equalizes the surround-sound to suit the room
acoustics for crisply focused sound, while AccuReflex aligns
the phase of upfiring height speakers with sound coming
directly from your other speakers. Any delay is resolved so
that everything arrives at your ears at the same time. The
result is cohesive reproduction of object-based soundtracks.
Before
Af ter
* Unavailable at press time. Release date TBA
Power Supply AC 220~240 V, 50/60 Hz
AC 120 V~, 60 Hz (Taiwan Model)
Power Consumption 600 W
Standby Power Consumption
0.15 W
0.1 W (Taiwan Model)
Dimensions (W x H x D) 435 x 177 x 378 mm Weight
10.5 kg CARTON
Dimensions (W x H x D) 570 x 288 x 468 mm Weight
13.5 kg
Supplied Accessories
• Indoor FM antenna • AM loop antenna • Speaker set-up microphone
• Instruction manual • Remote controller • AAA (R03) batteries* x 2
*Not included with Chinese model
AccuEQ
AccuReflex
FireConnect™ by Blackfire
Research Corp. is a stable
wireless protocol that mirrors
any audio source connected
to the receiver—from vinyl to
streaming audio.
Due to a policy of continuous product improvement, Onkyo reserves the right to change specifications and appearance without notice. THX, the THX logo, and Select2 are trademarks of THX Ltd. THX and the THX logo are registered in the U.S. and other jurisdictions. All rights reserved.
Manufactured under license from Dolby Laboratories. Dolby, Dolby Atmos, Dolby Surround, and the double-D symbol are trademarks of Dolby Laboratories. For DTS patents, see http://patents.dts.com. Manufactured under license from DTS, Inc. DTS, the Symbol, DTS in combination with
the Symbol, the DTS-HD logo, and DTS-HD Master Audio are registered trademarks or trademarks of DTS, Inc. in the United States and/or other countries. © DTS, Inc. All Rights Reserved. HDMI, the HDMI logo, and High-Definition Multimedia Interface are trademarks or registered
trademarks of HDMI Licensing LLC in the United States and other countries. The Bluetooth ® word mark and logos are owned by the Bluetooth SIG, Inc. AirPlay, iPad, iPhone, and iPod touch are trademarks of Apple Inc., registered in the U.S. and other countries. iPad Air and iPad mini are
trademarks of Apple Inc. "Made for iPod", "Made for iPhone" and "Made for iPad" mean that an electronic accessory has been designed to connect specifically to iPod, iPhone, or iPad, respectively, and has been certified by the developer to meet Apple performance standards. Apple is not
responsible for the operation of this device or its compliance with safety and regulatory standards. Please note that the use of this accessory with iPod, iPhone or iPad may affect wireless performance. AirPlay works with iPhone, iPad, and iPod touch with iOS 4.3.3 or later, Mac with OS X
Mountain Lion or later, and PC with iTunes 10.2.2 or later. Android, Google Cast and the Google Cast badge are trademarks of Google Inc. Products displaying the Hi-Res Audio logo conform to the Hi-Res Audio standard as defined by Japan Audio Society. The Hi-Res Audio logo is used
under license from Japan Audio Society. FireConnect and the FireConnect logo are trademarks of Blackfire Research. FireConnect is a technology of Blackfire Research Corp., USA. Onkyo cannot guarantee the compatibility of its A/V receivers with other devices featuring FireConnect.
VLSC, AccuEQ, Music Optimizer, and Theater-Dimensional are trademarks of Onkyo Corporation. All other trademarks and registered trademarks are the property of their respective holders.
http://www.onkyo.com/
Copyright © 2016 Onkyo Corporation. All rights reserved.
NPR No. 16N12 03/16
Text on receiver may vary with region.