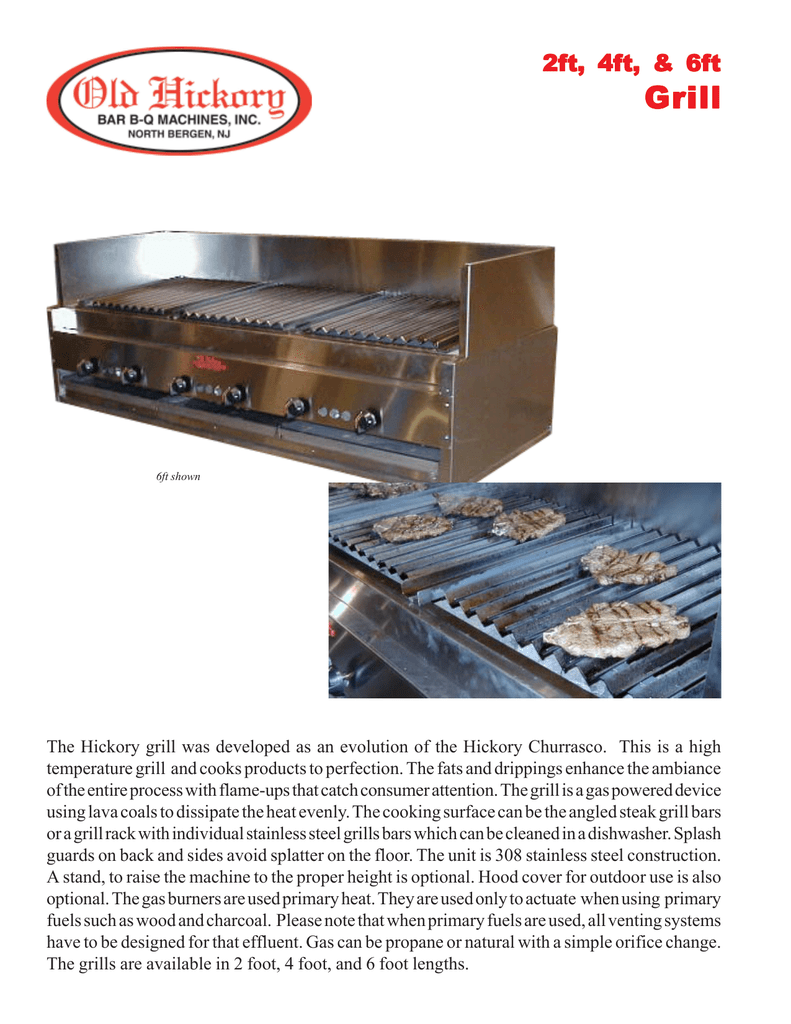 2ft, 4ft, & 6ft
Grill
6ft shown
The Hickory grill was developed as an evolution of the Hickory Churrasco. This is a high
temperature grill and cooks products to perfection. The fats and drippings enhance the ambiance
of the entire process with flame-ups that catch consumer attention. The grill is a gas powered device
using lava coals to dissipate the heat evenly. The cooking surface can be the angled steak grill bars
or a grill rack with individual stainless steel grills bars which can be cleaned in a dishwasher. Splash
guards on back and sides avoid splatter on the floor. The unit is 308 stainless steel construction.
A stand, to raise the machine to the proper height is optional. Hood cover for outdoor use is also
optional. The gas burners are used primary heat. They are used only to actuate when using primary
fuels such as wood and charcoal. Please note that when primary fuels are used, all venting systems
have to be designed for that effluent. Gas can be propane or natural with a simple orifice change.
The grills are available in 2 foot, 4 foot, and 6 foot lengths.
Technical Data
Power Supply
BTU's Natural
BTU's Per Burner Natural Gas • # of Burners
Nominal Gas Pressure
Gas Connection (male end required)
Net Weight (lbs.)
Dimensions
Height
Depth
Width
Clearance From Rear Wall • Side Wall
Grill 2ft
Gas
90,000
45,000 • 2
5"
3
/4 "
175
Grill 4ft
Gas
180,000
45,000 • 4
5"
3
/4 "
350
Grill 6ft
Gas
270,000
45,000 • 6
5"
3
/4 "
525
25 7/8"
27 1/8"
24"
6" • 6"
25 7/8"
27 1/8"
48"
6" • 6"
25 7/8"
27 1/8"
72"
6" • 6"
Top View
Ventilation: Gas units must be vented. When using wood or
charcoal, venting must conform to local codes.
Installation Requirements: Licensed gas fitter for all gas
connections and checkout. HVAC specialist for air evacuation.
Placement of this machine is critical since it is hot. Plan carefully.
Front View
Front Facings: Machine is made with high grade polished
stainless.
Service, Maintenance, and Construction: All panels,
accessing fat collection areas, are made from high grade, acid
resistant, stainless steel. Angle iron construction ensures a durable
long life. Unit is fully plumbed and requires a single gas connection.
No oiling or greasing is required for any part.
Safety: All burners are actuated by safety pilots and manifolds.
Large drip drawers below the heat source prevents fat fires.
Individual controls to control each burner.
Side View
69D6
607C
Hickory Industries, Inc.
4900 Westside Avenue
North Bergen • New Jersey • 07047
Tel: 201-223-0050 • Fax: 201-223-0950
Web: http://www.hickorybbq.com
E-Mail: hickorybbqs@aol.com
*
Specifications are subject to change without notice.
When ordering please specify voltage and phase requirements.

* Your assessment is very important for improving the work of artificial intelligence, which forms the content of this project