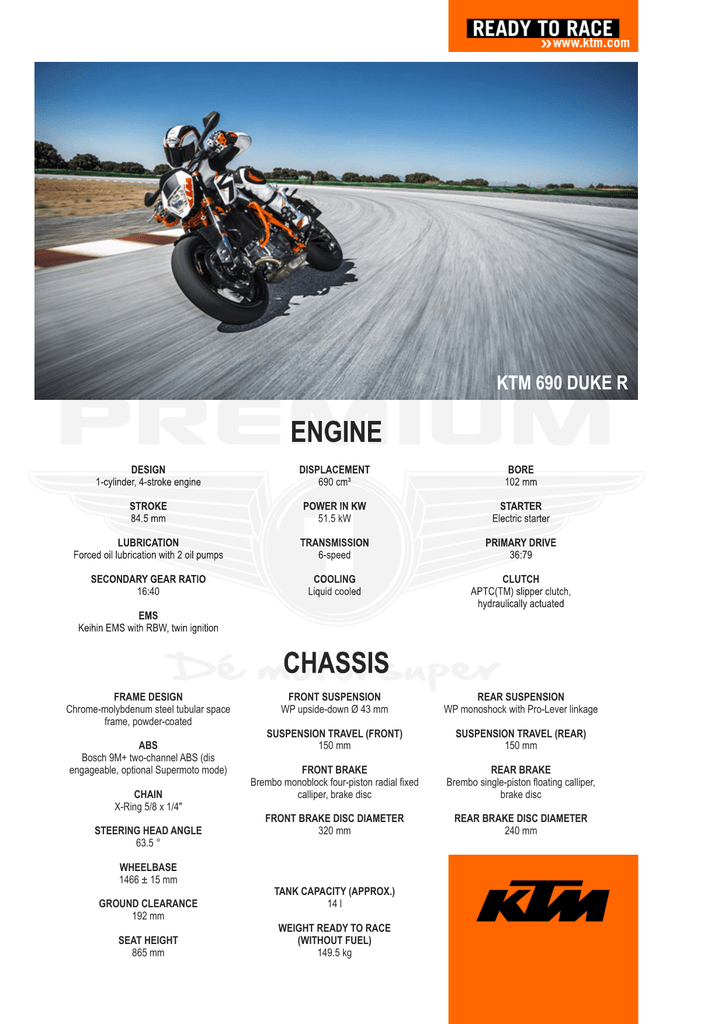 KTM 690 DUKE R
ENGINE
DESIGN
1-cylinder, 4-stroke engine
DISPLACEMENT
690 cm³
BORE
102 mm
STROKE
84.5 mm
POWER IN KW
51.5 kW
STARTER
Electric starter
LUBRICATION
Forced oil lubrication with 2 oil pumps
TRANSMISSION
6-speed
PRIMARY DRIVE
36:79
SECONDARY GEAR RATIO
16:40
COOLING
Liquid cooled
CLUTCH
APTC(TM) slipper clutch,
hydraulically actuated
EMS
Keihin EMS with RBW, twin ignition
CHASSIS
FRAME DESIGN
Chrome-molybdenum steel tubular space
frame, powder-coated
ABS
Bosch 9M+ two-channel ABS (dis
engageable, optional Supermoto mode)
CHAIN
X-Ring 5/8 x 1/4"
STEERING HEAD ANGLE
63.5 °
WHEELBASE
1466 ± 15 mm
GROUND CLEARANCE
192 mm
SEAT HEIGHT
865 mm
FRONT SUSPENSION
WP upside-down Ø 43 mm
REAR SUSPENSION
WP monoshock with Pro-Lever linkage
SUSPENSION TRAVEL (FRONT)
150 mm
SUSPENSION TRAVEL (REAR)
150 mm
FRONT BRAKE
Brembo monoblock four-piston radial fixed
calliper, brake disc
REAR BRAKE
Brembo single-piston floating calliper,
brake disc
FRONT BRAKE DISC DIAMETER
320 mm
REAR BRAKE DISC DIAMETER
240 mm
TANK CAPACITY (APPROX.)
14 l
WEIGHT READY TO RACE
(WITHOUT FUEL)
149.5 kg
EVEN SPORTIER
ERGONOMICS
Three words: attack, control, effortless. Significantly more aggressive than the 690 Duke,
the new 690 Duke R shifts its rider precisely
into the position required for hitting the gas –
after all, it has the same seat position as the
EJC bikes. Bent slightly forwards, with a good
foothold on the sportily positioned foot pegs,
with great feel and plenty of freedom of movement on the taut yet comfortable seat, with
perfect control on the sportily angled handlebar
(840 mm wide, 38 mm rise). "Relaxed"
Supermoto racing and command of wicked
manoeuvres made easy. And still a good
overview, comfort for relaxed trips and all-in-all
surprisingly little exertion. Want to bet?
Those who prefer racing alone can attach the
rear cover to the pillion seat cushion and
dismantle the passenger foot pegs.
BRAKES
The best from over 20 variants: The KTM test
riders had fun selecting the hardware, although
they had to spend a lot of time braking at the
limits. Brembo rewarded this hard work with a
tailor-made radial hand pump that activates the
new M50 high-end calliper (substantially lighter
than the previous top model and machined
from a block of high-strength aluminum for
perfect stiffness). Together with a fat 320 mm
disc, this team guarantees on-the-spot braking!
SUSPENSION COMPONENTS
Well-equipped for every situation: The Duke's
43 mm upside-down fork from WP raises the
ride height by 15 mm for even greater freedom
to lean. It excels with perfect tuning and an
unbelievably broad spectrum of use, from
relaxed cruising to racing around closed
circuits. It's tuning is child's play: The appropriate level of compression damping is set
on top of the left fork tube and rebound
damping on the right. Why? In contrast to
normal rebound-compression cartridges,
separate oil circuits work independently from
each other. Hence the compression stage
setting only influences spring compression
damping and the rebound setting only that of
spring rebound. A precise setup is achieved
completely in line with the rider's wishes,
without any mutual interaction.
MONOSHOCK
The pivot-arm articulated WP pressurised-gas
monoshock with remote reservoir raises the
690 Duke R in order to generate virtually
endless freedom to lean. Alongside perfect
tuning, it provides an unbelievably broad
spectrum of use, from relaxed cruising to racing
around closed circuits. Of course it's also fully
adjustable (spring preload, high/low-speed
compression damping, rebound damping).
In the European Junior Cup, it has impressively
demonstrated its racing potential, not even
succumbing to the incredible cornering speeds
or the braking and acceleration forces with slick
tyres. Nevertheless, this doesn't mean that a
comfortable setup isn't possible in line with the
rider's wishes – on the Duke R, the rider
determines the ride behavior.
TRIPLE CLAMPS
The machined triple clamps are not simply
machined aluminum with a cool anodized skin.
Rather, the KTM chassis engineers have tuned
the stiffness of these works-of-art precisely to
the flex pattern of the fork. Why? Only so can
sensitive suspension still be guaranteed under
high loads, such as that experienced when
braking with the bike leant right over. This in
turn generates more grip and a superb feeling
of grip. Therefore you'll be riding a little bit
faster. In other words, ahead of the others.
CRASHBARS
Good to have, if the worst comes to the worst:
The orange, steel crashbars protect the 690
Duke R if things should ever get too serious –
so that you're up and running again as quickly
as possible without any damage.
FUN AND SAFE RIDING FOR EVERYBODY
SUITABLE FOR A2 DRIVER´S LICENSE
HOLDER
A restricted power version is available for
those riders who just got an A2 driver´s license.
Restricted power doesn´t necessary means
restricted fun: thanks to its lightweight and
dynamic chassis KTM 690 Duke R is the
perfect buddy to push your limit.
RIMS
The dye casted orange rims are not just
eyecatchers, but also extremely light, stable
and durable.
ABS
Just like the 690 Duke, the "R" is equipped
with a very sportily tuned Bosch 9M+ ABS with
outstanding endo prevention. One innovation is
the Supermoto mode, activated by a dongle
(available as an accessory), with which the
front wheel is still prevented from locking by the
ABS, but the rear wheel can slide or lock as the
whim takes you. After all, a KTM is a KTM.
POLISHED RIDE DYNAMICS
FRAME AND SWINGARM
Lightweight components in a large, lightweight
entirety: The 9 kg lightweight tubular space
frame made from chrome-molybdenum steel
and the 4 kg lightweight, high-quality,
pin-jointed, die-cast swingarm impress with
extreme levels of torsional stiffness, providing
the less than 150 kg 690 Duke R with excellent
tracking stability.
CENTRALISATION OF MASSES
The silencer has been tailor-made for the
Duke R by Akrapovic in cooperation with KTM.
Not only does it save weight; it also supplies
two additional horses. Moreover, it assists the
brushed stainless steel pre-silencer underneath
the engine in centralising masses – thereby
contributing to the playful handling and
razor-sharp precision of the new 690 Duke R.
STRAPPING, YET REFINED SINGLE-CYLINDER
ENGINE
The Duke R bears the most cutting-edge
single-cylinder engine in the world in its most
powerful form: Apart from a full 690 cc, the
legendary LC4 uses a freer-breathing
Akrapovic titanium silencer for a deeper bass
and an extra two horses as a result. 70 hp all in
all - or one and a half able-bodied 125 Duke's
more than the next strongest single-cylinder
competitor. The 690 Duke R has adopted such
well-known series production goodies as the
slipper clutch and active engine casing ventilation. Genuine ride-by-wire also provides
it with unexpectedly smooth, yet always
immensely explosive power development;
twin ignition with plug-selective mapping
ensures the most effective combustion and
sensationally low fuel consumption. Add to
these service intervals of 10,000 km – never
has it been as elegant, cultivated, sporty and
effective to be powered by one cylinder. And
never has the need for more cylinders been
more questionable, since these horses make
very light work of the lightweight 690 Duke R.
BALANCER SHAFT
The finely balanced crank drive of the 690
single-cylinder converts terrific combustion
pressure into unrivalled single-power - thanks
to its balancer shaft, which eliminates vibration
even better than ever without having any
detrimental effect on the life of the super-single.
INJECTION / ENGINE MANAGEMENT /
RIDE-BY-WIRE
The electronic engine management system
always gets optimum performance out of the
ingenious LC4 engine. The most advanced
technology is employed for this purpose: Twin
ignition with individual mapping for each spark
plug ensures that the mixture always combusts
effectively, irrespective of load and engine
speed. And then genuine ride-by-wire, in other
words electronically controlled throttle valve
actuation without any mechanical linkage.
So that the electronics always apply the power
as perfectly and therefore smoothly as
possible, above all on transition from throttle
closed to throttle open. How good does that
feel? Simply indescribable. So check it out!
LOWER FUEL CONSUMPTION
LOWER FUEL CONSUMPTION
Thanks to the mechanical and electrical refinements, the new 690 Duke R is endowed with incredible fuel economy. Even though the Duke
before had already won international consumption comparison tests with ease. Duke R riding
is therefore not only fast, but also economical,
while remaining unashamedly fleet-footed,
sporty and dynamic.