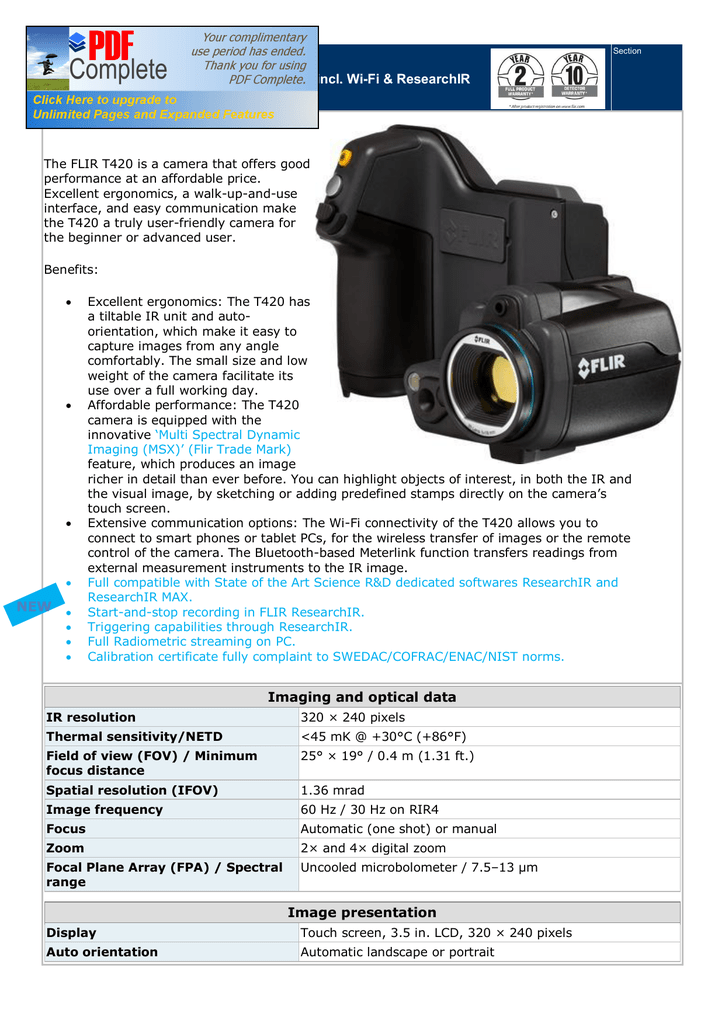 Part number
Product name
Section
LIR SC420/25° Pack:
62103-1101
FLIR T420 RIR3 25° (incl. Wi-Fi & ResearchIR
software)
Product description
The FLIR T420 is a camera that offers good
performance at an affordable price.
Excellent ergonomics, a walk-up-and-use
interface, and easy communication make
the T420 a truly user-friendly camera for
the beginner or advanced user.
Benefits:
·
·
·
·
NEW
·
·
·
·
Excellent ergonomics: The T420 has
a tiltable IR unit and autoorientation, which make it easy to
capture images from any angle
comfortably. The small size and low
weight of the camera facilitate its
use over a full working day.
Affordable performance: The T420
camera is equipped with the
innovative 'Multi Spectral Dynamic
Imaging (MSX)' (Flir Trade Mark)
feature, which produces an image
richer in detail than ever before. You can highlight objects of interest, in both the IR and
the visual image, by sketching or adding predefined stamps directly on the camera's
touch screen.
Extensive communication options: The Wi-Fi connectivity of the T420 allows you to
connect to smart phones or tablet PCs, for the wireless transfer of images or the remote
control of the camera. The Bluetooth-based Meterlink function transfers readings from
external measurement instruments to the IR image.
Full compatible with State of the Art Science R&D dedicated softwares ResearchIR and
ResearchIR MAX.
Start-and-stop recording in FLIR ResearchIR.
Triggering capabilities through ResearchIR.
Full Radiometric streaming on PC.
Calibration certificate fully complaint to SWEDAC/COFRAC/ENAC/NIST norms.
Imaging and optical data
IR resolution
320 × 240 pixels
Thermal sensitivity/NETD
<45 mK @ +30°C (+86°F)
Field of view (FOV) / Minimum
focus distance
25° × 19° / 0.4 m (1.31 ft.)
Spatial resolution (IFOV)
1.36 mrad
Image frequency
60 Hz / 30 Hz on RIR4
Focus
Automatic (one shot) or manual
Zoom
2× and 4× digital zoom
Focal Plane Array (FPA) / Spectral
range
Uncooled microbolometer / 7.5–13 µm
Image presentation
Display
Touch screen, 3.5 in. LCD, 320 × 240 pixels
Auto orientation
Automatic landscape or portrait
Image modes
Thermal, Thermal MSX, Picture in Picture, Digital Camera
Multi Spectral Dynamic Imaging
(MSX)
Thermal image with enhanced detail presentation
Picture in Picture
Resizable and movable IR area on visual image
Measurement
Temperature range
–20°C to +120°C (–4°F to +248°F)
0°C to +650°C (+32°F to +1202°F)
Accuracy
±2°C (±3.6°F) or ±2% of reading, for ambient temperature
10°C to 35°C (+50°F to 95°F)
Measurement analysis
Spotmeter
5
Area
5 areas (boxes or circles) with max./min./average
Automatic hot/cold detection
Auto hot or cold spotmeter markers within area
Measurement presets
No measurements, Center spot, Hot spot, Cold spot, 3 spots,
Hotspot-spot, Hotspot-Temperature
Difference temperature
Delta temperature between measurement functions or
reference temperature
Reference temperature
Manually set using difference temperature
Emissivity correction
Variable from 0.01 to 1.0 or selected from materials list
Measurement corrections
Emissivity, reflected temperature, relative humidity,
atmospheric temperature, object distance, external IR
window compensation
Colors (palettes)
Iron, Rainbow, Rainbow HC, White hot, Black hot, Arctic,
Lava
Color Alarm (isotherm)
Above/below/interval
Measurement function alarm
Audible/visual alarms (above/below) on any selected
measurement function
Screening
Difference temperature alarm, audible
Set-up
Set-up commands
Define user presets, Save options, Programmable button,
Reset options, Set up camera, Wi-Fi, Compass, Bluetooth,
Language, Time & units, Camera information
Camera software update
Use PC software FLIR Tools
Storage of images
Image storage
Standard JPEG, including digital photo and measurement
data, on memory card
Image storage mode
Simultaneous storage of thermal and digital photo in same
JPEG.
Optional to store digital photo as separate JPEG.
Time lapse
15 seconds to 24 hours
Image annotations
Voice
60 seconds (via Bluetooth) stored with the image
Text
Add table. Select between predefined templates or create
your own in FLIR Tools
Image description
Add short note (stored in JPEG exif tag)
Meterlink
Wireless connection (Bluetooth®) to:
Flir meters with MeterLink
Report generation
·
Instant Report (*.pdf file) in camera including
·
Compass
IR and visual images
Separate PC software with extensive report
generation
Camera direction automatically added to every image
Video recording in camera
Non-radiometric IR-video recording MPEG-4 to memory card
Visual video recording
MPEG-4 to memory card
Video streaming
Radiometric IR-video streaming
Full dynamic to PC using USB or to mobile devices using WiFi.
Non-radiometric IR-video streaming MPEG-4 using Wi-Fi
Uncompressed colorized video using USB
Visual video streaming
MPEG-4 using Wi-Fi
Uncompressed colorized video using USB
Digital camera
Built-in digital camera
3.1 Mpixel with LED light
Digital camera, FOV
Adapts to the IR lens
Laser pointer
Laser
Activated by dedicated button
Laser alignment
Position is automatic displayed on the IR image
Data communication interfaces
Interfaces
USB-mini, USB-A, Bluetooth, Wi-Fi, composite video
Bluetooth
Communication with headset and external sensors
Wi-Fi
Peer to peer (adhoc) or infrastructure (network)
USB
·
·
USB-A: Connect external USB device
USB Mini-B: Data transfer to and from PC /
Uncompressed colorized video
Video out
Composite
Video, connector type
4-pole 3.5 mm jack
Radio
Wi-Fi
Standard: 802.11 b/g
Frequency range: 2412–2462 MHz
Max output power: 15 dBm
Bluetooth
Frequency range: 2402–2480 MHz
Antenna
Internal
Power system
Battery
Li Ion, 4 hours operating time
Charging system
In camera (AC adapter or 12 V from a vehicle) or 2-bay
charger
Charging temperature
0°C to +45°C (+32°F to +113°F)
Power management
Automatic shutdown and sleep mode (user selectable)
Environmental data
Operating temperature range
–15°C to +50°C (+5°F to +122°F)
Storage temperature range
–40°C to +70°C (–40°F to +158°F)
Humidity (operating and storage)
IEC 60068-2-30/24 h 95% relative humidity +25°C to
+40°C (+77°F to +104°F) / 2 cycles
EMC
·
·
·
·
·
·
ETSI EN 301 489-1 (radio)
ETSI EN 301 489-17
EN 61000-6-2 (Immunity)
EN 61000-6-3 (Emission)
FCC 47 CFR Part 15 B (Emission)
ICES-003
Radio spectrum
·
·
·
ETSI EN 300 328
FCC Part 15.247
RSS-210
Encapsulation
IP 54 (IEC 60529)
Bump
25 g (IEC 60068-2-29)
Vibration
2 g (IEC 60068-2-6)
Safety
EN/UL/CSA/PSE 60950-1
Physical data
Camera weight, incl. battery
0.880 kg (1.94 lb.)
Camera size (L × W × H)
106 × 201 × 125 mm (4.2 × 7.9 × 4.9 in.), with built-in lens
pointing forward
Tripod mounting
UNC ¼"-20 (adapter needed)
Shipping information
Packaging, contents
·
·
·
·
·
·
·
·
·
·
·
·
·
·
·
·
·
·
·
Infrared camera with lens
Battery (2 ea.)
Battery charger
Bluetooth headset
Camera lens cap
Calibration certificate
FLIR ResearchIR scratchcard
FLIR Tools download card
FLIR Tools Mobile (Android Application)
FLIR Tools (MacOS Application)
User documentation CD-ROM
Printed documentation
Hard transport case
Memory card
Neckstrap
Power supply, incl. multi-plugs
Sunshield
USB cable
Video cable
Extended warranty free of charge
Camera & software
2 years (10 years detector)
Supplies & Accessories
·
·
·
·
·
·
T197408
1196961
1196960
T197412
T197215
T197214
IR lens, 76 mm (6°) with case and mounting support for T/B-200/400
IR lens, f = 30 mm, 15° incl. case
IR lens, f = 10 mm, 45° incl. case
IR lens, 4 mm (90°) with case and mounting support for T/B2xx-4xx
Close-up 4× (100 µm) incl. case
Close-up 2× (50 µm) incl. case
·
·
·
·
·
·
·
·
T197000 High temp. option +1200°C/+2192°F for FLIR T/B2xx to T/B4xx and A3xx, A3xxf,
A3xxpt, A3xxsc series
T198509 Cigarette lighter adapter kit, 12 VDC, 1.2 m/3.9 ft.
T198495 Pouch for FLIR T6xx and T4xx series
T910972 EX845: Clamp meter + IR therm TRMS 1000A AC/DC
T910973 MO297: Moisture meter, pinless with memory
T198583 FLIR Tools+ (license only)
ITC-ADV-3021 ITC Advanced General Thermography Course - attendance, 1 pers.
ITC-ADV-3029 ITC Advanced General Thermography Course- group of 10 pers.