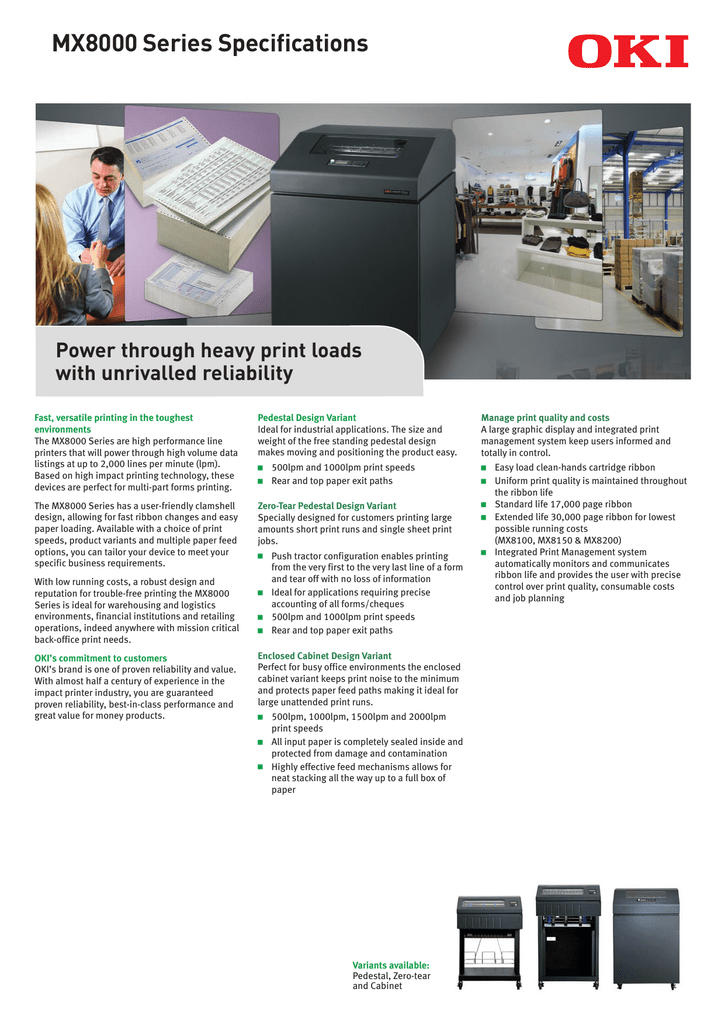 MX8000 Series Specifications
Power through heavy print loads
with unrivalled reliability
Fast, versatile printing in the toughest
environments
The MX8000 Series are high performance line
printers that will power through high volume data
listings at up to 2,000 lines per minute (lpm).
Based on high impact printing technology, these
devices are perfect for multi-part forms printing.
Pedestal Design Variant
Ideal for industrial applications. The size and
weight of the free standing pedestal design
makes moving and positioning the product easy.
The MX8000 Series has a user-friendly clamshell
design, allowing for fast ribbon changes and easy
paper loading. Available with a choice of print
speeds, product variants and multiple paper feed
options, you can tailor your device to meet your
specific business requirements.
Zero-Tear Pedestal Design Variant
Specially designed for customers printing large
amounts short print runs and single sheet print
jobs.
With low running costs, a robust design and
reputation for trouble-free printing the MX8000
Series is ideal for warehousing and logistics
environments, financial institutions and retailing
operations, indeed anywhere with mission critical
back-office print needs.
OKI's commitment to customers
OKI's brand is one of proven reliability and value.
With almost half a century of experience in the
impact printer industry, you are guaranteed
proven reliability, best-in-class performance and
great value for money products.
500lpm and 1000lpm print speeds
Rear and top paper exit paths
Manage print quality and costs
A large graphic display and integrated print
management system keep users informed and
totally in control.
Easy load clean-hands cartridge ribbon
Uniform print quality is maintained throughout
the ribbon life
g Standard life 17,000 page ribbon
g Extended life 30,000 page ribbon for lowest
possible running costs
(MX8100, MX8150 & MX8200)
g Integrated Print Management system
automatically monitors and communicates
ribbon life and provides the user with precise
control over print quality, consumable costs
and job planning
g
g
g
g
Push tractor configuration enables printing
from the very first to the very last line of a form
and tear off with no loss of information
g Ideal for applications requiring precise
accounting of all forms/cheques
g 500lpm and 1000lpm print speeds
g Rear and top paper exit paths
g
Enclosed Cabinet Design Variant
Perfect for busy office environments the enclosed
cabinet variant keeps print noise to the minimum
and protects paper feed paths making it ideal for
large unattended print runs.
500lpm, 1000lpm, 1500lpm and 2000lpm
print speeds
g All input paper is completely sealed inside and
protected from damage and contamination
g Highly effective feed mechanisms allows for
neat stacking all the way up to a full box of
paper
g
Variants available:
Pedestal, Zero-tear
and Cabinet
MX8000 Series - Line Printers
Product Quick Reference Table (Order Numbers)
Print Speed
(lpm)
Model
Name
MX8050 Pedestal
500
MX8100 Pedestal
1000
MX8050 Pedestal Zero-Tear
500
MX8100 Pedestal Zero-Tear
1000
MX8050 Cabinet
500
MX8100 Cabinet
1000
MX8150 Cabinet
1500
MX8200 Cabinet
2000
Standard
Interfaces
USB 2.0, RS232
USB 2.0, RS232, Ethernet
USB 2.0, RS232
USB 2.0, RS232, Ethernet
USB 2.0, RS232
USB 2.0, RS232, Ethernet
USB 2.0, RS232
USB 2.0, RS232, Ethernet
USB 2.0, RS232
USB 2.0, RS232, Ethernet
USB 2.0, RS232
USB 2.0, RS232, Ethernet
USB 2.0, RS232
USB 2.0, RS232, Ethernet
USB 2.0, RS232
USB 2.0, RS232, Ethernet
Order
Number
09005832
09005835
09005838
09005841
09005833
09005836
09005839
09005842
09005834
09005837
09005840
09005843
09005844
09005847
09005849
09005851
Operating Power
Consumption
Noise
Level
280W (320W Max)
62dB(A)
300W (320W Max)
65dB(A)
280W (320W Max)
64dB(A)
300W (320W Max)
68dB(A)
280W (320W Max)
50dB(A)
300W (320W Max)
50dB(A)
435W (601W Max)
52dB(A)
450W (601W Max)
55dB(A)
Dimensions
(HxWxD)
Printer
Weight
Shipping
Weight
911.8 x 655.3 x 485.1mm
52.1kg
74.8kg
1067.8 x 655.3 x 485.1mm
52kg
74kg
1028.7 x 685.8 x 736.6mm
90.7kg
120.2kg
Paper Feed Options (Order Numbers)
Model
Name
MX8050 Pedestal
MX8100 Pedestal
MX8050 Pedestal Zero-Tear
MX8100 Pedestal Zero-Tear
MX8050 Cabinet
MX8100 Cabinet
MX8150 Cabinet
MX8200 Cabinet
Accoustic
Shroud
09005894
09005894
-
Black Back Forms
Paper Out Sensor
09005890
09005890
09005890
09005890
09005890
09005890
09005890
09005890
Cabinet Front
Paper Access
09005895
09005895
09005895
09005895
Extended Forms
Support Doors
09005892
09005892
09005892
09005892
Printer
High Rear
Paper Tray
09005893
09005893
Standard
Standard
-
Rear Side Out
Paper Drawer
09005891
09005891
09005891
09005891
General Features
Printhead Line Matrix – Single Hammerbank Technology
Printer Buffer (RAM) 64MB
Columns 136 characters (10cpi)
Auto Ranging 100 - 240VAC, +/- 10%, frequency 50/60Hz
+/- 2%
Operating: 280W (MX8050), 300W (MX8100), 435W (MX8150),
Power consumption
450W (MX8200); Energy saving mode: <5W
Reliability MTBF: 10,000 hours (duty cycle 25%, page density 25%)
Power supply
Character pitch 10, 12, 13.3, 15, 17.1, 20 (NLQ not available at 20 pitch)
Graphics resolution Up to 180 x 144dpi
Interface and Emulations
Warranty 1 year
Interfaces USB 2.0, Serial RS 232, Ethernet 10/100 Base-T
Optional interfaces IEEE-1284 Parallel Centronics
Emulations
Consumables (Order Numbers)
LP+ (Printronix P Series, P Series XQ, Serial Matrix,
IBM ProPrinter III XL, Epson FX-1050)
Standard Life
Cartridge Ribbon 09005591
PGL/VGL, ANSI 3.64, IPDS (Ethernet), TN5250, TN3270, PCL 2,
Optional emulations
DEC LG
(17,000 pages)
Extended Life
Cartridge Ribbon 09005592
Unicode UTF-8 and over 100 multinational character sets including IBM World Trade, ECMA Latin 1, DEC Multinational, IBM Code
Typeface & font
Page 437 and 850, NLQ Serif, NLQ Sans Serif, Data Processing,
High Speed, OCR A, OCR B
Typestyle
4-pack Extended Life
Cartridge Ribbon 09005660
Double Width, Double Height, Italics, Bold, Superscript,
Subscript, Underline, Overscore
30 resident symbologies, including Code 39, EAN 8/13, UPC
Barcode fonts A/E, Intelligent Mail, Postnet, Royal Mail, Interleaved 2 of 5,
and PDF 417
Printer driver1
(30,000 pages)1
Windows XP / Windows Vista / Windows 2003 / Windows 2008
/ Windows 7 / Windows 8 / Windows 8.1; Linux, SAP Certified
(30,000 pages per cartridge)1
Only available with MX8100, MX8150 and MX8200.
1
Consumables Information: Only use genuine OKI Original consumables to ensure the best quality
and performance from your hardware. Non OKI Original products may damage your printer's
performance and invalidate your warranty.
Paper Handling
Copy capability Up to 1 original + 5 copies
Paper dimensions Width: 76 - 432mm
Paper weight 60 - 375gsm
Paper feeding Bottom feed paper path with easy-load dual adjustable tractors
WARNING! This is a Class A product as defined in EN55022. In a domestic environment this product may
cause radio interference, in which case the user may be required to take adequate control measures.
Oki Europe Ltd.
Blays House, Wick Road
Egham, TW20 0HJ
United Kingdom
T +44(0) 20 8219 2190
F +44(0) 20 8219 2199
www.oki.com/eu
© 2016 Oki Europe Ltd. Oki Europe Ltd is part of the Oki Electric group of companies. Version 2.1 02/2016.
Specification subject to change without notice. All trademarks acknowledged.