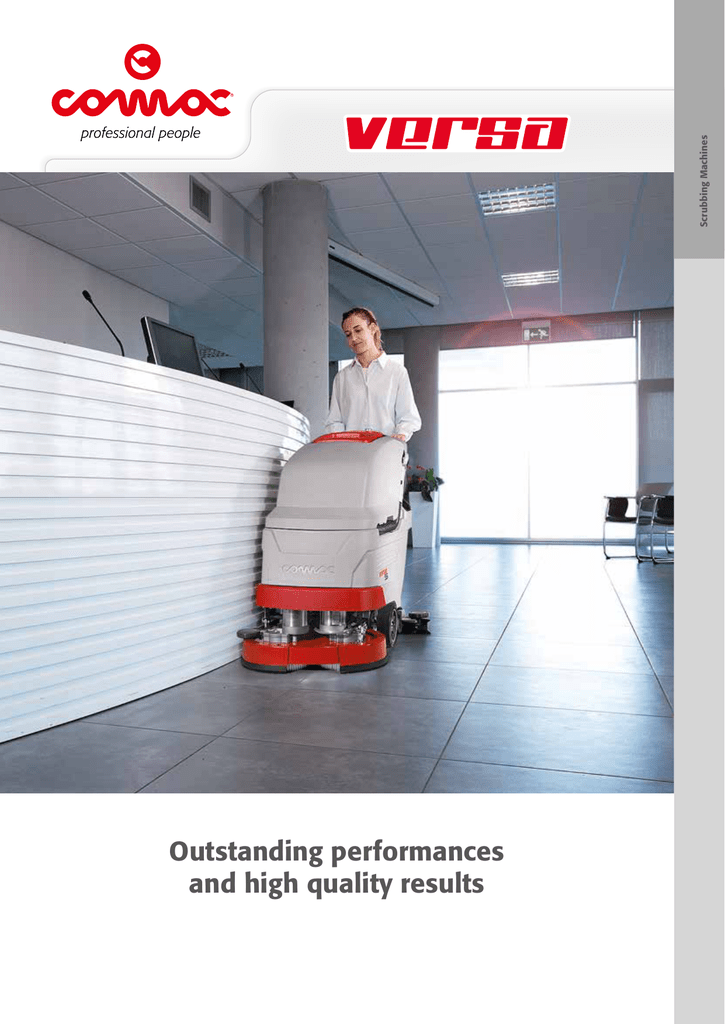 Scrubbing Machines
Outstanding performances
and high quality results
•
•
Compared with a traditional
PLUS
scrubbing machine, Versa
offers the following benefits:
• Great working autonomy and excellent cleaning
performances combined in a compact and
manoeuvrable machine;
• Brush head, squeegee attachment and frame made
of die-cast aluminum make the machine robust
TECHNICAL DESCRIPTION
•
Versa 55BT
Versa 65BT
Versa 50BTS
Squeegee width
mm800
Disc brushes Ø (No.)
mm
290 (2)
340 (2)
-
Cylindrical brushes Ø (No.)
mm
-
-
110 x 500 (2)
Brushes rpm
rpm240
Brush motor
V/W24/400 24/400 24/600
Suction motor
V/W24/400 24/400 24/400
Traction motor
V/W24/180 24/180 24/180
Suction vacuum
mbar120
120
120
Forward speed
km/h0÷4
0÷4
0÷4
Max gradient at full load%
10
12/150
800
240
800
700
10
12/150
10
Batteries
V/Ah C5
Batteries weight
kg80 80 80
Versa 55BT
Versa 65BT
Versa 50BTS
24
•
and reliable over time, as well as lightweight and
comfortable both during work and transport;
Levelling splash guards, adjust automatically also
to uneven floors (as standard on Versa 55-65);
PRESSURE MONITORING (PM): brush head and
brush pressure are controlled through an actuator
allowing to work with the maximum power
available;
Antibacterial tanks, available upon request, are
ideal for healthcare industry;
Easy Clean: special treatment that prevents dirt
from sticking on the surface, making easier tank
cleaning and sanitizing (upon request).
12/150
Working
width mm
Brushes
pressure
Power supply V/
traction
Solution
tank l
Recovery
tank l
Working
capacity
up to sq.m/h
Machine
dimensions mm
LxHxW
560
660
500
25
30
23
24/aut.
60
68
2240
2640
2000
1272 x 995 x 610
1272 x 995 x 710
1272 x 995 x 605
B - Battery
powered machine
with voltage value
Machine for
commercial use
The machines are manufactured in compliance
with the directives 2006/42/CE, 2006/95/CE,
2004/108/CE and with the standards
IEC 60335-1 and IEC 60335-2-72.
The steel parts are subject to treatment
which guarantees a long life and makes
the parts oxidation-proof.
COMAC spa
Via Maestri del Lavoro, 13
37059 Santa Maria di Zevio - Verona - Italy
Tel. +39 045 8774222 - Fax +39 045 8750303
on line: www.comac.it - e-mail: com@comac.it
An ISO 9001:2008 Organisation certified by Q.C.B. Italy
COMAC Spa reserves the right, at anytime, to make technical and/or equipment modifications without prior notification. The images are shown as reference only and are not binding as to the actual design and/or equipment. - COD. 302255 - AB - 05/16 - Copyright © COMAC 2015
Versa is a battery powered walk-behind scrubbing machine
with automatic traction, available in the scrubbing version
with 2 disc brushes with 55 or 65 cm working width, and
in the scrubbing-sweeping version with a 50 cm cylindrical
brush.

* Your assessment is very important for improving the work of artificial intelligence, which forms the content of this project