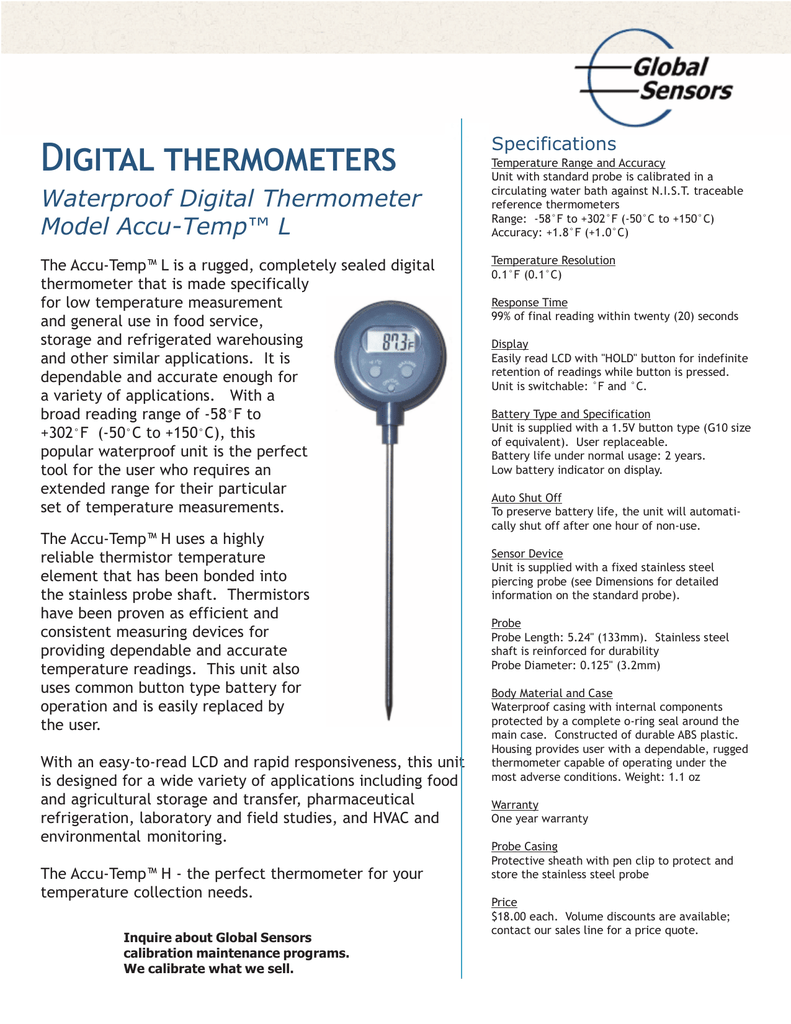 DIGITAL THERMOMETERS
Waterproof Digital Thermometer
Model Accu-Temp™ L
The Accu-Temp™ L is a rugged, completely sealed digital
thermometer that is made specifically
for low temperature measurement
and general use in food service,
storage and refrigerated warehousing
and other similar applications. It is
dependable and accurate enough for
a variety of applications. With a
broad reading range of -58°F to
+302°F (-50°C to +150°C), this
popular waterproof unit is the perfect
tool for the user who requires an
extended range for their particular
set of temperature measurements.
The Accu-Temp™ H uses a highly
reliable thermistor temperature
element that has been bonded into
the stainless probe shaft. Thermistors
have been proven as efficient and
consistent measuring devices for
providing dependable and accurate
temperature readings. This unit also
uses common button type battery for
operation and is easily replaced by
the user.
With an easy-to-read LCD and rapid responsiveness, this unit
is designed for a wide variety of applications including food
and agricultural storage and transfer, pharmaceutical
refrigeration, laboratory and field studies, and HVAC and
environmental monitoring.
The Accu-Temp™ H - the perfect thermometer for your
temperature collection needs.
Inquire about Global Sensors
calibration maintenance programs.
We calibrate what we sell.
Specifications
Temperature Range and Accuracy
Unit with standard probe is calibrated in a
circulating water bath against N.I.S.T. traceable
reference thermometers
Range: -58°F to +302°F (-50°C to +150°C)
Accuracy: +1.8°F (+1.0°C)
Temperature Resolution
0.1°F (0.1°C)
Response Time
99% of final reading within twenty (20) seconds
Display
Easily read LCD with "HOLD" button for indefinite
retention of readings while button is pressed.
Unit is switchable: °F and °C.
Battery Type and Specification
Unit is supplied with a 1.5V button type (G10 size
of equivalent). User replaceable.
Battery life under normal usage: 2 years.
Low battery indicator on display.
Auto Shut Off
To preserve battery life, the unit will automatically shut off after one hour of non-use.
Sensor Device
Unit is supplied with a fixed stainless steel
piercing probe (see Dimensions for detailed
information on the standard probe).
Probe
Probe Length: 5.24" (133mm). Stainless steel
shaft is reinforced for durability
Probe Diameter: 0.125" (3.2mm)
Body Material and Case
Waterproof casing with internal components
protected by a complete o-ring seal around the
main case. Constructed of durable ABS plastic.
Housing provides user with a dependable, rugged
thermometer capable of operating under the
most adverse conditions. Weight: 1.1 oz
Warranty
One year warranty
Probe Casing
Protective sheath with pen clip to protect and
store the stainless steel probe
Price
$18.00 each. Volume discounts are available;
contact our sales line for a price quote.

* Your assessment is very important for improving the work of artificial intelligence, which forms the content of this project