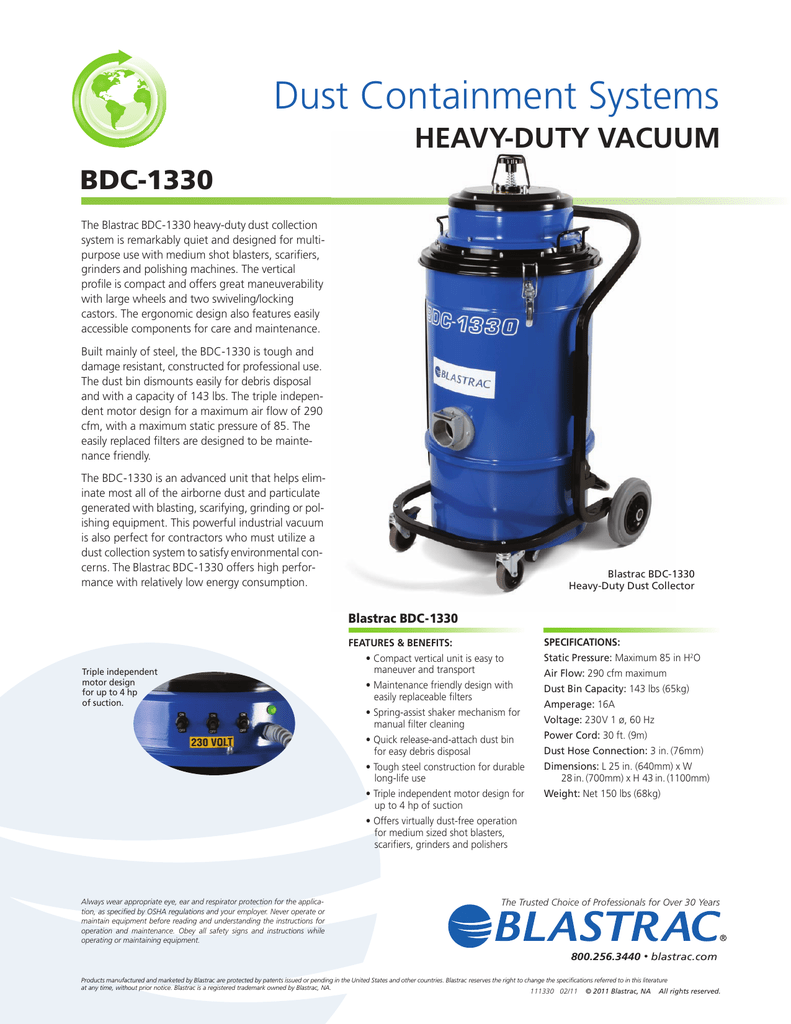 Dust Containment Systems
HEAVY-DUTY VACUUM
BDC-1330
The Blastrac BDC-1330 heavy-duty dust collection
system is remarkably quiet and designed for multipurpose use with medium shot blasters, scarifiers,
grinders and polishing machines. The vertical
profile is compact and offers great maneuverability
with large wheels and two swiveling/locking
castors. The ergonomic design also features easily
accessible components for care and maintenance.
Built mainly of steel, the BDC-1330 is tough and
damage resistant, constructed for professional use.
The dust bin dismounts easily for debris disposal
and with a capacity of 143 lbs. The triple independent motor design for a maximum air flow of 290
cfm, with a maximum static pressure of 85. The
easily replaced filters are designed to be maintenance friendly.
The BDC-1330 is an advanced unit that helps eliminate most all of the airborne dust and particulate
generated with blasting, scarifying, grinding or polishing equipment. This powerful industrial vacuum
is also perfect for contractors who must utilize a
dust collection system to satisfy environmental concerns. The Blastrac BDC-1330 offers high performance with relatively low energy consumption.
Blastrac BDC-1330
Heavy-Duty Dust Collector
Blastrac BDC-1330
Triple independent
motor design
for up to 4 hp
of suction.
Always wear appropriate eye, ear and respirator protection for the application, as specified by OSHA regulations and your employer. Never operate or
maintain equipment before reading and understanding the instructions for
operation and maintenance. Obey all safety signs and instructions while
operating or maintaining equipment.
FEATURES & BENEFITS:
• Compact vertical unit is easy to
maneuver and transport
• Maintenance friendly design with
easily replaceable filters
• Spring-assist shaker mechanism for
manual filter cleaning
• Quick release-and-attach dust bin
for easy debris disposal
• Tough steel construction for durable
long-life use
• Triple independent motor design for
up to 4 hp of suction
• Offers virtually dust-free operation
for medium sized shot blasters,
scarifiers, grinders and polishers
SPECIFICATIONS:
Static Pressure: Maximum 85 in H2O
Air Flow: 290 cfm maximum
Dust Bin Capacity: 143 lbs (65kg)
Amperage: 16A
Voltage: 230V 1 ø, 60 Hz
Power Cord: 30 ft. (9m)
Dust Hose Connection: 3 in. (76mm)
Dimensions: L 25 in. (640mm) x W
28 in. (700mm) x H 43 in. (1100mm)
Weight: Net 150 lbs (68kg)
The Trusted Choice of Professionals for Over 30 Years
800.256.3440
•
blastrac.com
Products manufactured and marketed by Blastrac are protected by patents issued or pending in the United States and other countries. Blastrac reserves the right to change the specifications referred to in this literature
at any time, without prior notice. Blastrac is a registered trademark owned by Blastrac, NA.
111330 02/11
© 2011 Blastrac, NA
All rights reserved.

* Your assessment is very important for improving the work of artificial intelligence, which forms the content of this project