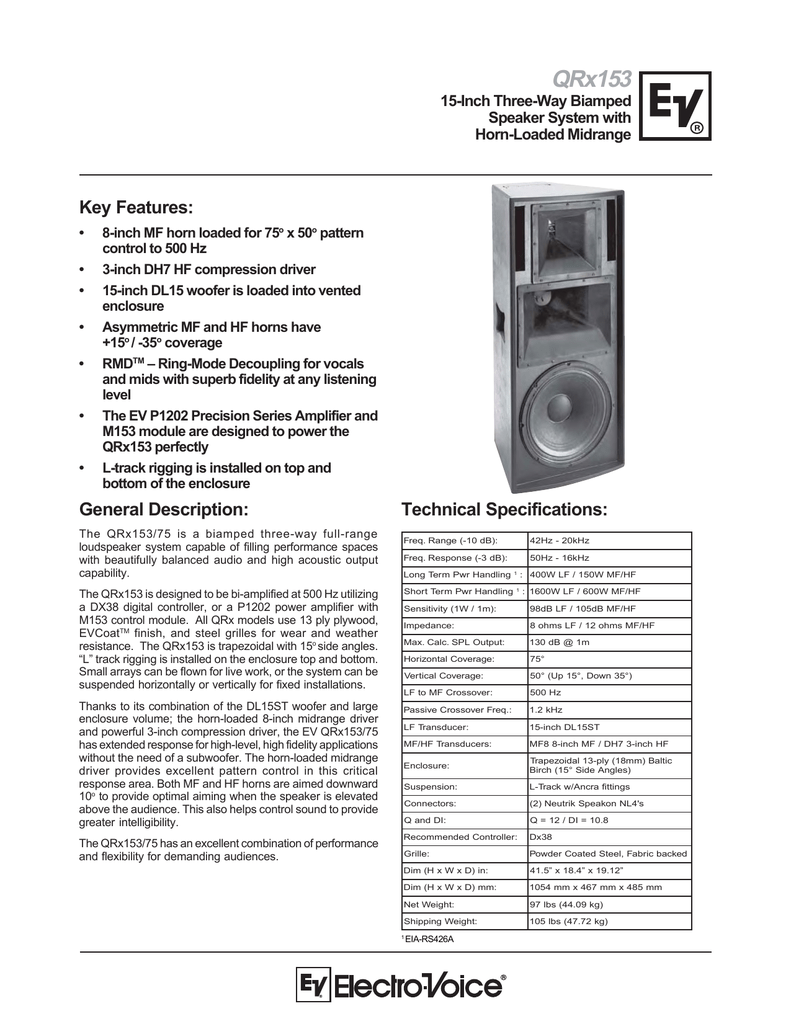 QRx153
15-Inch Three-Way Biamped
Speaker System with
Horn-Loaded Midrange
Key Features:
•
•
•
•
•
•
•
8-inch MF horn loaded for 75o x 50o pattern
control to 500 Hz
3-inch DH7 HF compression driver
15-inch DL15 woofer is loaded into vented
enclosure
Asymmetric MF and HF horns have
+15o / -35o coverage
RMDTM – Ring-Mode Decoupling for vocals
and mids with superb fidelity at any listening
level
The EV P1202 Precision Series Amplifier and
M153 module are designed to power the
QRx153 perfectly
L-track rigging is installed on top and
bottom of the enclosure
General Description:
The QRx153/75 is a biamped three-way full-range
loudspeaker system capable of filling performance spaces
with beautifully balanced audio and high acoustic output
capability.
The QRx153 is designed to be bi-amplified at 500 Hz utilizing
a DX38 digital controller, or a P1202 power amplifier with
M153 control module. All QRx models use 13 ply plywood,
EVCoatTM finish, and steel grilles for wear and weather
resistance. The QRx153 is trapezoidal with 15o side angles.
"L" track rigging is installed on the enclosure top and bottom.
Small arrays can be flown for live work, or the system can be
suspended horizontally or vertically for fixed installations.
Thanks to its combination of the DL15ST woofer and large
enclosure volume; the horn-loaded 8-inch midrange driver
and powerful 3-inch compression driver, the EV QRx153/75
has extended response for high-level, high fidelity applications
without the need of a subwoofer. The horn-loaded midrange
driver provides excellent pattern control in this critical
response area. Both MF and HF horns are aimed downward
10o to provide optimal aiming when the speaker is elevated
above the audience. This also helps control sound to provide
greater intelligibility.
The QRx153/75 has an excellent combination of performance
and flexibility for demanding audiences.
Technical Specifications:
Freq. Range (-10 dB):
42Hz - 20kHz
Freq. Response (-3 dB):
50Hz - 16kHz
Long Term Pwr Handling
Shor t Term Pwr Handling
1
1
Sensitivity (1W / 1m):
: 400W LF / 150W MF/HF
: 1600W LF / 600W MF/HF
98dB LF / 105dB MF/HF
Impedance:
8 ohms LF / 12 ohms MF/HF
Max. Calc. SPL Output:
130 dB @ 1m
Horizontal Coverage:
75°
Ver tical Coverage:
50° (Up 15°, Down 35°)
LF to MF Crossover :
500 Hz
Passive Crossover Freq.:
1.2 kHz
LF Transducer :
15-inch DL15ST
MF/HF Transducers:
MF8 8-inch MF / DH7 3-inch HF
Enclosure:
Trapezoidal 13-ply (18mm) Baltic
Birch (15° Side Angles)
Suspension:
L-Track w/Ancra fittings
Connectors:
(2) Neutrik Speakon NL4's
Q and DI:
Q = 12 / DI = 10.8
Recommended Controller :
Dx38
Grille:
Powder Coated Steel, Fabric backed
Dim (H x W x D) in:
41.5" x 18.4" x 19.12"
Dim (H x W x D) mm:
1054 mm x 467 mm x 485 mm
Net Weight:
97 lbs (44.09 kg)
Shipping Weight:
105 lbs (47.72 kg)
1
EIA-RS426A
Block Diagram:
Frequency Response:
Beamwidth:
Dimension Drawings :
Directivity:
Top View
Performance Match:
•
•
•
•
QRx218s -- Dual 18" Woofer System
P1202 -- Precision Series™ Amplifier
M153 -- Control Module for QRx153
Dx38 -- Digital Loudspeaker Controller
QRx153 Part Number:
• 301208-001 QRx-153, Black EVCoatTM finish
Front View
12000 Portland Avenue South, Burnsville, MN 55337
Phone:952/884-4051, Fax:952/884-0043
www.electrovoice.com
© Telex Communications, Inc. 1/2009
Part Number 38110-079 Rev D
Side View
WARNING: Suspending any object is potentially dangerous and
should only be attempted by individuals who have a thorough
knowledge of the techniques and regulations of rigging objects
overhead. Electro-Voice® strongly recommends that QRx
speakers be suspended taking into account all current national, federal,
state and local regulations. It is the responsibility of the installer to ensure
that QRx speakers are safely installed in accordance with all such
regulations. If QRx speakers are suspended, Electro-Voice ® strongly
recommends that the system be inspected at least once a year. If any sign
of weakness or damage is detected, remedial action should be taken
immediately.
U.S.A. and Canada only. For customer orders, contact Customer Service at:
800/392-3497 Fax: 800/955-6831
Europe, Africa, and Middle East only. For customer orders, contact Customer Service at:
+ 49 9421-706 0 Fax: + 49 9421-706 265
Other International locations. For customer orders, contact Customer Service at:
+ 1 952 884-4051 Fax: + 1 952 736-4212
For warranty repair or service information, contact the Service Repair department at:
800/685-2606
For technical assistance, contact Technical Support at: 866/78AUDIO
Specifications subject to change without notice.

* Your assessment is very important for improving the work of artificial intelligence, which forms the content of this project