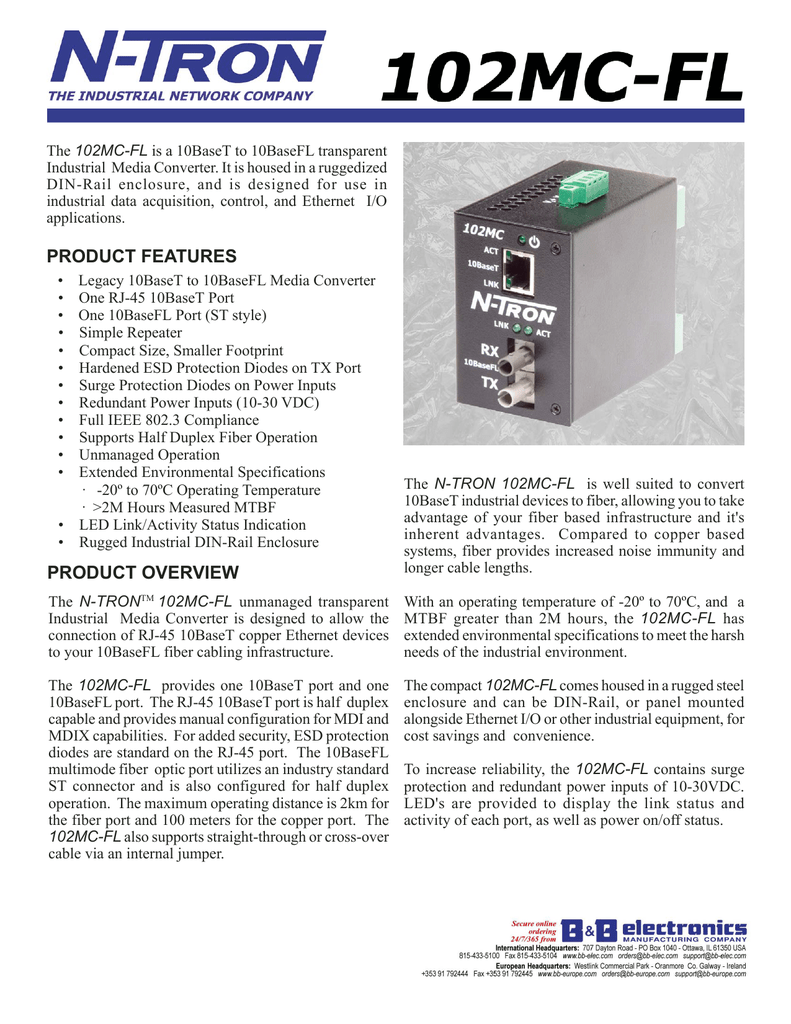 The 102MC-FL is a 10BaseT to 10BaseFL transparent
Industrial Media Converter. It is housed in a ruggedized
DIN-Rail enclosure, and is designed for use in
industrial data acquisition, control, and Ethernet I/O
applications.
PRODUCT FEATURES
•
•
•
•
•
•
•
•
•
•
•
•
Legacy 10BaseT to 10BaseFL Media Converter
One RJ-45 10BaseT Port
One 10BaseFL Port (ST style)
Simple Repeater
Compact Size, Smaller Footprint
Hardened ESD Protection Diodes on TX Port
Surge Protection Diodes on Power Inputs
Redundant Power Inputs (10-30 VDC)
Full IEEE 802.3 Compliance
Supports Half Duplex Fiber Operation
Unmanaged Operation
Extended Environmental Specifications
· -20º to 70ºC Operating Temperature
· >2M Hours Measured MTBF
• LED Link/Activity Status Indication
• Rugged Industrial DIN-Rail Enclosure
PRODUCT OVERVIEW
The N-TRON 102MC-FL is well suited to convert
10BaseT industrial devices to fiber, allowing you to take
advantage of your fiber based infrastructure and it's
inherent advantages. Compared to copper based
systems, fiber provides increased noise immunity and
longer cable lengths.
The N-TRONTM 102MC-FL unmanaged transparent
Industrial Media Converter is designed to allow the
connection of RJ-45 10BaseT copper Ethernet devices
to your 10BaseFL fiber cabling infrastructure.
With an operating temperature of -20º to 70ºC, and a
MTBF greater than 2M hours, the 102MC-FL has
extended environmental specifications to meet the harsh
needs of the industrial environment.
The 102MC-FL provides one 10BaseT port and one
10BaseFL port. The RJ-45 10BaseT port is half duplex
capable and provides manual configuration for MDI and
MDIX capabilities. For added security, ESD protection
diodes are standard on the RJ-45 port. The 10BaseFL
multimode fiber optic port utilizes an industry standard
ST connector and is also configured for half duplex
operation. The maximum operating distance is 2km for
the fiber port and 100 meters for the copper port. The
102MC-FL also supports straight-through or cross-over
cable via an internal jumper.
The compact 102MC-FL comes housed in a rugged steel
enclosure and can be DIN-Rail, or panel mounted
alongside Ethernet I/O or other industrial equipment, for
cost savings and convenience.
To increase reliability, the 102MC-FL contains surge
protection and redundant power inputs of 10-30VDC.
LED's are provided to display the link status and
activity of each port, as well as power on/off status.
BENEFITS
SPECIFICATIONS
Industrial Media Converter
•
Compact Size, Smaller Footprint
•
Converts Legacy 10BaseT to 10BaseFL
•
Simple Repeater
•
ESD Protection Diodes on RJ-45 Port
•
Surge Protection Diodes on Power Inputs
•
High Reliability/Availability
•
Extended Environmental Specifications
•
Ruggedized DIN-Rail Enclosure
•
High Performance
•
High MTBF >2M Hours (measured)
Physical:
Height:
Width:
Depth:
Weight:
3.49"
2.01"
4.00"
0.625 lbs
Electrical:
Input Voltage:
Steady Input Current:
Inrush:
10-30 VDC
100mA@24V
7.3Amp/1.0ms@24V
Ease of Use
•
Unmanaged Media Converter
•
Plug & Play Operation
•
Redundant Power Inputs
•
Supports Straight-through or Cross-over
Cable via Jumper
•
LED Link/Activity Status Indication
•
Compact DIN-Rail Package
Environmental:
Operating Temperature:
Storage Temperature:
Operating Humidity:
Operating Altitude:
(8.86 cm)
(5.10 cm)
(10.16 cm)
(0.28 kg)
-20oC to 70oC
-40oC to 85oC
10% to 90%
(Non Condensing)
0 to 10,000 ft.
Shock and Vibration (bulkhead mounting)
Shock:
200g @ 10ms
Vibration/Seismic:
50g, 5-200Hz, Triaxial
Fiber Transceiver Characteristics
Contact Information
N-TRON Corp.
820 S. University Blvd.,
Suite 4E
Mobile, AL 36609 USA
TEL: (251) 342-2164
FAX: (251) 342-6353
Website: www.n-tron.com
Email: NTRON@n-tron.com
N-TRON Europe GmbH
Alte Steinhauserstr 19
6330 Cham / Zg
Switzerland
TEL: +41 41 7406636
FAX: +41 41 7406637
Ordering Information
102MC-FL
10BaseFL multimode fiber
ST style connector
300PM
Panel mount kit
NTPS-24-1.3
DIN-Rail Power Supply
24V@1.3 Amp
Fiber Type
50/125µm
62.5/125µm
TX Power Min
-17dBm
-13.5dBm
RX Sensitivity Max
-34.4dBm
-34.4dBm
Wavelength
850nm
850nm
Network Media:
10BaseT:
10BaseFL Multimode:
Connectors:
10BaseT (shielded):
10BaseFL:
>Cat3 Cable, 100m
maximum distance
50-62.5/125µm,
100/140µm, 200µm
One (1) RJ-45 TX Port
One (1) ST Fiber Port
Recommended Wiring Clearance:
Front:
2" (5.08 cm)
Top:
3" (7.62 cm)
Regulatory:
FCC Part 15 Class A, GOST-R Certified, RoHS Compliant
REV 080616
® 2008 N-TRON, Corp. N-TRON and the N-TRON logo are trademarks of N-TRON, Corp. Product names mentioned herein are for identification purposes only and
may be trademarks and/or registered trademarks of their respective company. Specifications subject to change without notice. Printed in USA.

* Your assessment is very important for improving the work of artificial intelligence, which forms the content of this project