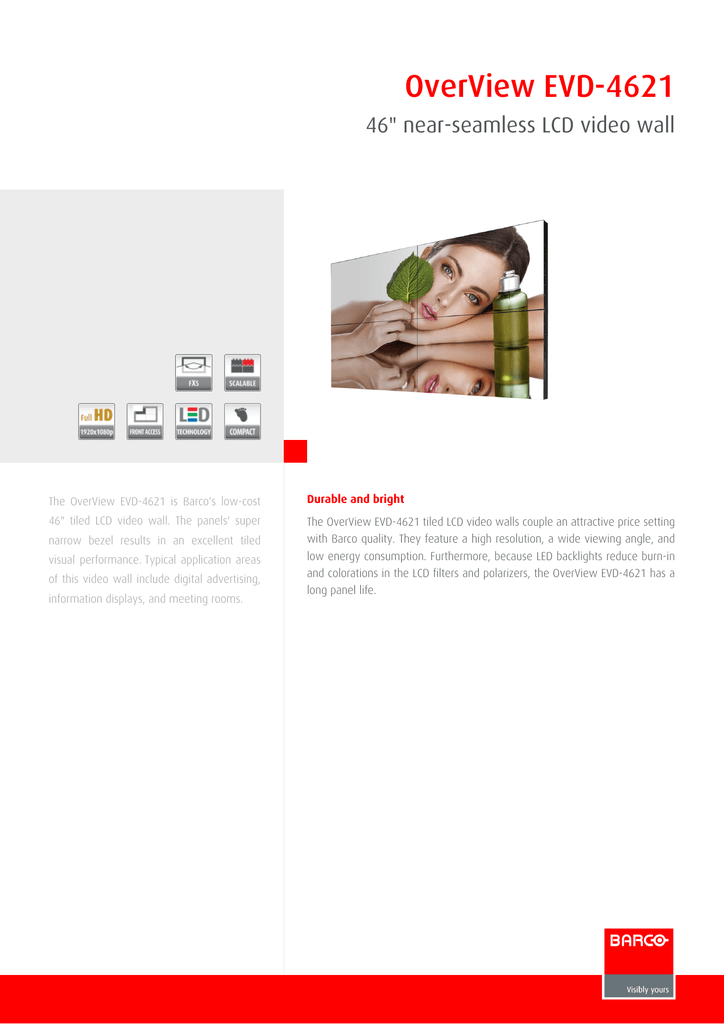 OverView EVD­4621
46" near­seamless LCD video wall
The OverView EVD­4621 is Barco's low­cost
Durable and bright
46" tiled LCD video wall. The panels' super
The OverView EVD­4621 tiled LCD video walls couple an attractive price setting
with Barco quality. They feature a high resolution, a wide viewing angle, and
low energy consumption. Furthermore, because LED backlights reduce burn­in
and colorations in the LCD filters and polarizers, the OverView EVD­4621 has a
long panel life.
narrow bezel results in an excellent tiled
visual performance. Typical application areas
of this video wall include digital advertising,
information displays, and meeting rooms.
OverView EVD­4621
46" near­seamless LCD video wall
Ideal for:
⋅ Digital advertising
⋅ Information display
⋅ Digital menu boards
⋅ Meeting rooms
⋅ Directories
⋅ Communication
⋅ Classrooms
⋅ Public address
Available as Instant VideoWall bundle
Barco also offers complete packages, containing four, six or eight OverView
EVD­4621 displays to create a 2x2, 3x2 or 4x2 video wall respectively,
complete with wall mounts and cables. Optionally, you can bundle it with a
controller, and software. In this way, you have your completely configured
video wall solution in one package.
Product specifications
OverView EVD­4621
LCD technology
S­PVA, normally black
Resolution
Full HD (1920 x 1080)
Backlight
Direct LED
Aspect ratio
16:9
Pixel density
48 dpi
Refresh rate
60 Hz
Luminance
500 cd/m2 (typ.)
Contrast
3500:1 (typ.)
Viewing angle
H 178°|V 178°
White point
10,000 K
Color
10 bits ­ 1.07 B colors
Color calibration
Only manual (by eye) calibration
Precision
Internal 10 bit processing
Backlight lifetime
60,000 h (typ)
MTBF
100,000 h (half brightness)
Active screen diagonal
46" (1168 mm)
Dimensions
1024.0 x 578.6 x 98.2 mm | 40.3" x 22.8" x 3.9"
Active screen area
1018.1 mm x 572.7 mm | 40.1" x 22.6"
Bezel width
Right, bottom: 1.9 mm | 0.075"
Left, top: 3.8 mm | 0.13"
Total: 5.7 mm | 0.21"
Weight
26 kg | 57.3 lbs (net)
36 kg | 79.4 lbs (gross)
Cooling
Low noise fans
AC input voltage
100­240 VAC, 50­60 Hz
Power consumption
190 W (max) | 90 W (typ) | 20 W (sleep) | 2.5 W (stdby)
Heat dissipation
819 BTU/h (max)
DVI
Single link DVI­D in/out with HDCP
Resolution: (60Hz): 640x480, 800x600, 1024x768, 1280x1024, 1360x768,
1920x1200, 720p60, 1080p60; 1080p24, 1080p25, 1080p30, 1080p50
Remote control
External dongle with approx. 1m 3.5mm Stereo Male to IR Receiver
Barco Wall Control Manager
BCMC Server connected via RS­232
Remote client application: on/off, wall set­up, source selection, status, brightness,
contrast and color adjustments
Control signal
RS­232 DSUB9 in/out
Operating humidity
20­80%, non­condensing
Operational temperature
0 ­ 45°C | 32 ­ 109°F
Storage humidity
10­90%, non­condensing
Storage temperature
­20 ­ 60°C | ­4 ­ 140°F
Safety
UL / c_UL / CB / TUV / KCC
EMI / EMC
EMC / IEC / FCC / CE / KCC
Last updated: 07 Mar 2017
Technical specifications are subject to change without prior notice.
Please check www.barco.com for the latest information.

* Your assessment is very important for improving the work of artificial intelligence, which forms the content of this project