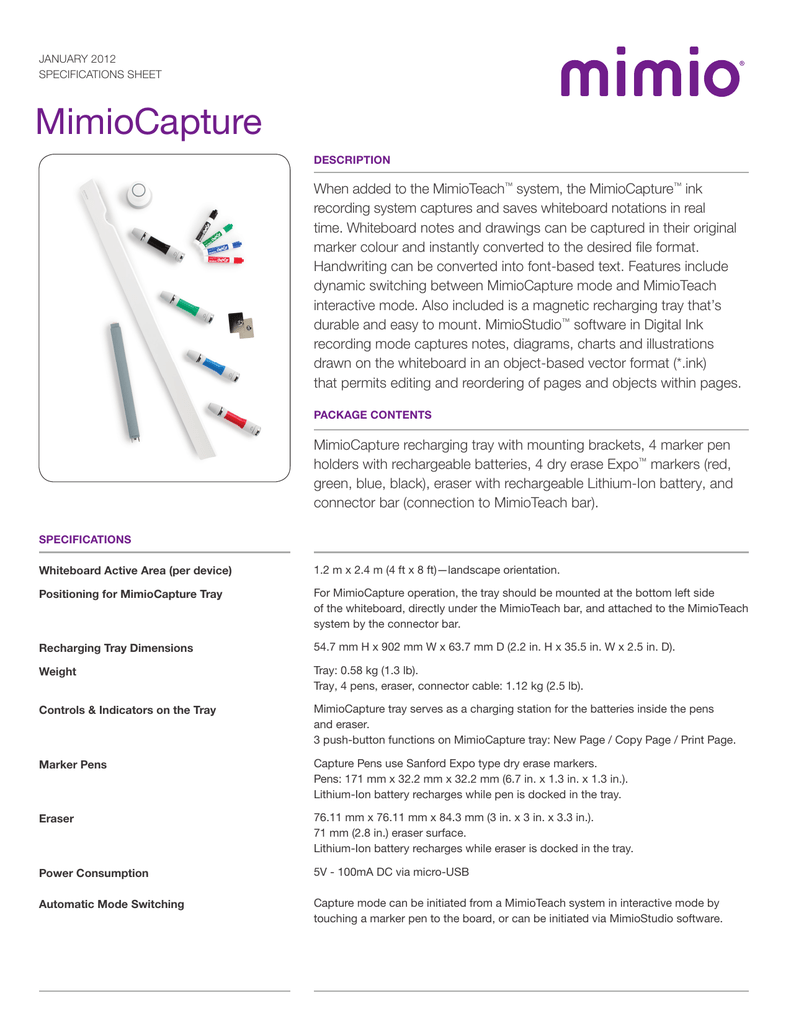 January 2012
SpecificationS Sheet
MimioCapture
descriPtion
When added to the Mimioteach™ system, the Mimiocapture™ ink
recording system captures and saves whiteboard notations in real
time. Whiteboard notes and drawings can be captured in their original
marker colour and instantly converted to the desired file format.
handwriting can be converted into font-based text. features include
dynamic switching between Mimiocapture mode and Mimioteach
interactive mode. also included is a magnetic recharging tray that's
durable and easy to mount. MimioStudio™ software in Digital ink
recording mode captures notes, diagrams, charts and illustrations
drawn on the whiteboard in an object-based vector format (*.ink)
that permits editing and reordering of pages and objects within pages.
Package contents
Mimiocapture recharging tray with mounting brackets, 4 marker pen
holders with rechargeable batteries, 4 dry erase expo™ markers (red,
green, blue, black), eraser with rechargeable Lithium-ion battery, and
connector bar (connection to Mimioteach bar).
sPecifications
Whiteboard active area (per device)
1.2 m x 2.4 m (4 ft x 8 ft)—landscape orientation.
Positioning for Mimiocapture tray
For MimioCapture operation, the tray should be mounted at the bottom left side
of the whiteboard, directly under the MimioTeach bar, and attached to the MimioTeach
system by the connector bar.
recharging tray dimensions
54.7 mm H x 902 mm W x 63.7 mm D (2.2 in. H x 35.5 in. W x 2.5 in. D).
Weight
Tray: 0.58 kg (1.3 lb).
Tray, 4 pens, eraser, connector cable: 1.12 kg (2.5 lb).
controls & indicators on the tray
MimioCapture tray serves as a charging station for the batteries inside the pens
and eraser.
3 push-button functions on MimioCapture tray: New Page / Copy Page / Print Page.
Marker Pens
Capture Pens use Sanford Expo type dry erase markers.
Pens: 171 mm x 32.2 mm x 32.2 mm (6.7 in. x 1.3 in. x 1.3 in.).
Lithium-Ion battery recharges while pen is docked in the tray.
eraser
76.11 mm x 76.11 mm x 84.3 mm (3 in. x 3 in. x 3.3 in.).
71 mm (2.8 in.) eraser surface.
Lithium-Ion battery recharges while eraser is docked in the tray.
Power consumption
5V - 100mA DC via micro-USB
automatic Mode switching
Capture mode can be initiated from a MimioTeach system in interactive mode by
touching a marker pen to the board, or can be initiated via MimioStudio software.
January 2012
SpecificationS Sheet
MimioCapture
sPecifications
certification & compliance
Safety: UL/CSA/EN/IEC 60950-1 (CE &TUV NRTL) C-Tick, NOM, KCC, GOST,
ANATEL, SII, UrkSEPRO, NRCS, VoC, CQC.
EMC: FCC, IC, CE, C-Tick, GOST, KCC, ANATEL, SII.
Environmental: RoHS, WEEE, REACH compliant.
Product Warranty
Mimio hardware is warranted for 2 years from date of purchase, with an additional 3
years with product registration at mimio.com/warranty, for a total of 5 years.
MimioStudio software is supplied with a limited lifetime warranty, expiring 1 year
after discontinuation of the product.
other available accessories
Metallic mounting brackets with removable adhesive strips for non-metallic surfaces.
Replacement parts: kit for eraser felt pads, 4 colour pens, battery for eraser. North
American or International AC adapters.

* Your assessment is very important for improving the work of artificial intelligence, which forms the content of this project