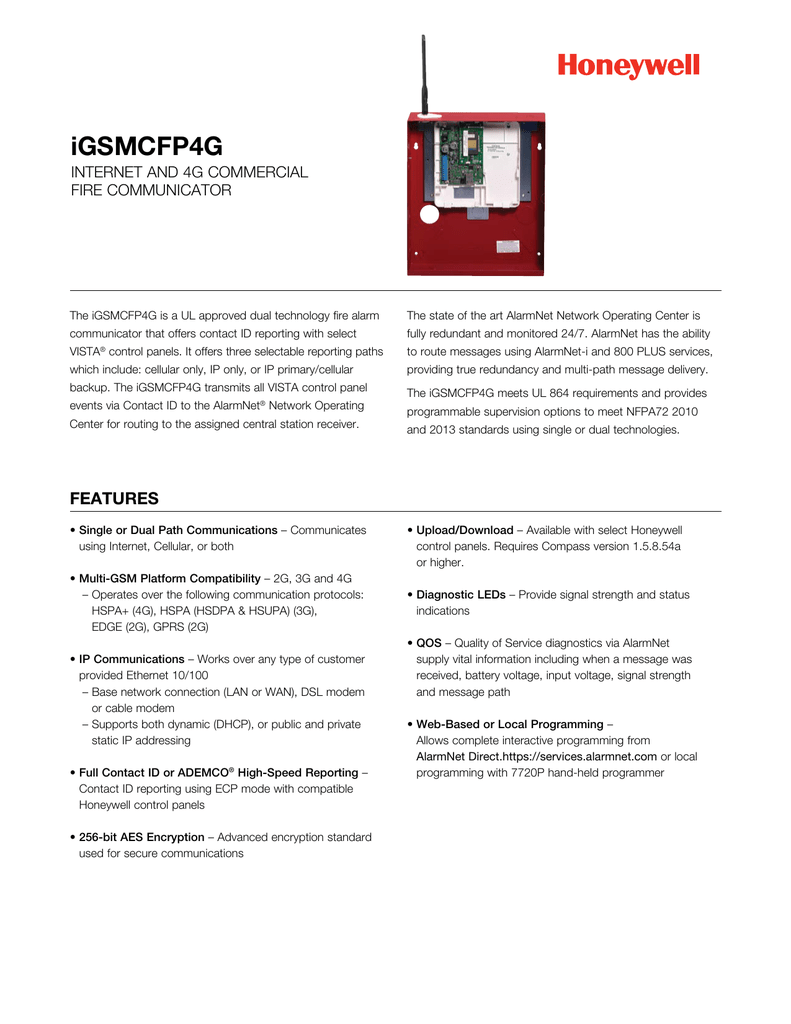 iGSMCFP4G
Internet and 4G Commercial
Fire Communicator
The iGSMCFP4G is a UL approved dual technology fire alarm
The state of the art AlarmNet Network Operating Center is
communicator that offers contact ID reporting with select
fully redundant and monitored 24/7. AlarmNet has the ability
VISTA® control panels. It offers three selectable reporting paths
to route messages using AlarmNet-i and 800 PLUS services,
which include: cellular only, IP only, or IP primary/cellular
providing true redundancy and multi-path message delivery.
backup. The iGSMCFP4G transmits all VISTA control panel
The iGSMCFP4G meets UL 864 requirements and provides
events via Contact ID to the AlarmNet® Network Operating
Center for routing to the assigned central station receiver.
programmable supervision options to meet NFPA72 2010
and 2013 standards using single or dual technologies.
FEATURES
•S
ingle or Dual Path Communications – Communicates
using Internet, Cellular, or both
•M
ulti-GSM Platform Compatibility – 2G, 3G and 4G
– Operates over the following communication protocols:
HSPA+ (4G), HSPA (HSDPA & HSUPA) (3G),
EDGE (2G), GPRS (2G)
• IP Communications – Works over any type of customer
provided Ethernet 10/100
– Base network connection (LAN or WAN), DSL modem
or cable modem
– Supports both dynamic (DHCP), or public and private
static IP addressing
•F
ull Contact ID or ADEMCO® High-Speed Reporting –
Contact ID reporting using ECP mode with compatible
Honeywell control panels
•2
56-bit AES Encryption – Advanced encryption standard
used for secure communications
•U
pload/Download – Available with select Honeywell
control panels. Requires Compass version 1.5.8.54a
or higher.
•D
iagnostic LEDs – Provide signal strength and status
indications
•Q
OS – Quality of Service diagnostics via AlarmNet
supply vital information including when a message was
received, battery voltage, input voltage, signal strength
and message path
•W
eb-Based or Local Programming –
Allows complete interactive programming from
AlarmNet Direct.https://services.alarmnet.com or local
programming with 7720P hand-held programmer
iGSMCFP4G
Internet and 4G Commercial Fire Communicator
SPECIFICATIONS
•M
echanical:
– Dimensions: 15.0" H x 12.75" W x 3.0" D
–W
eight: 10 lbs.
•
• Input Power:
12VDC supplied by the control panel
Environmental:
– Operating temperature: 32ºF to 120.2ºF (0ºC to 49ºC)
– Storage temperature: -40ºF to 158ºF (–40ºC to 70ºC)
– Humidity: 0 to 85% relative humidity, non-condensing
–A
ltitude: to 10,000 feet operating, to 40,000 feet storage
•L
istings:
– UL 864 – Standard for Control Units and Accessories
for Fire Alarm Systems
• Current Drain:
190mA standby, 215mA active
•R
F Frequency:
– 2G GSM/GPRS/EDGE Quad Band,
850/900/1800/1900 MHz
– 3G/4G UMTS/HSPA+ Band V, Band II
•U
L Compatible Control Panels:
– VISTA-32FB
– VISTA-32FBT
– VISTA-128FBP
– VISTA-128FBPT
– VISTA-250FBP
– VISTA-250BPT
– FA1670C (First Alert Professional)
–F
A1670CT (First Alert Professional)
– FA1700C (First Alert Professional)
– FA1700CT (First Alert Professional)
•
F Output Power:
R
– 2G GPRS +33 dBm, GMSK modulation
– EDGE +27 dBm, 8-PSK modulation
– 3G UMTS +24 dBm, QPSK modulation
– WCDMA +24 dBm, QPSK modulation
– 4G HSPA+ +24 dBm, 64 QAM modulation
– WCDMA +24 dBm, 64 QAM modulation
•
Ethernet:
– Network Standard: IEEE 802.3u compliant
– Data Rate: 10 Base-T/100 Base-T with auto detect
– Ethernet Cable: CAT5 (min), MDI/MDI-X auto crossover
ORDERING
iGSMCFP4G
Internet and 4G Commercial Fire Communicator
For more information: www.honeywell.com/security
Automation and Control Solutions
Honeywell Security Products Americas
2 Corporate Center Dr. Suite 100
P.O. Box 9040
Melville, NY 11747
1.800.467.5875
www.honeywell.com
L/iGSMCFP4GD/D
June 2014
© 2014 Honeywell International Inc.

* Your assessment is very important for improving the work of artificial intelligence, which forms the content of this project