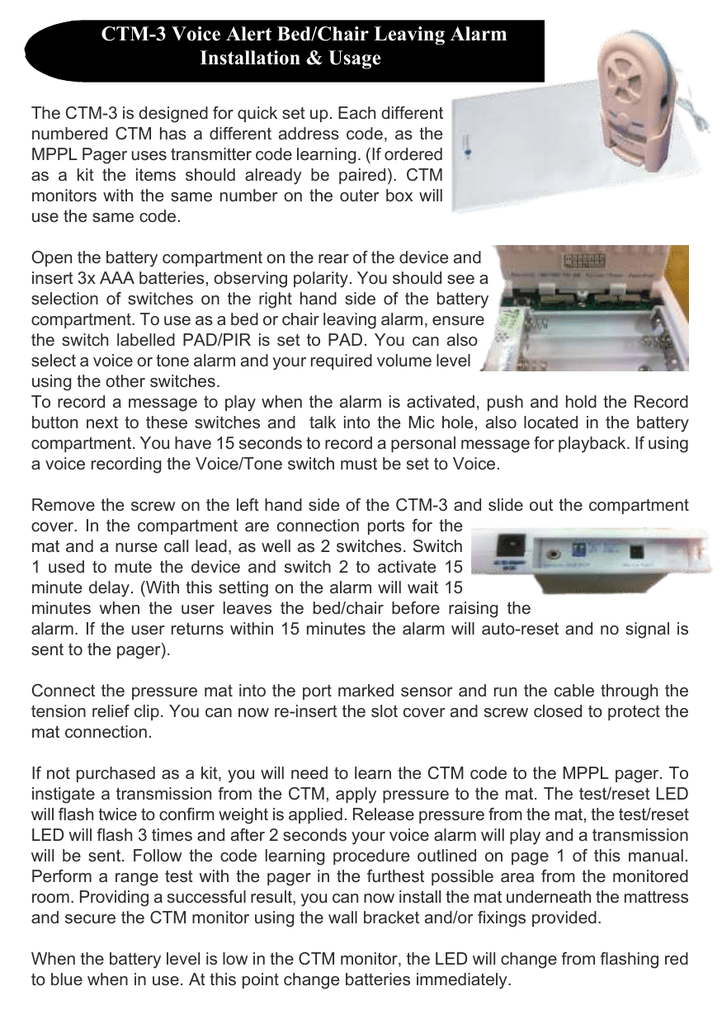 CTM-3 Voice Alert Bed/Chair Leaving Alarm
Installation & Usage
The CTM-3 is designed for quick set up. Each different
numbered CTM has a different address code, as the
MPPL Pager uses transmitter code learning. (If ordered
as a kit the items should already be paired). CTM
monitors with the same number on the outer box will
use the same code.
Open the battery compartment on the rear of the device and
insert 3x AAA batteries, observing polarity. You should see a
selection of switches on the right hand side of the battery
compartment. To use as a bed or chair leaving alarm, ensure
the switch labelled PAD/PIR is set to PAD. You can also
select a voice or tone alarm and your required volume level
using the other switches.
To record a message to play when the alarm is activated, push and hold the Record
button next to these switches and talk into the Mic hole, also located in the battery
compartment. You have 15 seconds to record a personal message for playback. If using
a voice recording the Voice/Tone switch must be set to Voice.
Remove the screw on the left hand side of the CTM-3 and slide out the compartment
cover. In the compartment are connection ports for the
mat and a nurse call lead, as well as 2 switches. Switch
1 used to mute the device and switch 2 to activate 15
minute delay. (With this setting on the alarm will wait 15
minutes when the user leaves the bed/chair before raising the
alarm. If the user returns within 15 minutes the alarm will auto-reset and no signal is
sent to the pager).
Connect the pressure mat into the port marked sensor and run the cable through the
tension relief clip. You can now re-insert the slot cover and screw closed to protect the
mat connection.
If not purchased as a kit, you will need to learn the CTM code to the MPPL pager. To
instigate a transmission from the CTM, apply pressure to the mat. The test/reset LED
will flash twice to confirm weight is applied. Release pressure from the mat, the test/reset
LED will flash 3 times and after 2 seconds your voice alarm will play and a transmission
will be sent. Follow the code learning procedure outlined on page 1 of this manual.
Perform a range test with the pager in the furthest possible area from the monitored
room. Providing a successful result, you can now install the mat underneath the mattress
and secure the CTM monitor using the wall bracket and/or fixings provided.
When the battery level is low in the CTM monitor, the LED will change from flashing red
to blue when in use. At this point change batteries immediately.

* Your assessment is very important for improving the work of artificial intelligence, which forms the content of this project