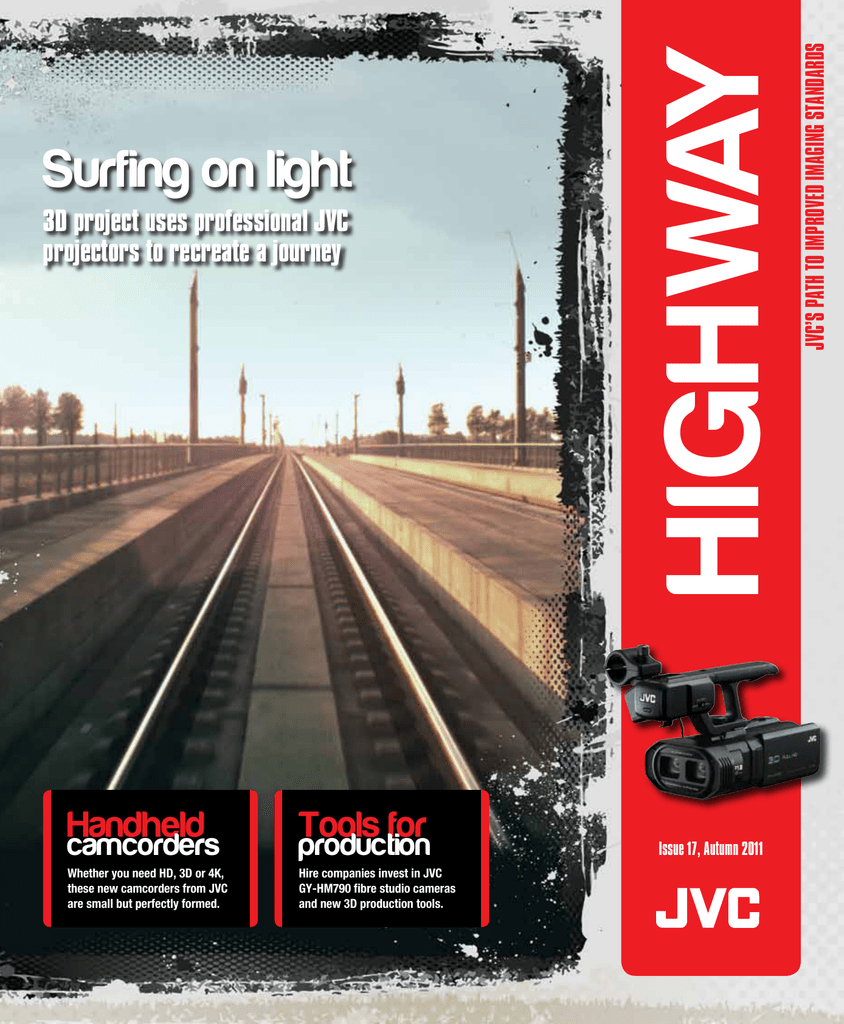 Handheld
camcorders
Tools
for
production
Whether you need HD, 3D or 4K,
these new camcorders from JVC
are small but perfectly formed.
Hire companies invest in JVC
GY-HM790 fibre studio cameras
and new 3D production tools.
Issue 17, Autumn 2011
JVC'S PATH TO IMPROVED IMAGING STANDARDS
3D project uses professional JVC
projectors to recreate a journey
HIGHWAY
Surfing on light
Handheld
camcorders
The IBC 2011 show played host to a number of
new handheld camcorders from JVC, from the
GY-HM150 tapeless camcorder through to the
GY-HMZ1 3D camcorder. And let's not forget
the prototype of an amazing 4k camera that's
likely to make its debut in the near future too.
Here are some key features of all three.
GY-HM790 for live events
Flexible camera system chosen by production and hire companies
GY-HM150 full-HD camcorder
This replacement for the versatile GY-HM100
includes a range of technological improvements
that offers users total flexibility and a fast editing
workflow, including the option to record in both SD
and HD formats, and the ingenious Pre Rec mode.
It's also JVC's first handheld to feature dual SDHC/
SDXC card slots, allowing simultaneous recording
to both cards for instant back-up or seamless
relay recording between cards
for continuous shooting.
Well-established live events and AV hire companies
are moving away from the more established brands
typical to the hire industry and choosing the JVC
GY-HM790 fibre solution for its performance,
versatility and value for money.
Onyx Presentations Ltd. has bought six complete JVC
GY-HM790 HD camera fibre channels, two JVC KM-H3000
12-channel production switchers and seven DT-V professional
monitors, as part of a large investment in new HD technology.
The hybrid fibre channels, supplied by CVP Group and
financed by Fineline Media Finance, will become part of
Onyx's rental stock, available for dry hire and live events.
Audiotech Services Ltd., based in Barnsley, has also
recently purchased four GY-HM790 HD camera fibre
channels, supplied by TNP Broadcast and also financed
by Fineline, to add to its hire division. Audiotech chose the
GY-HM790 camera system as it's extremely adaptable, offering
full ENG and studio capability with a modular robust design.
GY-HMZ1 3D camcorder
With an integrated 3D twin lens design, powered
by JVC's proprietary large-scale integration (LSI)
chip for high-speed processing of HD video, the
GY-HMZ1 can simultaneously record each left
and right image in full 1920x1080 HD resolution.
These streams combine to form the GY-HMZ1's
exceptional 3D image, making it possible to acquire
true full HD resolution 3D footage in either L/R
independent or side-by-side format and in light
levels as low as 4 lux.
4k handheld camcorder
The prototype 4k camera, again featuring JVC's
LSI chip for super fast processing, raised plenty
of interest at the IBC show and it is planned as
an actual JVC product soon. The LSI chip enables
processing, encoding, and recording of 4K2K
images – four times the resolution of full HD.
The integrated hybrid fibre solution supports up to 500m
single cable runs between the camera and the base station.
Power, control and intercom all run back and forth through
one single, lightweight but tough fibre optic cable. JVC's
clever design and the integrated fibre package allow for fast
deployment, essential in the live events market.
AVEX, a professional audio video rental and production
company, purchased a JVC GY-HM790 camcorder for its live
event and video production divisions. In addition to its own
staff, the company uses a network of subcontractors for its
live event production, so it was essential that the camera
was easy to operate, even with limited hands-on experience.
"We are getting requests for the camera not only from
our corporate rental clients but also from other production
firms," said David Throldahl, AVEX president. "We have
received phenomenal reports back from everyone, and the
fact that we can shoot to affordable SDHC cards and hot
swap them made the solution exceedingly simple."
Reference projectors
JVC has introduced two professional projectors
that display 2D HD content with full 4K precision.
They feature new e-Shift technology, capable
of projecting images with 3840 x 2160 pixel
resolution, four times that of full HD.
The DLA-RS55 and DLA-RS65 3D-enabled projectors
boast a wide range of advancements over previous
models, including higher native contrast, improved 3D
performance and enhanced functionality. Using e-Shift,
2D HD content is upconverted and scaled to a 4K signal
(3840 x 2160) and the e-Shift technology displays it at
full 4K precision. Compared to a full HD (1920 x 1080)
2D HD with 4k precision
image, that's twice the horizontal and vertical resolution
and four times the number of pixels. The result is a
stunningly detailed image with minimal aliasing
artifacts found in standard HD displays.
Post-production suites
upgrade to HD
Surfing on light
Monitoring and recording goes high definition
at Nigerian broadcast company, OSRC
3D video installation in Rotterdam features eight JVC 3D projectors
Nigerian broadcast company, Ondo State Radiovision
Corporation (OSRC), has received and installed
six JVC DT-R17L4D HD video monitors and ten
SR-HD1250 Blu-ray HDD/DVD recorder and playback
machines in their new non-linear edit suites.
Renowned Dutch cinematographer and
director, Jan de Bont, recently created
a four-screen three-dimensional video
installation, Surfing on light, which used
eight JVC DLA-F110 projectors installed
as four 3D pairs.
OSRC has used JVC products since 2003 when they 'fell
in love' after a team of JVC engineers installed two SD
television broadcast and production studios for the company.
Ayekomilogbon 'Femi, the Corporation's Controller of
Engineering Services, explained that they chose JVC
equipment because the picture resolution of the monitors
was a true replica of the output of their ENG HD cameras.
"The ability to monitor HD, SD and analogue composite
video signals on the same monitor makes it a better option
for broadcast stations in the process of transiting from
analogue to digital broadcasting. The fact that speakers are
installed on the monitors makes our editors happy, since
this gives more space on the NLE table!" 'Femi stated.
OSRC have invested in ten SR-HD1250 Blu-Ray HDD/
DVD decks, which are a vital part of the station's editing
workflow. "The recorder and playback machines fitted
with hard drives for content storage and with the seamless
transfer of content to Blu-Ray discs have drastically
reduced the time wasted during content transfer
meaning other
jobs that require
urgent attention
spend less time
in the queue.
The installation
of the recorders
has considerably
improved our final
output quality."
The installation – part of a pan-European art
project along the new high-speed train line
from Amsterdam to Paris – required high native
contrast projectors to display the landscapes,
and the DLA-F110 suited their requirements
perfectly with its smooth colour gradients.
Fully surrounded by large screens at close
distance, the viewer experienced the amazing
visuals and light, all at the high speeds found
on this new trainline. The 3D images make
this experience even more unique as it puts
the viewer right inside the landscape.
3D for production
New DT-3D24G1 24" monitor is perfect for post
JVC's DT-3D24G1 monitor is a compact 24" 3D display
that includes a range of significant production tools.
It has recently been purchased by ONSIGHT and Inition.
Production facilities company, ONSIGHT, bought the
24" 3D production monitor for use in its camera rental
department for playback and S3D monitoring on set.
Equipped with proven technology from the DT-V Series
of monitors series – including an IPS panel, switchable
Omagh history park
InterMedia Ireland has launched Studio 21, a
newly-refurbished broadcast studio in the heart
of County Tyrone, Northern Ireland. The studio
is located on what is known as History Park – a
collection of reconstructions of housing, tombs,
monuments and religious buildings covering about
10,000 years of Irish history.
Led by a team of qualified experts, the stylish learning
environment hosts a range of accredited media courses
but also offers the chance for local businesses and students
to use the facility or hire its services. Media students have
a unique opportunity to gain valuable industry-standard
experience using JVC's tapeless camcorders. The studio
has a range of shoulder-mount GY-HM700 and handheld
GY-HM100 camcorders, supplied by Eurotek Ireland, and
is planning to upgrade to the GY-HM750 in the New Year.
colour space, high-resolution
waveform and vectorscope –
the 3D monitor accepts and
processes signals from dual
camera systems, stereo-rigs
and coded Side-by-Side and
Line-by-Line 3D signals.
Creative 3D technology
company, Inition, also like their new purchase. "The JVC
DT-3D24G1 offers more functionality and a wider field of
view than any other professional monitor on the market,"
said Shannon Dowsing, 3D technology consultant, Inition.
"This has become our reference monitor for 3D production
and post due to its exceptional quality and flexibility."
New studio in Northern Ireland uses JVC ProHD camcorders to recreate history
"The JVC cameras were a great option for us because we
could record to low-cost SDHC cards, which will save us a
fortune!" explains Gareth Boyle, Manager, InterMedia Ireland.
"We edit with Final Cut Pro, so the fact that the camcorders
record to QuickTime .mov file formats at 35Mbps means
we can simply drag files straight into the software for
editing with no transcoding. The image quality on the
camcorders is exceptional too, and we find the handheld
GY-HM100s perfect for outdoor shoots as they are discrete
and easy to handle."
The location features the latest in innovative learning
technologies, including a 70-seater cinema to review
work captured in the studio, breakout rooms or outdoors.
"This facility is a magnificent achievement," Gareth adds,
"and the resources and expertise at Studio 21 will actively
enrich media teaching, giving students the chance to
ignite a passion and excitement to work in the creative
industry sector in Northern Ireland. We hope to help put
young people on course towards relevant media careers and
ultimately enhance our country's economic competitiveness."
www.jvcpro.co.uk/jpe/testdrive
48
e
v
i
r
d
r
t
s
u
e
o
t
h
er
cord
m
a
c
0
75
GY-HM
e
h
t
e
k
ou li
See if y ch as we do.
mu
just as
ry
l memo
nal dua HM750
io
s
s
fe
the GYand pro
mobile ssing engine, r SD directly
ly
h
ig
h
e
–a
roc
an
r HD o
HM750 aded digital p record eithe aneously for .
Y
G
e
lt
r
e
th
to
u
g
p
m
g
y
im
u
ti
it
in
s
il
n
g
c
Introdu r. Based on a , with the ab to both cards ited recordin
ty
le
Record
mcorde
lly unlim
re quali
ative fi
card ca proved pictu state media. ally for virtua
in the n rkflow.
u
s
d
im
d
li
id
r
o
s
o
iv
s
e
c
d
r
e
o
C
50 r
featu
st w
SDH
, or in
Y-HM7 world's faste ic videos,
omical stant backup
, the G
s
e
us
to econ
r
in
e
th
m
d
r
r
r
o
o
safe.
ms fo mentaries
camc
te
s
D
y
H
s
o
media
r
g
u
r
P
c
in
u
r
o
it
o
e
d
y
d
,
e
th
p
al
ee
ials
eo
y
And lik lar profession s, commerc 50 will help k
r free b
7
ew
pu
n
o
M
p
g
H
f
rive fo mind.
n
Y
o
d
ti
G
o
t
ts
o
s
e
a
h
e
t
s
th
m
for
wn
our
r you're
your o
e 48 h
Whethe
- try th nd make up
it
r
o
f
ea
rd
estdriv
our wo
t take o.co.uk/jpe/t
s
ju
't
n
But do g www.jvcpr
visitin
iPad
2
ree
f
a
e
v
i
e
corder*
fer: rec
f
m
o
a
l
c
a
n
0
o
5
7
Additi
y GY-HM
r
e
v
e
h
wit
* Buy a new GY-HM750E camcorder and receive an Apple iPad 2 absolutely free. Test drive and iPad 2 offers only valid in the UK & Ireland. Terms and conditions apply.
© 2011 JVC Professional Europe Ltd. E&OE. All trademarks and images are the properties of their respective owners.
Test drive available for GY-HM150 and GY-HM750.