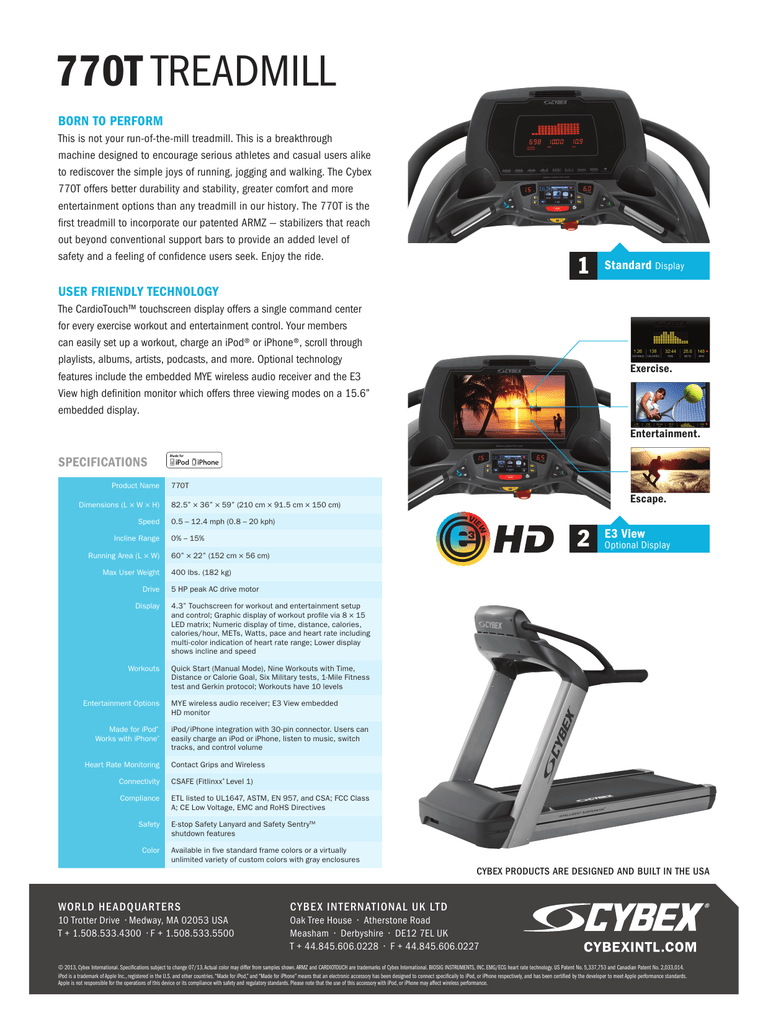 770T TREADMILL
BORN TO PERFORM
This is not your run-of-the-mill treadmill. This is a breakthrough
machine designed to encourage serious athletes and casual users alike
to rediscover the simple joys of running, jogging and walking. The Cybex
770T offers better durability and stability, greater comfort and more
entertainment options than any treadmill in our history. The 770T is the
first treadmill to incorporate our patented ARMZ — stabilizers that reach
out beyond conventional support bars to provide an added level of
safety and a feeling of confidence users seek. Enjoy the ride.
1
Standard Display
USER FRIENDLY TECHNOLOGY
The CardioTouch™ touchscreen display offers a single command center
for every exercise workout and entertainment control. Your members
can easily set up a workout, charge an iPod® or iPhone®, scroll through
playlists, albums, artists, podcasts, and more. Optional technology
features include the embedded MYE wireless audio receiver and the E3
View high definition monitor which offers three viewing modes on a 15.6"
embedded display.
Exercise.
Entertainment.
SPECIFICATIONS
Product Name
Dimensions (L × W × H)
Speed
Incline Range
Running Area (L × W)
Max User Weight
Drive
770T
0.5 – 12.4 mph (0.8 – 20 kph)
2
0% – 15%
60" × 22" (152 cm × 56 cm)
Workouts
Quick Start (Manual Mode), Nine Workouts with Time,
Distance or Calorie Goal, Six Military tests, 1-Mile Fitness
test and Gerkin protocol; Workouts have 10 levels
Heart Rate Monitoring
MYE wireless audio receiver; E3 View embedded
HD monitor
iPod/iPhone integration with 30-pin connector. Users can
easily charge an iPod or iPhone, listen to music, switch
tracks, and control volume
Contact Grips and Wireless
Connectivity
CSAFE (Fitlinxx®Level 1)
Compliance
ETL listed to UL1647, ASTM, EN 957, and CSA; FCC Class
A; CE Low Voltage, EMC and RoHS Directives
Safety
Color
Optional Display
5 HP peak AC drive motor
4.3" Touchscreen for workout and entertainment setup
and control; Graphic display of workout profile via 8 × 15
LED matrix; Numeric display of time, distance, calories,
calories/hour, METs, Watts, pace and heart rate including
multi-color indication of heart rate range; Lower display
shows incline and speed
Made for iPod®
Works with iPhone®
E3 View
400 lbs. (182 kg)
Display
Entertainment Options
Escape.
82.5" × 36" × 59" (210 cm × 91.5 cm × 150 cm)
E-stop Safety Lanyard and Safety SentryTM
shutdown features
Available in five standard frame colors or a virtually
unlimited variety of custom colors with gray enclosures
CYBEX PRODUCTS ARE DESIGNED AND BUILT IN THE USA
W ORLD HE ADQUARTERS
CY BE X IN TERNATIONAL UK LTD
10 Trotter Drive • Medway, MA 02053 USA
T + 1.508.533.4300 • F + 1.508.533.5500
Oak Tree House • Atherstone Road
Measham • Derbyshire • DE12 7EL UK
T + 44.845.606.0228 • F + 44.845.606.0227
© 2013, Cybex International. Specifications subject to change 07/13. Actual color may differ from samples shown. ARMZ and CARDIOTOUCH are trademarks of Cybex International. BIOSIG INSTRUMENTS, INC. EMG/ECG heart rate technology. US Patent No. 5,337,753 and Canadian Patent No. 2,033,014.
iPod is a trademark of Apple Inc., registered in the U.S. and other countries. "Made for iPod," and "Made for iPhone" means that an electronic accessory has been designed to connect specifically to iPod, or iPhone respectively, and has been certified by the developer to meet Apple performance standards.
Apple is not responsible for the operations of this device or its compliance with safety and regulatory standards. Please note that the use of this accessory with iPod, or iPhone may affect wireless performance.

* Your assessment is very important for improving the work of artificial intelligence, which forms the content of this project