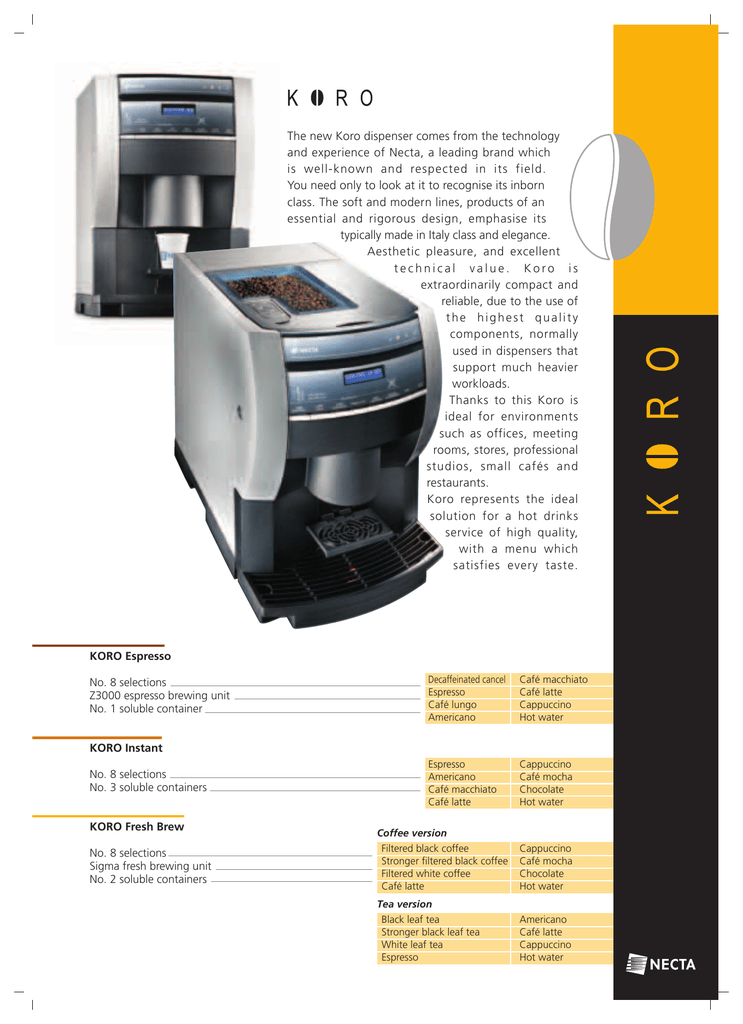 The new Koro dispenser comes from the technology
and experience of Necta, a leading brand which
is well-known and respected in its field.
You need only to look at it to recognise its inborn
class. The soft and modern lines, products of an
essential and rigorous design, emphasise its
typically made in Italy class and elegance.
Aesthetic pleasure, and excellent
technical value. Koro is
extraordinarily compact and
reliable, due to the use of
the highest quality
components, normally
used in dispensers that
support much heavier
workloads.
Thanks to this Koro is
ideal for environments
such as offices, meeting
rooms, stores, professional
studios, small cafés and
restaurants.
Koro represents the ideal
solution for a hot drinks
service of high quality,
with a menu which
satisfies every taste.
KORO Espresso
No. 8 selections
Z3000 espresso brewing unit
No. 1 soluble container
Decaffeinated cancel
Espresso
Café lungo
Americano
Café macchiato
Café latte
Cappuccino
Hot water
Espresso
Americano
Café macchiato
Café latte
Cappuccino
Café mocha
Chocolate
Hot water
KORO Instant
No. 8 selections
No. 3 soluble containers
KORO Fresh Brew
No. 8 selections
Sigma fresh brewing unit
No. 2 soluble containers
Coffee version
Filtered black coffee
Stronger filtered black coffee
Filtered white coffee
Café latte
Cappuccino
Café mocha
Chocolate
Hot water
Tea version
Black leaf tea
Stronger black leaf tea
White leaf tea
Espresso
Americano
Café latte
Cappuccino
Hot water
DIMENSIONS
ES/IN/FB
Height
500 mm
Width
330 mm
510 mm*
Depth
520 mm
Weight
27 Kg
* FB / IN unplumbed
INGREDIENTS CAPACITY (indicative)
Coffee beans
0.35 kg Appr. 50 cups
Coffee bean extension
0.75 kg Appr. 105 cups
Ground coffee
0.35 kg Appr. 50 cups
Freshbrew tea
0.4 kg
Instant coffee
0.25 kg Appr. 155 cups
Whitener
0.65 kg Appr. 80 cups
Chocolate
0.65 kg Appr. 33 cups
TECHNICAL DATA
Appr. 200 cups
ES
IN
FB
230 V / 50 Hz
230 V / 50 Hz
230 V / 50 Hz
Maximum power
1500 W
2400 W
2400 W
Boiler capacity
0.6 litres
3.8 litres
3.8 litres
Energy consumption
1) On reaching of the temperature
2) Every hour of stand-by
27 Wh
39 Wh/h
272 Wh
100 Wh/h
272 Wh
100 Wh/h
Drinks per hour
69 cups
120 cups
150 cups
Hot water hourly output
3.3 litres
16 litres
22 litres
Liquid waste container
1 litre
1 litre
1 litre
Solid waste container
25/30 cakes
/
appr. 25 portions
plumbed or
3.5 l internal tank
plumbed or
6 l external tank
plumbed or
6 l external tank
Voltage and frequency
Water connection
ACCESSORIES
- Super-equipped base cabinet with solid and liquid waste containers
plus cups/sugar/stirrers holders
- Payment system module
- Cup holder module
- Cup warmer
- Milk steamer for ES version
- Minifridge
- Bean extension lid for ES version
- 20 lt. water self feeding tank
- Water filter kit
N&W GLOBAL VENDING Ltd.
P.O. Box 25, Dudley Street, Bilston, West Midlands WV14 OLF
Ph. +44 (0)1902 355 000 - Fax +44 (0)1902 402 272
ISO 9001:2000
L252U02
ISO 14001
N&W GLOBAL VENDING S.p.A. >>> Via Roma 24, 24030 Valbrembo (BG) Italy
Ph. +39 035 606 111 - Fax +36 035 606 519 - www.nwglobalvending.com
N&W Global Vending reserves the right to alter specifications without notice.

* Your assessment is very important for improving the work of artificial intelligence, which forms the content of this project