Strolling - icandyworld.c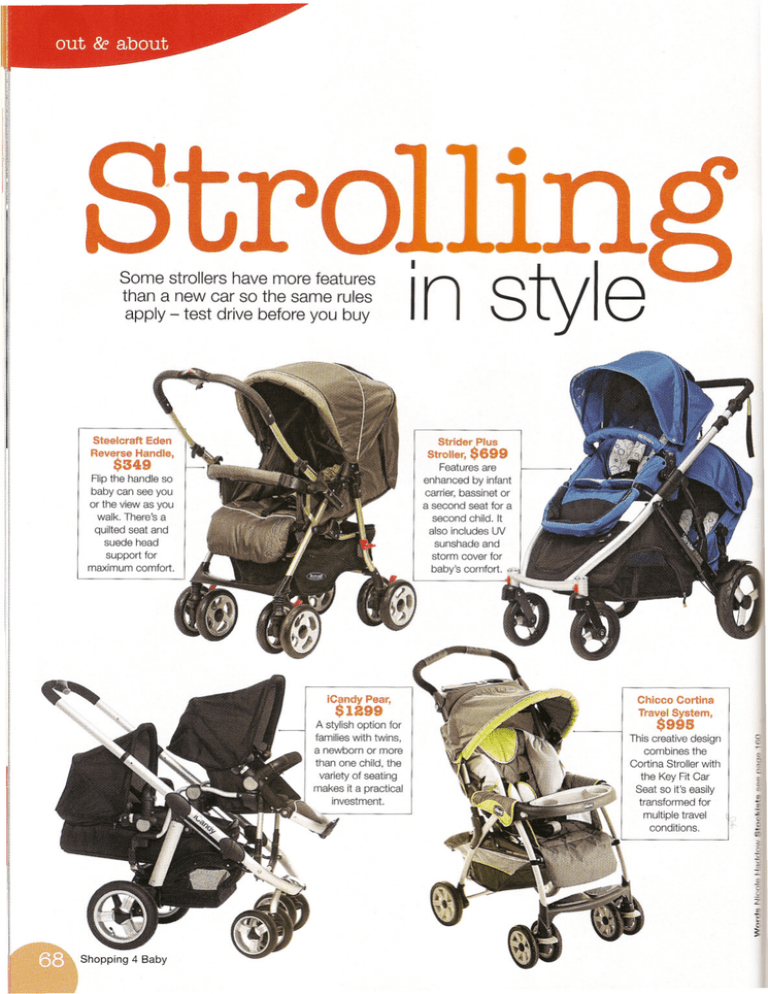 EPI ша
PLANEE ES E EI
ala gh TEL TEES
EL a
PET Bm Lm LL TE TR ® ро
out & about
Strolling
Nn style
Some strollers have more features
than a new car so the same rules
apply — test drive before you buy
Steelcraft Eden
Reverse Handle,
$349
Flip the handle so
baby can see you
or the view as you
walk. There's a
quilted seat and
suede head
support for
maximum comfort,
¡Candy Pear,
$1299
A stylish option for
families with twins,
a newborn or more
than one child, the
variety of seating
makes it a practical
investment.
| Strider Plus
Stroller, S699
Features are
enhanced by infant
carrier, bassinet or
a second seat for a
second child. It
also includes UV
sunshade and
storm cover for
baby's comfort. ==
| This creative design
—
Chicco Cortina
Travel System,
combines the
Cortina Stroller with
the Key Fit Car
Seat so it's easily
transformed for
multiple travel
conditions.
—L.
Wards Nicole Haddow Stooklats ses page 160
out & about
Steelcraft Eden |
Strider 3 Wheel,
S469
This three-wheeler
with reversible seat
and height-
adjustable handle is
a versatile option.
Mika Scribble,
from www.
bootig.com.au,
5169.95
The layback chair
has four positions
for comfort and a
five-point harness
for added safety.
Parents can enjoy
the ergonomic
handles and
shopping basket.
iCandy Apple,
$899
A four-wheeler that
can convert to a
three-wheeler
jogger is a great
lifestyle option for
families who enjoy
flexibility merged
with practicality.
Chicco Trevi
Stroller,
$399.95
Features including
a lightweight frame,
reclinable seat
and easy
manoeuvrability
make this a
comfortable ride
for your baby.
Valco Baby RAD,
5689
Sporty, chic
and clever, 100 —
this stroller allows
you to remove its
seat and face it in
either direction.
|
Safety 1st Shuttle
Stroller, 8499
This flexible stroller
offers options like
three-position
recline, padded
seat and removable
bumper — safety
really does come
first, but not
without comfort.

* Your assessment is very important for improving the work of artificial intelligence, which forms the content of this project