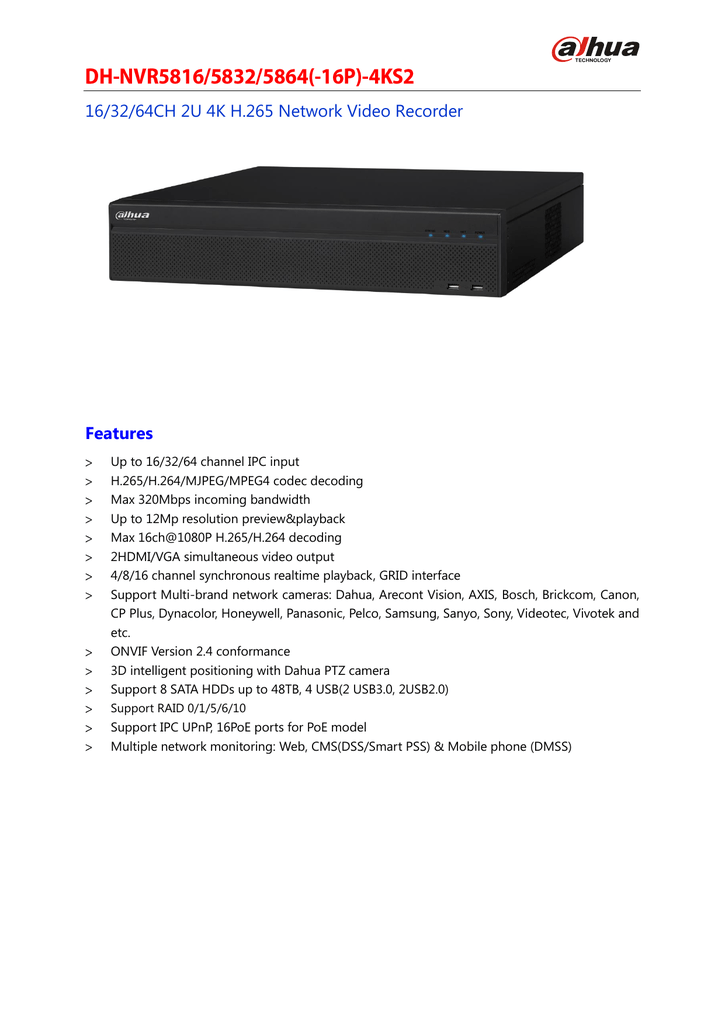 16/32/64CH 2U 4K H.265 Network Video Recorder
Features
Up to 16/32/64 channel IPC input
H.265/H.264/MJPEG/MPEG4 codec decoding
Max 320Mbps incoming bandwidth
Up to 12Mp resolution preview&playback
Max 16ch@1080P H.265/H.264 decoding
2HDMI/VGA simultaneous video output
4/8/16 channel synchronous realtime playback, GRID interface
Support Multi-brand network cameras: Dahua, Arecont Vision, AXIS, Bosch, Brickcom, Canon,
CP Plus, Dynacolor, Honeywell, Panasonic, Pelco, Samsung, Sanyo, Sony, Videotec, Vivotek and
etc.
ONVIF Version 2.4 conformance
3D intelligent positioning with Dahua PTZ camera
Support 8 SATA HDDs up to 48TB, 4 USB(2 USB3.0, 2USB2.0)
Support RAID 0/1/5/6/10
Support IPC UPnP, 16PoE ports for PoE model
Multiple network monitoring: Web, CMS(DSS/Smart PSS) & Mobile phone (DMSS)
Technical Specifications
Model
DH-NVR5816-4KS2
DH-NVR5816-16P-4KS2
DH-NVR5832-4KS2
DH-NVR5832-16P-4KS2
DH-NVR5864-4KS2
DH-NVR5864-16P-4KS2
System
Main
Processor
Quad-core embedded processor
Operating
System
Embedded LINUX
Video& Audio
IP
Camera
Input
16 channel
32 channel
Two-way Talk
1 channel Input, 1 channel Output, RCA
64 channel
Display
Interface
2 HDMI (1 HDMI up to 3840x2160), 1 VGA
Resolution
3840x2160, 1920× 1080, 1280× 1024, 1280× 720, 1024× 768
Display Split
1/4/8/9/16
OSD
Camera title, Time, Video loss, Camera lock, Motion detection, Recording
1/4/8/9/16/25/36
1/4/8/9/16/25/36
Recording
Compression
H.265/H.264/MJPEG/MPEG4
Resolution
12Mp/8Mp/6Mp/5Mp/4Mp/3Mp/1080P/ 720P/ D1&etc.
Record
Rate
Bit
320Mbps
Bit Rate
16kbps~ 20Mbps per channel
Record Mode
Manual, Schedule(Regular(Continuous), MD, Alarm), Stop
Record
Interval
1~120 min (default: 60 min), Pre-record: 1~30 sec, Post-record: 10~300 sec
Video Detection & Alarm
Trigger
Events
Recording, PTZ, Tour, Alarm, Video Push, Email, FTP, Snapshot, Buzzer & Screen
tips
Video
Detection
Motion Detection, MD Zones: 396(22× 18), Video Loss & Camera Blank
Alarm Input
16 channel
Relay Output
6 channel
Playback & Backup
Sync
Playback
1/4/8/16
Search Mode
Time/Date, Alarm, MD & Exact search (accurate to second), Smart search
Playback
Function
Play, Pause, Stop, Rewind, Fast play, Slow play, Next file, Previous file, Next camera,
Previous camera, Full screen, Repeat, Shuffle, Backup selection, Digital zoom
Backup Mode
USB Device/Network/Internal SATA burner/eSATA Device
Network
Ethernet
2 RJ-45 port (10/100/1000Mbps)
1 RJ-45 port (10/100/1000Mbps)(for -16P model)
PoE
16 ports (IEEE802.3af/at) (for -16P model)
Network
Function
HTTP, TCP/IP, IPv4/IPv6, UPNP, RTSP, UDP, SMTP, NTP, DHCP, DNS, IP Filter, PPPOE,
DDNS, FTP, Alarm Server, IP Search(Support Dahua IP camera, DVR, NVS and etc.),
P2P
Max.
Access
User
Smart Phone
128 users
iPhone, iPad, Android
Storage
Internal HDD
8 SATA ports, up to 48TB
HDD Mode
Raid 0/1/5/6/10
External HDD
1 eSATA port
Auxiliary Interface
USB
4 ports (2 Rear USB3.0, 2 Front USB2.0)
RS232
1 port, For PC communication&Keyboard
General
Power Supply
Single, AC 100~240V, 50/60 Hz
Power
Consumption
NVR: 16.7W for non-PoE model(without HDD)
17.5W for PoE model(without HDD)
PoE: Max 25.5W for single port(for -16P model), 150W in total
Working
Environment
-10°C~+55°C / 10%~90%RH / 86~106kpa
Dimension
(W× D× H)
2U, 440mm× 454mm× 95mm
Weight
6.55KG for non-PoE model(without HDD)
7KG for PoE model(without HDD)
System Connection
*Take NVR5816-16P-4KS2 as an example
Dahua Technology Co., Ltd.
1199' BinAn Road, Binjiang District, Hangzhou, China
Tel: +86-571-87688883
Fax: +86-571-87688815
Email: overseas@dahuatech.com
www.dahuatech.com
*Design and specifications are subject to change without notice.
© 2015 Dahua Technology Co., Ltd.