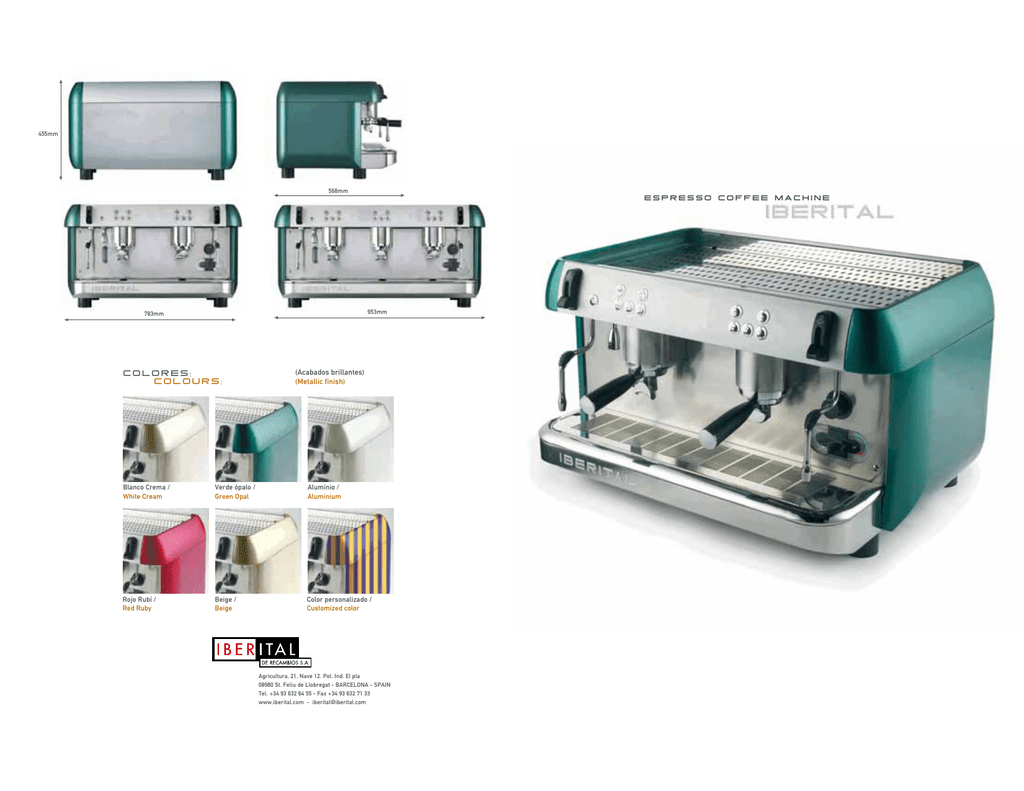 455mm
568mm
espresso coffee machine
953mm
783mm
C O L O RES:
C OLOUR S:
(Acabados brillantes)
(Metallic finish)
Blanco Crema /
White Cream
Verde ópalo /
Green Opal
Alumínio /
Aluminium
Rojo Rubí /
Red Ruby
Beige /
Beige
Color personalizado /
Customized color
Agricultura, 21, Nave 12. Pol. Ind. El pla
08980 St. Feliu de Llobregat - BARCELONA - SPAIN
Tel. +34 93 632 64 55 - Fax +34 93 632 71 33
www.iberital.com - iberital@iberital.com
N EW IBERITAL
CARACTERISTICAS TECNICAS CON DISPLAY (Opcional)
DISPLAY FUNCTIONS (OPTIONAL)
ESPRESSO COFFEE MACHINE
Memoriza el número de cafés realizados: guardandolos
por dosis
Record the number of coffees dispensed.
CARACTERISTICAS TECNICAS
TECHNICAL SPECIFICATIONS
Muestra el nombre grabado en el display mientras no
se realiza ningún café.
Company name displayed whilst the machine is not in
use.
Programación de las dosis de los cafés.
Adjustment of the touchpanel settings.
IBERITAL ELECTRÓNICA 2G. Display
ELECTRONIC
Capacidad Caldera: 2GR 14L / 3GR 20L
Boiler Capacity: 2GR 14L / 3GR 20L
Programación de la sensibilidad de la sonda de nivel
en función del tipo de dureza del agua.
Adjustable probe according to water hardness.
Resistencia eléctrica: 2GR 5000W-3800W / 3GR 5000W6000W
Heating element: 2GR 5000W-3800W / 3GR 5000W-6000W
Programación del idioma del sistema electrónico.
Display language of your choice.
Apertura frontal de la carrocería de fácil acceso al interior
de la máquina.
Front panel can be removed enabling easy access inside
the machine.
IBERITAL ELECTRÓNICA 2G.
ELECTRONIC
El display muestra la selección que se está realizando:
1 espresso, 2 espressos, etc. ...
Display the coffee selection : 1 espresso, 2 espressos
etc. …
Programación de la preinfusión: con o sin preinfusión.
En el caso de preinfusión, se puede programar el
tiempo de duración.
Enable electronic pre-infusion and pre-infusion time.
Grifo central de vaciado de la caldera
Boiler drain tap is situated in the centre of the drip tray
for easy drainage
Contactor de 20A/25A/32A.
Contactor 20A/ 25A/ 32A/ (built-in)
Programación de la temperatura del vapor automático
(Opcional).
Adjustable steam temperature (Optional)
Grifos de vapor a leva.
Lever steam valves
Tiempo de erogación: El display visualiza el tiempo de
erogación en segundos para las dos últimas
selecciones.
Dispense Time: the display shows the drink delivery
time in seconds for each group.
Salida de agua caliente anti-salpicaduras.
Anti-splash hot water outlet
Llenado automático de agua de la caldera.
Automatic boiler fill
IBERITAL ELECTRÓNICA 3G. Display
ELECTRONIC
Programación semanal de encendido/apagado.
Program machine to switch itself on/off automatically
at different times.
Protector de resistencia incluido.
Heating element protection device
Programación litros de agua consumidos.
Machine shows water intake in litres. Allows you to
change water filters at the appropriate time.
Motor bomba incorporado
Internal motor and pump
Motor bomba magnético (Opcional)
Magnetic Pump Motor (Optional)
Peso:
2 GR
Weight: 3 GR
Programación de la fecha y la hora
Adjustable Date and Time.
61 kg
81 kg
Nuestras Máquinas de Café son de fácil
y cómodo acceso.
El desmontaje de los paneles exteriores
es simple y se puede efectuar sin tener
que retirar de encima tazas y platos.
IBERITAL ELECTRÓNICA 3G.
ELECTRONIC
Our Coffee Machines are easy to access
and service.
Removal of the exterior panels is simple and
can be executed without removing cups and
plates from the top.
HOMOLOGACIONES
APPROVALS:
IBERITAL SEMIAUTOMÁTICA 3G.
SEMIAUTOMATIC
(UL, CAN / CSA, NSF)
Programación de los litros de agua consumidos:
Alarma de aviso de cambio / regeneración depurador.
The machine can be programmed to warn when the
water softener needs to be replaced / regenerated.
Programación de la dosis y mezcla de agua caliente
(caliente-fría)
Adjustable hot water mixture (hot-cold). This feature
allows a small amount of cold water to be introduced
into the hot water to avoid spitting.
Programación del sistema automático de limpiado del
grupo.
Automatic group cleaning program cycle.

* Your assessment is very important for improving the work of artificial intelligence, which forms the content of this project