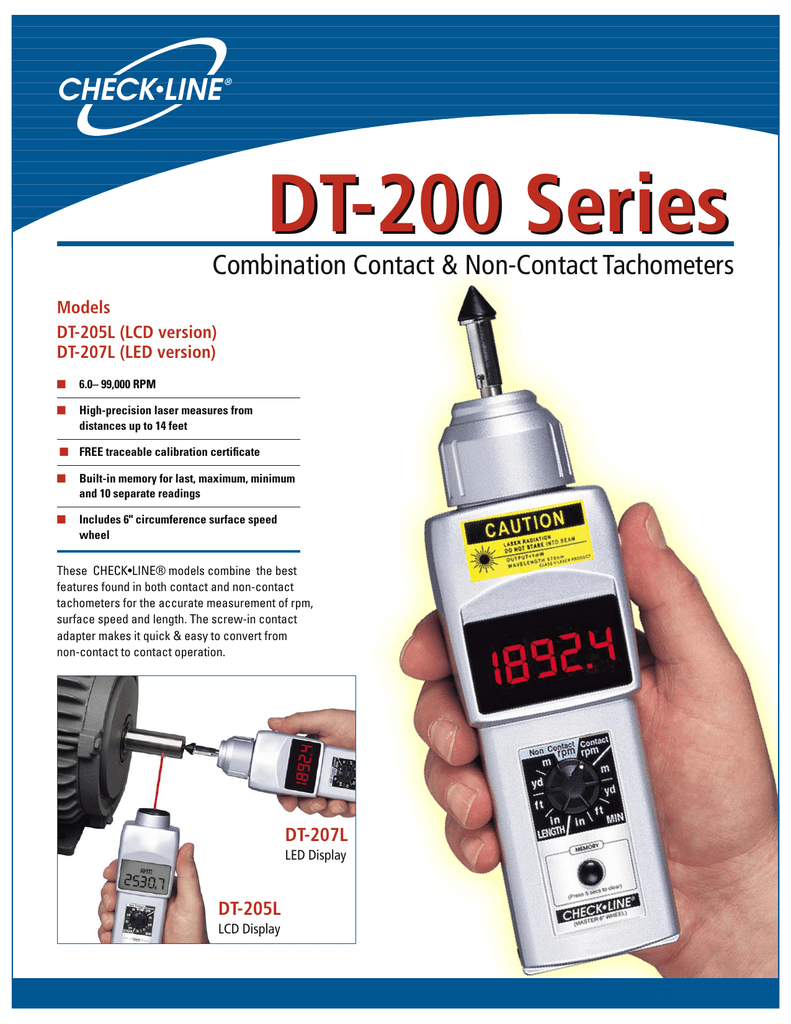 CHECK LINE
®
DT-200 Series
Combination Contact & Non-Contact Tachometers
Models
DT-205L (LCD version)
DT-207L (LED version)
■
6.0– 99,000 RPM
■
High-precision laser measures from
distances up to 14 feet
■ FREE traceable calibration certificate
■
Built-in memory for last, maximum, minimum
and 10 separate readings
■
Includes 6" circumference surface speed
wheel
These CHECK•LINE® models combine the best
features found in both contact and non-contact
tachometers for the accurate measurement of rpm,
surface speed and length. The screw-in contact
adapter makes it quick & easy to convert from
non-contact to contact operation.
DT-207L
LED Display
DT-205L
LCD Display
DT-200 Series
LCD Display (DT-205L)
Specifications
Models
DT-205L (LCD version)
DT-207L (LED version)
Measuring Range
Non-Contact: 6 to 99,999 rpm
Contact :
0.8 to 25,000 rpm
Accuracy
6 to 8,299 rpm: ±1 rpm
8,300 to 24,999 rpm: ±2 rpm
25,000 to 99,999 rpm: ±0.006% rpm
Display
DT-205L (LCD MODEL)
5 digit 0.47" (12mm) high LCD
DT-207L (LED MODEL)
5 digit 0.4" (10mm) high LED
Measuring Units
per Minute
Revolutions, Meters, Yards, Feet, Inches
Total Length
Meters, Yards, Feet, Inches
Measuring Distance
14 feet (5.2 m) maximum
Detection
Laser Diode, Class II
Memory
13 readings are stored in memory and
retained for 5 minutes (last, max., min., and
10 measurements)
Over-Range Indicator
Flashing numerals
Update Time
1 second (typical)
Batteries
2 (1.5 V AA )
Battery Life
DT-205L: Approx 40 hrs
DT-207L: Approx 25 hrs
Operating Temp
32° to 113° F (0 to 45° C)
Construction
Die-cast aluminum housing
Weight
0.8 pounds (365 grams)
Dimensions
6.6" L x 2.4" W x 1.8" H
(167mm x 61mm x 45.7)
Warranty
1 year
LED Display (DT-207L)
Accessories
Cone Tip
Model DTCA
Funnel Tip
Model DTFA
6" Measuring Wheel
Model DT6
12" Measuring Wheel
Model LMA-3
Reflective Tape
Model L205T
Reflcective Tape
Model CDT-TAPE
Complete Kit
All models are supplied as
a complete kit including the
tachometer, reflective tape,
screw-in contact adapter, 2 cone
tips, funnel tip, shaft extension,
surface speed wheel, two AA
batteries and an operating
instruction manual—all
supplied in a foam-fitted
carrying case.
C H E C K•L I N E ® – P R E C I S I O N Q U A L I T Y C O N T R O L I N S T R U M E N T S
Electromatic Equipment Co., Inc.
600 Oakland Ave.
Cedarhurst, N Y 11516 —USA
Tel: (800) 645-4330 (USA & Canada)
Tel: (516) 295-4300
Fax: (516) 295-4399
Email:
Website:
info@checkline.com
www.checkline.com
For additional information or to place an order CALL TOLL FREE 1-800-645-4330
Check•Line is a registered trademark of Electromatic Equipment Company Inc.
Specifications subject to change without notice.

* Your assessment is very important for improving the work of artificial intelligence, which forms the content of this project