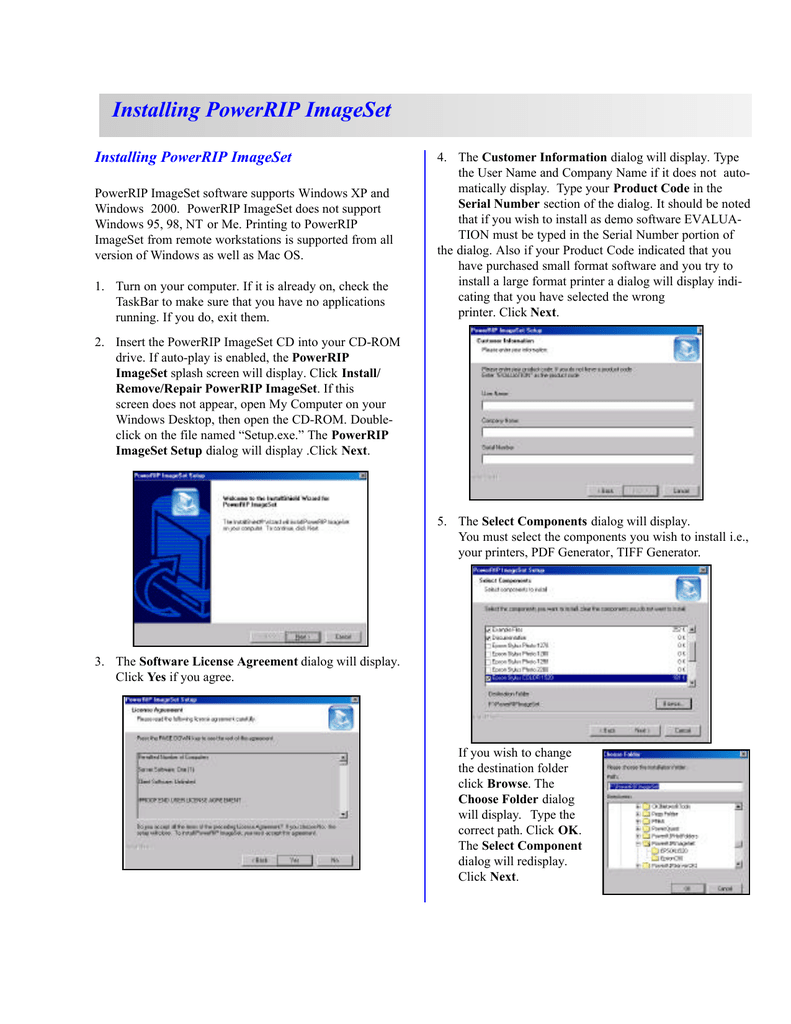 Installing PowerRIP ImageSet
Installing PowerRIP ImageSet
PowerRIP ImageSet software supports Windows XP and
Windows 2000. PowerRIP ImageSet does not support
Windows 95, 98, NT or Me. Printing to PowerRIP
ImageSet from remote workstations is supported from all
version of Windows as well as Mac OS.
1. Turn on your computer. If it is already on, check the
TaskBar to make sure that you have no applications
running. If you do, exit them.
4. The Customer Information dialog will display. Type
the User Name and Company Name if it does not automatically display. Type your Product Code in the
Serial Number section of the dialog. It should be noted
that if you wish to install as demo software EVALUATION must be typed in the Serial Number portion of
the dialog. Also if your Product Code indicated that you
have purchased small format software and you try to
install a large format printer a dialog will display indicating that you have selected the wrong
printer. Click Next.
2. Insert the PowerRIP ImageSet CD into your CD-ROM
drive. If auto-play is enabled, the PowerRIP
ImageSet splash screen will display. Click Install/
Remove/Repair PowerRIP ImageSet. If this
screen does not appear, open My Computer on your
Windows Desktop, then open the CD-ROM. Doubleclick on the file named "Setup.exe." The PowerRIP
ImageSet Setup dialog will display .Click Next.
5. The Select Components dialog will display.
You must select the components you wish to install i.e.,
your printers, PDF Generator, TIFF Generator.
3. The Software License Agreement dialog will display.
Click Yes if you agree.
If you wish to change
the destination folder
click Browse. The
Choose Folder dialog
will display. Type the
correct path. Click OK.
The Select Component
dialog will redisplay.
Click Next.
6.
The Select Program Folder dialog will display.
You can type a new folder name or select an existing
folder if you do not want to install in Program Folders.
Note: Program Folders is recommended.
Click Next.
A dialog will display telling you the printer has been
installed. Click OK.
You will also get a dialog telling you that PowerRIP
PDF and PowerRIP TIFF has been installed if you
selected them in the Print Manager dialog.
Click OK.
9.
7.
8.
The Select Output Port dialog will display. The
physical port that the printer is connected to should be
selected.
Click Continue.
The PowerRIP ImageSet software will start
installing.
The PowerRIP Server Printer Manager dialog will
display. Select the output devices you wish to
install. The items you selected in the Select
Component dialog should be highlighted. Click
Continue.
10. The Setup Status dialog will display until the soft
ware is done installing. The InstallShield Wizard
Complete dialogs will display.
Click Finish.

* Your assessment is very important for improving the work of artificial intelligence, which forms the content of this project