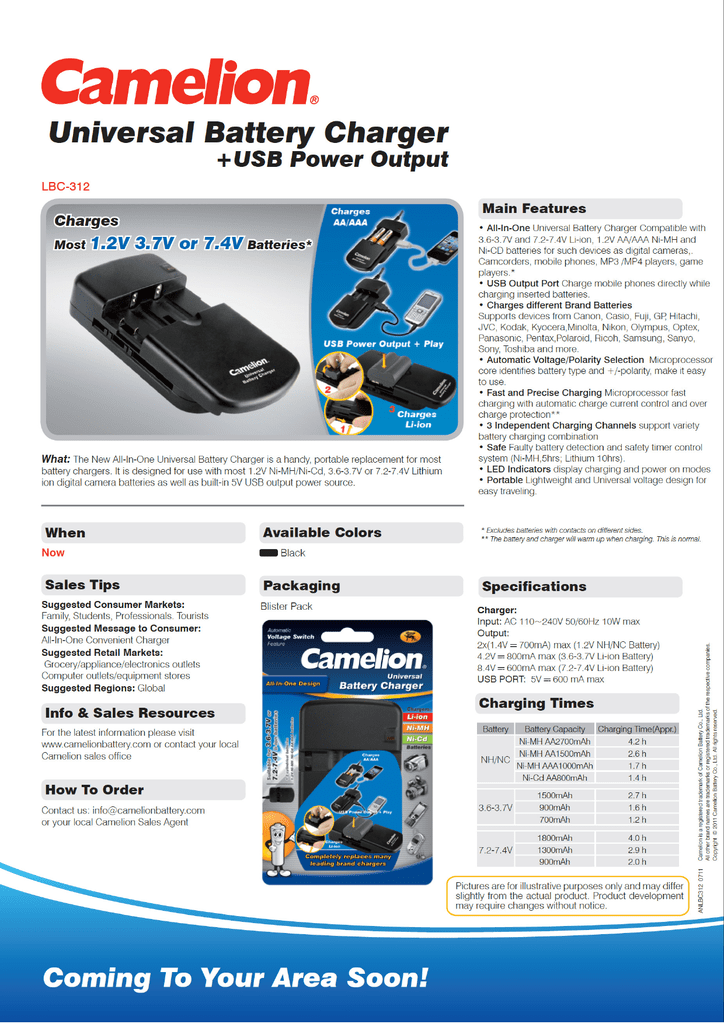 Camelion.
Universal Battery Charger
+USB Power Output
LBC-312
| Main Features
= arges Cre y pa * All-In-One Universal Battery Charger Compatible with
= ol) 4 eE 3.6-3.7V and 7.2-7.4V Li-ion, 1.2V AA/AAA Ni-MH and
Most 1.2V 3.7V or 7.4V Batteries x <i> Ni-CD batteries for such devices as digital cameras, .
i Camcorders, mobile phones, MP3 /MP4 players, game
players.*
* USB Output Port Charge mobile phones directly while
charging inserted batteries.
* Charges different Brand Batteries
Supports devices from Canon, Casio, Fuji, GP, Hitachi,
JVC, Kodak, Kyocera,Minolta, Nikon, Olympus, Optex,
Panasonic, Pentax, Polaroid, Ricoh, Samsung, Sanyo,
Sony, Toshiba and more.
* Automatic Voltage/Polarity Selection Microprocessor
core identifies battery type and +/-polarity, make it easy
"A to use.
SL * Fast and Precise Charging Microprocessor fast
charging with automatic charge current control and over
Charges charge protection**
Li-ion * 3 Independent Charging Channels support variety
battery charging combination
* Safe Faulty battery detection and safety timer control
What: The New All-In-One Universal Battery Charger is a handy, portable replacement for most system (NI-MH, 5hrs; Lithium 10hrs).
battery chargers. It is designed for use with most 1.2V Ni-MH/Ni-Cd, 3.6-3.7V or 7.2-7.4V Lithium * LED Indicators display charging and power on modes
ion digital camera batteries as well as built-in 5V USB output power source. . Portable Lightweight and Universal voltage design for
easy traveling.
Н * Excludes batteries with contacts on different sides.
When Ava ! la ble Colors ** The Байегу and charger will warm up when charging. This is normal.
Now CD Black
Sales Tips Packaging Specifications
Suggested Consumer Markets: Blister Pack y
Family, Students, Professionals. Tourists Charger
a У, rs M ' v= Input: AC 110~240V 50/60Hz 10W max
Orch TE QED ED Output:
; 9 Feature = 2x(1.4V = 700mA) max (1.2V NH/NC Battery)
Suggested Retail Markets: ca melio 4.2\ = 800mA max (3.6-3.7V Li-ion Battery)
Grocery/appliance/ electronics outlets a 8.4V = 600MA max (7.2-7.4V Li-ion Battery)
Computer outlets/equipment stores Universal USB PORT: 5V = 600 MA max
Suggested Regions: Global albimone Beslan Battery Charger
©
Charging Times
e
:
i
Info & Sales Resources 88 Ses
RE : ; SES
For the latest information please visit 2 я "aya ay Sopa EOS Ime pet) Fe E
www.camelionbattery.com or contact your local Os E Ni-MH AA2700mAh 42h a =
Camelion sales office ca = Ni-MH AA1500mAh 2.6h 585
F Pi
Е ©. NUNG NiMH Aaa1000mAN 1.7h 853
a = Ni-Cd AA800mAh 14h я 55
= r о 5
How To Order | 1500mAh 27h Е
Contact us: info@camelionbattery.com = 3.6-3.7V 900mAh 1.6h 2 6 5
or your local Camelion Sales Agent da 700mAh 12h DER
= 1800mAh 40h ЕВЕ
retire @ 7.2-7.4V 1300mAh 29h 255
Cicadino brand =nargera y ME 900mAh 20h O
5
Pictures are for illustrative purposes only and may differ | =
slightly from the actual product. Product development | $
may require changes without notice. =
Coming To Your Area Soon!

* Your assessment is very important for improving the work of artificial intelligence, which forms the content of this project