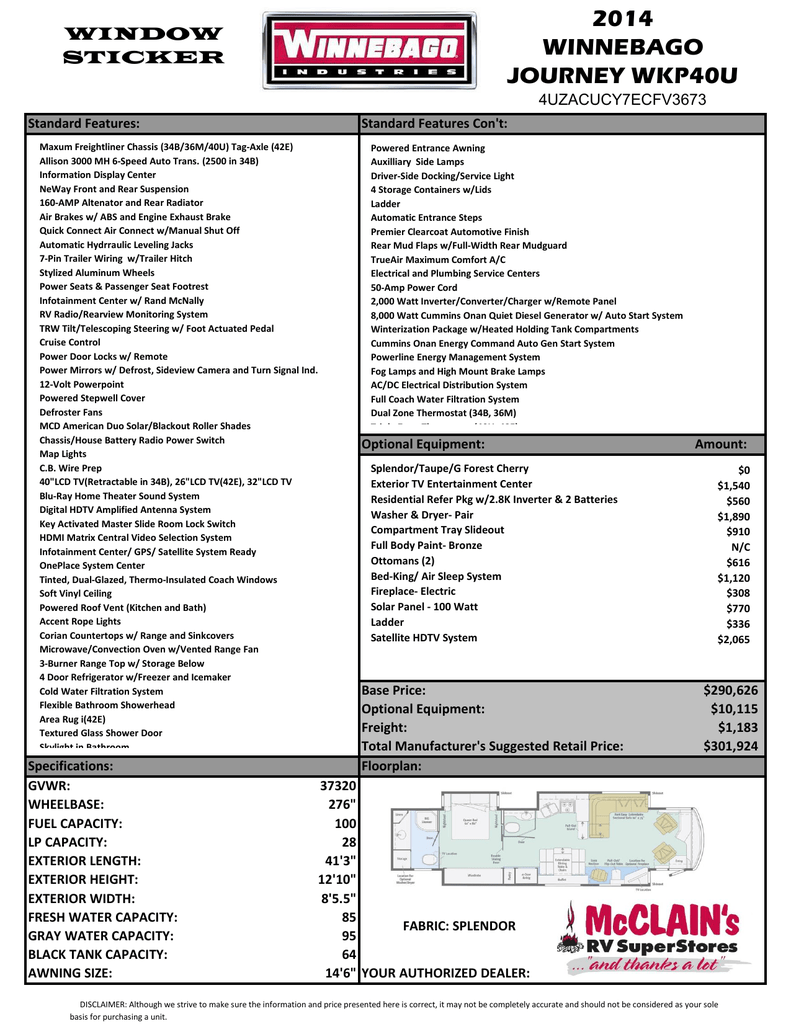 2014
WINNEBAGO
JOURNEY WKP40U
WINDOW
STICKER
4UZACUCY7ECFV3673
Standard Features:
Standard Features Con't:
Maxum Freightliner Chassis (34B/36M/40U) Tag-Axle (42E)
Allison 3000 MH 6-Speed Auto Trans. (2500 in 34B)
Information Display Center
NeWay Front and Rear Suspension
160-AMP Altenator and Rear Radiator
Air Brakes w/ ABS and Engine Exhaust Brake
Quick Connect Air Connect w/Manual Shut Off
Automatic Hydrraulic Leveling Jacks
7-Pin Trailer Wiring w/Trailer Hitch
Stylized Aluminum Wheels
Power Seats & Passenger Seat Footrest
Infotainment Center w/ Rand McNally
RV Radio/Rearview Monitoring System
TRW Tilt/Telescoping Steering w/ Foot Actuated Pedal
Cruise Control
Power Door Locks w/ Remote
Power Mirrors w/ Defrost, Sideview Camera and Turn Signal Ind.
12-Volt Powerpoint
Powered Stepwell Cover
Defroster Fans
MCD American Duo Solar/Blackout Roller Shades
Chassis/House Battery Radio Power Switch
Map Lights
C.B. Wire Prep
40"LCD TV(Retractable in 34B), 26"LCD TV(42E), 32"LCD TV
Blu-Ray Home Theater Sound System
Digital HDTV Amplified Antenna System
Key Activated Master Slide Room Lock Switch
HDMI Matrix Central Video Selection System
Infotainment Center/ GPS/ Satellite System Ready
OnePlace System Center
Tinted, Dual-Glazed, Thermo-Insulated Coach Windows
Soft Vinyl Ceiling
Powered Roof Vent (Kitchen and Bath)
Accent Rope Lights
Corian Countertops w/ Range and Sinkcovers
Microwave/Convection Oven w/Vented Range Fan
3-Burner Range Top w/ Storage Below
4 Door Refrigerator w/Freezer and Icemaker
Cold Water Filtration System
Flexible Bathroom Showerhead
Area Rug i(42E)
Textured Glass Shower Door
Skylight in Bathroom
Specifications:
GVWR:
WHEELBASE:
FUEL CAPACITY:
LP CAPACITY:
EXTERIOR LENGTH:
EXTERIOR HEIGHT:
EXTERIOR WIDTH:
FRESH WATER CAPACITY:
GRAY WATER CAPACITY:
BLACK TANK CAPACITY:
AWNING SIZE:
Powered Entrance Awning
Auxilliary Side Lamps
Driver-Side Docking/Service Light
4 Storage Containers w/Lids
Ladder
Automatic Entrance Steps
Premier Clearcoat Automotive Finish
Rear Mud Flaps w/Full-Width Rear Mudguard
TrueAir Maximum Comfort A/C
Electrical and Plumbing Service Centers
50-Amp Power Cord
2,000 Watt Inverter/Converter/Charger w/Remote Panel
8,000 Watt Cummins Onan Quiet Diesel Generator w/ Auto Start System
Winterization Package w/Heated Holding Tank Compartments
Cummins Onan Energy Command Auto Gen Start System
Powerline Energy Management System
Fog Lamps and High Mount Brake Lamps
AC/DC Electrical Distribution System
Full Coach Water Filtration System
Dual Zone Thermostat (34B, 36M)
Triple Zone Thermostat (40U, 42E)
Optional Equipment:
Amount:
Splendor/Taupe/G Forest Cherry
Exterior TV Entertainment Center
Residential Refer Pkg w/2.8K Inverter & 2 Batteries
Washer & Dryer- Pair
Compartment Tray Slideout
Full Body Paint- Bronze
Ottomans (2)
Bed-King/ Air Sleep System
Fireplace- Electric
Solar Panel - 100 Watt
Ladder
Satellite HDTV System
$0
$1,540
$560
$1,890
$910
N/C
$616
$1,120
$308
$770
$336
$2,065
Base Price:
Optional Equipment:
Freight:
Total Manufacturer's Suggested Retail Price:
Floorplan:
$290,626
$10,115
$1,183
$301,924
37320
276"
100
28
41'3"
12'10"
8'5.5"
85
FABRIC: SPLENDOR
95
64
14'6" YOUR AUTHORIZED DEALER:
DISCLAIMER: Although we strive to make sure the information and price presented here is correct, it may not be completely accurate and should not be considered as your sole
basis for purchasing a unit.

* Your assessment is very important for improving the work of artificial intelligence, which forms the content of this project