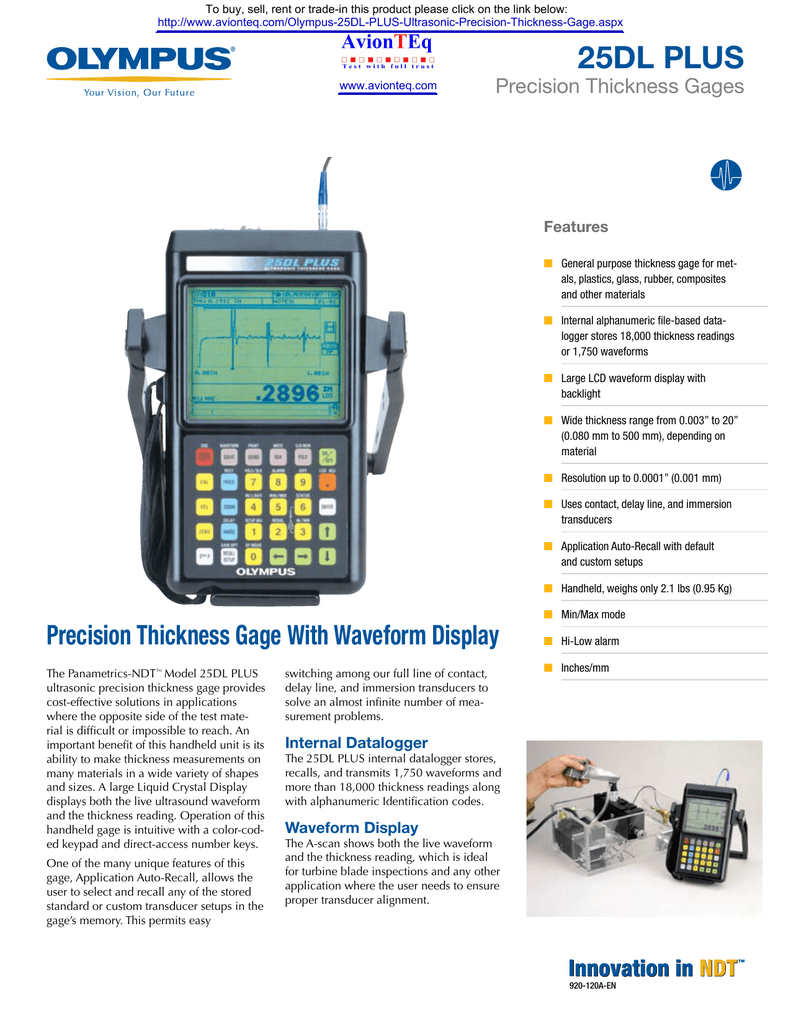 To buy, sell, rent or trade-in this product please click on the link below:
http://www.avionteq.com/Olympus-25DL-PLUS-Ultrasonic-Precision-Thickness-Gage.aspx
25DL PLUS
www.avionteq.com
Precision Thickness Gages
Features
■■ General purpose thickness gage for metals, plastics, glass, rubber, composites
and other materials
■■ Internal alphanumeric file-based datalogger stores 18,000 thickness readings
or 1,750 waveforms
■■ Large LCD waveform display with
backlight
■■ Wide thickness range from 0.003" to 20"
(0.080 mm to 500 mm), depending on
material
■■ Resolution up to 0.0001" (0.001 mm)
■■ Uses contact, delay line, and immersion
transducers
■■ Application Auto-Recall with default
and custom setups
■■ Handheld, weighs only 2.1 lbs (0.95 Kg)
Precision Thickness Gage With Waveform Display
The Panametrics-NDT™ Model 25DL PLUS
ultrasonic precision thickness gage provides
cost-effective solutions in applications
where the opposite side of the test material is difficult or impossible to reach. An
important benefit of this handheld unit is its
ability to make thickness measurements on
many materials in a wide variety of shapes
and sizes. A large Liquid Crystal Display
displays both the live ultrasound waveform
and the thickness reading. Operation of this
handheld gage is intuitive with a color-coded keypad and direct-access number keys.
One of the many unique features of this
gage, Application Auto-Recall, allows the
user to select and recall any of the stored
standard or custom transducer setups in the
gage's memory. This permits easy
switching among our full line of contact,
delay line, and immersion transducers to
solve an almost infinite number of measurement problems.
■■ Min/Max mode
■■ Hi-Low alarm
■■ Inches/mm
Internal Datalogger
The 25DL PLUS internal datalogger stores,
recalls, and transmits 1,750 waveforms and
more than 18,000 thickness readings along
with alphanumeric Identification codes.
Waveform Display
The A-scan shows both the live waveform
and the thickness reading, which is ideal
for turbine blade inspections and any other
application where the user needs to ensure
proper transducer alignment.
920-120A-EN
25DL PLUS Specifications*
Measurements
Display
Mode 1: Time interval between excitation
Display: Liquid Crystal Display with back-
pulse and first backwall echo. Using contact
transducers.
Mode 2: Time interval between the first
interface echo after the excitation pulse and
the first backwall echo. Using delay line or
immersion transducers.
Mode 3: Time interval between successive
backwall echoes following the first interface
echo after the excitation pulse. Using delay
line and immersion transducers.
Thickness Measurement Range:
Steel: 0.006 - 20" (0.15 - 500 mm)
Plastic: 0.003 - 2"(0.08 - 50 mm)
Thickness range depends on material, transducer, surface condition and setup selected,
extended thickness ranges are possible using
custom setups.
Material Velocity Range:
0.02000 - 0.55110 inch/μS
(0.5080 - 13.9979 mm/μS)
Resolution, keypad selectable:
LOW:
STANDARD:
HIGH:
0.01"
0.1 mm
0.001" 0.01 mm
0.0001" 0.001 mm
Measurement Rate: 4, 8, 12, 16, or 20
measurements per second
Transducer Frequency Range:
2.25 - 30 MHz
Three Differential Modes: Standard and
Percent: Thickness difference and percent
difference between actual measurement and
reference value. Rate Reduction: Display
actual thickness and percent difference from
setpoint. Both values can stored in the internal datalogger
Min/Max Mode: Works in conjunction with
FAST Mode for rapid location of minimum or
maximum thickness reading and associated
waveform
Two Alarm Modes: 1) Standard Hi-Low 2)
Previous thickness (Absolute or Percentage).
Both with audible and visual indicators
Application Auto-Recall: Automatically
adjusts internal parameters and zero offset for
a wide variety of transducers. Stores 25 standard transducer setups and up to 35 custom
transducer setups
light. Contrast keypad adjustable. Display
area 4.0 x 3.39 inch (102 x 86 mm)
Backlight: Backlit electroluminescent display
with Power Save feature
Zoom Mode: Expands the horizontal span of
the waveform to the minimum range associated with each transducer and automatically
centers the measured echoes.
Freeze Mode: Freeze and Un-Freeze live
A-scan with thickness
Display Hold/Blank: Display blanks after
last reading or holds reading
Rectification: RF, half wave positive or negative, and full wave
Internal Datalogger
Identify, store, recall, clear, and transmit
thickness readings and gage setup information via the full duplex RS-232 Serial Port.
Baud rate, word length, stop bits, and parity
are adjustable from keypad.
Maximum # of Stored Values:
Standard: 18,000 thickness readings or 1,750
waveforms with thickness.
Upgrade 1: 36,000 thickness readings or
Power Supply
3,400 waveforms with thickness.
Upgrade 2: 54,000 thickness readings or
5,100 waveforms with thickness.
Location Codes: 8-character file name plus
16-character alphanumeric location code
input. Multiple Comments per location
File Structures: 7 standard or custom
application-specific file structures
Reports: On-gage reporting of: Summary
with statistics, Min/Max with locations, and
File Comparison. On-screen Comparison of
current and previous readings
Battery: 6 V Rechargeable NiCad battery
On-board Statistics Calculator:
Waveform Display Range and Delay
Control: The horizontal span of the waveform
is set at selected intervals with a fully adjustable delay
pack. Optional replaceable alkaline "AA"
cells
Battery Life: 30 hrs nominal (normal operation), Nicad. Optional alkaline "AA" cells
approximately 70 hours
Battery Charge Time: 2 hours using
provided charger
Charger: External wall plug-in charger/AC
Adapter for 100/115/230 VAC inputs
Auto Power On/Off, Low Battery Indicator
General
Keypad: Sealed color-coded keypad with
tactile and audible feedback
Multi-Language Display: English, French,
German, and Spanish
Operating Temperature:
-10°C to +50°C (+14°F to 122°F)
Size: L 9.375" x W 5.45" x D 1.5",
L 238 x W 138 x D 38 mm
Weight: 2.1 lbs (0.95 Kg)
Other Standard 25DL PLUS Features:
Permits statistical reporting directly to Serial
Printer
Standard Inclusions
Model 25DL PLUS Digital Ultrasonic
Multi-Mode Thickness Gage, AC or Battery
Operation, 50-60 Hz, with Internal Alphanumeric Datalogger. Including: Universal Quick
Charger/AC Adapter, Transducer Cable, Test
Block, Couplant, RS-232 I/O Cable, Carrying
Case, Instruction Manual, Two Year Limited
Warranty
Optional Accessories
36DLP/SPC/KIT: Protective Pouch with Neck
Strap
Plus/RPC: Rubber Boot with Gage Stand
GAGEVIEW: Interface Program
25DLP/EW: Extended Limited Warranty, 3rd
Year
2214E:† 5-Step Test Block, 1018 steel, English
Units: .100", .200", .300", .400", .500"
2213E:† 5-Step Test Block, Aluminum, English
Units: 100", .200", .300", .400", .500"
26DLPLUS/HDC: Heavy Duty Shipping Case
Test Blocks are available in metric units.
†
Calibration Lock Mode, Internal Diagnostic
Test Mode, Metric/English
www.olympusNDT.com
info@olympusNDT.com
Olympus NDT
48 Woerd Avenue • Waltham, MA 02453 • USA
Tel.: (1) 781-419-3900 • Fax: (1) 781-419-3980
12569 Gulf Freeway • Houston, TX 77034 • USA
Tel.: (1) 281-922-9300 • Fax: (1) 952-487-8877
Olympus NDT U.K. LTD.
12 Nightingale Close • Rotherham, South Yorkshire S60 2AB • UK
Olympus Singapore PTE. LTD.
491B River Valley Road 12-01/04, Valley Point Office Tower, 248373 • Singapore
Olympus Australia PTY. LTD.
PO Box 985 • Mount Waverley, VIC 3149 • Australia
Copyright © 2007 by Olympus NDT. All brands are trademarks or registered trademarks of their respective owners.
*All specifications are subject to change without notice.