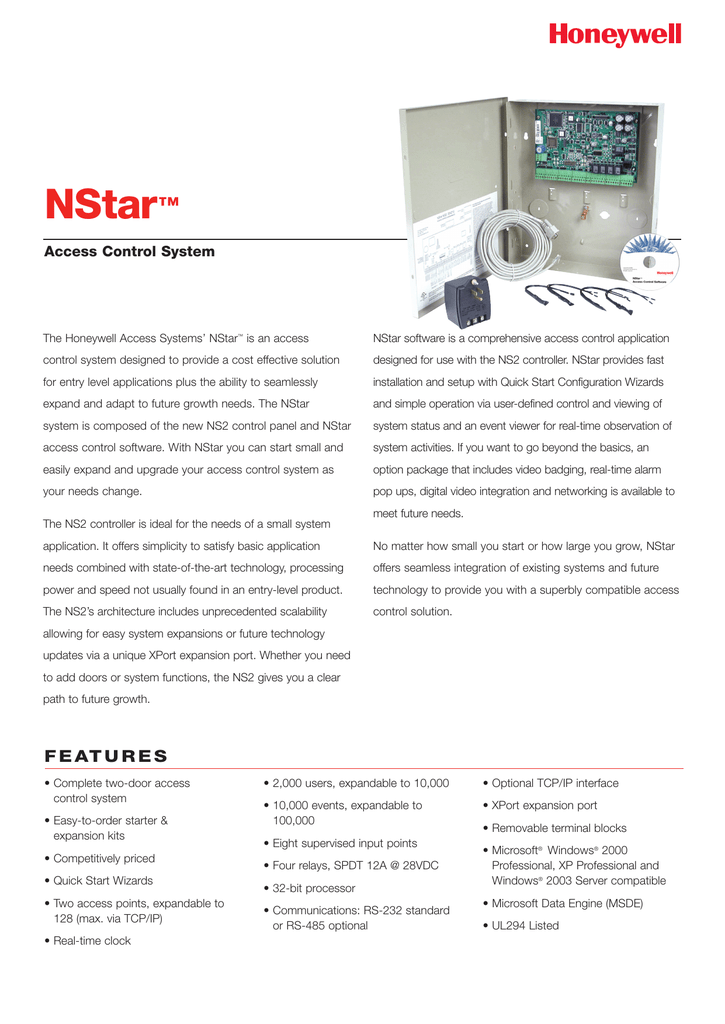 NStar™
Access Control System
The Honeywell Access Systems' NStar™ is an access
NStar software is a comprehensive access control application
control system designed to provide a cost effective solution
designed for use with the NS2 controller. NStar provides fast
for entry level applications plus the ability to seamlessly
installation and setup with Quick Start Configuration Wizards
expand and adapt to future growth needs. The NStar
and simple operation via user-defined control and viewing of
system is composed of the new NS2 control panel and NStar
system status and an event viewer for real-time observation of
access control software. With NStar you can start small and
system activities. If you want to go beyond the basics, an
easily expand and upgrade your access control system as
option package that includes video badging, real-time alarm
your needs change.
pop ups, digital video integration and networking is available to
meet future needs.
The NS2 controller is ideal for the needs of a small system
application. It offers simplicity to satisfy basic application
No matter how small you start or how large you grow, NStar
needs combined with state-of-the-art technology, processing
offers seamless integration of existing systems and future
power and speed not usually found in an entry-level product.
technology to provide you with a superbly compatible access
The NS2's architecture includes unprecedented scalability
control solution.
allowing for easy system expansions or future technology
updates via a unique XPort expansion port. Whether you need
to add doors or system functions, the NS2 gives you a clear
path to future growth.
F E AT U R E S
• Complete two-door access
control system
• Easy-to-order starter &
expansion kits
• Competitively priced
• Quick Start Wizards
• Two access points, expandable to
128 (max. via TCP/IP)
• Real-time clock
• 2,000 users, expandable to 10,000
• Optional TCP/IP interface
• 10,000 events, expandable to
100,000
• XPort expansion port
• Eight supervised input points
• Four relays, SPDT 12A @ 28VDC
• 32-bit processor
• Communications: RS-232 standard
or RS-485 optional
• Removable terminal blocks
• Microsoft® Windows® 2000
Professional, XP Professional and
Windows® 2003 Server compatible
• Microsoft Data Engine (MSDE)
• UL294 Listed
NStar ™
Access Control System
S P E C I F I C AT I O N S
Database:
Reporting:
Other:
• Microsoft Data Engine (MSDE)
History Reports:
Access Control:
• Time and date and from archived
history
• Up to 64 IP connections (using
optional networking hardware)
• Maximum 10,000 cardholder
capacity
• Reader(s)
• Two serial ports
• Host Grant
• Cardholder
• 32 holidays with multiple holiday types
• Descriptive cardholder field
• Context sensitive help via F1 key
provides help on any selected
function
• Supports up to 128 readers via
TCP/IP, 124 via RS-232
• Transaction type
• Software Tutorial
Operational Functionality:
Operator Actions:
• System tree for monitoring & control
• Time and date
• Event viewer
• Operator
• Scheduling for dial-up locations
• Actions performed by operator
• Batch card add and card delete
• Device(s) operated
• Card activation/deactivation by
day/month/year
Database Reports:
• Assign multiple cards to a cardholder
• Access levels
• 40 definable cardholder note fields &
note field templates
• Time zones
• Alarm point state
• Cardholders
• Schedules
• Monitoring of database file size and
hard disk space
• Database backup scheduler
Control Map
Easy to understand control maps with color
coded status icons give you a complete picture
of your system and condition of each device.
• Play .wav audio files based on events
Quick Start Wizards guide you through
installation and provide fast and simple setup
of NStar™ software.
Event Viewer
The Event View window displays current
system activity in real time.
maintains a recent NStar database
• Flash memory allows convenient
upgrades & technology updates
BENEFITS
• Quick Start Configuration Wizard
saves time in setup and programming
• Supports TCP/IP connection with
optional NSLAN1 to make use of
existing network infrastructure
• 40 user-defined cardholder note fields
provide more information for system
operators
• Database & hard drive limit and
capacity prompts notify user when
maintenance is required
• Easy viewing of device status by color,
shape and pop-up text that are
arranged on a tree structure
• Powerful 32-bit processor provides
uninterrupted card activity and fast
downloads of users and events
• Flexible mounting-fits in existing
wall-mount enclosure or in a optional
19" rack
• XPort expansion port provides
flexibility for future growth
• Cost-effective access control solution
• Scheduler backup utility automatically
2
• Real-time clock ensures accuracy of
system times and schedules
www.honeywell.com/security/uk
• Color-coded real-time events in the
standard viewer helps organize the
monitoring task
R E C O M M E N D E D C O N F I G U R AT I O N
Minimum Computer
Configuration:
Pentium III - 1 GHz CPU
256 megabytes of RAM
2.1 gigabyte hard disk
Two serial communication ports
Tape backup drive
One parallel port (badging to be done
on workstation)
• 15" SVGA color monitor
(1024 x 768, 256 color)
• Supported operating systems:
- Microsoft® Windows XP
Professional
- Windows® 2000 Professional
- Windows® 2003 Server
•
•
•
•
•
•
Easy to Install:
• Removable terminal blocks allow fast
connections and simplified wiring
• RJ45 serial connection from the
panel to the PC allows for quick
installation
• No jumpers or reset switches make
installation error-free
Powerful 32-bit Processor:
• 32-bit processor provides power for
fast downloads of events and users
and uninterrupted card activity
• Ample processing power to support
future system growth
Optional Ethernet Connection:
• Onboard connector provides
Ethernet to serial interface using
existing Ethernet devices
SuperCap Battery:
• Maintenance-free backup of panel
programming and data storage never have to replace battery
• SuperCap battery will provide
memory backup for one week
without any system power
Real-time Clock:
• The real-time clock gives you
complete system time accuracy
• Automatic day-light savings time and
leap year
Flexible Mounting:
• Tile or rack mountable in standard 19"
high-density enclosure. Up to eight
NS2 panels in a single 19" rack.
Card Format Compatibility:
• 26- (Standard), 32- and 34(Honeywell) bit Wiegand format
support
Dimensions:
Board: 9" W x 5.5" H x 1" D
Enclosure: 12.5" W x 14.5" H x 3.5" D
Environmental:
Temperature: 35-110° F operational
Humidity: 0 - 85% RHNC
Expandable & Upgradable:
• XPort expansion port allows for future
expansion with devices including
memory expansion
• FLASH memory means never having
to replace a firmware chip to take
advantage of system upgrades or
new features
Scalable:
• Two access points, expandable
to 128 allows you to grow
with NStar and NS2
• 2,000 users, expandable to 10,000
• 10,000 events, expandable to
100,000
www.honeywell.com/security/uk
3
NStar ™
Access Control System
S P E C I F I C AT I O N S
Software Options
Alarm View / System Events
Optional Upgrades
The NStar Software Option Package offers
an upgrade for users with greater needs.
This package offers the ability to add
Photo-ID Badging, Alarm/Event
Monitoring, Digital Video Integration and
the ability to network multiple PC's
together. The option package can be
activated immediately upon registration of
software.
The Alarm View allows you to monitor
your entire system in real-time. With the
Alarm View, alarms and events will "popup" on the screen so you can see events
and alarms as they happen. Alarm View
allows you to respond quickly to
emergencies or threats to your employees
or building.
The following optional features are
available with the NSOPT1 software
upgrade:
Photo-ID Badging
Save time reviewing video tapes by using
NStar's integrated digital video system that
allows you to retrieve stored video from a
Rapid Eye Digital Video Recorder (DVR).
Control live cameras while monitoring
others from the digital video pop-up
window. Complete PTZ control including
eight presets and up to 16 cameras can be
viewed in one pop-up window.
NStar's badging option enables you
to create your own custom Photo-ID's.
With the easy to use interface you can
add pictures, company logos, colorful
text and background. Once the badging
option is enabled you will have the ability
of using the Auto Card pop-up feature.
This will allow you to verify a card holder
by their picture stored in the database.
Digital Video Integration
• Networking - up to five concurrent
users
• Prioritized alarms - 1 to 99 priorities
• Alarm messages and operator notes
• Integrated digital video (Rapid Eye)
with PTZ control
• Alarm and video pop-up
• System events viewer
• Photo-ID badging
• Magnetic stripe encoding
• Duplex printing - two-sided badge
printing
ORDERING
Starter Kits
NSSK
Access Control Starter Kit
NSSKR
Access Control Starter Kit (Includes Two Readers)
Expansion Kits
NSEK
Two-Door Expansion Kit
NSEKR
Two-Door Expansion Kit (Includes Two Readers)
System Components
NSTAR
NStar Access Control Software
NSOPT1
NStar Software Option Package
NS2
Two Door Control Panel Only
NS2MEM
XPort Memory Expansion Module
Hardwired Communication Devices for the NS2
CBL50
50' RS-232 Serial Communications Cable
N-485-PCI-2
RS-232/RS-485 Communication Interface
Network Communication Devices for the NS2
NSLAN1
Optional Plug-in Ethernet Interface
LANSRLU1
RS232 to LAN Converter
N485PCI2L
RS485 to LANSRLU1 Interface
Add-On Reader Options
OP10HONE
Honeywell Small Proximity Reader
OP30HONE
Honeywell Mullion Proximity Reader
OP40HONE
Honeywell Wall Mount Proximity Reader
OP90HONE
Honeywell Vandal Resistant Reader
PR-PROXPRO-K HID Combination Proximity Reader & Keypad
Miscellaneous
NS2ACC
NS2 Accessory Pack
S-4
Surge Suppressor
X-4
16.5VAC Transformer
N-485-HUB-2
Dial-Up RS-485 Communication Interface
M-56K
Modem for Remote Communications
ENC10
Single Panel Enclosure
BAT-3
12V Battery Backup
NC1861-BL-500 500' Reader Cable 18awg/6cond. Shield
NC2221-BR
1000' Input/Relay Cable 22awg/2cond. Shield
NC2441-TN
1000' RS485 Communication Cable
NStar™ is a trademark of Honeywell International, Inc.
Microsoft®, Microsoft Windows® , Windows® Server 2003®, Windows® XP and
Windows® 2000 are registered trademarks of Microsoft Corporation.
For more information: www.honeywell.com/security/uk
Honeywell Access Systems UK
Charles Avenue
Burgess Hill
West Sussex.
RH15 9UF
01444 251180
01444 871074
www.honeywell.com/security/uk
HAS-NSTAR-01-EN(0407)DS-LD
April 2007
© 2007 Honeywell International, Inc.

* Your assessment is very important for improving the work of artificial intelligence, which forms the content of this project