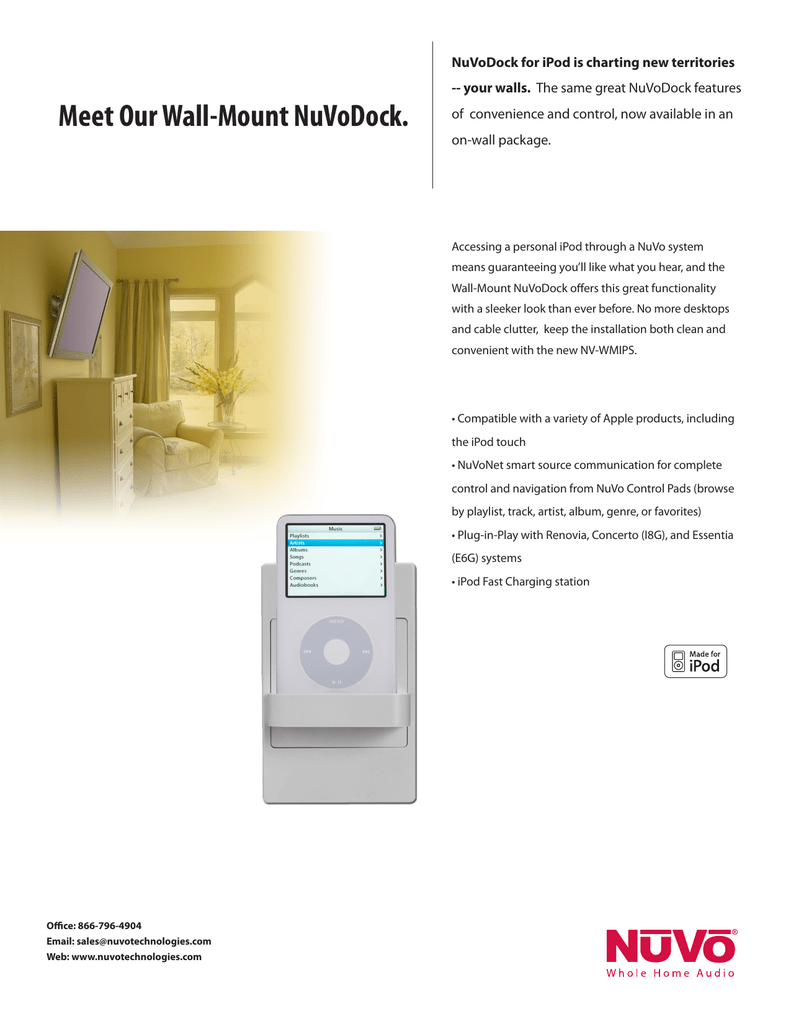 NuVoDock for iPod is charting new territories
-- your walls. The same great NuVoDock features
Meet Our Wall-Mount NuVoDock.
of convenience and control, now available in an
on-wall package.
Accessing a personal iPod through a NuVo system
means guaranteeing you'll like what you hear, and the
Wall-Mount NuVoDock offers this great functionality
with a sleeker look than ever before. No more desktops
and cable clutter, keep the installation both clean and
convenient with the new NV-WMIPS.
•Compatible with a variety of Apple products, including
the iPod touch
•NuVoNet smart source communication for complete
control and navigation from NuVo Control Pads (browse
by playlist, track, artist, album, genre, or favorites)
•Plug-in-Play with Renovia, Concerto (I8G), and Essentia
(E6G) systems
•iPod Fast Charging station
Office: 866-796-4904
Email: sales@nuvotechnologies.com
Web: www.nuvotechnologies.com
Wall-Mount NuVoDock (NV-WMIPS-DC).
Source Amplifier Output
Frequency Response (20-20kHz)
+/-0.5dB
0.25dB @ 300 ft. CAT5
THD (20Hz – 20kHz)
0.015%
Signal to Noise
87dB @ 300 ft. CAT5
Power Requirements
Power Supply
12V/5W DC
Approvals
CE-EMC
FCC
Canada Safety Listing
Australia C-Tick
Physical Specifications
Decora Version
Unit Size Millimeters
Unit Size Inches
Shipping Size Millimeters
Shipping Size Inches
Unit Weight Kilograms
Unit Weight Pounds
Shipping Weight Kilograms
Shipping Weight Pounds
Office: 866-796-4904
Email: sales@nuvotechnologies.com
Web: www.nuvotechnologies.com
124 H x 80 W x 60 D
4 7/8 H x 3 1/8 W x 2 3/8 D
265 x 558 x 375
10 1/2 x 22 x 14 3/4
0.09
0.20
0.09
16.5
Specifications
Apple Compatibility
iPod 4th generation (color display) 40GB 60 GB
iPod 4th generation (color display) 40Gb 60GB
iPod 4th generation 40 GB
iPod 4th generation 20GB
iPod mini 4GB 6GB
iPod nano 5th generation (video camera) 8GB 16GB
iPod touch 3rd generation 8GB 32GB 64GB
iPod touch 2nd generation 8GB 16GB 32GB 64GB
iPod classic 120GB 160GB (2009)
iPod nano 4th generation (video) 8GB 16GB
iPod classic 160GB (2007)
iPod touch 1st generation 8GB 16GB 32GB
iPod nano 3rd generation (video) 4GB 8GB
iPod classic 80GB
iPod nano 2nd generation (aluminum) 2GB 4GB 8GB
iPod 5th generation (video) 30GB
iPod nano 1st generation 1GB 2GB 4GB
NuVo reserves the right to change specifications without
notice.

* Your assessment is very important for improving the work of artificial intelligence, which forms the content of this project