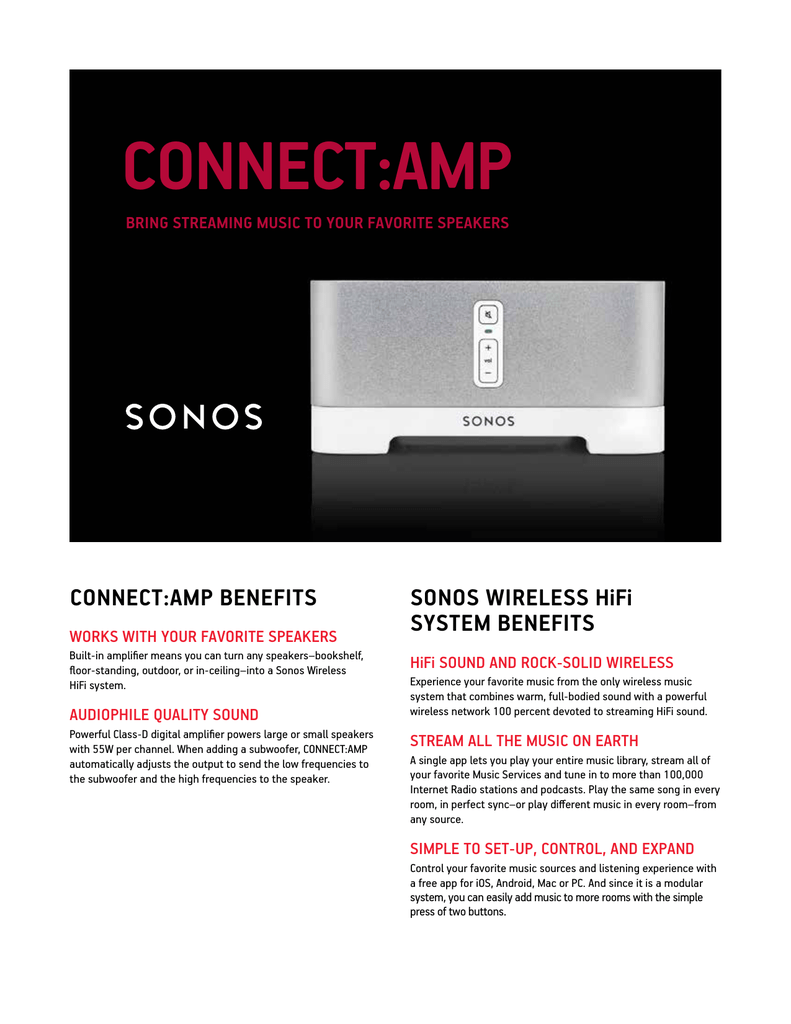 CONNECT:amp
Bring streaming music to your favorite speakers
CONNECT:AMP BENEFITS
WORKS WITH YOUR FAVORITE SPEAKERS
Built-in amplifier means you can turn any speakers–bookshelf,
floor-standing, outdoor, or in-ceiling–into a Sonos Wireless
HiFi system.
AUDIOPHILE QUALITY SOUND
Powerful Class-D digital amplifier powers large or small speakers
with 55W per channel. When adding a subwoofer, CONNECT:AMP
automatically adjusts the output to send the low frequencies to
the subwoofer and the high frequencies to the speaker.
SONOS WIRELESS HiFi
SYSTEM BENEFITS
HiFi SOUND AND ROCK-SOLID WIRELESS
Experience your favorite music from the only wireless music
system that combines warm, full-bodied sound with a powerful
wireless network 100 percent devoted to streaming HiFi sound.
STREAM ALL THE MUSIC ON EARTH
A single app lets you play your entire music library, stream all of
your favorite Music Services and tune in to more than 100,000
Internet Radio stations and podcasts. Play the same song in every
room, in perfect sync–or play different music in every room–from
any source.
SIMPLE TO SET-UP, CONTROL, AND EXPAND
Control your favorite music sources and listening experience with
a free app for iOS, Android, Mac or PC. And since it is a modular
system, you can easily add music to more rooms with the simple
press of two buttons.
Connect:Amp SPECS
audio
networking*
LINE-IN CONNECTIONS Auto-detecting analog (RCA)
WIRELESS CONNECTIVITY SonosNet 2.0, a secure AES encrypted,
peer-to-peer wireless mesh network
AMPLIFIER Class-D. Rated output 110W RMS (2x55W continuous
average power into 8 ohms, THD+N<0.02%) with both channels driven,
22Hz-20KHZ-AES17 measurement bandwidth.
SUBWOOFER OUT Auto detecting RCA type, 80Hz crossover.
SPEAKER CONNECTIONS Spring binding posts (in North America the
CONNECT:AMP has the combined spring binding post / banana jack
connectors).
ADJUSTABLE TONE AND VOLUME CONTROLS Optimize sound
performance using zone-specific bass, treble, balance, and
loudness controls.
NETWORK BRIDGING 2-port switch (10/100Mbps, auto MDI/MDIX)
brings standard Internet connectivity to your set-top box, DVR, PC,
Game Console or NAS drive
general
POWER SUPPLY AC 120/240V, 50-60Hz, auto-switchable
front PANEL BUTTONS Volume and Play/Pause
FRONT-PANEL LIGHTS Indicate status
DIMENSIONS (H x D x W) 3.50 x 7.28 x 8.15 in. (89 x 185 x 207 mm)
music
WEIGHT 5.1 lb (2.3 kg)
AUDIO FORMATS SUPPORTED Support for compressed MP3, iTunes
Plus, WMA (including purchased Windows Media downloads), AAC
(MPEG4), AAC+, Ogg Vorbis, Audible (format 4), Apple Lossless, Flac
(lossless) music files, as well as uncompressed WAV and AIFF files.
Native support for 44.1kHz sample rates. Additional support for 48kHz,
32kHz, 24kHz, 22kHz, 16kHz, 11kHz, and 8kHz sample rates.
OPERATING TEMPERATURE 32°F to 104°F (0°C to 40°C)
Note: Apple "Fairplay", WMA DRM and WMA Lossless formats not
currently supported. Previously purchased Apple "Fairplay" DRMprotected songs may be upgraded.
MUSIC SERVICES SUPPORTED Sonos works seamlessly with 7 Digital,
8Tracks, Amazon Cloud Player, AUPEO!, Dar.fm, Deezer, Hearts of
Space, iHeartRADIO, JB Hi-Fi NOW, JUKE, Last.fm, MOG, Murfie, Napster®,
Pandora®, Qobuz, Rdio®, Rhapsody®, SiriusXM™ Internet Radio, Simfy,
Slacker® Radio, Songl, Songza, Spotify®, Stitcher SmartRadio™, TuneIn,
WiMP, Wolfgang's Vault®, and downloads from any service offering
DRM-free tracks. (Service availability varies by region.)
storage TEMPERATURE 4°F to 158°F (-20°C to 70°C)
PRODUCT FINISH Anodized precision-machined extrusion
MULTI-LANGUAGE SUPPORT Sonos System Software supports Danish,
Dutch, English, French, German, Italian, Japanese, Norwegian, Simplified
Chinese, Spanish, Swedish and Brazilian Portuguese.
PACKAGE CONTENTS SONOS CONNECT:AMP, power cord, flat Ethernet
cable, Sonos QuickStart Guide.
*Internet connection required for access to Internet radio stations, online music services and
software updates (DSL, cable modem or LAN-based high-speed Internet connection required.)
Internet functionality may require payment of separate fee to a service provider; local and/or
long distance telephone charges may apply.
Note: All specifications subject to change without notice
OPERATING SYSTEMS (FOR STORED FILES) Windows® XP SP3 and
higher; Mac OS X v10.6 and higher; NAS (Network Attached Storage)
devices supporting CIFS.
ALBUM ART SUPPORTED JPEG, PNG, BMP, GIF
PLAYLISTS SUPPORTED iTunes®, WinAmp®, Windows Media Player®,
and MusicMatch™ (.m3u, .pls, .wpl)
PLAYBACK MODES Crossfade, shuffle, repeat
© 2004-2013 Sonos Inc. All rights reserved. Sonos and all other Sonos product names and
slogans are trademarks or registered trademarks of Sonos, Inc. Sonos Reg. U.S. Pat. & Tm. Off.
All other products and services may be trademarks or service marks of their respective owners.