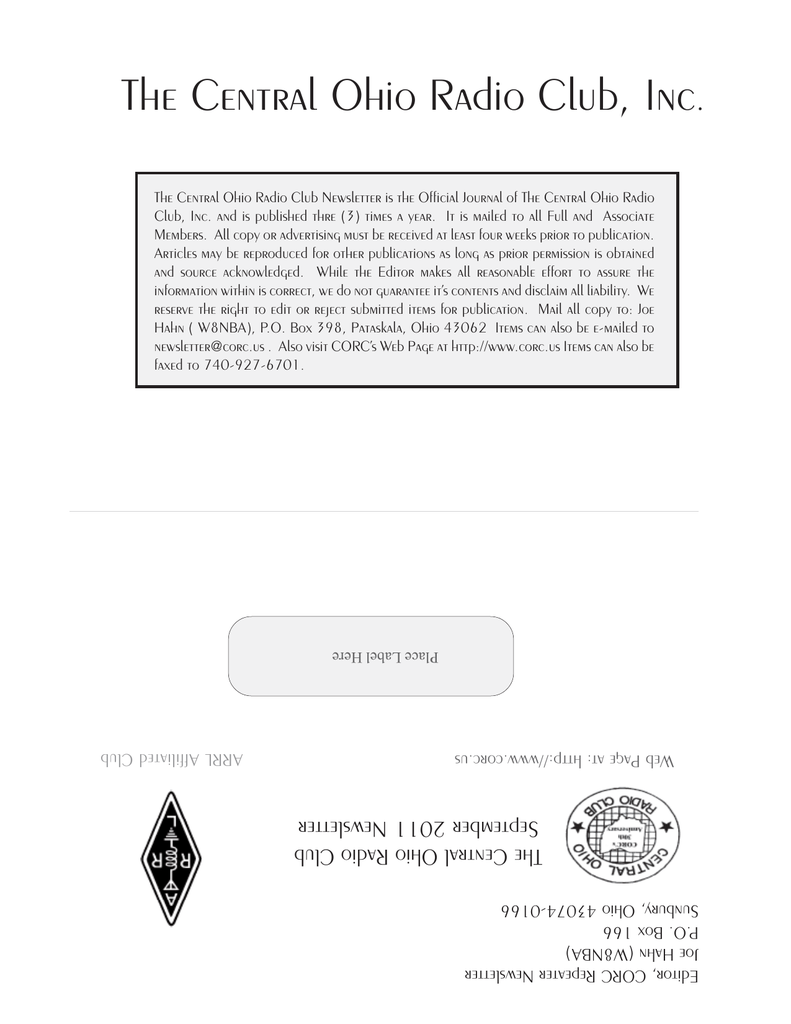 The Central Ohio Radio Club, Inc.
The Central Ohio Radio Club Newsletter is the Official Journal of The Central Ohio Radio
Club, Inc. and is published thre (3) times a year. It is mailed to all Full and Associate
Members. All copy or advertising must be received at least four weeks prior to publication.
Articles may be reproduced for other publications as long as prior permission is obtained
and source acknowledged. While the Editor makes all reasonable effort to assure the
information within is correct, we do not guarantee it's contents and disclaim all liability. We
reserve the right to edit or reject submitted items for publication. Mail all copy to: Joe
Hahn ( W8NBA), P.O. Box 398, Pataskala, Ohio 43062 Items can also be e-mailed to
newsletter@corc.us . Also visit CORC's Web Page at http://www.corc.us Items can also be
faxed to 740-927-6701.
Place Label Here
Web Page at: http://www.corc.us
The Central Ohio Radio Club
September 2011 Newsletter
Editor, CORC Repeater Newsletter
Joe Hahn (W8NBA)
P.O. Box 166
Sunbury, Ohio 43074-0166
ARRL Affiliated Club
Universal Radio - Quality equipment since 1942.
G3
VX-8DR
TH-F5
●
●
●
●
●
●
●
●
The TYT TH-F5 VHF is a value priced 2 meter HT.
Power output is selectable at 4, 2 or 1 watts.
Receive coverage is 136-174 MHz plus the FM
broadcast band! The bandwidth is 12.5/25 kHz
selectable. This radio is supplied with 7.4V 1500
mAh Li-ion battery, drop-in charger, SMA type
antenna, belt clip and carry strap.
$
Order #5565
79.95
List $99.00
TH-UVF1
●
●
●
●
●
●
●
●
VOX Function
Built-in CTCSS/DCS
12.5/25 kHz
Multi Scanning Modes
Dual Display
128 Memories
Voice Feature
4/0.5 Watts Out
The TYT TH-UVF1 is an affordable 2 meter/440
handheld amateur transceiver with extended receive including the FM broadcast band. Power
output is selectable at 0.5 or 4 watts on 144-148,
430-450 MHz. This feature-rich radio has very
good build-quality despite its modest price. The
bandwidth is 12.5/25 kHz selectable This radio is
supplied with 7.4V 1500 mAh Li-ion battery, dropin charger, SMA type antenna, belt clip and carry
strap. The vehicle cigar-type DC charging cable
will also be included for a limited time. One year
limited U.S.A. warranty.
$
List $180.00
Order #5541
109.95
Brice Rd.
270
i
Showroom Hours
Mon.-Fri. 10:00 - 5:30
Saturday 10:00 - 3:00
➟
£
JC Penney
To Columbus
Americana
é
6830 e
Tussing Road
Pkwy.
EXIT
110A
70
i
Route 256
A.R.R.L. AMATEUR RADIO EMERGENCY
COMMUNICATIONS COURSE
Includes: Intro to Emergency Comms, Amateurs
as Professionals, Basic Communication Skills,
Working Directly with the Public, Basic Communication Skills, Emergency Nets, Net Operating
Guidelines, National Traffic System, Message
Handling, Preparing for Deployment, etc. Fourth
Edition ©2011 344 p. List price $24.95
Order #5753 ......................... $22.95
\
●
●
●
●
●
●
●
●
●
LCD Dot Matrix Display
128 Alpha Memories
FM Rx 88-108 MHz
Encode/Decode
VOX Function
Wide/Narrow BW
LiON Battery
4/2/1 Watts RF
The Grundig G3 Globe Traveler is an innovative
portable radio covering long wave, AM, FM (stereo to earphone jack), continuous shortwave plus
the VHF aircraft band. It features dual conversion
AM/SW circuitry for exceptional sensitivity and
image rejection. It offers S.S.B. - Single sideband
reception. It has a large 700 channel memory
system with memory scan and auto tuning storage. Memories may be labelled up to 8 characters.
Unlike other portables in its class, the Globe
Traveler offers Synchronous Detection. This special feature addresses the issue of selective fading
and adjacent channel interference on shortwave.
Other enhancements include: Wide/Narrow selectivity, auto search, RDS, signal indicator, Local/
DX switch, direct frequency entry and 24 hour
clock with four alarm timers. It has an external
antenna jack, earphone jack and line in/out jack.
Requires four AA cells (not included). If four NiMH
AAs are inserted, they may be recharged inside
the radio. With manual, protective pouch and AC
adapter/charger. 6.62 x 4.13 x 1.1 inches. 13 oz.
$
G3 Globe Traveler Order #4033
99.95
Looking for a new HT?
Universal Radio will give you a
FREE HT Go Bag with your
Icom, Kenwood or Yaesu HT
purchase through 10/31/11.
These bags are also available for purchase at
$
7.95 each.
HT GO BAGS
Dot Matrix LCD
Optional Bluetooth
Optional GPS
CTCSS/DCS
AM/FM Wideband Rx
Weather Alert
Backlit Keypad & LCD
Submersible
Dual Receive
The Yaesu VX-8DR HT provides 5 watts FM on
50/144/430 MHz plus 1.5 watts on 222 MHz. It
supports Blue Tooth hands-free operation with the
optional BU-1 and BH-1A or BH-2A accessories.
There is also an optional GPS unit and antenna
with loads of features. This radio supports APRS®
1200/9600 bps data communication (B band only)
and is WiRES compatible. In fact, this latest "D"
version adds these APRS enhancements:
✔ Smart Beaconing™ Function,
✔ Station List memories raised from 40 to 50.
✔ APRS® Message mems raised from 20 to 30.
✔ New DIGI-PATH route indication function.
✔ Heads up compass display to the GPS screen.
✔ Msg received LED flashing rate is selectable.
✔ DIGI-PATH route settings raised from 1 to 7.
The VX-8DR is submersible to IPX57 specs. A 7.4
V 1100 mAh Li-Ion battery is included. It supports
simultaneous independent 2-signal dual receive
function with both V+V or U+U. It has weather alert
and a barometric sensor is included. The dot
matrix LCD provides memory tags (to 16 characters). You even get a high-resolution spectrum
analyzer with ±60 channels indication with wave
monitoring of received/modulated signal! DCS
and CTCSS encode and decode are standard.
2.36 x 3.74 x 0.92".
$
List $566.00
Order #1608
409.95
VX-8GR
The Yaesu VX-8GR HT
provides 5 watts FM on
144/430 MHz. Receive is
108-999 MHz in NFM/FM
modes. Unlike the VX-8R,
this radio is not BlueTooth
capable, does not have the
SU-1 built in and is not submersible. It is however
APRS capable (B band
only) and even has a GPS
built-in. DCS/CTCSS encode/decode is included. Supplied with 7.4V 1100
mAh Li-ion battery. This model is not compatible
with all VX-8R accessories.
$
List $540.00
Order #3008
339.95
Universal Radio, Inc.
Guaranteed lowest prices on the web?
Not always. But we do guarantee that you
will find our website the most informative.
6830 Americana Pkwy.
Reynoldsburg, OH 43068 www.universal-radio.com
✔ Ask for our 128 page free catalog
☎ 800 431-3939 Orders-Prices ◆Prices & specs. subject to change.
☎ 614 866-4267 Information ◆Prices shown are after mfg's coupons.
➞ 614 866-2339 FAX Line
◆Returns subject to a 15% restock fee.
◆Prices and promos valid to 10/31/11
dx@universal-radio.com
ADha1109.p65
Central Ohio Radio Club, Inc. (CORC)
Operating repeaters since 1970
Membership application
CORC operates repeaters with outputs on 52.70, 146.76, 146.97, 147.33 and 444.200
Some of our features include:
Autopatch access to Columbus area phones. IRLP linking on 147.33
Rapid access dialing to public service or member telephone numbers.
Repeaters used by the Central Ohio Weather Net and Central Ohio Traffic Net.
Multiple receiver sites located in Franklin, Licking, Delaware, Pickaway and Logan Counties
to ensure excellent coverage throughout Central Ohio.
General Membership allows full use of the CORC facilities, Operating Manual, subscription to the CORC
Newsletter, and a vote at the annual meeting of the corporation.
We welcome amateurs of your family at the same address a family membership at no charge.
Associate membership is available to interested parties that live
outside the general coverage area of the repeaters for $10.00
Associate members have no voting privileges and receive an e-mail copy of the newsletter.
Please see dues
schedule for
amount to send
Please CIRCLE one:
Dues Enclosed $ ________
Optional Donation - CORC is a 501(c)3 $ ________
Total $ ________
New Application
Renewal Application
Associate Application
Call Sign ___________ Name_______________________ e-mail_________________________
Call Sign ___________ Name_______________________ e-mail_________________________
Call Sign ___________ Name_______________________ e-mail_________________________
Street Address__________________________________________________________________
City__________________________________
Home Phone (
) ______________________
State_________
Alternate (
Zip________________
) __________________________
How many above are ARRL Members ____ CORC is an ARRL affiliated club!
Check to Request Newsletter by e-mail (this saves the club mailing cost) ____
Please make check payable to CORC and place call sign on check.
Mail application with check to:
Central Ohio Radio Club, PO Box 166, Sunbury, Ohio 43074-0166
For More Information call John, W8RXX @ 614-579-0522 or visit the CORC website at www.corc.us
Thank You for your Membership and Support!
Rev 8-11
CORC DUES SCHEDULE
THIS TABLE ADJUSTS EXPIRATION MONTHS TO THE CALENDAR YEAR
Month you are Joining
Or your expiration month
JAN
FEB
Selecting $18 One Year Plan
Pay
To Expire on Dec 31
$18.00
Selecting $32 Two Year Plan
Or Pay
To Expire on Dec 31
$32.00
Selecting $45 Three Year Plan
Or Pay
To Expire on Dec 31
$45.00
MAR
APR
MAY
$14.00
JUN
JUL
AUG
$9.00
2011
$28.00
2012
$24.00
$41.00
2013
$38.00
SEP
OCT
NOV
DEC
$18.00
2012
$32.00
2013
$45.00
2014
Since 1970 CORC Membership still is only $18.00 for 1 yr - $32.00 for 2 years - $45.00 for 3 years
We are striving to get every ones membership to the calendar year schedule. Thanks for your understanding!
Associate Membership is $10.00 per calendar year regardless of application date for those who live
outside the coverage of the repeaters. All associate memberships expire December 31 of the year joining.
All associate memberships receive the newsletter by e-mail only.
If you have difficulty understanding this chart please call membership chairman… Thanks!
8-11
The Central Ohio Radio Club
Newsletter
President
Laura Perone
KA8IWB
Vice-Pres.
Phil Carter
WD8QWR
Secretary
Tony Fabro
N8RRB
Treasurer
Steve Robeano
WD8J KX
Newsletter
Editor
Joe Hahn
W8NBA
Membership
Chairman
John Perone
W8RXX
Repeaters
52.70 / 52.94
W8RRJ
146.16 / .76
W8RXX
146.37 / .97
W8RRJ
147.93 / .33
W8NBA
IRLP Node
8094
444.200
449.200
W8RXX
Associated
Repeaters
145.49 / 4.89
442.8/447.8
W8CMH
September 2011
CORC Announces Fall Meeting
The Central Ohio Radio Club is announcing its Fall Pot Luck Meeting on October 2,
2011. It will be held at the Genoa Township Hall at 6PM. Our guest speaker for the
evening is EMike, KC8YLD, and ARRL Ohio Section Affiliated Club Coordinator.
We look forward to hearing what information on the ARRL EMike has to offer us as
we have recently become an ARRL Affiliated Club. EMike is not a typo; I guess we
will find out why he goes by EMike at the meeting.
I'm sure we will have plenty of good food to enjoy. Please bring a covered dish or
dessert to share as well as serving utensils. CORC, as usual will provide drinks and
plastic tableware. Look for the fridge flyer later in this newsletter for more information
and directions. The latest info on this will be on the CORC website at: www.corc.us.
Don't miss this fun event.
Central Ohio Traffic Net
By Tony Baker, KC8PZ
Hi all CORC members! My name is Tony Baker, KC8PZ, Net Manager of the Central
Ohio Traffic Net (COTN). I would like to welcome all members and fellow ham radio
operators to check in to the net on the 146.970 repeater at 7:15 PM, 7 days a week.
COTN is a local net of the American Radio Relay League (ARRL) National Traffic
System (NTS) and specializes in handling 3rd-party radiogram traffic into, out of, and
throughout central Ohio. It is a training net and welcomes all newcomers to traffic
handling. On air training is given during the net and written training materials are
available on our web page at http://www.cotn.us.
As a National Traffic System net, COTN is organized and intended to assist the ARRL
Amateur Radio Emergency Service (ARES) county organizations in central Ohio who
in turn work closely with and serve emergency and relief agencies, e.g. Emergency
Management Agency, public safety agencies, American Red Cross, etc. Most COTN
stations are also ARES stations.
While modern technology has made communication more reliable, in times of major
emergencies, formal written message traffic continues to be relied upon for passing
information into and out of the disaster area. Our purpose is to train operators to be
proficient in traffic handling so that they will be ready in case a disaster would affect
our area.
Hope to hear you on the net and 73!
The Central Ohio Radio Club Newsletter
Membership Update
By John Perone, W8RXX
We want to welcome the following who have joined CORC since the last newsletter was printed.
Please welcome them when you hear them on the air.
N8ECC
KD8QFO
KD8KBX
N8WCT
N8CPA
KD8OLJ
N8VW
KC8PZ
W8GEJ
K8NJ
Alan Klotzbach
Gene Richards
Stan Sutton
Chris Greenhalgh
Steve Stirling
Shannon Barber
Pat Collins
Tony Baker
Al Hunterson
John Ness
KC8SSF
KD8LUW
KD8OEE
KD8MKI
N0IMD
KD8ODY
WD8TA
AK4FL
W8FNW
Gary Rundio
Duane Vanone
Tony Sirianni
Jim Scott
Brian Burke
Dave Barber
Tate Antrim
Fred Locke
Jim Ashton
The membership chairman accidentally left off one of our "old time" members from the membership list
in the last newsletter.W8SJQ, Rocco Eramo is still very much a member and CORC appreciates his
continuing donation of an antenna site in Hilliard. Sorry Rocco!
Thanks to the following CORC members who have donated time, talent, extra money or equipment
to the club in addition to their dues since the last newsletter printing.
WD8JKX
W8RXX
K8NIO
W8RXX
KC8PZ
W8GEJ
W3ENL
N8RRB
KA8IWB
WD8QWR
K8VKA
N8OCQ
W8FNW
KD8BDO
KA8RLC
W8RRJ
W8SJQ
WA8KKN
WD8TA
W4FNW
KD8QFO
W8NBA
Congratulation to the following winners at the June 2011 CORC Meeting!
N8LPX
KA8CYA
N8VJH
K8SV
Ron won the 50/50 Drawing
Ross won a Bob Evans gift certificate
Bob won a WOSU gift book
Rick won a O'Charley's gift certificate
A notice from the ARRL OO's (Official Observer)
The FCC has started to issue citations on unintelligible identifications. Many of us make certain people
understand our names but rush through our call. We all need to remember this while on the air. Please
ID once every 10 minutes, and the use of the phonetic alphabet is encouraged. The control operators have
been instructed to enforce FCC part 97.119 requiring clear identification. The repeaters can be shut off if
this rule is not followed to protect the trustee of the repeater and the club...
Page 2
The Central Ohio Radio Club Newsletter
Message from the President
By Laura Perone, KA8IWB
CORC has become an ARRL affiliated club this summer. If you are not a member of ARRL already,
please think about it as their lobbyists work hard to protect our frequencies and YOUR hobby.
We welcome the Central Ohio Traffic Net as it has moved to our clubs 146.97 W8RRJ repeater at
7:15PM, 365 days a year. Take a listen and learn how to pass formal traffic. They will welcome you with
open ears!
Autumn is coming and so is time to get back on the radio. If you haven't been on 146.76 this summer
you find some coverage changes as we have eight receivers up and running. This should especially assist
stations West & South of Columbus. WA8KKN and W8RXX have worked many, many, hours to get this
done in a manner that many of us didn't know it was happening. There are still locations that you may be
able to hear the repeater transmitter on your handi-talkie but have difficulty accessing the repeater.
Handi-talkies with rubber ducks are wonderful receivers but don't have the ERP of a mobile radio. If you
do use a handi-talkie in a vehicle PLEASE use it with it mobile antenna. W8NBA has been busy
tweaking the IRLP link. I hope you have taken advantage of it.
Our next CORC gathering will Sunday, October 2. It is a potluck at Genoa Township Hall, north of
Westerville. I hope you can make it. It is great to have an eyeball with contacts you have made on the
repeaters. Invite a non club member to attend as they are always welcomed. I always enjoy putting a face
with a call. I hope to see you there.
Construction update:
The downtown receive site at I-71 & East Broad is getting a new roof on the building. We had to remove
all the antennas till the job is completed. This affects 147.33, 146.97, and 146.76. We will have the site
operational again as soon as we get the go ahead from the building owner. This should be towards the end
of October.
146.76 Repeater – The upgrade is complete!
All eight receive sites are operational. An updated map of the eight receive sites for 76 is on the clubs
web page at www.corc.us You can also find information on the clubs other repeaters there. Check it out…
There will be user code changes coming for 2012 year. Please make certain your dues are up to date. The
emergency speed dials are operational, however having a different area code on the autopatch line user
speed dials are NOT OPERATIONAL at the present time. There will be much more information on the
upgrade at the 2012 Annual meeting.
K8SV's presentation:
We heard nothing but GREAT REVIEWS of K8SV (now WA3UOO) presentation on battery safety and
operation at the June meeting. THANKS RICK!
Page 3
The Central Ohio Radio Club Newsletter
Travelin' Tony's Timetables
by: Anthony "Tony" Fabro N8RRB
Recently I've seen a few articles stating that a new record has been achieved regarding the number of licensed
hams in the U.S. As of the end of August there were over 741,000 licensed hams in the U.S., more than at any
other time. I think when I got my callsign in 1992 there were something like 550,000 licensed hams so things
are trending in the right direction.
When I got my license things were much busier on the ham frequencies, especially on the local repeaters.
During rush hour it was common to hear 4-6 repeaters active simultaneously. Local club membership was
climbing and about to reach an all time high. Things were very busy! By contrast, today you might find one
repeater busy (usually 146.760) during rush hour. Everything else is silent. Club membership is half of what it
was years ago.
In these articles about the record ham membership, people have applauded the efforts of the hobby to promote
and preserve it, and to keep it from dying like so many other hobbies. While this true, what good is it if few are
participating? We could have a million hams but if no one talks then what's the point of giving us a pat on the
back for achieving a record number?
We have almost 25% more hams than we did 20 years ago, yet we have a fraction of the activity and club
membership. So where is everyone?
I struggle with the standard response "the Internet". I agree that it might have taken away from the evening and
night time "rag chew" conversations that lasted for hours. But what about all the people who used to be around
during rush hour or during the day?
Another standard response is "cell phones". I agree that cell phones have certainly reduced the number of
autopatches on the repeaters. But are we to say that everyone is talking on their cell phone as they drive to and
from work or for other activities?
Finally, the other reason give is that "there's so much going on." People are so busy driving from event to
event to event that they don't have time to get on the radio. And therein lies the rub for me. We have more
hams than ever, and it seems like in order to go from point A to point B you have to drive twice as long as in
years past. If anything we should have more activity of mobile operators on the repeaters than ever before.
There is another point to this article. Simply stated, we, as hams, need to stay active on our frequencies. The
old saying "use it or lose it" applies here. There are entities who would like to have our frequencies, and if we
don't use them they become an easy target to be taken away. As noted a few months ago, there was pending
legislation which would have taken away part of the amateur 440 MHz frequencies. Fortunately those in the
hobby made it clear that it was critical for us to maintain our frequencies which prompted a change to remove
the amateur frequencies from the legislation. Another battle won.
But think about it – when was the last time, if ever, you spoke on 440 MHz? Never? Well, let's just say that
chances are you have but didn't even realize it! If you've spoken on a CORC two meter repeater, you've
spoken on 440 MHz as the links from the receivers to the controller are on UHF frequencies. Had the
legislation gone through the club would have had to made changes to the links.
Bottom line is this: ask yourself how you can be more active in the amateur hobby. Participate in a net, talk on
a repeater when traveling to work or even just listen to the frequencies. Eventually the desire will hit you to
transmit again. Hope to hear you on the air! Have a safe day.
Page 4
The Central Ohio Radio Club Newsletter
73
The first authentic use of 73 was in the publication "The National Telegraphic Review and Operators'
Guide", first published in 1857. At that time, 73 meant "My love to you"!
Within a short time, the use of 73 began to change.
In 1859, the Western Union Company set up the standard "92 Code." A list of numerals from one to 92
was compiled to indicate a series of prepared phrases for use by the operators on the wires. Here, in the 92
Code, 73 changes to a very flowery "accept my compliments", which was in keeping with the florid
language of that era.
Over the years from 1859 to 1900, many manuals of telegraphy show variations of this meaning. The
Twentieth Century Manual of Railways and Commercial Telegraphy defines it two ways, one listing as
"my compliments to you"; but in the glossary of abbreviations it is merely "compliments". By 1908,
however, a later edition of the Dodge Manual gives us today's definition of "best regards" with a
backward look at the older meanings.
It is simply spoken "73", not some of the following ways we too often hear on the airwaves. I have done
the math for you on some of the options…
70-3's Why not just say "210"?
7- 3's Why not just say "21"?
7- 1/3rd's Why not just say "2.3333331"?
70 – 1/3rd's Why not just say "23.333331"?
73,
Corky
For Sale:
Cubex 2 Element 5 Band Quad Antenna, 10-12-15-17-20 Meters - Less than 9 months old, it is off the
tower ready for pick-up complete with RG-11 Matching stubs. Work the weak ones with a quad. Original
cost over $600. Sell for $300
Contact Bob, N8VJH 740-524-1971
Your "For Sale" Ad could have been here too – FREE to members!
CORC Tech Net - Coming Soon!
Coming soon to the 147.330 repeater will be the return of the CORC Tech Net. Listen for announcements
on the repeaters listing the date and time for the net. Various topics of amateur radio and related subjects
of interest will be discussed. Hope to hear you on the net!
Page 5
The Central Ohio Radio Club Newsletter
IRLP Node 8094 on the 147.33 Repeater
Have you tried the IRLP node on the W8NBA repeater at 147.33. It's easy to use and in just a matter of
seconds you can be talking to someone anywhere in the world. Using the node is easy and I hope after
reading this you will give it a try.
There are close to three thousand nodes in over thirty countries. A node is a station or repeater with an
IRLP computer hooked to it. Node numbers are always a 4 digit code. For example a node in Koto,
Tokyo is 8499 and one in London is 5600 and a node close to us is 4614 in Powell, Ohio. For those of
you that have an Android Smartphone, there is a free app called IRPL Finder that will even look them up
for you. You can find it in the Android Marketplace. I hear rumor there is one for the iPhone also. I can't
list all the nodes and countries here but you can find the list at http://status.irlp.net/index.php?PSTART=3
Please give this page a few minutes to load as it generates an up-to-date listing and the status of every
node. It also gives you a link to individual node information as to the call sign and frequency that the
node uses and whether the node is in use. Besides nodes, there are stations that are reflectors. Reflectors
can have many nodes connected to it at one time, making one big group chat, or be use to broadcast
information to many nodes at once. More information on reflectors is available at http://www.irlp.net .
When accessing the 147.33 repeater, please allow time to make sure that the IRLP unit is not in use by
someone else before marking on. Please listen for at least 10 to 15 seconds before transmitting as the
audio is delayed when using IRLP, and may take some time to respond. The repeater can be used for
normal conversation when not being used for IRLP. An easy way to check if the node is connected is to
touchtone in digits "111". It will tell you if the node is connected. If you need more help please contact
W8NBA, Joe, at irlp@corc.us
Using the node is very easy. First you need to look up the node you want to connect to. A typical
connection might be "Your Call accessing the node" and then using your touchtone pad dialing in the 4
digit code you looked up earlier. The IRLP unit will respond "IRLP connecting to node "XXXX" All
of the connect and disconnect messages are recorded by the node owners. Our local node messages were
recorded by none other than our President, Laura Perone KA8IWB. You can then call CQ or the station
you want to connect with. If a conversation is already going on at that node, you should wait until it is
over to make your call or disconnect. Disconnecting is also easy. Just dial in "73" and the node will
disconnect you. Again, you should wait until there is no conversation going on to disconnect. That's all
there is to it.
Give it a try!
CORC Director Now Published Author
Kudos to our own John Perone, W8RXX, on becoming a published author. His article on New Car RFI
was printed in the September 2011 issue of QST. A re-print of the article is on the CORC website at:
http://www.corc.us/W8RXX%20QST%20PDF.pdf . It is a very interesting article about his experiences
of buying Laura a new car and then the woes of finding that new car has some mysterious problems
pertaining to using a mobile rig in the car. I won't give you the solution; you have to read the article to
find out. Again, congrats to John for a fine job.
Page 6
And now that you know about it…
Here is how you get there!
Genoa Township Hall
UDF
From 71 take Polaris Pkwy to State Route 3 and turn on Old 3C Highway and go North to The
Geona Township Hall.
From 270 exit on State Route 3/ Westerville Road and go north to Old 3C Highway.
Genoa Township Hall is on the corner of Big Walnut and Old 3C Highway.