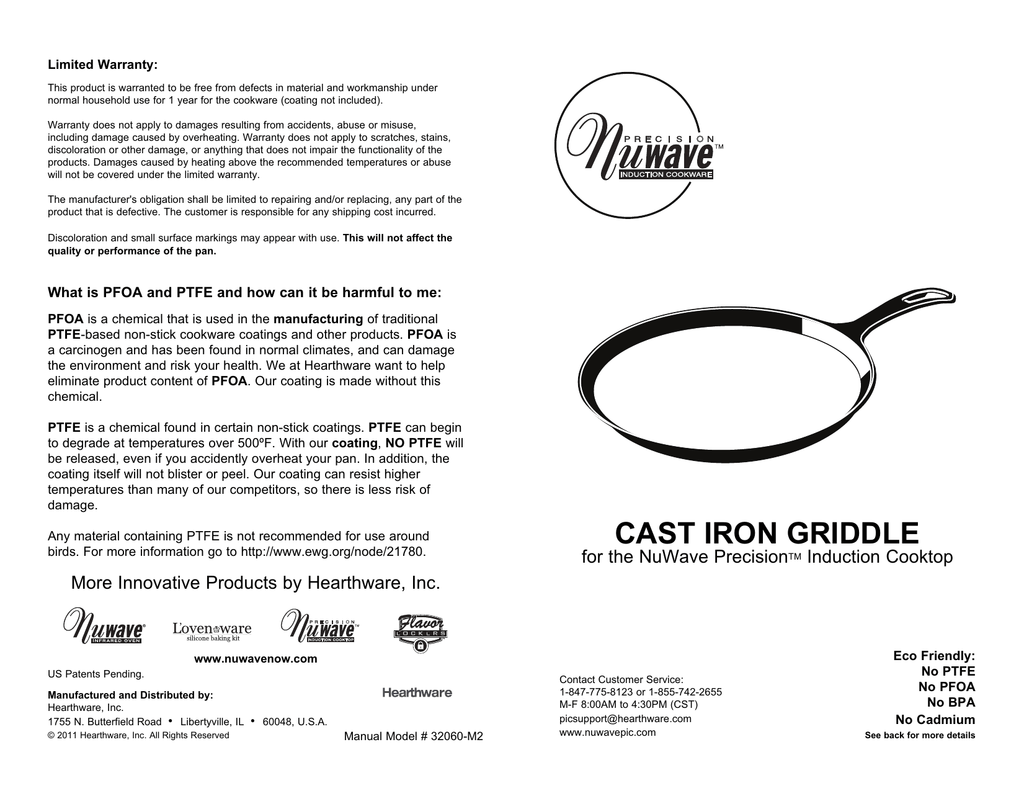 Limited Warranty:
This product is warranted to be free from defects in material and workmanship under
normal household use for 1 year for the cookware (coating not included).
Warranty does not apply to damages resulting from accidents, abuse or misuse,
including damage caused by overheating. Warranty does not apply to scratches, stains,
discoloration or other damage, or anything that does not impair the functionality of the
products. Damages caused by heating above the recommended temperatures or abuse
will not be covered under the limited warranty.
The manufacturer's obligation shall be limited to repairing and/or replacing, any part of the
product that is defective. The customer is responsible for any shipping cost incurred.
Discoloration and small surface markings may appear with use. This will not affect the
quality or performance of the pan.
What is PFOA and PTFE and how can it be harmful to me:
PFOA is a chemical that is used in the manufacturing of traditional
PTFE-based non-stick cookware coatings and other products. PFOA is
a carcinogen and has been found in normal climates, and can damage
the environment and risk your health. We at Hearthware want to help
eliminate product content of PFOA. Our coating is made without this
chemical.
PTFE is a chemical found in certain non-stick coatings. PTFE can begin
to degrade at temperatures over 500ºF. With our coating, NO PTFE will
be released, even if you accidently overheat your pan. In addition, the
coating itself will not blister or peel. Our coating can resist higher
temperatures than many of our competitors, so there is less risk of
damage.
Any material containing PTFE is not recommended for use around
birds. For more information go to http://www.ewg.org/node/21780.
More Innovative Products by Hearthware, Inc.
US Patents Pending.
www.nuwavenow.com
Manufactured and Distributed by:
Hearthware, Inc.
1755 N. Butterfield Road • Libertyville, IL
© 2011 Hearthware, Inc. All Rights Reserved
•
60048, U.S.A.
Manual Model # 32060-M2
CAST IRON GRIDDLE
for the NuWave PrecisionTM Induction Cooktop
Contact Customer Service:
1-847-775-8123 or 1-855-742-2655
M-F 8:00AM to 4:30PM (CST)
picsupport@hearthware.com
www.nuwavepic.com
Eco Friendly:
No PTFE
No PFOA
No BPA
No Cadmium
See back for more details
NuWave Precision™ Induction Cookware:
Cast Iron Griddle
A Family that cooks together...
Using the Cast Iron Griddle on the NuWave PrecisionTM Induction Cooktop is an
easy way to get the family or a group of friends together and enjoy a fun, quick
and simple home cooked meal in or out of the kitchen. Since the NuWave
PrecisionTM Induction Cooktop is electric and portable, you can use it anywhere
there's a socket to plug it in and the Cast Iron Griddle will allow you to cook and
keep foods warm for hours, so you can gather and graze!
Where can you find the best induction cooktop recipes?
Why Induction Cooking?
Induction cooking is the most eco-friendly and energy-efficient
way to cook. Induction cooktops use up to 90% of the energy produced,
which is much more energy-efficient than gas or electric cooktops.
Induction heats only the diameter of the pot so very little energy is lost. Induction
emits no flame, so less residual heat is produced in your kitchen. Also, the
induction cooktop remains cool to the touch where the magnetic surface is not
activated. Since heating and adjustments are immediate, you can save up to
50% of cooking time when compared to gas and electric cooktops.
Why is the Cast Iron Griddle ideal for Induction Cooking?
Induction cooking is based on a focused heating area. This allows the large
center cooking area of the cast iron grill pan to grow extremely hot while the outer
edges will become warm only due to heat distribution caused by the property of
the cast iron. This means you can cook your foods in the center of the pan and
keep others warm along the outer edges. Your foods will retain more moisture
and flavor. Also, the combination of high temperature generated by the NuWave
Precision Induction Cooktop* and the Cast Iron Griddle will allow you to sear your
meats quickly to retain more of their natural juices. Plus, there is less smoke
generated with this method of searing, leaving the surrounding air safer to
breathe.
*Your results may vary if you use the Cast Iron Griddle with an alternative induction cooktop appliance.
Will the Cast Iron Griddle become "seasoned" like typical cast iron
pots and pans? Yes.
Although the cast iron surface has been coated with a porcelain enamel shell, the
process of "seasoning" the pan still applies with the exception that this pan will
not rust like a non-coated cast iron will. Overtime the center area of the pan
where the heat is most intense will begin to retain residual oils that will season
your pan. When you first begin to use your cast iron griddle or when the seasoned area wears off, just apply a small amount of cooking oil (vegetable, canola,
olive, etc.) to begin the process.
The NuWave PrecisionTM Induction Cooktop Cookbook (#32051) contains recipes
created specifically for induction cooking.
Product Specifications:
Cast Iron Griddle (#31113)
Materials: Cast Iron with Porcelain enamel coating
Measurements: 10.5" diameter
Weight: 4.8 lbs
Maximum heat threshold: 662°F (350°C)
Care & Usage:
• Always wash new cookware prior to first use.
• Handle using pot holders or oven gloves to avoid injury.
• For best cleaning results and to maintain a seasoned Cast Iron Griddle,
wash your pan with warm soapy water while it is still hot or warm and rinse
throughly. Placing on a warm Precision Induction Cooktop or even in a warm
oven to help dry and seal seasoned surface more. If the grill cools completely
before cleaning, a more aggressive cleaning may be required.
• As mentioned above, the Cast Iron Griddle can withstand heats up to
662°F (350°C). But keep in mind that this is above and beyond the
recommended use of this product. Damages caused by this type of usage
will not be covered under the lifetime limited warranty (see back of manual
for details).

* Your assessment is very important for improving the work of artificial intelligence, which forms the content of this project