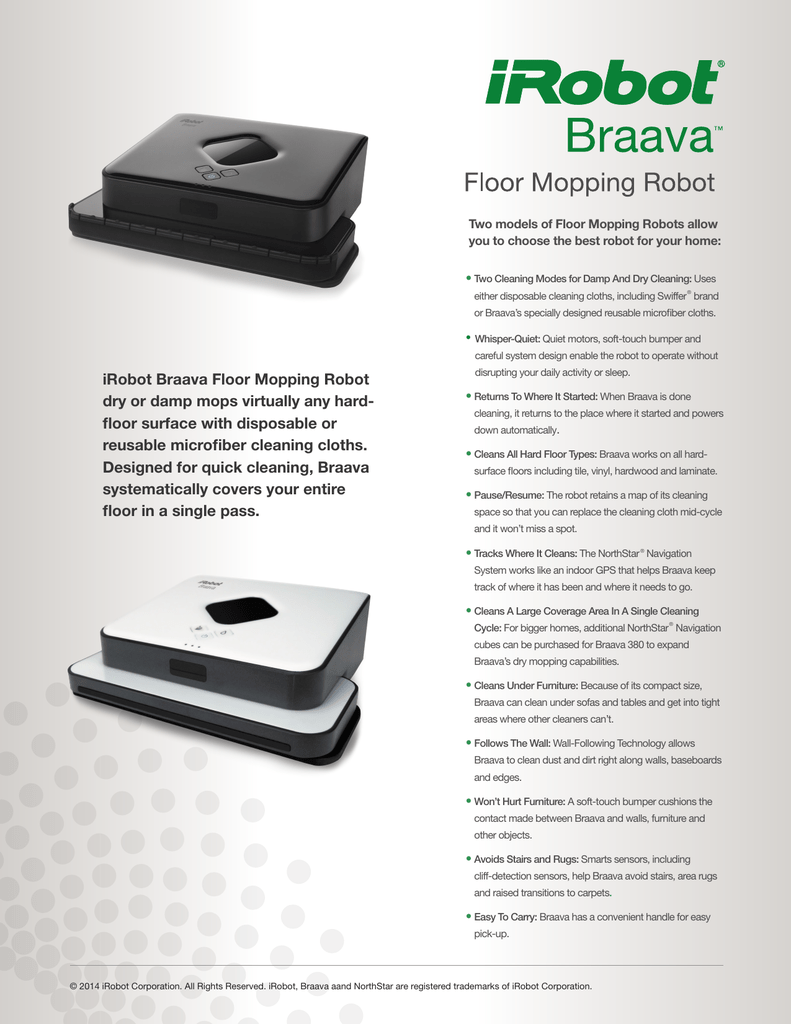 T
wo models of Floor Mopping Robots allow
you to choose the best robot for your home:
• T wo Cleaning Modes for Damp And Dry Cleaning: Uses
either disposable cleaning cloths, including Swiffer ® brand
or Braava's specially designed reusable microfiber cloths.
• Whisper-Quiet: Quiet motors, soft-touch bumper and
careful system design enable the robot to operate without
iRobot Braava Floor Mopping Robot
dry or damp mops virtually any hardfloor surface with disposable or
reusable microfiber cleaning cloths.
Designed for quick cleaning, Braava
systematically covers your entire
floor in a single pass.
disrupting your daily activity or sleep.
•R
eturns To Where It Started: When Braava is done
cleaning, it returns to the place where it started and powers
down automatically.
•C
leans All Hard Floor Types: Braava works on all hardsurface floors including tile, vinyl, hardwood and laminate.
•P
ause/Resume: The robot retains a map of its cleaning
space so that you can replace the cleaning cloth mid-cycle
and it won't miss a spot.
• T racks Where It Cleans: The NorthStar ® Navigation
System works like an indoor GPS that helps Braava keep
track of where it has been and where it needs to go.
•C
leans A Large Coverage Area In A Single Cleaning
®
Cycle: For bigger homes, additional NorthStar Navigation
cubes can be purchased for Braava 380 to expand
Braava's dry mopping capabilities.
• Cleans Under Furniture: Because of its compact size,
Braava can clean under sofas and tables and get into tight
areas where other cleaners can't.
• F ollows The Wall: Wall-Following Technology allows
Braava to clean dust and dirt right along walls, baseboards
and edges.
•W
on't Hurt Furniture: A soft-touch bumper cushions the
contact made between Braava and walls, furniture and
other objects.
•A
voids Stairs and Rugs: Smarts sensors, including
cliff-detection sensors, help Braava avoid stairs, area rugs
and raised transitions to carpets.
•E
asy To Carry: Braava has a convenient handle for easy
pick-up.
© 2014 iRobot Corporation. All Rights Reserved. iRobot, Braava aand NorthStar are registered trademarks of iRobot Corporation.

* Your assessment is very important for improving the work of artificial intelligence, which forms the content of this project