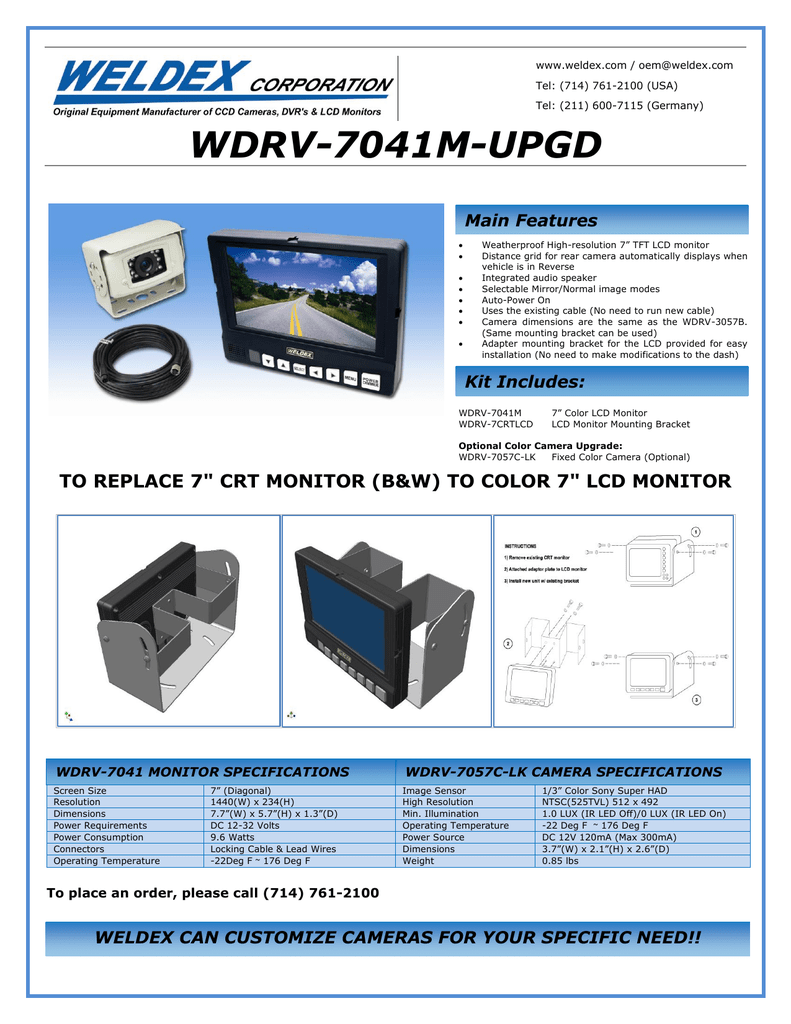 www.weldex.com / oem@weldex.com
Tel: (714) 761-2100 (USA)
Tel: (211) 600-7115 (Germany)
WDRV-7041M-UPGD
Main Features








Weatherproof High-resolution 7" TFT LCD monitor
Distance grid for rear camera automatically displays when
vehicle is in Reverse
Integrated audio speaker
Selectable Mirror/Normal image modes
Auto-Power On
Uses the existing cable (No need to run new cable)
Camera dimensions are the same as the WDRV-3057B.
(Same mounting bracket can be used)
Adapter mounting bracket for the LCD provided for easy
installation (No need to make modifications to the dash)
Kit Includes:
WDRV-7041M
WDRV-7CRTLCD
7" Color LCD Monitor
LCD Monitor Mounting Bracket
Optional Color Camera Upgrade:
WDRV-7057C-LK
Fixed Color Camera (Optional)
TO REPLACE 7" CRT MONITOR (B&W) TO COLOR 7" LCD MONITOR
WDRV-7041 MONITOR SPECIFICATIONS
WDRV-7057C-LK CAMERA SPECIFICATIONS
Screen Size
Resolution
Dimensions
Power Requirements
Power Consumption
Connectors
Operating Temperature
Image Sensor
High Resolution
Min. Illumination
Operating Temperature
Power Source
Dimensions
Weight
7" (Diagonal)
1440(W) x 234(H)
7.7"(W) x 5.7"(H) x 1.3"(D)
DC 12-32 Volts
9.6 Watts
Locking Cable & Lead Wires
-22Deg F ~ 176 Deg F
1/3" Color Sony Super HAD
NTSC(525TVL) 512 x 492
1.0 LUX (IR LED Off)/0 LUX (IR LED On)
-22 Deg F ~ 176 Deg F
DC 12V 120mA (Max 300mA)
3.7"(W) x 2.1"(H) x 2.6"(D)
0.85 lbs
To place an order, please call (714) 761-2100
WELDEX CAN CUSTOMIZE CAMERAS FOR YOUR SPECIFIC NEED!!

* Your assessment is very important for improving the work of artificial intelligence, which forms the content of this project