Hama Docking USB 2.0 Hub 1:4 User manual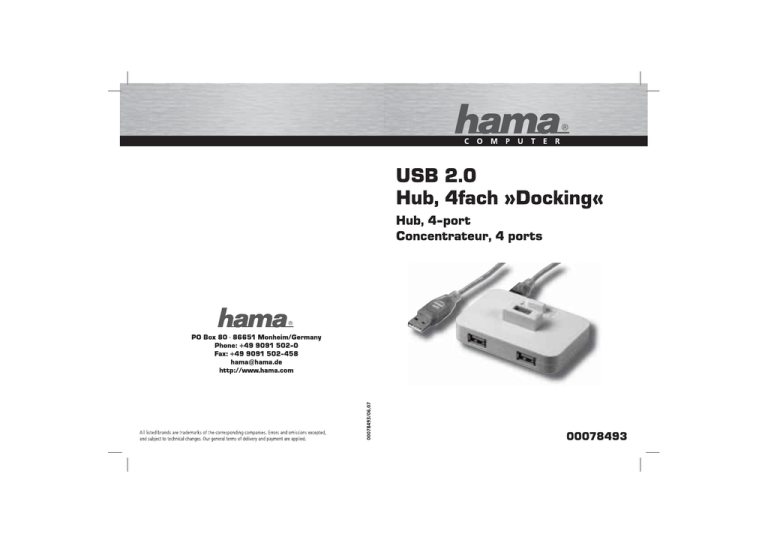 hama.
PO Box 80 - 86651 Monheim/Germany
Phone: +49 9091 502-0
Fax: +49 9091 502-458
[email protected]
http://www.hama.com
All listed brands are trademarks of the corresponding companies. Errors and omissions excepted,
and subject to technical changes. Our general terms of delivery and payment are applied.
00078493/06.07
COMPUTER
USB 2.0
®
Hub, 4fach »Docking«
Hub, 4-port
Concentrateur, 4 ports
00078493
(OD) Bedienungsanleitung
Packungsinhalt:
1x USB-2.0-Hub
1x Bedienungsanleitung
Systemvoraussetzung:
e Betriebssystem Windows 2000 ab SP 3,
XP ab SP 1, Vista oder Mac 0S 9.x
* freier USB-Anschluss, vorzugsweise USB 2.0
Sicherheitshinweise:
Sie haben ein hochwertiges elektronisches
Zubehör für Ihren Computer erworben, es ist
universell einsetzbar, allerdings ist folgendes zu
beachten:
e Schützen Sie das Gerät vor Druck- und
Stoßeinwirkung.
* Setzen Sie das Gerät keiner Feuchtigkeit aus,
da die Prázisionskontakte Schaden nehmen
kónnen.
e SchlieBen Sie das Gerát nicht an, wenn das
Gerät, die Anschlussleitung oder der
Netzadapter beschádigt sind.
einer Fachwerkstatt bzw. im Service-Center
durchfiihren.
* Verwenden Sie ausschließlich den
mitgelieferten original Netzadapter, oder
original Ersatzteile.
* Verwenden Sie ausschließlich das
mitgelieferte USB Anschlusskabel ohne
Verlängerung, da sonst die Datensicherheit
beeinträchtigt werden kann.
* Vergewissern Sie sich, dass alle ange-
schlossenen Geráte, das CE Zeichen tragen.
* Meiden Sie Wármequellen und direkte
Sonneneinstrahlung.
* Achtung! Halten Sie Kinder fern von
Elektro- und elektronischen Geräten.
* Achtung! Halten Sie Kinder von
Verpackungsmaterial fern. Es besteht
Erstickungsgefahr!
e Lassen Sie Reparaturen grundsätzlich nur von
Inbetriebnahme:
1. Schalten Sie Ihren PC ein und warten Sie
bis dieser hochgefahren ist. Verbinden Sie
durch das mitgelieferte USB-Kabel, den
USB-Hub mit Ihrem PC/ Notebook.
2. Bitte beachten Sie, dass bei der
Installation des USB Hub's kein Endgerät
angeschlossen sein darf.
Hinweis: Beim Anschließen und Trennen
des USB-Hubs und der USB-Geräte können
unterschiedliche Meldungen auf Ihrem
Bildschirm erscheinen. Bei Fragen lesen Sie
bitte im Handbuch Ihres
Computers oder Betriebssystems nach,
oder wenden sich an einen Fachmann.
3. Sie können nun Ihre USB-Peripheriegeräte
(z. B. Drucker, Scanner, etc.) an den USB-Hub
anschließen.Bitte beachten Sie bei der
Installation der Geräte, dass jedes Gerät
einzeln installiert werden muss, d.h. warten
Sie bitte ab, bis die Treiber des jeweiligen
Gerätes vollständig installiert wurden, bevor
Sie ein weiteres Gerät installieren.
4. Weiterhin ist es empfehlenswert, die am Hub
angeschlossenen Endgeräte mit eigenem
Strom zu versorgen, soweit dies möglich ist.
Hinweis: Zum Anschließen des USB-Hub
muss kein Treiber installiert werden.
(Sind im Betriebssystem Windows 2000 ab
SP3, XP ab SP1, Vista oder Mac OS 9.x
enthalten) Bei den angeschlossenen USB-
Geräten kann ein Treiber jedoch nötig sein.
Diesen erhalten Sie beim Kauf, oder beim
Hersteller des jeweiligen Gerätes.
Support- und Kontaktinformationen
Bei defekten Produkten:
Bitte wenden Sie sich bei Produktreklamationen an
Ihren Händler oder an die Hama Produktberatung.
Internet/World Wide Web:
Produktunterstützung oder Produktinformationen
bekommen Sie unter www.hama.com
Support Hotline — Hama Produktberatung:
Tel. +49 (0) 9091 / 502-115
Fax +49 (0) 9091 / 502-272
e-mail; [email protected]
Operating Instruction
Package contents:
1x USB 2.0 hub
1x operating instructions
System requirements:
* Operating system Windows 2000 from SP 3,
XP from SP 1, Vista or Mac OS 9.x
* Free USB connection, preferably USB 2.0
Safety instructions:
You have acquired a high-quality, electronic
accessory for your computer which is universal-
ly useable. Please observe the following points:
e Protectthe device against pressure and
impact.
e Do not expose the device to moisture. The
precision contacts can be damaged.
* To not connect the device if the device, the
connection lead or the mains adapter are
damaged.
* The device or other components must only be
repaired in a specialist shop or in a service
centre.
* Only use the enclosed original mains adapter
or original spare parts.
* Only use the enclosed USB connection cable
without extension. Otherwise, the data
security can be affected.
* Make sure that all connected devices are
CE-marked.
e Avoid heat sources and direct sunlight
exposure.
* Attention! Keep electrical equipment and
electronic devices out of reach of children.
* Attention! Keep packaging materials out of
reach of children! Danger of suffocation!
Putting into operation:
1. Switch on your PC and wait until it has
started up. Connect the USB hub with your
PC/notebook by means of the enclosed USB
cable.
2. Please make sure that no terminal device is
connected when you install the USB hub.
Note: When connecting and disconnecting
the USB hub and the USB devices, different
messages can appear on your screen.
Contact a specialist or consult the manual of
your computer or operating system if
you have any questions.
3. Now you can connect your USB peripheral
devices (e.g. printer, scanner etc.) to the USB
hub. When installing the devices you have to
install every devices separately, i.e. please
wait until the drivers of the respective device
have been completely installed before
installing another device.
4. |tis also recommendable — as far as this is
possible — to supply the terminal devices
which are connected to the hub with power
of their own.
Note: When connecting the USB hub, you do
not have to install drivers (are included in the
operating system Windows 2000 from SP3, XP
from SP1, Vista or Mac OS 9.x). A driver may
be necessary for the connected USB devices.
This one can be obtained from the
manufacturer of the respective device or
when purchasing such a device.
Support and contact information
If products are defective:
Please contact your dealer or Hama Product
Consulting if you have any claims.
Internet/World Wide Web:
Product support or product information can be
found at www.hama.com
Support hotline — Hama Product Consulting:
Tel. +49 (0) 9091 — 502-115
Fax +49 (0) 9091 / 502-272
e-mail: [email protected]
(® Mode d'emploi
Contenu du paquet :
1x Hub USB-2.0
1x notice d utilisation
Système requis :
e Système d'exploitation Windows 2000 à partir
de SP 3, XP à partir de SP 1, Vista ou
Mac 0S 9.x
* Interface USB disponible, de préférence
USB 2.0
Mesures de sécurité :
Vous avez acheté un accessoire électronique
de haute qualité pour votre ordinateur, il est
utilisable de manière universelle; par contre il
faut respecter les points suivants :
e Protégez l'appareil contre tout choc ou
pression.
* Ne posez pas l'appareil dans un endroit
humide ce qui pourrait endommager les
contacts de précision.
e Ne fermez pas l'appareil quand l'appareil, la
ligne de raccordement ou l'adaptateur de
réseau sont endommagés.
e Faites effectuer par principe les réparations
uniquement par un atelier spécialisé ou un
service après-vente.
e Utilisez uniquement l'adaptateur de réseau
d'origine fourni ou les pièces de rechange
d'origine.
e Utilisez uniquement le câble de connexion
USB fourni sans rallonge car celle-ci pourrait
limiter la sûreté des données.
* Assurez-vous que tous les appareils branchés
portent le signe CE.
e Evitez les sources de chaleur et tout
ensoleillement direct.
e Attention! Ne tenez pas les appareils
électriques et électroniques à portée de main
des enfants.
Attention! Ne mettez pas à la disposition des
enfants le matériel d'emballage. Il y a risque
d'étouffement!
Mise en marche :
1. Allumez votre PC et attendez qu'il démarre.
Avec le cordon USB fourni, reliez le hub USB
a votre PC/ordinateur portable.
. Faites en sorte que lors de l'installation du hub
USB aucun poste terminal ne soit branché.
Remarque : En branchant ou débranchant le
hub USB et les appareils USB il se peut que
différents messages apparaissent à l'écran.
En cas de questions veuillez consulter le
manuel d'utilisation de votre ordinateur ou
systeme d'exploitation ou adressez-
vous a un spécialiste.
. Vous pouvez brancher uniquement vos
périphériques USB (par ex. imprimante,
scanner, etc.) au hub USB. Veuillez installer
les appareils séparément l'un de l'autre;
cela signifie qu'il faut attendre que les pilotes
de chaque appareil soient entièrement
installés avant d'installer un autre appareil.
. De plus, il est recommandé d'alimenter en
courant les postes terminaux branchés, tant
que possible.
Remarque : Pour brancher le hub USB il n'est
pas nécessaire d'installer un pilote. (lIs sont
intégrés dans le systeme d'exploitation de
Windows 2000 a partir de SP3, XP a partir de
SP1, Vista ou Mac 0S 9.x). Cependant, il se
peut qu'un pilote soit nécessaire pour les
appareils USB reliés. Vous pouvez vous le
procurer en magasin ou auprès du fabricant
de l' appareil concerné.
No
o
=>
Informations de support et de contact
En cas de produits défectueux :
En cas de réclamations sur le produit, veuillez
vous adresser á votre vendeur spécialisé ou au
service de conseil des produits de Hama.
Internet/World Wide Web:
Pour des informations ou soutiens sur les produits,
veuillez consulter le site internet www.hama.com
Support Hotline (ligne directe) — Service du
conseil des produits de Hama :
Tel. 0049 9091 / 502-115
Fax 0049 9091 / 502-272
e-mail : [email protected]
Inhoud van de verpakking:
1х USB 2.0 hub
1x gebruiksaanwijzing
Systeemeisen:
e Besturingssysteem Windows 2000 vanaf
SP 3, XP vanaf SP 1, Vista of Mac OS 10.x
e Vrije USB-aansluiting, bij voorkeur USB 2.0
Veiligheidsinstructies:
U heeft een hoogwaardig elektronisch onderdeel
voor uw computer aangeschaft dat univer-
seel gebruikt kan worden. U dient echter het
volgende in acht te nemen:
e Bescherm hettoestel tegen druk en stoten.
* Bescherm het toestel tegen vocht,
aangezien de precisiecontacten beschadigd
kunnen raken.
e Sluit het toestel niet aan als het toestel zelf,
de aansluitkabel of de voedingsadapter
beschadigd zijn. Eventuele reparaties aan de
voedingsadapter mogen alleen uitgevoerd
worden door geautoriseerd vakpersoneel.
e Laatreparaties in principe alleen door een
vakman of in het Service-Center uitvoeren.
e Gebruik uitsluitend de meegeleverde
originele voedingsadapter of de originele
reserveonderdelen.
* Gebruik uitsluitend de meegeleverde USB-
aansluitkabel zonder verlenging, aangezien
anders de gegevensbescherming negatief
beïnvioed kan worden.
e Controleer of alle aangesloten apparatuur
van het CE-teken voorzien is.
e Vermijd warmtebronnen en direct zonlicht.
e Attentie! Houd kinderen uit de buurt van
elektrische en elektronische apparatuur.
e Attentie! Houd kinderen uit de buurt van
verpakkingsmateriaal. Er bestaat gevaar van
stikken!
Ingebruikname:
1. Schakel uw pc in en wacht tot deze opge
start is. Sluit met de meegeleverde USB-
kabel de USB-hub op uw pc/notebook aan.
2. Let erop dat er bij de installatie van de USB-hub
geen eindapparaat aangesloten mag zijn.
Aanwijzing: bij het aansluiten en loskoppelen
van de USB-hub en de USB-apparatuur
kunnen verschillende meldingen op uw
beeldscherm verschijnen. Lees bij vragen het
handboek van uw computer of het
besturingssysteem na of neem contact op
met een vakman.
3. U kunt nu uw USB-randapparatuur (bijv.
printer, scanner, etc.) op de USB-hub
aansluiten.Let er bij de installatie van de
apparatuur op dat elk toestel afzonderlijk
geinstalleerd moet worden, d.w.z. wacht tot
de driver van het betreffende toestel volledig
geinstalleerd is voordat u een volgend toestel
installeert.
. Verder is het aan te bevelen de eindapparatu
ur die op de hub aangesloten is van eigen
stroom te laten voorzien, voor zover dit
mogelijk is. Aanwijzing: voor het aansluiten
van de USB-hub hoeft er geen driver
geinstalleerd te worden. (Zijn geintegreerd in
de besturingssystemen Windows 2000 vanaf
SP3 , XP vanaf SP1, Vista of Mac OS 10.x). Bij
de aangesloten USB-apparatuur kan een
driver echter toch nodig zijn. Deze ontvangt u
bij aanschaf of bij de fabrikant van het
betreffende toestel.
a
Support- en contactinformatie
Bij defecte producten:
Neem bij klachten over het product contact op
met uw verkoper of met de afdeling Productad-
vies van Hama.
Internet/World Wide Web:
Productondersteuning of productinformatie is
verkrijgbaar onder www.hama.com
Support Hotline — Hama productadvies:
Tel. +49 (0) 9091 / 502-115
Fax +49 (0) 9091 / 502-272
e-mail: [email protected]
O) Hinweis zum Umweltschutz:
b dem Zeitpunkt der Umsetzung der europáischen Richtlinie 2002/96/EU in nationales Recht gilt folgendes:
Elektrische und elektronische Geräte dürfen nicht mit dem Hausmüll entsorgt werden. Der Verbraucher ist gesetzlich
verpflichtet, elektrische und elektronische Geräte am Ende ihrer Lebensdauer an den dafür eingerichtete
öffentlichen Sammelstellen oder an die Verkaufstelle zurückzugeben. Einzelheiten dazu regelt das jeweilige Landesrecht.
Das Symbol auf dem Produkt, der Gebrauchsanleitung oder der Verpackung weist auf diese Bestimmungen hin
Mit der Wiederverwertung, der stofflichen Verwertung oder anderer Formen der Verwertung von Altgeräten leisten Sie einen
wichtigen Beitrag zum Schutz unserer Umwelt. In Deutschland gelten oben genannte Entsorgungsregeln,
laut Batterieverordnung, für Batterien und Akkus entsprechend.
@D Note on environmental protection
A e implementation of the European Directive 2002/96/EU in the national legal system, the following applies:
Electrical and electronic devices may not be disposed of with domestic waste.
Consumers are obliged by law to return electrical and electronic devices at the end of their service lives to the
public collecting points set up for this purpose or point of sale. Details to this are defined by the national law of the respective
country. This symbol on the product, the instruction manual or the package indicates that a product is subject to thes
regulations. By recycling, reusing the materials or other forms of utilising old devices, you are making an important contribution
to protecting our environment.
R 1 Santi
de l'environnement
Conformément à la directive européenne 2002/96/CE, et afin d'atteindre un certain nombre d'objectifs en matière de protection
de l'environnement, les règles suivantes doivent être appliquées. Elles concernent les déchets d'équipement électriques et
électroniques. Le pictogramme "picto" présent sur le produit, son manuel d'utilisation ou son emballage indique que le produit
est soumis à cette réglementation. Le consommateur doit retourner le produit usager aux points de collecte prévus à cet effet.
Il peut aussi le remettre à un revendeur. En permettant enfin le recyclage des produits, le consommateur contribuera à la
п. protection de notre environnement. C'est un acte écologique.
® Nota sobre la protección medioambiental:
Después de la puesta en marcha de la directiva Europea 2002/96/EU en el sistema legislativo nacional, Se aplicara lo siguiente:
Los aparatos eléctricos y electrónicos, así como las pilas y las pilas recargables, no se deben evacuar en la basura doméstica.
El usuario está legalmente obligado a llevar los aparatos eléctricos y electrónicos, así como pilas y pilas recargables,
al final de su vida útil a los puntos de recogida comunales o a devolverlos al lugar donde los adquirió.
Los detalles quedaran definidos por la ley de cada país. El símbolo en el producto, en las instrucciones de uso o en el embalaje
hace referencia a ello. Gracias al reciclaje, al reciclaje del material o a otras formas de reciclaje de aparatos usados,
contribuye Usted de forma importante a la protección de nuestro medio ambiente.
ED Nntiti da da H k = | mil:
Ten gevolge vandei invoering van de Europese Richtlijn 2002/96/EU in het nationaal juridisch system,
is het volgende van toepassing:
Electrische en electronische toestellen mogen niet weggegooid worden tesamen met het huishoudelijk afval.
Consumenten zijn wettelijk verplicht om electrische en elctronische apparaten op het einde van gebruik in te dienen bij openbare
verzamelplaatsen speciaal opgezet voor dit doeleinde of bij een verkooppunt. Verdere specificaties aangaande dit ondenwer
п. zijn omschreven door de nationale wet van het betreffende land. Dit symbool op het product, de gebruiksaanwijzing o
verpakking duidt erop dat het product onderworpen is aan deze richtlijnen. Door te recycleren, hergebruiken van materialen of
andere vormen van hergebruiken van oude toestellen, levert u een grote bijdrage aan de bescherming van het mileu.
D Informaziont per protezione ambientale:
o limplementazione della Direttiva Europea 2002/96/EU nel sistema legale nazionale, ci sono le seguenti applicazioni:
I dispositivi elettrici ed elettronici non devono essere considerati rifiuti domestici.
| consumatori sono obbligati dalla legge a restituire | dispositivi elettrici ed elettronici alla fine della loro vita utile
ai punti di raccolta pubblici preposti per questo scopo o nei punti vendita. Dettagli di quanto riportato sono definiti dalle
leggi nazionali di ogni stato.
EE Questo simbolo sul prodotto, sul manuale d'istruzioni o sull'imballo indicano che questo prodotto é soggetto a queste regole.
® Notaem Protecçäo Ambienta
Apôs a implementaçäo de directiva comunitária 2002/96/EU no sistema legal nacional, o seguinte aplica-se:
Todos os aparelhos eléctricos e electrónicos náo podem ser despejados juntamente com o lixo doméstico. Consumidores estäo
obrigados por lei a colocar os aparelhos eléctricos e electrónicos sem uso em locais públicos específicos para este efeito ou
no ponto de venda. Os detalhes para este processo súo definidos por lei pelos respectivos países. Este símbolo no produto, o
manual de instrugóes ou a embalagem indicam que o produto está sujeito a estes regulamentos. Reciclando, reutilizando os
BN materiais dos seus velhos aparelhos, esta a fazer uma enorme contribuiçäo para a protecçäo do ambient
@ Not om miljéskydd:
Efter implementeringen av EU direktiv 2002/96/EU i den nationella lagstiftningen, gáller fóljande:
Elekriska och elektroniska apparater far inte avyttras med hushéllsavfall.
Konsumenter ár skyldiga att áterlámna elektriska och elektroniska apparater
vid slutet av dess livslángd till, for detta ándamál, offentliga uppsamlingsplatser. Detaljer for detta definieras via den nationella
lagstiftningen i respektive land. Denna symbol pa produkten, instruktionsmanualen eller pá fórpackningen indikerar att produkten
innefattas av denna bestámmelse. Genom átervinning och áteranvándning av material bidrar du till att skydda milján och din
omgivning.
€N Ympéristonsuolelua koskeva ohje:
a láhtien, kun Euroopan unionin direktiivi 2002/96/EU otetaan käyttôäën kansallisessa lainsäädännässä,
pätevit seuraavat määrä
Sähkö- ja elektroniikkalaitteita ei saa hävittää talousjätteen mukana. Kuluttajalla on lain mukaan velvollisuus toimittaa sähkä- ja
elektroniikkalaitteet niiden käyttäiän päätyttyä niille varattuihin julkisiin keräyspisteisiin tai palauttaa ne myyntipaikkaan. Tähän
lüttyvistä yksityiskohdista säädetään kulloisenkin osavaltion laissa. Näistä määräyksistä mainitaan myôs tuotteen symbolissa,
п. kayttóohjeessa tai pakkauksessa. Uudelleenkaytólla, materiaalien uudelleenkäytôllä tai muilla vanhojen laitteiden
uudelleenkäyttôtavoilla on tärkeä vaikutus yhteisen suojelussa
ED Weka7nwki d: ty } & 1 eb
Od czasu wprowadzenia europejskiej dyrektywy 2002/96/EU do prawa narodowego dao nastepujace ustalenia:
Urzadzeñ elektrycznych ¡ elektronicznych nie na alezy wyrzucaé wraz z innymi odpadami dom
Uzytkownik zobowigzany jest, niepotrzebne lub zniszczone urzadzenia elektryczne odniesé do pu Punkt zbiôrki lub do sprzedawcy.
Szczegôtowe kwestie reguluja przepisy prawne danego kraju.
Sore otym symbol eh e kosza umieszezony na opakowaniu.
naturalne.
JE F
@ KórnyezetvédeImi tudnivalók:
európai irányelvek 2002/96/EU ajánlása szerint, a megjelólt idóponttól kezdve,
minden EU-s tagéllamban érvényesek a kôvetkezôk:
À leselejtezett elektromos és elektronikus készülékeket nem szabad a haztartasi szemétbe dobni
Az elhasznált és múkodésképtelen elektromos és elektronikus készülékek gyüjtésére tôrvényi elôirés kôtelez mindenkit, ezért
azokat el kell szallitani egy kijelólt gyújtó helyre vagy visszavinni a vásárlás helyére.
termék csomagoläsän feltüntetett szimbôlum egyértelmd jelzést ad erre vonatkozóan a felhasználónak.
A régi készúlékek begyújtése, visszaváltása vagy bérmilyen formaban torténd Ujra hasznositasa kozos hozzajarulas
kôrnyezetünk védelméhez.
EZ Ochrana Zivotniho prostredi:
Evropská smérnice 2002/96/EU stanovuje:
Elektrické a elektronické prístroje se nesmí vhazovat do domáciho odpadu.
Flektrick6 a elektronické pristroje musi byt zlikvidovány podle zákona na mistech
k tomu
Recyklaci nebo jinym zplsobem zpracovani vyrazné prispivate
k ochrané naseho Zivotniho prostredil
CO Ochrana Zivotného prostredia:
Eurôpska smernica 20002/96/EU stanovuje:
Elektrické a elektronické zariadenia sa nesmu vyhadzovat do domécel
odpadu. Spotrebitel je zo zdkona povinny zlikvidovat elektrické a lcd zariadenia na miesta k tomu uréené.
Symbolizuje to obrézok v navode na poutzitie, alebo na balení vyrobku.
Recykláciou, alebo inÿmi formami vyuZitia starych pristrojov prispievate v
и. znacnej miere k ochrane vasho Zivotného prostredia.
@ Ver Rol я Эла
Anó m oom Tou n Eupanaikt) Obnyia 1 2002/96 JEE & Ovikó Sil x0 TQ ete:
> г a > м 1 Ar E У
втотрёфе! JAEkT( EC 6с TEAOG me toc TOUG i бб п BRE! Ó i
ota cordova ayopúc. Ol pé OIG To aOpBoA (A проём, ото ay Yoong
| стс ё ба TÓEEIC. Me mv еуоопоустопот, mv van ТОМ ОМКОМ Й he áMouc TRÓTIOUC
ин обопой Jonc Tov паЛаюм 3 HH DY poo ao aT Tn Feppavía t0yúduY avTiOTOIN(a OL
& A Ал .
p c amóppibnc UNO pe Te TOV KaVOVIGHO \ G 5
CU Охрана окружающей среды:
С момента
Электри рибор 6 Потребитель, согласно
закону, обязан у риборы в специал: y
сбора, Леталь [ р йосу y Te
законодательств OM данных пр инструкции
ни по эксплуатации или упаковке. ны переработке, I | no утилизации
бывших уделяй р ру й среды. В соответствии с предписаниями
по обращению c батареями, в Ге; I действуют для у Ц
GR Cevre koruma uyarist:
Avrupa Birligi D | / lusal yasal uygulamalar ici du tarihten itib
Elektrikli ik cihazl | | çô | lid Túketiciler igin | I lismayan elektrikdi
i ötü СНК! yerlere geri verme > yasal bir Juluk Bu konu île ilgili dns so
alt 'le nihaol:
yasalarla dúzenlenmektedir. L Ürün üzerinde. kull:
cihazlarin geri kazanimi, yapildikl | Lori zur
bir katkida bulunursunuz. Yukanda ad tik toplama kural Almanya'da pi" ve aküler i için de gegerlidir.
© Anvisninger til beskyttelse af miljget:
Efter implementeringen af det europæiske direktiv 2002/96/EU i det nationale lovgivningssystem geelder felgende:
Elektriske og elektroniske apparater ma ikke bortskaffes med husholdningsaffaldet. Forbrugeren er ved afslutningen af elektriske
og elektroniske apparaters levetid lovmassigt forpligtet til at aflevere disse pá de dertil indrettede offentlige
indsamlingssteder eller hos salgeren. Enkeltheder vedrerende dette fastleegges af de respektive landes nationale lovgivning.
Dette symbol pa produktet, betjeningsvejledningen eller emballagen viser, at produktet er underlagt disse bestemmelser.
Med genanvendelse, genanvendelse af materialer eller andre former for genbrug af gamle apparater yder du et vigtigt bidrag
til beskyttelse af vores miljg.
Dm Informasjon om beskyttelse av miljget:
implementering av EU-direktiv 2002/96/EU i det nasjonale lovverk, er felgende gjort gjeldende:
Elektrisk og elektronisk utstyr skal ikke kastes sammen med husholdningsavfa
Forbrukere er palagt ved lov à returnere elektrisk og elektronisk utstyr ved enden av levetiden til offentlige oppsamingspunkter,
oppsatt for dette formal eller til utsalgssteder for slikt utstyr. Detaljer rundt dette er definert i lovverketi det res,
land. Dette symbolet pâ produktet, bruksanvisningen eller forpakningen forteller at et produkt faller inn under disse betingelsene.
Ved resirkulering, gjenbruk av materialet eller pd andre méter a nyttiggjere gammelt utstyr bidrar du pá en viktig máte til
& beskytte vart felles miljg!
Informationstechnische Einrichtung Class A ©)
Warnung! Dies ist eine Einrichtung der Klasse A.
Diese Einrichtung kann im Wohnbereich
Funkstórungen verursachen. In diesem Fall kann
vom Betreiber verlangt werden, angemessene
Maßnahmen durchzuführen.
Class A information technology equipment
Warning! This device is categorized as class
A equipment. This equipment can cause radio
interference in living spaces. If this is the case, you
can request the operator to undertake appropriate
measures to prevent such interference.
Dispositif d'informations techniques classe A CP)
Avertissement ! Ce dispositif appartient à la
classe À. Ce dispositif est susceptible de
provoquer des perturbations radioélectriques dans
une zone habitable. Il peut être exigé de l'utilisateur
de prendre des mesures appropriées.
Equipo de tecnología de informacién classe AP D
Aviso: Este es un aparato de la clase À. Este
aparato puede provocar interferencias en el ámbito
doméstico. En este caso, el usuario puede estar
obligado a tomar medidas adecuadas.
Informatietechnische inrichting Class A
Waarschuwing! Dit is een klasse-A-inrichting. Deze
inrichting kan in woonomgevingen storingen vero-
orzaken. In dat geval dient de gebruiker passende
maatregelen te nemen.
Dispositivo per tecnologie dellinformazione CD
classe A
Attenzione! Questo € un dispositivo della classe A
che pud causare disturbi radio nella zona abitativa. In
questo caso l'esercente puó richiedere di prendere
particolari provvedimenti.
Texviki 61áTOEN evnuépwong kamyopiag A
Mpoewdonoinon! Au gival pia Sidragn kamyopiag
A. Au 1 61áTOEN umopei va TIPOKAXÉCEI
NEKTPONAYWITIKÉC TIAPELIBONÉC OE xapouc Blapovic.
Le aut mv TIEPÍTTWON LITOPEÍ va TNOEÍ aTTÓ tov
rok va AdBel Ta [email protected] péTpa.
@
Informationsteknisk enhet klass À
Varning! Detta är en enhet enligt klass À. Dessa
enheter kan fôrorsaka radiostórningar ¡ bostáder.
| detta fall kan driftsansvarig álággas att vidtaga
passande âtgärder.
Luokan À tietotekniikkalaite
Varoitus: Tämä on A-luokan laite. Támá laite voi
aiheuttaa radiohäiriôitä asunnossa käytettäessä.
Siinä tapauksessa käyttäjältä voidaan edellyttää
kohtuullisia korjaustoimia.
Specyfikacja informacyjno techniczna -
urzadzenie klasy A
UWAGA! Urzadzenie klasy A. Urzadzenie moze
powodowaé zaktócenia w obrebie mieszkania. W
takim wypadku uzytkownik musi przedsigwziaé
odpowiednie kroki zapobiegawcze.
Információtechnikai berendezés, A-osztály m
Figyelem! Ez az eszköz A-osztályú berendezés.
Ez az eszkoz lakasban lizemeltetve rádiófrekvenciás
zavart kelthet. Ha hosszabb idón át iizemeltetve, a
kôzelben lévô készülékeket zavarja,
célszerü âthelyezni mâs kôrnyezetbe.
Technicko informacni zarizeni tridy A
Varování! Tohle je zarízení trídy A. Múze zpúsobit
rádiové rusení v obytné zóné. V takovém prípadé
múze byt pozadováno od provozovatele, aby provedl
prislusná opatrení.
Technicko-informacné zariadenie triedy A
POZOR! Toto je zariadenie triedy A. Móze spósobit
rádiové ruSenie v obytnej zóne. V takomto pripade
moze byt pozadované od prevadzkovatela, aby urobil
prislusné opatrenia.
Aparelho de tecnologia da informaçäo Class A (Р>
Aviso! Este é um aparelho de Classe À. Este
aparelho pode provocar interferências em âreas
residenciais. Neste caso, pode-se exigir ao utilizador
que tome as medidas adequadas.
Информационное техническое устройство
класса А
Предупреждение! Устройство относится к
приборам класса А. Устройство может создавать
радиопомехи в жилых помещениях. В этом случае
эксплуатационник, возможно, будет обязан принять
соответствующие меры по их устранению.
A sinifi bilgi teknidi tertibati
Uyari! Bu A sinifi bir donanimdir. Bu tertibat oturma
alanlarinda parazitlere sebep olabilir. Bu durumda
isleticisinin uygun ónlemleri almas: gerekebilir.

* Your assessment is very important for improving the work of artificial intelligence, which forms the content of this project