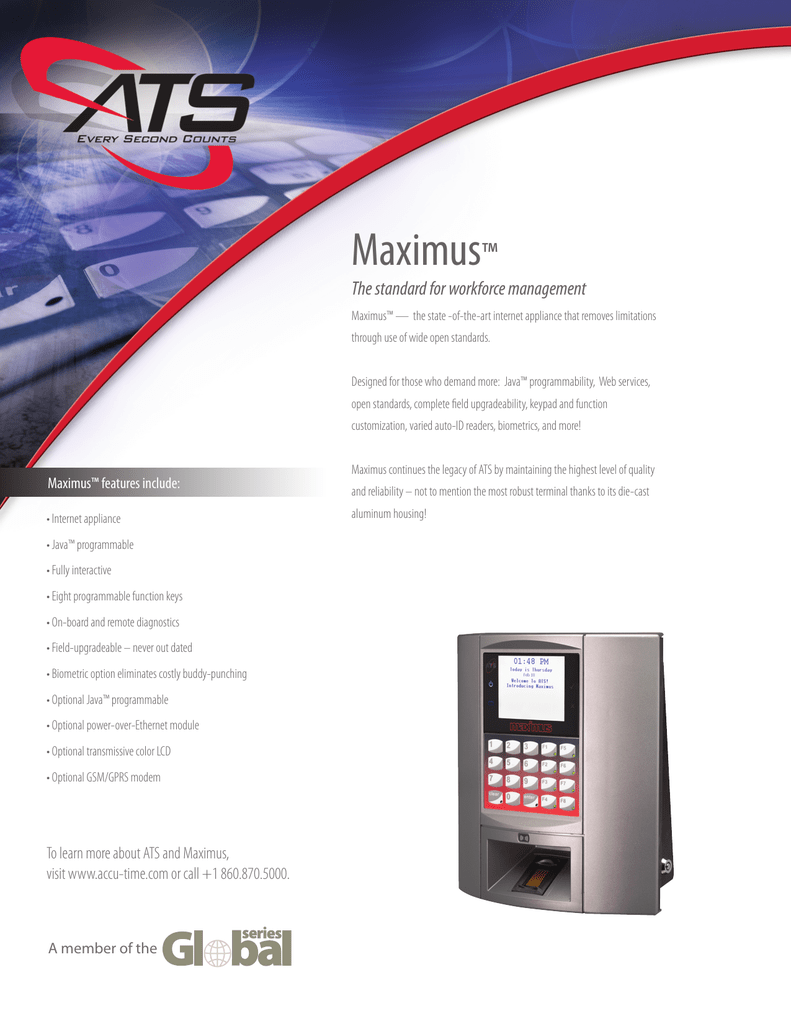 Maximus™
The standard for workforce management
Maximus™ — the state -of-the-art internet appliance that removes limitations
through use of wide open standards.
Designed for those who demand more: Java™ programmability, Web services,
open standards, complete field upgradeability, keypad and function
customization, varied auto-ID readers, biometrics, and more!
Maximus™ features include:
• Internet appliance
• Java™ programmable
• Fully interactive
• Eight programmable function keys
• On-board and remote diagnostics
• Field-upgradeable – never out dated
• Biometric option eliminates costly buddy-punching
• Optional Java™ programmable
• Optional power-over-Ethernet module
• Optional transmissive color LCD
• Optional GSM/GPRS modem
To learn more about ATS and Maximus,
visit www.accu-time.com or call +1 860.870.5000.
A member of the
Maximus continues the legacy of ATS by maintaining the highest level of quality
and reliability – not to mention the most robust terminal thanks to its die-cast
aluminum housing!
Connec ticut • Chicago • Sarasota • Boston • United Kingdom • Netherlands
. Specifications
..................................................................
DISPLAY
CLOCK
KEYPAD
128 x 64 pixel monochrome LCD (optional transmissive color LCD)
Battery-backed real-time clock, 12- or 24-hour format (quartz precision)
20-key tactile 4x5 matrix Numeric keypad, 0-9
Eight software-defined function keys
Clear/Enter keys
LED illuminated keys
Customizable overlay allows for unique graphic options
MEMORY
Linux: 16 MB RAM and 32 MB flash
Optional Java: 128 MB RAM and 128 MB flash
PROGRAMMING Java™ option
Web services capable
ATS Universal Command Set or third-party custom application packages
PLATFORM
DIAGNOSTICS INTERFACE
Linux®
On-board diagnostics, and remote diagnostic capability
Standard 802.3 10/100 BASE-T Ethernet with DHCP
HTTP, FTP, XML capable
Optional EIA standard RS232
Optional internal modem (FCC Part 68 certified)
Optional GSM/GPRS modem
Internal USB port for mass storage device
ENCLOSURE POWER
Die-cast aluminum housing hinged to key-lockable base
12 VDC (nominal) 1.25A, 15W maximum
Optional uninterruptible power supply with charger
Optional IEEE 802.3af-compliant power over Ethernet
ENVIRONMENT PHYSICAL
CERTIFICATIONS
ACCESSORIES
Operation Temperature: 0˚ to 50˚C (32˚ to +122˚F)
Storage Temperature: -20˚ to 80˚C (-4˚ to +176˚F)
21.33 cm x 22.22 cm x 9.91 cm (8.4" x 8.75" x 3.9")
CE Mark, FCC Part 15 Class A
• Biometric readers – 1:1 and 1:n – fingerscan
• Integrated visible or infrared barcode readers
• Integrated magnetic stripe readers
• Smartcard readers – contactless (Mifare™, iClass®)
• Integrated proximity readers
• Solid-state or dry-contact relay modules
• Serial interface for printer
Accu-Time Systems, Inc.
One Accu-Time Plaza
Route 83
Ellington, CT 06029
TEL: +1 (860) 870-5000
FAX: +1 (860) 872-1511
Toll Free: 1-800-355-4648
sales@accu-time.com
www.accu-time.com
Accu-Tech Systems, Ltd.
C1 Caerphilly Business Park
Caerphilly
Mid Glamorgan
CF83 3ED
United Kingdom
TEL: +44 (0) 2920 885599
FAX: +44 (0) 2920 868666
Continental Europe
TEL: +31 (0) 318 75 41 33
Latin America
ventas@accu-time.com
TEL: +1 (617) 573-5073
All of the ATS
Global Series
products are
100% RoHS
compliant
To learn more about ATS, visit www.accu-time.com or call +1 860-870-5000.
As part of Accu-Time's continuous improvement process, we reserve the right to change product specifications without notice.

* Your assessment is very important for improving the work of artificial intelligence, which forms the content of this project