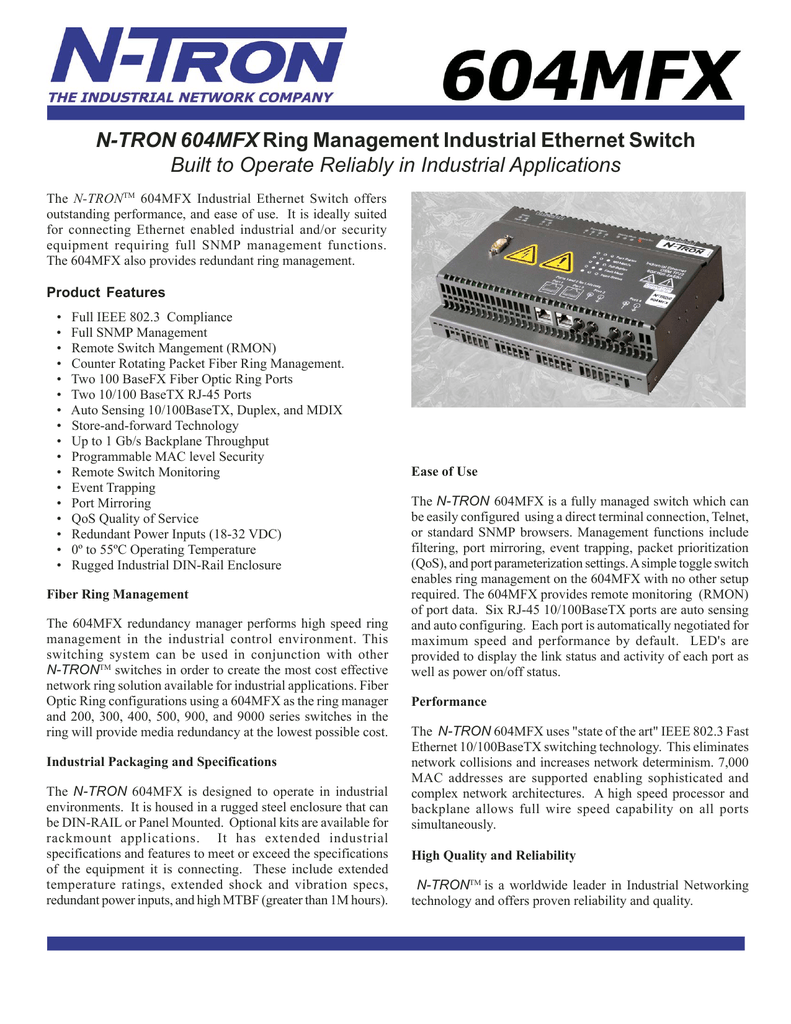 N-TRON 604MFX Ring Management Industrial Ethernet Switch
Built to Operate Reliably in Industrial Applications
The N-TRONTM 604MFX Industrial Ethernet Switch offers
outstanding performance, and ease of use. It is ideally suited
for connecting Ethernet enabled industrial and/or security
equipment requiring full SNMP management functions.
The 604MFX also provides redundant ring management.
Product Features
•
•
•
•
•
•
•
•
•
•
•
•
•
•
•
•
•
Full IEEE 802.3 Compliance
Full SNMP Management
Remote Switch Mangement (RMON)
Counter Rotating Packet Fiber Ring Management.
Two 100 BaseFX Fiber Optic Ring Ports
Two 10/100 BaseTX RJ-45 Ports
Auto Sensing 10/100BaseTX, Duplex, and MDIX
Store-and-forward Technology
Up to 1 Gb/s Backplane Throughput
Programmable MAC level Security
Remote Switch Monitoring
Event Trapping
Port Mirroring
QoS Quality of Service
Redundant Power Inputs (18-32 VDC)
0º to 55ºC Operating Temperature
Rugged Industrial DIN-Rail Enclosure
Fiber Ring Management
The 604MFX redundancy manager performs high speed ring
management in the industrial control environment. This
switching system can be used in conjunction with other
N-TRONTM switches in order to create the most cost effective
network ring solution available for industrial applications. Fiber
Optic Ring configurations using a 604MFX as the ring manager
and 200, 300, 400, 500, 900, and 9000 series switches in the
ring will provide media redundancy at the lowest possible cost.
Industrial Packaging and Specifications
The N-TRON 604MFX is designed to operate in industrial
environments. It is housed in a rugged steel enclosure that can
be DIN-RAIL or Panel Mounted. Optional kits are available for
rackmount applications. It has extended industrial
specifications and features to meet or exceed the specifications
of the equipment it is connecting. These include extended
temperature ratings, extended shock and vibration specs,
redundant power inputs, and high MTBF (greater than 1M hours).
Ease of Use
The N-TRON 604MFX is a fully managed switch which can
be easily configured using a direct terminal connection, Telnet,
or standard SNMP browsers. Management functions include
filtering, port mirroring, event trapping, packet prioritization
(QoS), and port parameterization settings. A simple toggle switch
enables ring management on the 604MFX with no other setup
required. The 604MFX provides remote monitoring (RMON)
of port data. Six RJ-45 10/100BaseTX ports are auto sensing
and auto configuring. Each port is automatically negotiated for
maximum speed and performance by default. LED's are
provided to display the link status and activity of each port as
well as power on/off status.
Performance
The N-TRON 604MFX uses "state of the art" IEEE 802.3 Fast
Ethernet 10/100BaseTX switching technology. This eliminates
network collisions and increases network determinism. 7,000
MAC addresses are supported enabling sophisticated and
complex network architectures. A high speed processor and
backplane allows full wire speed capability on all ports
simultaneously.
High Quality and Reliability
N-TRONTM is a worldwide leader in Industrial Networking
technology and offers proven reliability and quality.
608MFX Ring Management Switch Ordering Information
604MFX-ST
604MFXE-ST-15
604MFXE-ST-40
604MFXE-ST-80
Two 10/100BaseT X Ports and Two 100BaseFX Multimode Fiber Ring Ports
(ST Connectors - 2 km fiber length)
Two 10/100BaseTX Ports and Two 100BaseFX Singlemode Fiber Ring Ports
(ST Connectors - 15 km fiber length)
Two 10/100BaseTX Ports and Two 100BaseFX Singlemode Fiber Ring Ports
(ST Connectors - 40 km fiber length)
Two 10/100BaseTXPorts and Two 100BaseFX Singlemode Fiber Ring Ports
(ST Connectors - 80 km fiber length)
Specifications
Reliability
MTBF:
Switch Properties
Number of MAC Addresses
Aging Time
Latency
Switching Method
Ring Redundancy Resolution
7,000
Programmable
4 µs
Store & Forward
Less Than 300 ms
Physical
Height:
Width:
Depth:
Weight:
5.50"
8.55"
2.75"
3.08 lbs
Electrical
Input Voltage:
Input Current:
Inrush:
18-32 VDC (Redundant Inputs)
1000mA@24V
10.5Amp/7ms@24V
Environmental
Operating Temperature:
Storage Temperature:
Operating Humidity:
Operating Altitude:
(13.65 cm)
(21.70 cm)
(6.90 cm)
(1.40 kg)
0oC to 55oC
32oF to 131oF
-40oC to 80oC
-40oF to 176oF
10% to 95%
(Non Condensing)
0 to 10,000 ft.
Shock and Vibration (bulkhead mounted)
Shock:
200g @ 10ms
Vibration:
1g, 10-500Hz, 3 axis
Seismic:
20g, 5-200Hz, 15s
Greater Than 1M Hours (measured)
Network Media
10BaseT:
100BaseTX:
100BaseFX
Multimode:
Singlemode:
>Cat3 Cable
>Cat5 Cable
50-62.5/125µm
7-9/125µm
Fiber Transceiver Characteristics
Fiber Length
2km*
15km**
TX Power Min
-19dBm -15dBm
RX Sensitivity Max
-32dBm -29dBm
Wavelength
1310nm 1310nm
40km**
-5dBm
-34dBm
1310nm
80km**
-5dBm
-34dBm
1550nm
* Multimode Fiber Optic Cable
** Singlemode Fiber Optic Cable
Recommended Wiring Clearance
Bottom:
5" (10.16 cm)
Top:
1" (2.54 cm)
Emissions and Safety Approvals
FCC Part 15 Class A, CE, UL Listed, CSA,
CLASS I, DIV 2, GROUPS A,B,C,D,T4, GOST-R Certified
Contact Information
N-TRON Corp.
820 S. University Blvd.,
Suite 4E
Mobile, AL 36609 USA
TEL: (251) 342-2164
FAX: (251) 342-6353
Website: www.n-tron.com
Email: N-TRON_info@n-tron.com
IntertechnaEurope
AB
N-TRON
GmbH
Kvarnvägen
15
Alte
Steinhauserstr
19
663 40Cham
Hammarö
6330
/ Zg
Sweden
Switzerland
Tel: +46
54 41
52 7406636
10 00
TEL:
+41
Fax:
+46
54
52
22 97
FAX: +41 41 7406637
Web: www.intertechna.se
Email: info@intertechna.se
REV 080618
® 2008 N-TRON,Corp. N-TRON and the N-TRON logo are trademarks of N-TRON, Corp. Product names mentioned herein are for identification purposes only and
may be trademarks and/or registered trademarks of their respective company. Specifications subject to change without notice. Printed in USA.

* Your assessment is very important for improving the work of artificial intelligence, which forms the content of this project