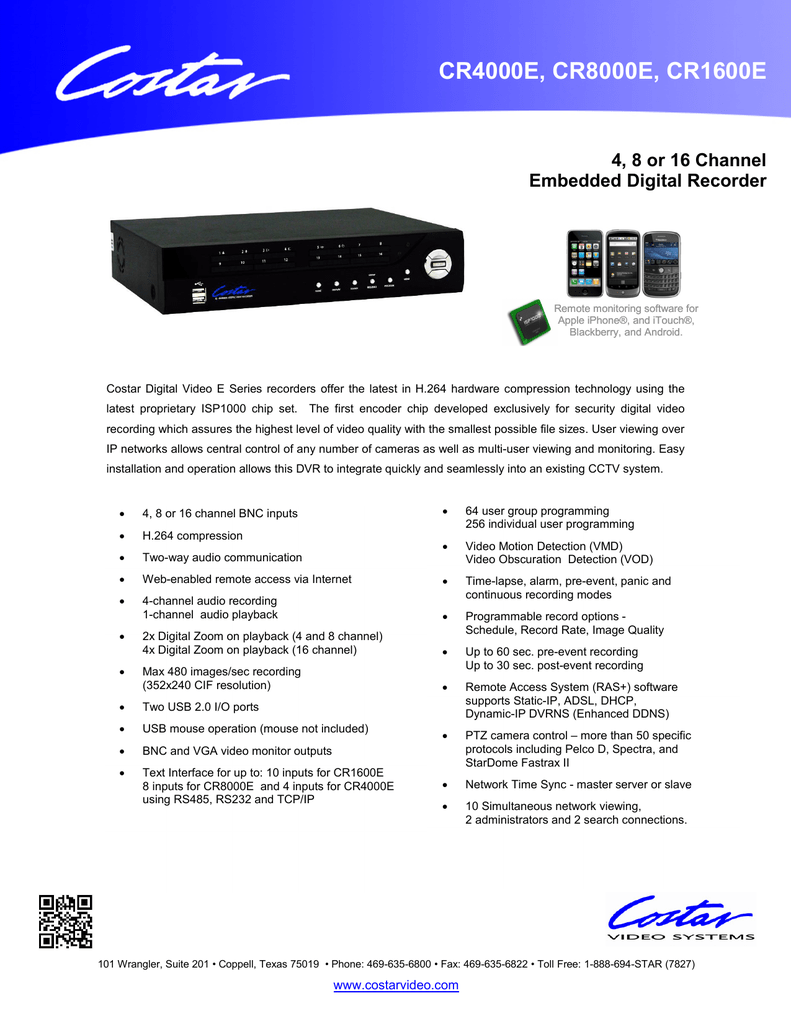 CR4000E, CR8000E, CR1600E
4, 8 or 16 Channel
Embedded Digital Recorder
Remote monitoring software for
Apple iPhone®, and iTouch®,
Blackberry, and Android.
Costar Digital Video E Series recorders offer the latest in H.264 hardware compression technology using the
latest proprietary ISP1000 chip set. The first encoder chip developed exclusively for security digital video
recording which assures the highest level of video quality with the smallest possible file sizes. User viewing over
IP networks allows central control of any number of cameras as well as multi-user viewing and monitoring. Easy
installation and operation allows this DVR to integrate quickly and seamlessly into an existing CCTV system.
•
64 user group programming
256 individual user programming
•
Video Motion Detection (VMD)
Video Obscuration Detection (VOD)
Web-enabled remote access via Internet
•
•
4-channel audio recording
1-channel audio playback
Time-lapse, alarm, pre-event, panic and
continuous recording modes
•
•
2x Digital Zoom on playback (4 and 8 channel)
4x Digital Zoom on playback (16 channel)
Programmable record options Schedule, Record Rate, Image Quality
•
Max 480 images/sec recording
(352x240 CIF resolution)
Up to 60 sec. pre-event recording
Up to 30 sec. post-event recording
•
Remote Access System (RAS+) software
supports Static-IP, ADSL, DHCP,
Dynamic-IP DVRNS (Enhanced DDNS)
•
PTZ camera control – more than 50 specific
protocols including Pelco D, Spectra, and
StarDome Fastrax II
•
Network Time Sync - master server or slave
•
10 Simultaneous network viewing,
2 administrators and 2 search connections.
•
4, 8 or 16 channel BNC inputs
•
H.264 compression
•
Two-way audio communication
•
•
•
Two USB 2.0 I/O ports
•
USB mouse operation (mouse not included)
•
BNC and VGA video monitor outputs
•
Text Interface for up to: 10 inputs for CR1600E
8 inputs for CR8000E and 4 inputs for CR4000E
using RS485, RS232 and TCP/IP
101 Wrangler, Suite 201 • Coppell, Texas 75019 • Phone: 469-635-6800 • Fax: 469-635-6822 • Toll Free: 1-888-694-STAR (7827)
www.costarvideo.com
E Series – 4000 / 8000 / 1600 Specifications
Model
Channels
CR4000E
CR8000E
CR1600E
4 Channel
8 Channel
16 Channel
Power
System
Source
Consumption
DC12V
3 Amps
4.16 Amps (CR16000E)
Input / Output
Video Inputs
Audio In / Audio Out
PTZ Dome Control
Monitor Output
Alarm Input
Alarm Output
Auxiliary In
User Interface
4, 8, 16
4 RCA In / 1 RCA Out
RS485
Composite, VGA
4, 8, or 16 TTL (NO)
1 Relay
RS232, RS485, 2 USB 2.0
Keyboard controller,
mouse, remote
Recording and Playback
Compression
Record Rate
Record Resolution
USB Port
Serial Interface
Advanced Features
Operating System
Data Export
Disk Management
General Operating
Archiving
Approvals
Dimensions (w x h x d)
CR4000E & CR8000E
Protocols
Remote Software
Remote Connections
(simultaneous)
10.43" x 3.93" x 7.40"
(265 x 52 x 188 mm)
11.81" x 2.44" x 9.33"
(360 x 62 x 237 mm)
CR1600E
H.264
120 ips @ CIF CR4000E
240 ips @ CIF CR8000E
480 ips @ CIF CR1600E
720x480
740x240
352x240
2 USB connectors
RS485
2X zoom, clip copy,
motion detection
Operating Applications
Up to 2TB SATA HDD
USB Flash Drive,
USB HDD
Network
Connection
41°F to 104°F
(5°C to 40°C)
FCC, CE, UL, CB,
Temperature
Storage
Recording
Embedded Linux
USB Flash Drive,
USB HDD
Temperature check,
S.M.A.R.T. diagnosis, autorecovery
Ethernet
DHCP, DVRNS, ADSL,
Manual
RASplus, Webgaurd,
Internet Explorer,
MAC Watch, MAC Search
10 Watch connections
2 Search connections
2 Admin connections
iNEX
Connect to the future with Legacy
connection from DVRs, and IP
servers (available Q4, 2010)
RASplus
Remote software providing 64
cameras live/playback, event
monitoring, local recording,
E-map, and device management
Webguard
Web based remote monitoring
software which can be downloaded
from web browsers in ActiveX format
Clip-Player
Self extractable video player
containing not-alterable recorded
data from its digital recorder, no need
for special codec's or players
RAS Mobile-1
Remote monitoring software for
Apple®, iPhone®, and iTouch®,
Blackberry, and Android.
101 Wrangler, Suite 201 • Coppell, Texas 75019 • Phone: 469-635-6800 • Fax: 469-635-6822 • Toll Free: 1-888-694-STAR (7827)
www.costarvideo.com
Specifications and design are subject to change without notice. Conversions: 1" = 25.4mm Measurement conversions are approximate.