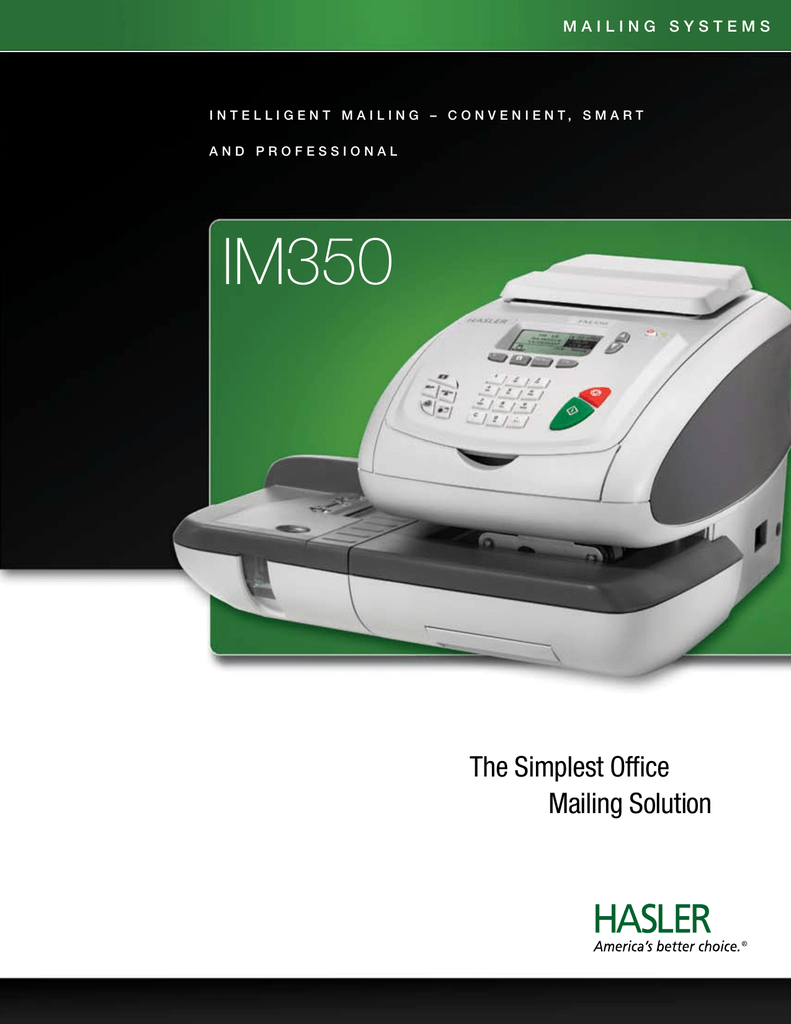 M ailing S ystems
I N T E L L I G E N T M A I L I N G – C O N V E N I E N T, S M A R T
AND PROFESSIONAL
IM350
F
o
l
d
Me
Ar
I/
LI
nI
Ns
Ge
rt
S Ye Sr T
ES
M
y
st
S
e
m
S
The Simplest Office
Mailing Solution
Hasler's IM350
SIMPLE AND CONVENIENT PROCESSING
THE PERFECT OFFICE MAILING SOLUTION
Process your mail quickly and easily. Weighing and
Maximizing efficiency in your mail operations is a key
component in ensuring professional communications.
The best way to achieve those goals is the Hasler IM350
Intelligent Mailing solution. The IM350 makes it simple to
weigh, rate, post and track your mail with accuracy. And,
it's amazingly easy to use, with a level of convenience that
more than meets your mailing needs.
rating your mail is fast and accurate when using
Differential Weighing technology. Simply place all your
mixed weight mail on the
weighing platform,
remove an envelope,
and the correct
rate is calculated
automatically. And with
The IM350's smart and user-friendly technology starts with
"Smart Start", when
the powerful, semi-automatic feeder and integrated weighing
you're ready, so is
platform. It's features, functionality and desktop data access
your IM350. Each time
will simplify your mailing tasks and provide effective control
an envelope is removed, the power feeder activates and
of mail-related costs… all at the touch of a button.
is ready to process your mail.
SEALING AND SECURING
YOUR MAIL
Secure sealing ensures confidentiality.
The integrated moistener allows for a
tip-to-tip seal, ensuring a high quality
appearance for your mail piece and
all-important mail security. Its easy
access and no-spill water reservoir is
designed for quick removal, easy
fill up and simple cleaning.
MONITOR, TRACK AND CONTROL
POSTAGE COSTS
Your business needs to efficiently manage and
control postal expenditures. Intelligent Mailing
from the IM350 gives you online access to
mail-related information. Monitor and track
postage, mail class and department usage to
effectively control expenses and develop more
accurate budgets.
A WIZARD AT
Don't Run Out of Ink
SELECTING RATES
Intelligent Mailing also means efficient ink
No more confusion
management. The IM350 uses a long-life
selecting postal rates.
cartridge and minimizes ink usage by printing
The IM350 Rate Wizard
a smaller, USPS compliant IBI Lite indicia.
walks you step-by-step
"Low ink" email alerts ensure that you don't
through the process
run out of ink, keeping your mailing process
of choosing the right
up and running. And the IM350's quick access
rate and combination of
cartridge design means changing ink has never
USPS ® special services. It also offers rate shortcuts for
been easier.
quick selection of commonly used rates, improving and
simplifying the entire mailing process.
MAKE A LASTING IMPRESSION
Impressions make a difference. Let your mail reach out to
customers with a level of professionalism that enhances
your business image. The IM350 lets you select customized
or standard advertising slogans. Or design a text message
to personalize and reinforce communications and promote
customer relations.
HASLER ADDS VALUE TO YOUR MAIL PROCESS
The IM350 allows for convenient online access to your mailing information right from your desktop,
providing simpler and more effective management of your mail communications. This becomes
a valuable tool for increasing efficiency, productivity and cost savings through better control of
various mailing functions – transforming complicated tasks into simple ones.
MORE FEATURES, MORE FUNCTIONALITY,
MORE SOLUTIONS
Performance
• Ergonomically-designed with quiet operation
IM350 SPECIFICATIONS
System Dimensions (L x D x H)
•17" x 15" x 10" (Base, moistener, feed deck)
• Power feed for fast batch processing
Envelope Specifications
• Built-in five-pound weighing platform
•Minimum: 3.5" x 5"
• Differential weighing for fast processing
•Maximum: 10" x 13"
• Envelope moistener with easy-access reservoir
OPTIONS
•Differential weighing
Efficiency
• Rate Wizard walks you through rate selection
• Rate shortcuts for quick rate selection
• Shortcut Keys for instant function settings
• Automatic date advance with time preset
• Download postage now, pay later with TotalFunds™
Cost Control
•Rate protection – with
Total Advantage Plus
•Track data and generate
reports online with
Total Management
•E-Services: eDelivery Confirmation, eSignature
Confirmation & eCertified
• PIN code protection prevents unauthorized usage
•Departmental accounting upgrades (100 accounts)
• Eliminate accidental mis-posting with default
•USB report printer
postage setting
•Label/Barcode scanner
• Track postage usage by department or user
• Online access to postal usage for previous 13-months
• Lower postage costs with USPS eConfirmation Services
QUICK FACTS
•Processing Speed: Up to 40 lpm
•Ink Cartridge Capacity: Up to 7,000 impressions
Online Management
•Date Advance: Up to 30 days
• Conveniently view postal and department usage from
•Programmable Jobs: 9
your desktop
•Value: Up to 5 digits (99.999)
• Simple, hassle-free postal rate change downloads
•Ad Dies: 8 standard, 2 customizable
• Track eCertified and eConfirmation mail
•Mail Class Dies: Automatically enabled
• "Low-Ink" alerts make ink reordering simple
•User Text Messages: 9
• Get added support with remote diagnostics
•Thickness: Maximum 3/8"; maximum with
moistening ¼"
HASLER PRODUCTS AND SERVICES
For a demonstration or more information, please contact
• Mailing Systems
• Mail Center Management
your local Hasler dealer, or call 800/995-2035.
• Postal Scales
• Postal Accounting
Email: info@haslerinc.com
• Folders and Inserters
• Mail Sorting and Tracking
• Address Printers
• Service and Supplies
• Tabbers
• Leasing Services
An ISO 9001
Quality System
Certified
Company
51208 3/08
30M
Hasler's network of independent dealers provides
sales, service, and support throughout North America.
Hasler,® Inc., and America's better choice® are registered trademarks of Hasler, Inc. All other company and
product names may be trademarks and are the property of their respective owners. ©2008 Hasler, Inc. All
Rights Reserved. Hasler, Inc. reserves the right to change materials and specifications without notice.

* Your assessment is very important for improving the work of artificial intelligence, which forms the content of this project